Lonely Planet
When a Planet Once Loved Becomes Unrecognizable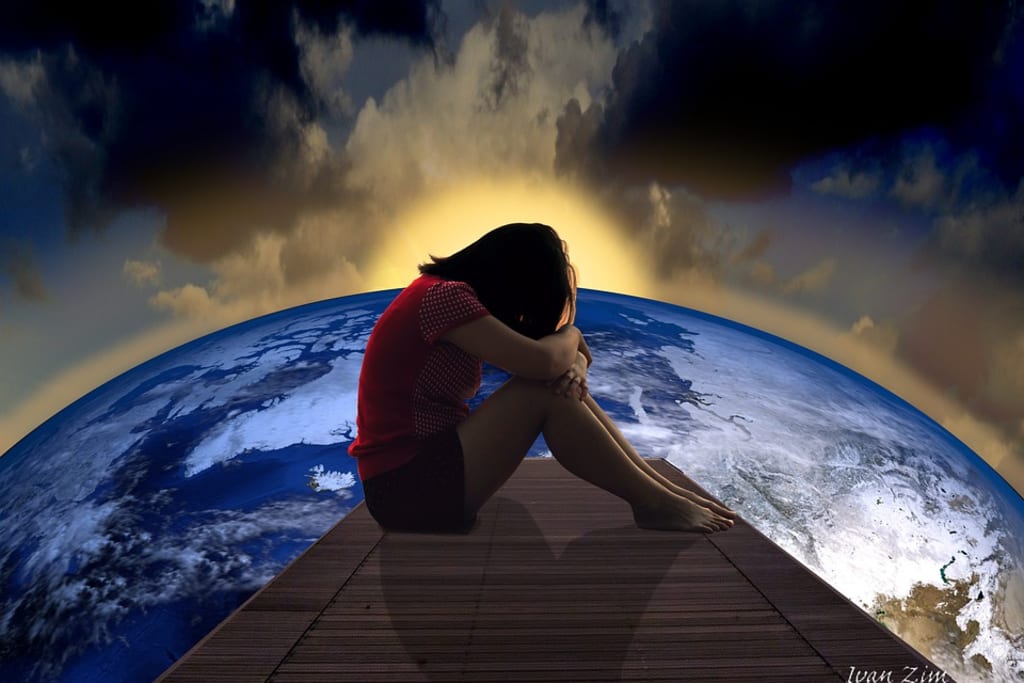 Nobody can hear a scream in the vacuum of space, or so they say. But as I look out the window towards the sky, I wonder. Can anyone hear me? Either here on earth or out there in the great vastness of the universe, are my cries for help even noticed. I keep using this old radio in hopes that someone left alive will hear me and direct me where to go or what to do. I can't just stay here forever.
Ever since the culling, I have made attempt after attempt to reach someone. "I'm still here. Please help!" As I yell through the receiver, I feel the pangs of hopelessness seep into my chest once again. How long has it been? Weeks, months. I can no longer tell. I have survived out here in this lonely and desolate shack on what has seemed like luck. With my lack of survival skills, and my even bigger lack of courage, I don't know how I've managed this long. As I sit, pondering the inevitable fact that I am, in fact, alive, I feel those all-too-real hunger pains again. It's been three days since I have had nearly enough food and I know it's time. If I want to remain alive, I must venture out again into the world I used to know. The home that I once understood. What was once a bustling and lively place has now become ravaged and dominated by the invaders.
It began slowly. At first our military was on high alert, ready to respond and dispel any threat of danger that the invaders posed. But that sense began to diminish after enough evidence surfaced of the invaders having left. Within moments of the first "touchdown", a very intimidating visit from the top nations' finest forces took place. It had appeared that they provided enough persuasion to run the invaders off. We all returned to our everyday habits and niches, very unaware of what was happening among us. Bit by bit they seemed to take over our loved ones. No one knew or even fathomed that they could just use our bodies as vessels. No one could have guessed at the abilities that they were capable of.
As the coming weeks went by, not one person was fazed by any of the changes slowly taking place. Looking back now, how did none of us see the warning signs. Oblivious to these parasites stealthily taking over, no one had any idea of what was coming.
It wasn't until my closest friend, Lexa, started behaving in the most unnatural ways that I personally felt any repercussions of their "touchdown". For years, day after day Lexa and I would have the same exchange. "Sup little miss sunshine" she would always say to me. What an ironic nickname. She loved to give me a hard time about spending too much of my life indoors. Regardless, as different as we were, she was the sincerest and purist friend I've ever known. We were together almost every day. Until that day. The day she didn't show. We were meant to meet at the nearby park to discuss future living arrangements after school ended. I arrived a few minutes early, waiting in the surprisingly empty park. I picked up my cell and read through some of the news headlines: "Sudden psychosis and neurological symptoms plague major cities in 28 states" "Hospitals at max capacity nationwide due to unexplained phenomena" "Sudden bouts of violence erupt across the US". I remember the thought of how negative the news always is. But no matter how many times I swear off reading it, I get sucked back in. I spend some time browsing through my phone and then after a while I notice that Lexa is about half an hour late now. I try her cell and get no answer. She never goes MIA without any sort of update. Not on me. I remember the sudden panic and fear of something being wrong. I feel as I should go check her house and see if she's okay, or if she just forgot to leave. I get back in my car and speed to her house. As I pull up, the lump of panic in my throat works its way into a ball of terror in the pit of my stomach. I recall her front door being dented in, hanging on one hinge. I've never been one to have a correct fight or flight response but the instinct for my friend's safety encompasses me and I jump out of my car and bolt through her front door.
Looking back and remembering how I was once able to act out of instinct and necessity, I try to channel those same instincts once again. I need to be quick, smart, and effective. I have to be. If I'm going to stay alive, I must learn to think and act quickly. Last time I had to go out for supplies, I almost got caught by one of them. I have since acknowledged how terrible my sneaking ability is, and I've worked on taking the paths that will meet the least resistance. This usually entails going through a sewer line. Luckily, I've drawn a map out over the last few times I've gone out. With last time being such a shit show, I need to be more aware of secret paths. I know this time will be different. This time I feel more prepared and experienced. Damn it, I know that I have to do this! I finish putting on my gear and double check that I packed my crossbow bolts and strapped on my blades. I've never been one for violence or gore, so the thought that I might have to kill one of these things sends shivers down my spine. However, I do have the gear and I should bring it in the event I have to use it. I have opted for quiet, yet deadly weapons. To have the highest chance of remaining alive, I want to avoid any confrontation with the invaders, but I am still prepared for if that plan fails. I slide the crossbow down my back, just underneath my backpack and I pull my mask down to cover my face. I step out of my reclusive, but protective, abode. I head towards the dangers of this terrifying new world. Ready or not, here I come.
About the Creator
I am an avid puppy lover and enjoy playing video games and reading in my spare time. I have always felt like I could write but never put the effort towards it. I hope you enjoy my stories and I am always open to criticism.
Reader insights
Nice work
Very well written. Keep up the good work!
Top insights
Compelling and original writing

Creative use of language & vocab

Excellent storytelling

Original narrative & well developed characters

Eye opening

Niche topic & fresh perspectives
Add your insights