KISKA, CANADA'S LAST CAPTIVE ORCA HAS DIED
Kiska, Canada's last captive orca, died this week at Marineland after twelve years of isolation. Find out why animals rights groups want Marineland prosecuted, and how Kiska's story reflects changing attitudes toward our treatment of animals.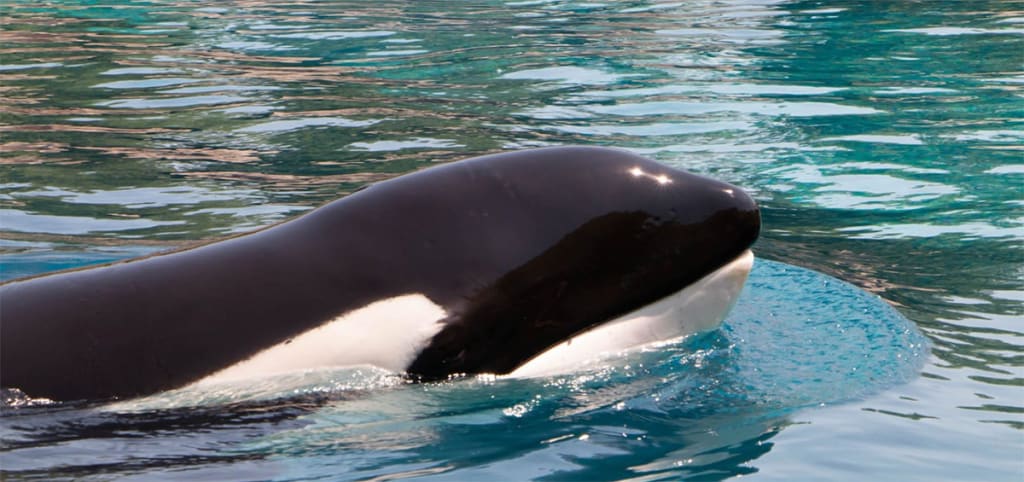 There's a jingle playing in my head today. It comes from my childhood, and the lyrics go "Marineland and Game Faaaaarm!" There was another one that went, "Everyone loves Marineland!"
Part aquarium, part zoo, part amusement park, Marineland is a tourist attraction on the Canadian side of Niagara Falls. Back in the 1970s, Marineland was Niagara Falls' biggest attraction, apart from the falls of course, but lately it's been struggling.
John Holer, an immigrant from what's now Slovenia started Marineland back in 1961. He had escaped from the former Yugoslavia and made his way to Germany, where he learned to be an animal trainer with Circus Krone.
JOHN HOLER BUILT UP ATTRACTION HOUSING 4,000 ANIMALS
He moved on to Canada in 1957, and bought a parcel of land from the estate of gold-mining millionaire Harry Oaks. Starting with three sea lions, Holer eventually built up an attraction housing over 4,000 marine and land animals.
Marineland's biggest attraction in its glory days was a performing orca whale named Kandu. Before long, orcas became the park's signature mascot throughout the 70s and 80s.
Meanwhile, an aquarium in Iceland captured two, three-year-old orcas in the North Atlantic in 1979. They named them Kiska and Keiko.
AQUARIUM IN ICELAND CAPTURED TWO ORCAS IN 1979
The pair became mates, living in Iceland until Marineland bought and shipped them to Canada in 1982. Keiko developed health issues at Marineland, prompting John Holer to sell him.
Keiko ended up moving from one facility to another. He appeared in the title role of the movie, Free Willy, and passed away while struggling to live in a semi-wild state off the coast of Norway in 2003.
Kiska, on the other hand, remained at Marineland for the next forty years. She had another mate named Nootka, from whom she gave birth to five calves, none of which survived.
KISKA LOST FIVE CALVES AND HER MATE AT MARINELAND
Kiska's fifth calf died in 2008, and so did Nootka. Her trainer, Christine Santos, noticed a shift in her mood and behaviour.
"She lost her best friend and her baby and you could see her sadness," Santos told Canadian Press. There was one other orca at Marineland, a young male named Ikaika, but he was on loan from Sea World in San Diego.
Marineland had to send Ikaika back to SeaWorld in 2011. After that, Kiska was the only orca living at the Niagara Falls theme park for twelve years, as well as Canada's last captive orca.
KISKA WAS CANADA'S LAST CAPTIVE ORCA FOR TWELVE YEARS
Although John Holer told the public he was seeking a companion for Kiska, that never materialized. In 2015, Canada's province of Ontario passed its Prevention of Cruelty to Animals Amendment Act, which outlawed possessing or breeding orcas in captivity.
Marineland was allowed to keep Kiska, but not to buy any more orcas after the law had passed. That made it impossible for Kiska to have any companionship with her own species while living at Marineland.
John Holer kept insisting that he preferred to bring in a companion for Kiska even after that became illegal. He refused to move Canada's last captive orca anywhere, leading animal welfare groups to call her "the world's loneliest orca."
ZOOCHECK CANADA REPORTED THAT 16 ORCAS DIED AT MARINELAND
During this period, the animal rights group Zoocheck Canada told the Toronto Star that 16 orcas had died at Marineland, which didn't help Holer's chances of finding Kiska a companion. John Holer passed away in 2018, leaving Marineland to his wife Marie in his will.
In 2021, Phil Demers, a former Marineland employee, started sharing video footage on social media showing Kiska drifting aimlessly and banging her head against the side of her tiny concrete pool.
Filmmaker Zach Affolter incorporated the clips into his documentary, Black Water. That prompted Marineland to sue him for violating its video policies, preventing the documentary's release.
KISKA FINALLY DIED OF NATURAL CAUSES AT AGE 47
Mercifully, Kiska's long, lonely ordeal as Canada's last captive orca came to a sad end this week. She finally died of natural causes at the age of 47. Santos seemed to speak for everyone involved, saying, "I'm in shock, but at the same time I'm just really relieved she's not alone anymore."
Marineland reported her death to the Ontario government. Officers from Ontario's Animal Welfare Services were onsite while Marineland staff performed a necropsy on Kiska's body.
So far, we haven't heard any details from the necropsy. The group Animal Justice is demanding that the provincial government release the results of the post-mortem.
ANIMAL JUSTICE CALLING FOR MARINELAND TO BE PROSECUTED
Animal Justice has been filing legal complaints regarding Kiska throughout her isolation at Marineland. They've called for the government to prosecute Marineland for keeping Canada's last captive orca "in inadequate and unlawful conditions that experts say caused her to experience distress."
The animal rights group is continuing to call for prosecution now that Kiska has died. Kiska's lonely death is only one of the controversies showing that not "everyone loves Marineland."
Over the past ten years, reports have emerged of animal mistreatment, veterinarian misconduct and poor water quality. Marineland fired Santos for sharing her concerns with the press, and Demers very publicly quit his job at Marineland because of the inhumane conditions he witnessed.
MARINELAND HAS FILED EIGHT LAWSUITS AGAINST ITS CRITICS
Marineland is also suing both Santos and Demers. Marineland has filed at least eight other lawsuits against various people and media outlets for publicizing conditions at the park.
The story of Canada's last captive orca strikes me as a lesson in what happens when we don't move with the times. My parents' generation grew up believing that humanity had "dominion over the animals."
These days, a new story is unfolding. We're coming to realize that we're not in charge of life on Earth, or even in control of it.
MARINELAND IS EMBROILED IN CONTROVERSY AND UP FOR SALE
People are foreseeing a new era that some experts are calling the Ecozoic. Today's young families view themselves as part of the natural world, not masters of it, and entertainment like Marineland doesn't appeal to their tastes.
That's why Marineland is now embroiled in so much litigation and controversy, above and beyond the passing of Canada's last captive orca. I imagine it's also why 84-year-old Marie Holer, the founder's widow, is looking for someone new to buy out Marineland and "transition it into the future."
We always have more to learn if we dare to know.
Learn more:
Kiska, Marineland's lone killer whale and last captive orca in Canada, has died
Animal Justice Renews Calls for Charges After Orca Kiska Dies at Marineland
Marine Mammals: Canada's 'Free Willy' Law
Human-Wildlife Conflict Aggravated by Climate Crisis
Urban Green Space Reduces Property and Violent Crime
About the Creator
I'm a freelance writer and commercial blogger, offering stories for those who find meaning in stories about our Universe, Nature and Humanity. We always have more to learn if we Dare to Know.
Reader insights
Be the first to share your insights about this piece.
Add your insights