Just the Two of Us
She scanned us up and down, checking us out to make sure we weren't posing any threat to her calf and as quickly as they came, they disappeared off into the distance.

Supported ByUntamed Photographer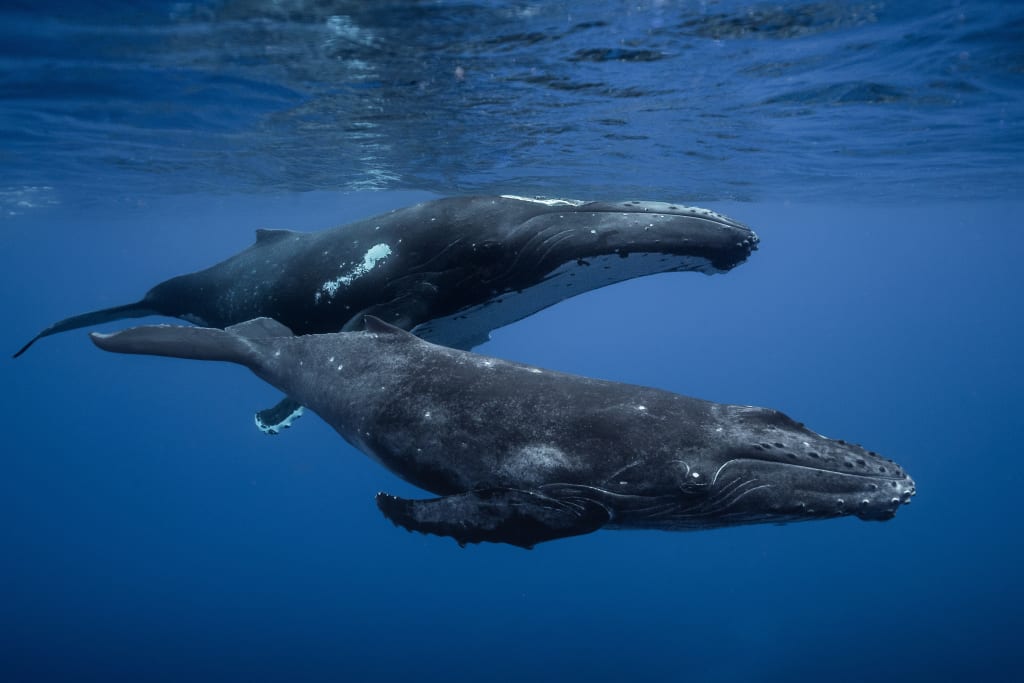 View print sizes for Just the Two of Us by Brian Moghari:
Story Behind the Photograph: Just the Two of Us
There is not a doubt in my mind the strongest bond in the natural world is between a mother and her offspring. I am fortunate to have filmed and photographed this motherly bond with humpback whales and their calves in Costa Rica's Gulfo Dulce. It's one of the best places to film via drone as these whales nurse their calves and teach them to breathe in their first weeks of life. The gulf is surrounded by mountains on three sides, offering glassy waters for much of the year and allowing you to easily see their interactions from the air. Capturing their images beneath the water, however, is pretty difficult due to subpar visibility. When the opportunity came to film and photograph them in the middle of the South Pacific, I couldn't resist. The visibility there seems endless and gave me a new perspective of these gentle giants.
Our first day searching for these animals we were not having much luck. We saw one pair in the distance, got dropped off around 100 meters from them swam towards them slowly. But just as quickly, all we saw was the silhouettes of mothers and calves swimming off in the distance, with tails lifting out of the big blue. We had to have done this nine or ten times throughout the day with different whales and still had no luck. Storm clouds rolled in just before sunset and were about to call it a day when our on-board biologist spotted a mother and calf close by, so we gave it one last shot. We slipped into the water, swam just 20 meters as these large figures began to appear in the distance. The mother and calf were slowly approaching and passed by less than 10 feet away. These animals are close to 50 feet long and are nearly 5 times the size of an elephant. This was the first time I had been so close to a humpback whale in the water. I had thought about it before and wondered if some part of its body might make contact; it was so enormous and so strong. But in the moment, I felt no sense of threat or worry; just being near this massive, living creature seemed to say "this is life." The mother's eyeball seemed to be about the size of my head, and she made direct eye contact with us. She scanned us up and down, checking us out to make sure we weren't posing any threat to her calf and as quickly as they came, they disappeared off into the distance.
Observing this species from opposite ends of the world, by air and sea, has given me so much respect for these creatures, not just because of their beauty but because of the motherly instincts they display to their calves. Mother humpbacks like this one leave their Antarctic feeding grounds and travel upwards of 3,800 miles to the warm waters of French Polynesia leaving behind their primary food source, krill. Throughout this migration they fast for several months losing around 30% of their total body weight, nearly 20,000 pounds, all to ensure a more suitable environment for their offspring. I can't help but relate the sacrifices made by this mother to that of my own. I can only hope photographing and sharing photos like this helps others who see them to draw a similar connection. I hope others see the level of compassion and love these wild animals have for their offspring, just as we do.
About Untamed Photographer
Untamed Photographer is an online art gallery that brings together wildlife photography and stories from a range of international environmental artists, both emerging and established.
Structured as an online marketplace, Untamed Photographer offers a selection of handpicked, limited-edition works of art, alongside the photographers' compelling stories of what occurred in the wild to get the shot. The exclusive limited-edition pieces are printed in Miami and come with an artist-signed certificate of authenticity from their respective worldwide locations.
The Nature Trust of the Americas (NTOTA) was founded with the mission to give back. While building awareness for NTOTA's causes, the founders met talented nature photographers who are passionate not only about photography, but also about saving the planet. Their life's work and stories are inspiring, and their art, passion and stories deserve to be shared on a platform that benefits the environmental causes they are dedicated to.
Just as the photographers preserve the beauty of the planet in their art, Untamed Photographer is dedicated to preserving the planet for the future. All profits from photographs go to Untamed Photographer's two pillars: the artists and causes that protect the environment, ecosystems, and wildlife.
About the Photographer: Brian Moghari
Brian Moghari is a wildlife photographer and filmmaker who specializes in marine eco-systems. Brian aims to spark an emotional connection with his images to inspire others to protect our planet's natural spaces and the wildlife we share it with.
Born in the swamps of Florida, Brian grew up immersed in nature, which ultimately inspired his love of the natural world. Since graduating with a bachelor's degree in film from the University of Florida, he and his best friend created Comfort Theory Films, a production company that focuses on telling wildlife and conservation stories.
Brian has worked as a cinematographer and photographer for National Geographic, Disney+, Toyota, AMC, History Channel, Direct TV and many others television networks and brands.
If he isn't filming beneath the waves, you can find him riding them up and down Costa Rica's Pacific coast.
About the Creator
Brian Moghari is wildlife photographer and filmmaker working with Netflix, National Geographic, & Disney+
Reader insights
Be the first to share your insights about this piece.
Add your insights