How 8 Wildlife Photographers are Raising Environmental Awareness
Ethical wildlife photography and careers dedicated to conservation.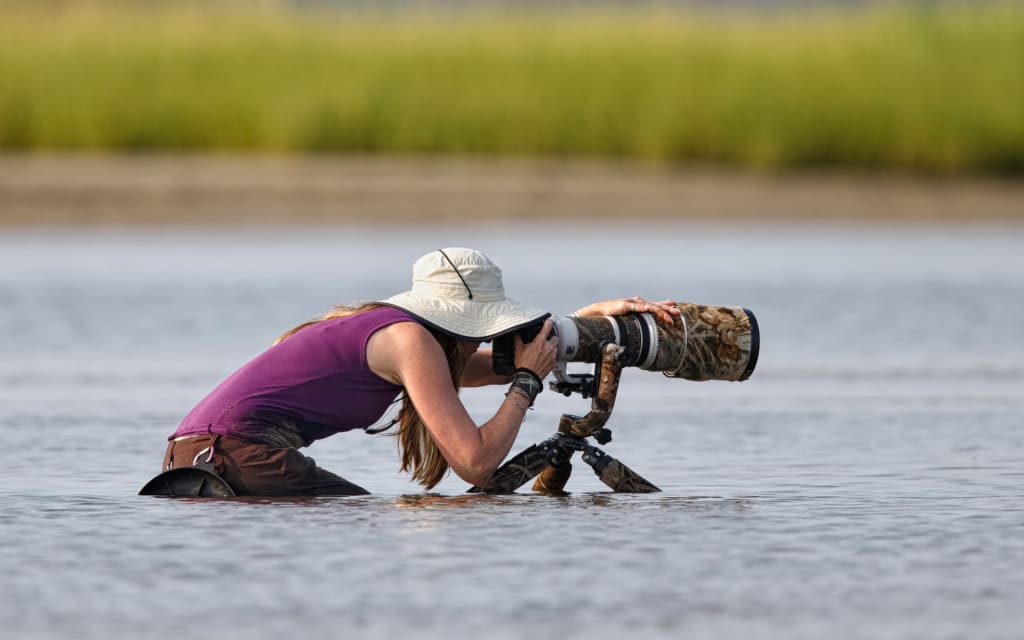 Wildlife photographers are some of the most dedicated and passionate environmental conservationists.
At Untamed Photographer, a crew of 8 wildlife photographers are dedicated to ethically documenting amazing species and environments around the globe. Their work shares insight into the rare and often unseen, both visually and through unique and informative storytelling attached to each photograph.
Beyond being conscious and careful when sharing space with their subject, these photographers also donate the profits of their limited-edition prints sold through Untamed Photographer to eco-friendly charities.
Table of Contents
1. Mission and Overview of Untamed Photographer
2. The Untamed Photographers
April Bencze
Arati Kumar-Rao
Brian Moghari
Filipe DeAndrade
Chris Fallows
Colleen Gara
Melissa Groo
Tony Rath
3. Untamed Photographers Provide One-Of-A-Kind Wildlife Photography
Mission and Overview of Untamed Photographer
Untamed Photographer is an online art gallery that brings together nature wildlife photography and stories from a range of international environmental artists, both emerging and established. Together, their mission is to create awareness and support for the environment through the sale of ethical wildlife photography.
Profits from the sale of each photograph are donated to one of the below 11 eco-friendly charities for environmental protection and wildlife conservation.
The Untamed Photographers
Each of the photographers featured within the Untamed Photographer marketplace are carefully selected according to their dedication to environmental conservation and their leave-no-trace approach to wildlife photography. Each photograph showcases the subject in their natural environment without any interference with their habitat from the photographer.
Learn about the unique background and specialization of the artists behind the best wildlife photography and which environmental conservation organizations they support through their work.
1. April Bencze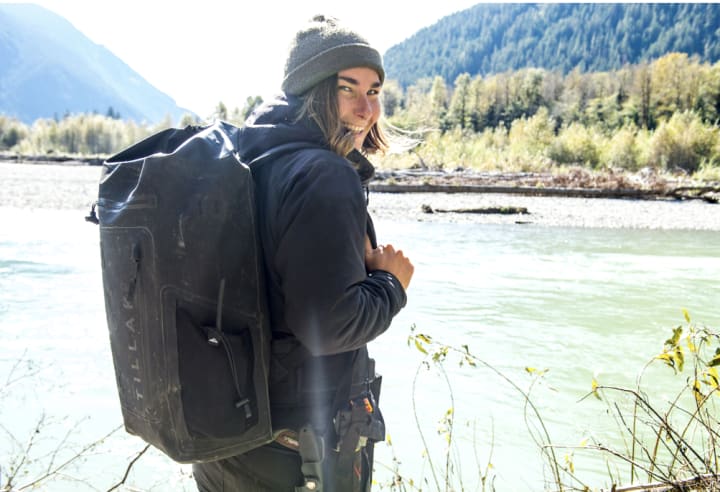 April was raised in Wei Wai Kum First Nation territory (Campbell River) and now lives in Ḵwiḵwa̱sut'inux̱w Ha̱xwa'mis First Nation territory (Gilford Island), British Columbia. There she began her wildlife conservation work through various storytelling projects, each showing the dynamics between places, wildlife, and people.
April is dedicated to the coastal ecosystems she lives within and supports the health of the salmon population in the area with a local non-profit.
The proceeds from her nature wildlife photography sold through Untamed Photographer goes to many non profits, such as the Qqs Eyes Projects Society. They support youth culture and the environment in the Great Bear Rainforest.
Shop "Fishing with Spirit Bears" and April's other work here.
2. Arati Kumar-Rao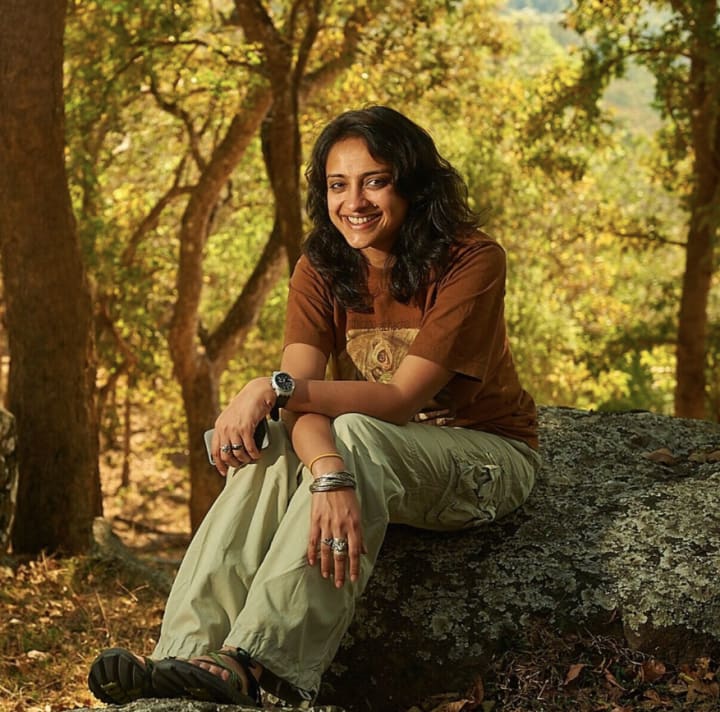 Arati is an environmental photographer, writer, and artist focused on documenting ecological degradation. Based in Bangalore and traveling across South Asia, Arati showcases landscapes and the climate's effect on livelihoods and biodiversity. She uses her art to educate as a National Geographic Explorer and contributes to @EverydayClimateChange and @EverydayExtinction on Instagram. She's been exhibited in India and internationally.
Arati's select photos available through Untamed Photographer show various landscape images, including ones with elephants and giraffes in Kenya, India, and Bangladesh.
All proceeds made from Arati's work are distributed to many non-profits, including the Nature Trust of the Americas who redistribute funds and resources to various conservation projects.
Shop "Silent Extinction" and Arati's other work here.
3. Brian Moghari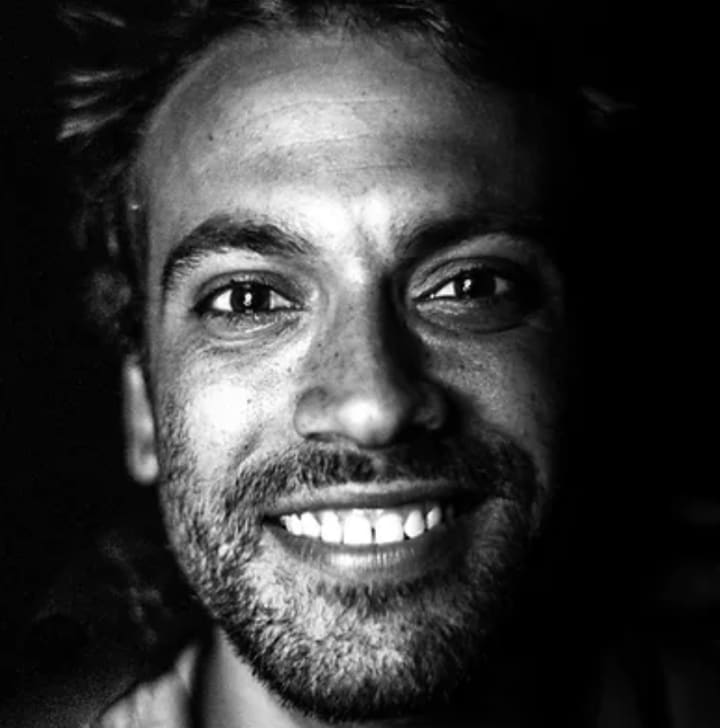 Brian was born in the swamps of Florida and grew up immersed in nature which ultimately inspired his love of the natural world. Since, Brian has become a wildlife photographer and filmmaker who specializes in marine ecosystems.
He and his best friend Filipe (pictured below) created Comfort Theory Films, a production company which focuses on telling wildlife and conservation stories. Brian has worked as a cinematographer and photographer for National Geographic, Disney+, AMC, History Channel, and many others television networks and brands. If he isn't filming beneath the waves you can find him riding them up and down Costa Rica's pacific coast.
Learn more about Brian in his Beyond the Lens interview on the Untamed Photographer blog!
The proceeds for Brian's work sold through Untamed Photographer goes to many non-profits, such as Field School. Field School is a marine research organization that offers courses on marine fieldwork for students and the public to improve knowledge around marine ecosystems.
Shop "Majestic Manta" and Brian's other work here.
4. Filipe DeAndrade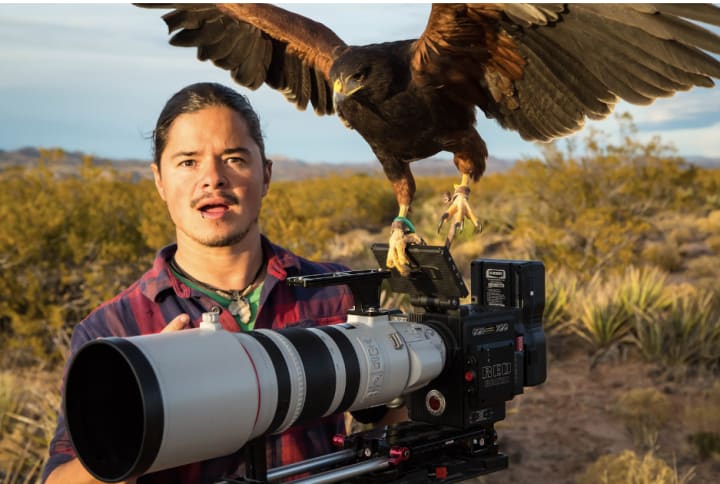 Cleveland-raised filmmaker Filipe DeAndrade also went to the University of Florida, where he met and partnered with Brian Moghari to later form Comfort Theory.
Since graduating, DeAndrade has become an Emmy award winning filmographer and photographer and also won National Geographic's Wild to Inspire short film competition in the Sun Valley Film Festival. He photographs marine creatures like whales and sharks as well as jaguars, crocodiles, and more!
All proceeds from the sale of his works go to environmental non-profits, including the Field School to support education and support for marine wildlife.
Learn more about Filipe in his Beyond the Lens interview on the Untamed Photographer blog!
DeAndrade said, "If there's one way I can make my mark in this world, it's by encouraging viewers to get out in nature. People need to have those experiences themselves to care about wildlife and to take action. When you fall in love with something, you fight to protect it."
Shop "Respect" and Filipe's other work here.
5. Chris Fallows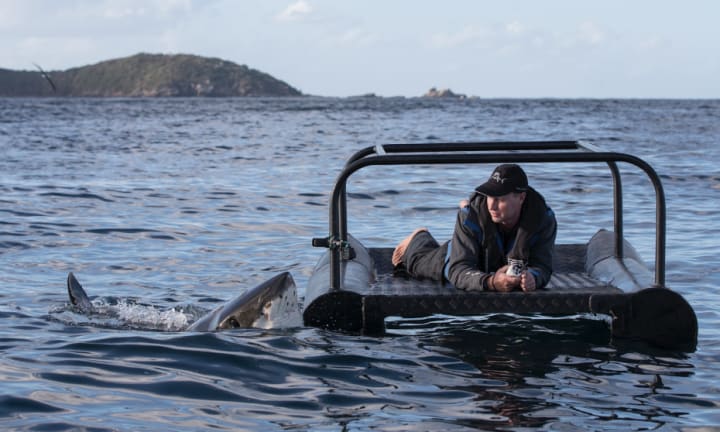 Chris Fallows was born in South America, where he developed his love for wildlife. Chris approaches his photos in a way that brings the wildlife subjects to the foreground, eye level, in a way that the viewer senses being with the subject rather than dominating it. He wishes to connect people with wildlife in a way that results in empathy and respect.
Chris Fallows's work has been featured in more than 60 international documentaries with BBC, National Geographic, and Discovery Channel.
The proceeds from all of his photos on Untamed Photographer are donated to various environmental non-profits, including Nature Trust of The Americas.
Learn more about Chris's story in his Beyond the Lens interview on the Untamed Photographer blog!
Shop "The Kings Gold" and Chris's other work here.
6. Colleen Gara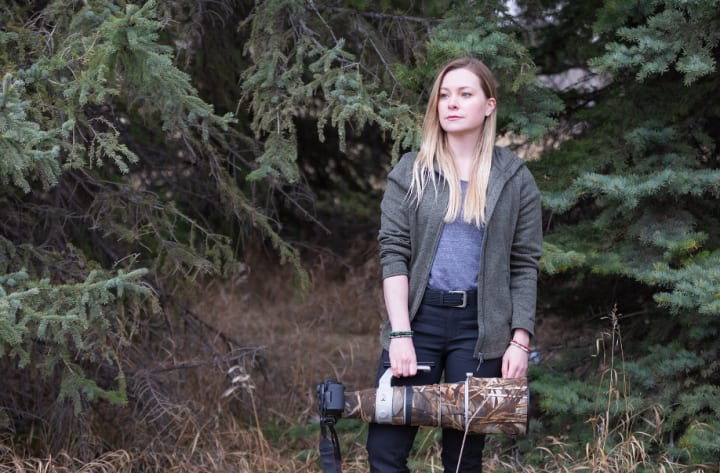 Colleen Gara is based in Alberta, Canada and focuses her work on Canadian wildlife. She aims to capture the best wildlife photography by photographing animals in their natural surroundings from the Rocky Mountains to the prairies.
Colleen wants her images to create a connection between the viewer and her wild subjects to raise awareness and protect their natural habitats. She strongly abides by ethical photography practices for all of her images — all creatures are wild, never captive or baited. Her work has been featured in Audubon, Photo Life, Canadian Geographic, Wild Planet Photo, and Nature's Best.
Colleen's work on Untamed Photographer features bears, penguins, wolves, and the Canadian Lynx in British Columbia and Canada. Proceeds from her work are spread amongst many non-profits, including Raincoast Conservation Foundation.
Shop "Ghost Cats" and Colleen's other work here.
7. Melissa Groo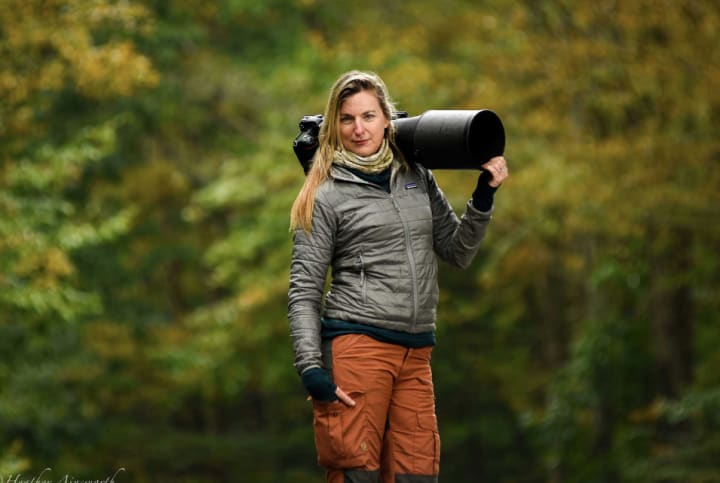 Melissa Groo is a wildlife photographer, writer, and conservationist with a passion for educating people about the marvels of the natural world. Therefore, she considers herself to be a "wildlife biographer." It is her mission to raise awareness and change minds about not only the extrinsic beauty of animals, but also their intrinsic worth.
In 2017, Melissa was awarded the Katie O'Brien Lifetime Achievement Award by Audubon Connecticut for demonstrating exceptional leadership and commitment to the conservation of birds, other wildlife, and their habitats. She also received NANPA's Vision Award, given to a photographer every 2 years in recognition of early career excellence, vision, and inspiration to others in nature photography, conservation, and education.
In 2020, the Cornell Lab of Ornithology released "Bird Photography with Melissa Groo" an online masterclass in beginning bird photography. It comprises almost 40 videos featuring her instruction.
Her photographs and articles have been published in numerous magazines including Smithsonian, Audubon, Outdoor Photographer, National Wildlife, Living Bird, and Natural History.
Learn more about Melissa's story in her Beyond the Lens interview on the Untamed Photographer blog!
Shop "In It Together" and Melissa's other work here.
8. Tony Rath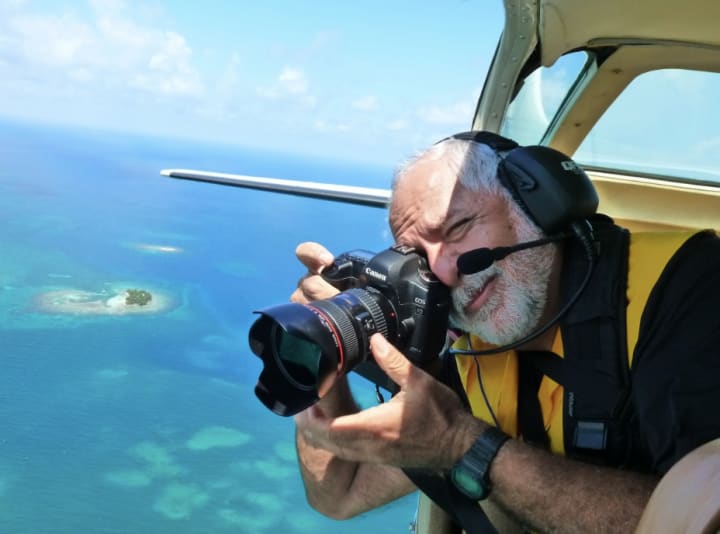 Tony Rath is based in Dangriga, Belize and has showcased an incredible commitment to the country and global governments in his conservation and awareness campaigns.
As a writer, photojournalist, and commercial photographer based along the Caribbean sea, Tony has utilized a marine biology degree and pursued oceanography at the Smithsonian Institution's marine station in Belize.
The nature wildlife photography Tony presents through Untamed Photographer showcases the Belizean landscapes, birds, and fish. Beyond this collection, Tony volunteers his skills to various educational NGOs to promote culture and conservation in Belize among many other philanthropic endeavors.
The proceeds from Tony's work go to various environmental non-profits, including Friends for Conservation and Development (FCD). FCD helps protect the Chiquibul forest by means of education and anti-poaching enforcement through research and drafting environmental protection laws.
Learn more about Tony in his Beyond the Lens interview on the Untamed Photographer blog!
Shop "Chiquibul Macaws at Dawn" and Tony's other work here.
Untamed Photographers Provide One-Of-A-Kind Wildlife Photography
Each photograph available at Untamed Photographer is limited-edition and features personal serialized numbered holograms. Each print also comes with a signed copy of the story behind the photograph, written and signed by the Untamed Photographer who took the shot.
Untamed Photographer's curated collection of ethical photographers, their photos of rare wildlife animals in remote locations, personalized stories, and charitable donations make Untamed Photographer the perfect place to shop for art that serves as a tool for environmental conservation.
Reader insights
Nice work
Very well written. Keep up the good work!
Top insights
Compelling and original writing

Creative use of language & vocab

Excellent storytelling

Original narrative & well developed characters
Add your insights