Guest Birds of Bangladesh
Let's know some guest birds.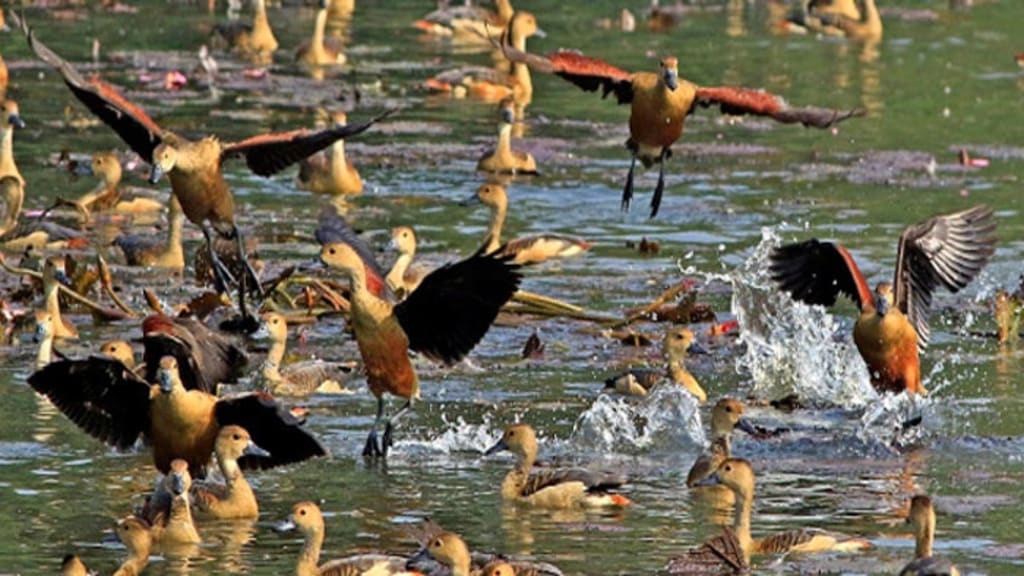 Guest Birds
From time immemorial there has been a tradition of temporary disappearance and reappearance of birds; which is still a mystery to people today. It is estimated that the migration of birds began about 50 million years ago.
Until the eighteenth century when birds could not be seen in their breath in winter; At that time, people thought that birds would spend the winter by diving under water or in holes like reptiles. Later scientists were able to break down human error. Birds migrate due to environmental stress, expectation of comfortable environment and genetic rules.
According to some theories, birds originated in the Northern Hemisphere, and glaciers from the Pleistocene period forced them to move south, and that is why birds still move south today. According to another theory, birds originated in the Southern Hemisphere; however, due to the abundance of food and other favorable environment, they moved there. They come to the ancestral home once a year.
But wherever the first appearance of birds is; Scientists have proven that they migrate for a certain period of time for food and environmental benefits.
In fact, when there is a question of survival in the dead of winter, there is an acute shortage of food and shelter; then the birds of winter countries come to our country as guests. They travel thousands of kilometers to Bangladesh in the hope of a little warmth, humidity and greenery. Finds secluded places, water bodies and forests. In remote areas of Bangladesh, these birds take shelter at the beginning of winter for 6-7 months.
It is winter now. Guest birds have started coming from the North Pole across the Himalayas. In other parts of the world such as North Hampshire in England, Siberia, Assam, Philippines, Australia, Russia, Finland, Antarctica, Ladakh in China, when winter drops to minus zero degrees, when the leaves fall off in winter, there is severe shortage of food. The feathers fall off the body, turn white in the heavy snow, when all the green forests, due to the various misbehaviors of nature, then the birds of that country leave those countries which are relatively cold and lack food and security and become guests in flocks. These birds choose Bangladesh as a temperate country. The arrival season of guest birds in Bangladesh is from September to October. However, in these two months of December-January, most birds come to Bangladesh.
Creatively, the anatomy of birds is very strong. So the guest birds fly at an altitude of 800 to 1300 meters. Large birds can easily fly at 60 kilometers per hour. And small birds can fly 30 kilometers per hour. Day and night they can fly about 250 kilometers. Some birds migrate to Bangladesh about 22,000 miles a year. One such guest bird is the sea seagull. This bird travels this distance from the North Pole to the South Pole every year.
Many of these birds spend the whole winter in Bangladesh. Winter guest birds can be seen in different parts of Bangladesh. The name of such a place is Jahangir agar University, about 20-25 species of guest birds come here in about 16 lakes, big and small. Two types of birds can be seen here. One kind of bird rests on the shore and another kind of bird rests in the water. Most of them are ducks.
Guest birds have been seen at Mirpur Zoo Lake since 1980. Our Bangladesh has become a holiday sanctuary for guest birds from different parts of the world. Spring returns to the colder countries. The ice continues to melt. Nature tends to get the living soul back. The guest birds start flying again. Fly thousands of miles. He flew back to his homeland. The funny thing is that in the midst of so many days and nights, when the guest birds return to their respective countries, they never make a mistake in recognizing their home. This is a strange thing!
About the Creator
Stay tuned for the latest health and beauty information. Our responsibility is to take care of your daily life.
Reader insights
Be the first to share your insights about this piece.
Add your insights