Gandy Beach (also known as Redneck Beach) is changing
Local News from a Pinellas County citizen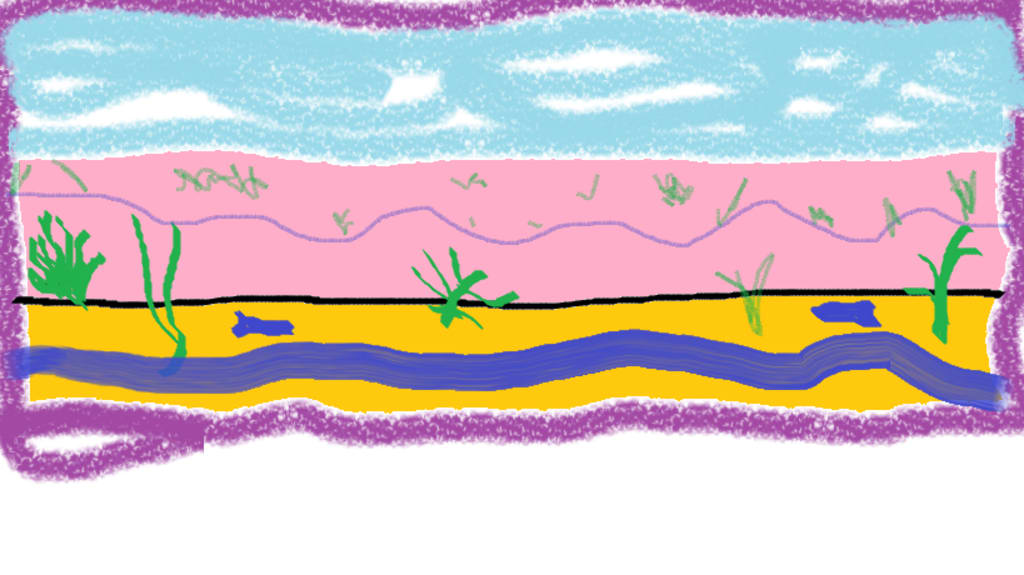 original artwork
There's a lot on my mind today. I imagine I'm not the only one who thinks a lot. I'm trying to stay focused on my personal goals, desires, and the garage sale I'm running today and tomorrow, but as I sit here sipping soda and smoking cigarettes, I can't help it, I'm thinking about lots of things that may or may not be any of my concern.
I had heard recently that Gandy Beach is changing. The powers that be have decided they finally want to clean up that area. Gandy Beach is a beach area off of Gandy Highway that connects Old Tampa to St. Petersburg. It's also known as Redneck Beach because the NON-FruFru types who want to hang out and grill some dogs on a hubachi or put up a tent without getting sneered at, like to hang out there. It's been like that for as long as I can remember - probably at least the past 40 years.
There is a pollution and littering problem. I know because I have loved and enjoyed many visits to Gandy Beach. I've spent much time there. I loved the privacy that the mangroves provided. We all knew to get the best private spots you had to get there early especially on the weekend. I have many memories that I cherish there. It was a place I felt safe and free from fru-fru's critical comments and sneers. Where I could wear anything I wanted to wear and not feel like an outcast because I wasn't a barbie doll. A place where I didn't have to pay $20 for parking for an hour. A place where it was a joy when the ice-cream man showed up. The only complaint we all had was that there were no public bathrooms. You had to piss in the bay or bring a poop bag or bucket. But dogs were allowed and the dogs loved being on the beach with their families. It was a wonderful family beach. The other problem though, besides not having a public bathroom, was the pollution and littering. It was hard to enjoy our food and dogs and swimming when the stink of garbage begins to interrupt. It was hard to feel like a good citizen for putting our trash into the proper receptical, when there were so much litter floating in the water, messing up the scene, and causing hazards for the cars, the animals, and the people. Some of the Gandy visitors just could not love their beach enough to keep it going. As if they expected somebody to care for their beach the way they slaved in their blue collar jobs for others Monday through Friday or on the Weekends. It's sad to see the end of a good thing simply because of Economic Feudal wars and lazy, unappreciative, disrespectful visitors.
I went there once on a mission. I thought that if I cleaned up and filled two large garbage bags full of plastic and cans that I would do good for me and Gandy Beach. I thought I could promote the idea with money as the motivator. It was a sad result. I got fifty cents for a large garbage bag of scrap metal in cans. It took me about an hour to gather that bag full of cans. I cut my hand on a can while doing so. I might have been proud of my effort, but I wasn't proud of the reward. There's people who make $1000 a day doing nothing. My hand is worth more than fifty cents --- so is an hour of my time. I didn't go back to that mission, nor did I promote it to anyone.
So since I'm hearing now that Gandy Beach is changing, I'm not really sure how to feel about it or how to respond. I suppose if they eliminate the one last beach that is left for the blue collar folks, there really is no reason for the blue collar folks to stick around Pinellas County at all. We're not welcome on the Fru-fru beaches and we don't think they're worth the prices -- too many snobs and rules. We go to the beach to relax from hard work, not deal with Drama Queens and stress and extra-expenses.
I don't like Florida beach towns. They are awful and Pinellas County is no exception. Florida beach towns are made for superwealthy people and bikini-bimbos. If you are rich or can rock a bikini, you'll love Florida and you'll love Florida beach towns. If you are blue-collar, frumpy, or poor I suggest you head to mid-Florida or the pan handle areas of Florida. Stay away from Fru-Fru. They only make our lives miserable. When I was a kid in New Jersey, going to the shore was a joy, a thrill, a vacation. It's not like that in Florida. It's a joy to get away from the Fru-fru beaches in Florida.
Reader insights
Be the first to share your insights about this piece.
Add your insights