For I Can't Help "Pollen" in Love with You!
Closeup of a bumblebee with a macro lens.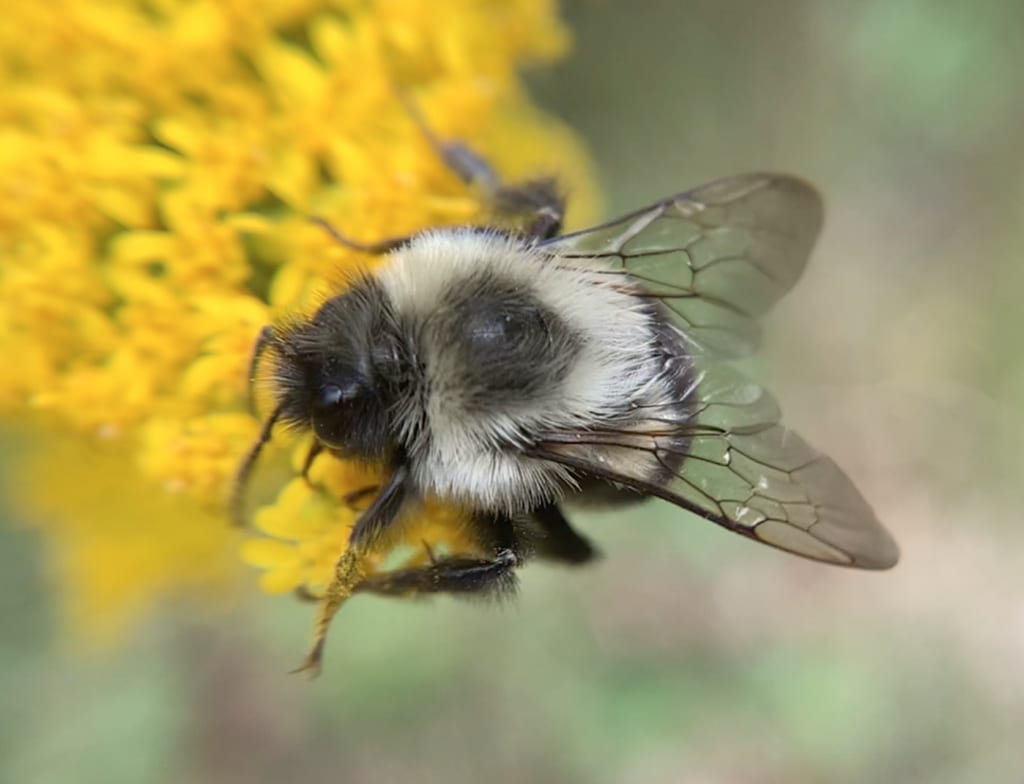 Photo by Katlyn Campbell
My love for photography can best be described by the quote, "Photos are a return ticket to a moment otherwise gone." When I see this photo, I am transported back to the forest, hiking with my dad staring in awe of the tall trees and smelling the morning dew on the grass. It is also the first photo I have ever taken of a bee, and it certainly won't be the last!
The Setting
I was hiking at Roche-a-Cri State Park in central Wisconsin. This 605-acre nature park features trout streams, creeks, natural rock formations, and miles of hiking trails. The natural beauty here is unspoiled and is home to a diverse group of plants, trees, insects, and animals. Coming from southern Arizona where I don't see many trees, I am always amazed at the grandness, greenery, and wildlife that live within a forest. Once you walk into the park, a canopy of trees immediately envelops you and the 35-foot trees line a winding pathway through the forest. Thick tree roots crisscross the dirt path, and a variety of pine trees, shrubs, and flowers can be seen on the forest floor.
Macrophotography
Photography allows us to notice details otherwise microscopic to the human eye, and the details of even the smallest of creatures. Typically, when a bee buzzes past you see a yellow and black bean-size insect that we usually find a nuisance and swat away. However, in the lens of a camera, it shows us what we've been missing. I have seen bees countless times, but in this photo, it is the first time I am seeing this insect up close and admiring all its "bee-utiful" qualities.
For this shot, I used my iPhone 8 with the Xenvo macro lens attached. I saw an ad on Instagram for the Xenvo Pro Lens Kit, a pair of lenses (wide-angle and macro) that clip on over your iPhone camera. The macro lens is 15x magnification and can make even the most minute details seem life-size.
Macro photography has allowed me to marvel at the microscopic elements of insects, flowers, leaves, water droplets, and more. It brings into focus very small organisms and makes them the focal point while blurring the background creating a vignette effect. From experimenting with the lens on leaves and flowers in my backyard, I have grown a new appreciation for the little things around me. Photography for me is a hobby, and most photos I take of wildlife happen by surprise, even more so with insects as they are quick and hard to find.
When I go hiking, I always carry the Xenvo lens in case of seeing an interesting flower or bug. I was walking past some flowers when I noticed this bee. I heard the buzzing first before I saw it land on some small yellow flowers. Thankfully, the lens comes with a lanyard for easy access so I quickly attached my lens and got close as I could without upsetting it, worried that it would fly away. The macro lens works best when the object is as closest to the lens as possible. I am grateful to this bee, who was much too distracted by the yellow flowers to be bothered by my lens hovering less than two inches from his body. Because the macro lens focuses on the object rather than the background, everything but the bee and tips of the flower petals are blurred. As for editing, I did not need to enhance the photo quality or adjust the light and color.
All the Bee-utiful Qualities
For this bee, what stands out the most to me is the wings. The intricate pattern on its glossy iridescent-like wings, as if someone etched a mosaic over a piece of plastic wrap. They are delicate yet powerful, especially thinking of how fast they flutter and the number of miles they travel each day. Next are the minuscule yellow flecks of pollen attached to the black hairs on the foreleg, the glazed-over black, bulging eyes, and its antenna protruding from the top of its head. Its body is covered in fine fuzzy hairs of a faint yellow and black color that almost look soft to the touch. Soft isn't a word I would associate with a bee, but in this photo, I think otherwise. Hair is the main difference in recognizing bumblebees and honeybees. Bumblebees are more round and fuzzy making them better adept at collecting pollen while honeybees are slender and have less hair.
The video allows the viewer to see the bee in motion. You can see a glimpse of its slim red tongue as it delicately crawls over the tiny yellow flowers. The change wings' color as it catches the sunlight, like a beautiful clear stained-glass window. And its body hair acts as a Velcro collecting pollen, carrying it from flower to flower. With the crickets chirping in the background, it makes the setting picture perfect.
This photo reminds me of a poem called "How doth the little busy bee' by hymn writer, Isaac Watts:
How doth the little busy bee
Improve each shining hour,
And gather honey all the day
From every opening flower!
And though I only saw roughly 15 seconds of this little busy bee's day it was just enough to give me this wonderful photo and I just can't help have pollen in love with bees!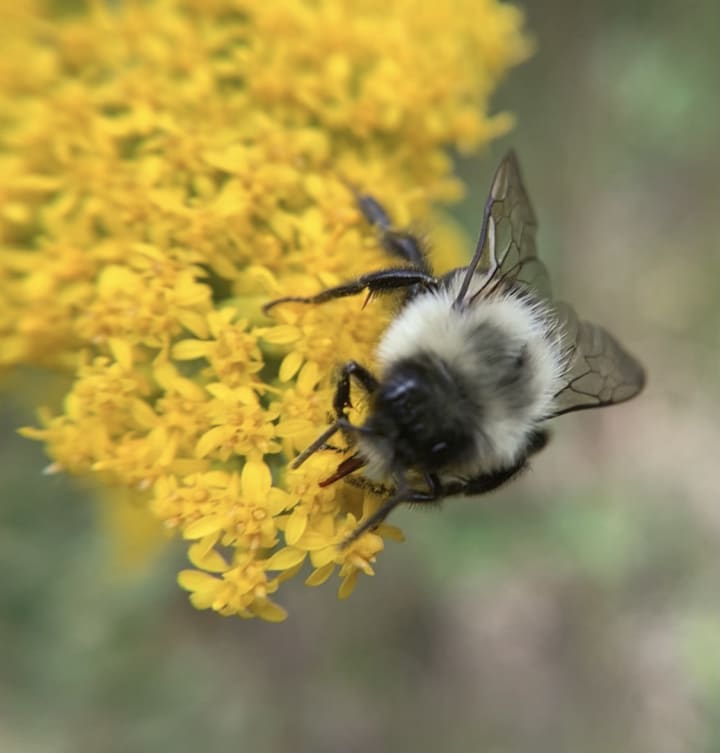 How to Help Bumblebees
My newfound love for bees has also made me aware of all the dangers bumblebees face in the future and why we should all care a little more about protecting these fuzzy insects. As they transfer pollen from flower to flower, bumblebees are essential pollinators for gardens, orchards, woodlands, prairies, and more. This results in the production of seeds, flowers, fruits, vegetables that animals and humans rely on for survival and health. However, over the years bee populations have been declining and they face habitat loss, pesticides, and a changing climate. To help protect our world's pollinators here are some tips from the National Wildlife Federation on how to help:
1. Create a wildlife garden in your yard, garden, porch, or balcony with pollinator-friendly and native flowers and plants.
2. Ensure bumblebees have nesting sites: underground holes, hollow logs, empty birdhouses, etc.
3. Create a pesticide-free environment and check seeds are not pre-treated with insecticides.
4. Join Bumble Bee Watch to help scientists study bumblebees and to learn photography tips, resources, and record sightings: https://www.bumblebeewatch.org/
Nature
Traveler. Teacher. Poet. Writer. Photographer.
Inspired by the places I've called home 🇺🇸🇮🇪🇰🇷🇬🇧🇮🇹🇫🇷
IG: @katlyn.campbell
Receive stories by Katlyn Campbell in

your feed