DISMAL PROGRESS REPORTS CAUSE EARTH DAY FRUSTRATIONS
Dismal progress reports from Canada's Commissioner of the Environment and Sustainable Development and the UN Secretary-General tarnished Earth Day festivities this year. Find out why the status of climate change and mass extinctions is nothing to celebrate.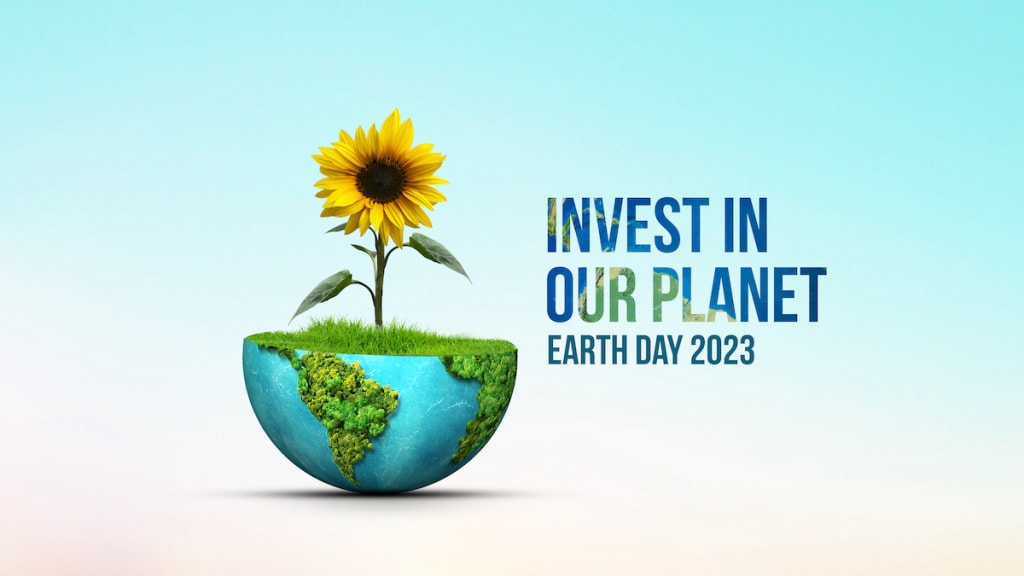 It's Earth Day as I write this, which has me reflecting on the past. The first Earth Day in which I actively took part was in the early 90s.
Although it had been around since 1970, 1990's Earth Day Special on ABC television ignited the holiday as an annual tradition. I was part of an environment group that arose from that trend, and on Earth Days we handed out tree seedlings for people to plant.
That tradition has carried on around town, and this morning people gathered to plant trees along the Mill Creek Trail. Tree planting is one of the most popular Earth Day traditions around the world.
COMMISSIONER SUBMITTED FIVE DISMAL PROGRESS REPORTS
It's also one of the reasons I'm writing this post with mixed feelings. Canada's Commissioner of the Environment and Sustainable Development, Jerry DeMarco, submitted five dismal progress reports to parliament this week.
One of the many grim findings he included was that "it is unlikely that the Two Billion Trees Program will meet its objectives unless significant changes are made." That's just one of countless disappointments his report details.
As Commissioner DeMarco told a news conference, "Canada has failed to meet many of its climate and biodiversity targets, and I'm extremely concerned that without a significant shift in approach, this trend will only continue."
SPECIES AT RISK CONDITIONS GROWING WORSE
The first of the five reports found that out of 520 species at risk, the conditions of 416 of them either hadn't improved or had gotten even worse – that's about 80%. Only one out of the 399 progress reports the government required Environment and Change Canada to produce ever got done.
In the second report, we learn that over the twenty years since the Species at Risk Act came into force, the federal government has only issued three emergency orders under it. As the commissioner put it, "Environment and Climate Change Canada's actions do not reflect the urgency of the worldwide biodiversity crisis."
The third report dealt with the tree-planting shortfall mentioned above. It also pointed out that Natural Resources Canada and Environment and Climate Change Canada can't get their act together on measuring how Canada's forests affect greenhouse gases.
CAN'T EVEN DETERMINE IF FORESTS EMIT OR CAPTURE CARBON
The lack of coordination means the data they provide can't even determine if forests emit or capture carbon. That makes it "extremely difficult" for government leaders to make informed decisions on forestry.
Emission reductions were the subject of the fourth report, which found that Environment and Climate Change Canada didn't even know if existing greenhouse gas regulations were helping to meet Canada's emission reduction targets. They do know that current vehicle emissions aren't working, and the department is also falling behind at developing the required new regulations on things like clean fuels.
Unless the government knows the impact of its regulations, there's no way to assess if it's using the regulations to get results. It also has no way to tell where the rules need to be toughened up or relaxed.
YEARS AWAY FROM INCLUDING FINANCIAL RISKS
The fifth report deals with climate-related financial risks. It found that the Office of the Superintendent of Financial Institutions Canada is still years away from getting climate-related financial risks worked into its policies for federally regulated financial institutions and pensions.
That's a problem because, as the climate crisis leads to more natural disasters, damage to homes can lead to mortgage defaults, That could trigger another credit crunch like the one that caused the Great Recession back in 2008.
It's a disheartening set of dismal progress reports for anyone concerned about the climate crisis or endangered species. As the commissioner put it, "With these most recent reports, the list of failures grows longer, yet again."
"WORST PERFORMER OF G7 NATIONS SINCE PARIS AGREEMENT"
Commissioner DeMarco went on to say, "Canada was once a leader in the fight against climate change. However, after a series of missed opportunities, it has become the worst performer of all G7 nations since the landmark Paris Agreement on climate change was adopted in 2015."
Meanwhile, at the International level, UN Secretary-General Antonio Guterres was just as pessimistic. In his Earth Day message, he wrote, "We seem hellbent on destruction. Our actions are laying waste to forests, jungles, farmland, wetlands, oceans, coral reefs, rivers, seas and lakes."
The frustrations voiced by the Commissioner of the Environment and Sustainable Development and the Secretary General in their dismal progress reports are rooted in a mindset of human domination and exploitation of our natural world. The effects of climate change, pollution, deforestation, and loss of biodiversity come from a worldview that views nature as a resource to be exploited for human gain.
AND ANOTHER THING…
Humanity needs a new story about our relationship with the natural world. The commissioner and the secretary-general are expressing a shift recognizing that we're a part of a larger, interconnected web of life, and that Earth's well-being is directly tied to our own.
Commissioner DeMarco wrapped up the news conference presenting his dismal progress reports by saying, "As we celebrate Earth Day this weekend, which bears the name Invest in Our Planet, let's remember that it isn't too late to switch gears and refocus the discussion on achieving targets and reversing the current trend of failure."
Striking a similar note, Secretary-General Guterres ended his statement by saying, "I urge people everywhere to raise your voices – in your schools, workplaces and faith communities, and on social media platforms – and demand leaders make peace with nature.] Let us all do our part to protect our common home for the sake of people and planet right now, and for the generations to come."
We always have more to learn if we dare to know.
Learn more:
Commissioner of the Environment and Sustainable Development's Opening Statement
End Relentless Wars on Nature, Protect Our Common Home, Secretary-General Stresses
Net-Zero Emissions Bill Breaks Trudeau's Climate Pledge
New Environment Minister Has a Tough Row to Hoe
Biodiversity Targets: Canadians Need Actions, Not Words
About the Creator
I'm a freelance writer and commercial blogger, offering stories for those who find meaning in stories about our Universe, Nature and Humanity. We always have more to learn if we Dare to Know.
Reader insights
Be the first to share your insights about this piece.
Add your insights