Coach David Parker on Tips for Having a Sustainable Winter
Coach David Parker | Shanghai, China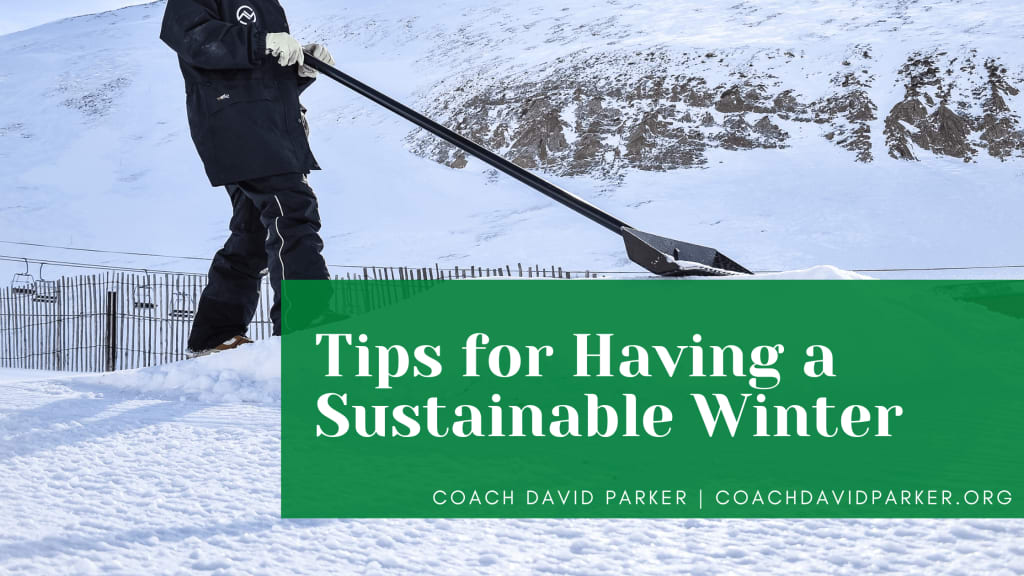 https://coachdavidparker.org/tips-for-having-a-sustainable-winter/
The harsh winter season can pose unique environmental challenges. From the salt we spread on the sidewalks to the extra energy we use to heat our homes, keeping the environment in balance can be very challenging. However, taking a more conscious approach can help lessen our impact on the planet. Here are a few tips to achieve a sustainable winter.
Layering
Rather than raising your home's temperature, try wearing a few layers of clothes to keep warm. These include warm clothes such as undershirts, socks, and light jackets. At night, layer up blankets, quilts, and pillows to keep you warm and save money on energy. This can also be done by increasing your home's temperature.
Mindful De-icing
For safety reasons, you usually use salt on your driveway and sidewalks to prevent ice from forming. However, did you know that some deicers, such as calcium chloride and rock salt, can pose a risk to pets, children, and the environment? Before you start using these materials, make sure that you read the directions carefully. Try using eco-friendly alternatives such as wood chips and sand.
Energy-efficient Lightbulbs
After all, most of us have already packed away the holiday lights. Now it's time to focus on the other lights in our homes. If you're still using old-fashioned bulbs, switching to more eco-friendly alternatives such as LED lights, compact fluorescent lamps, and halogen bulbs is essential. After you have gotten past the sticker shock, these bulbs will last longer and can save you money on electricity.
Reduce Car Time
It's nice to step into your warm car after you've waited inside to warm up. However, this practice can lead to air pollution and emissions. If you're planning on leaving your car running for a long time, limit the time you spend in it to around three minutes. Just start the car and drive away.
Composting
One of the best ways to keep your waste low this winter is to continue composting. Although some people cannot control their yard bin in the cold weather, it's still essential to keep it up. This method can help keep organics from going to landfill for a long time. If you cannot keep your yard bin in the cold weather, try using a vermicomposting program.
ABOUT COACH DAVID PARKER
Coach David Parker has a long history of working as a performance coach for athletes. This includes strength and power conditioning, sports performance diagnostics and evaluations, speed development, and rehabilitation. When it comes to his teams and the sport of track and field, those who have worked with David know how dedicated he is. In addition to his many other talents, David Parker is a very effective facilitator, workshop trainer, and public speaker. He also serves as a dedicated mentor and collaborator.
David worked as a Strength & Conditioning Coach/ Fitness Instructor for three years at the Powerbase Gym within Loughborough University, followed by years as the Lead Strength & Conditioning Coach for the British Volleyball/ British Handball teams within the English Institute of Sport (EIS). Throughout his tenure with the EIS, David focused on building a diverse coaching portfolio encompassing track & field, rugby, boxing, badminton, volleyball, handball, diving, BMX, pentathlon, and specialty fields such as wheelchair basketball and wheelchair rugby. David continued his work with the EIS as the Senior/ Lead Strength & Conditioning Coach for the British Diving/ England Rugby League.
David currently works as the Chinese National Men's Head Javelin Coach and the Head Javelin Coach of the Shanghai Provincial Track & Field Team. The reigning Chinese National Champion, Xu Jiajie, who threw 84.54 meters in 2021, is among the athletes he mentors.
David Parker is devoted to his wife and son and wholeheartedly admits that everything he does in his life is to make the world a better place for them. Another joy in his life is supporting the premier league Liverpool Football Club. In addition to being a season ticket holder for over five years, David proudly displays the team mantra #YNWA (You'll Never Walk Alone)
About the Creator
David Parker works as the Chinese Athletics Association's National Men's Javelin Coach and the Shanghai Track & Field Team's Head Performance Javelin Coach. He is also a Co-owner and Director of The Javelin Throw and Sightline Performance.
Reader insights
Be the first to share your insights about this piece.
Add your insights