Better Bioeconomy Weekly — Mar 27th 2023 🌏
Biden administration sets out bold goals to supercharge America's bioeconomy.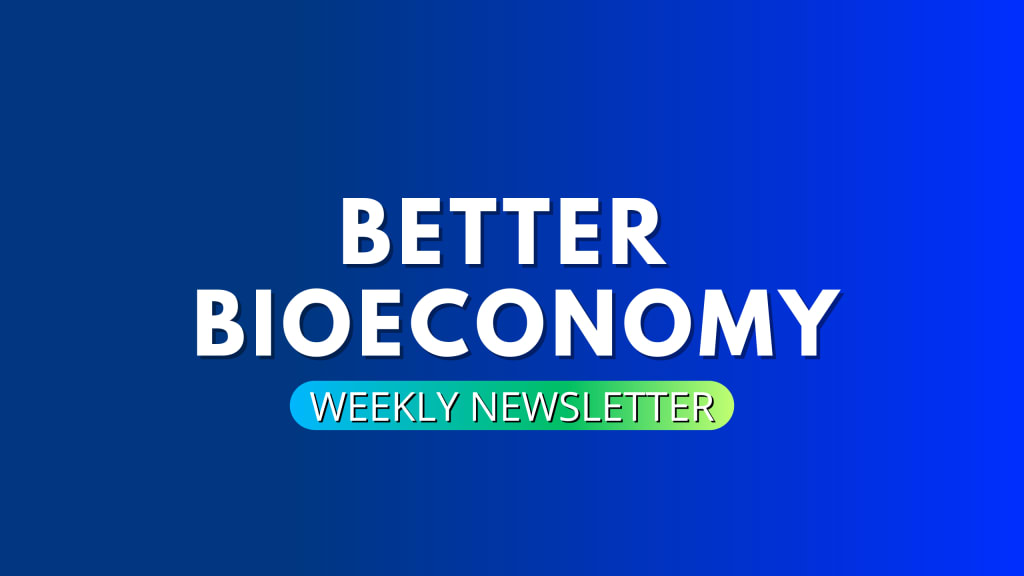 Exploring the intersection of biology, technology, and business in creating a sustainable food system.
The purpose of this weekly newsletter is to keep you informed on the developments and innovations in the field and how they can be used to create a better future for all.
If you would like to get the latest updates delivered straight to your inbox, subscribe to the weekly newsletter!
Let's begin!
WORD BUFFET 📖
🇺🇸 Biden administration sets out bold goals to supercharge America's bioeconomy
The Biden-Harris Administration announced some new goals for biotechnology and biomanufacturing to help make the American bioeconomy more sustainable.
Biomanufacturing can help create more sustainable options in lots of different industries like plastics, fuels, and even medicines. It could also help find new solutions for issues like climate change, energy, food security, and more. And, it can help make the US more secure as a nation, both economically and otherwise.
The report they released discusses the R&D needed to achieve the ambitious vision for biotechnology and biomanufacturing, the establishment of biomanufacturing priorities for the Department of Defense, and the assessment of the economic value of the US bioeconomy.
Oh, and they're also planning on expanding education opportunities and making sure biosafety and biosecurity are super strong.
🗺️ Navigating the alt protein industry: Exploring key benefits, developments, and opportunities
Alternative proteins aim to replace animal proteins and offer several advantages. For starters, they're way better for the environment. And they're made in a way that's much more ethical than traditional meat and dairy production. Plus, generally, they can even be better for your health!
By diversifying protein sources and modernizing production methods, we can reduce the environmental impact of meat and dairy. And that's not all — it can also help prevent disease outbreaks and save land.
There are all kinds of alternative protein sources out there, like plants, fungi, algae, and proteins that are made in labs. Each one has its own set of benefits and challenges, but the possibilities are endless.
🌱 Using plants as bioreactors to revolutionize protein production
Have you ever heard of molecular farming? Scientists have figured out how to turn plants into little protein factories. Basically, they engineer plants to produce proteins through recombinant protein technology.
These plants act as single-use bioreactors, converting sunlight, CO2, and water into the desired protein. Once the protein is produced, it's retrieved by harvesting and processing the crop.
And get this, there are already some cool companies working on this tech, like Miruku, Mozza Foods, Bright Biotech, Nobell Foods, and ORF Genetics. They're using molecular farming to create everything from plant-based cheese to therapeutic proteins.
Some of the best things about molecular farming is that it's super cost-effective, scalable, versatile, and sustainable. And it's not just good for making food — we're talking pharmaceuticals too.
🌾 How technology can help address challenges in agriculture in the 21st century
Did you know that agriculture was the spark that ignited the Neolithic Revolution? But, modern-day farming practices are putting a serious strain on the environment. In fact, agriculture is responsible for 23% of all human-caused greenhouse gas emissions!
But, don't lose hope! With advancements in technology, we're starting to see a revolution in agriculture. Innovations like precision farming, high-resolution imaging, drones, and biotechnology are all helping to boost productivity and reduce environmental impact.
If we want to achieve sustainable agriculture, we need to invest in these technologies and get youth and smallholder farmers involved. Improving internet infrastructure and encouraging young talent are key to making this happen.
🐔 Eat just gets FDA clearance for cultivated meat in the US
Eat Just is getting closer to serving its cultivated meat in the US after receiving a no-questions letter from the FDA after several years of working with regulators. Hold up, though — the USDA still needs to give its own approval to ensure the meat is safe when harvested.
Eat Just has already been serving its cultivated meat in Singapore for over two years and has actual safety data to share with the FDA. This is a huge milestone for alternative protein advocates, who see cultivated meat as a game-changer in the food system.
To make things even better, Eat Just is expanding its production facilities in Singapore, building a commercial-scale facility in the US, and working on regulatory reviews for its Good Meat chicken in other countries. They're even hoping to get approval for their completely plant-based serum to grow cells, which would be a major win for sustainability.
🚨 Scientists issue 'final warning' on the climate crisis
Have you heard about the latest climate report from the IPCC? It's kind of a big deal.
Basically, the report says that if we don't take action fast, we're in trouble. Really big trouble. We're talking about irreversible damage to the planet, and that's not good news for anyone.
The report goes on to list all the ways that climate change is already hurting us — more deaths from heatwaves, homes destroyed in droughts and floods, and damage to vital ecosystems. It's not a pretty picture.
But the report also gives us hope. It says that if we take swift and drastic action, we can still turn things around. We need to reduce greenhouse gas emissions, invest in renewable energy and low-carbon technology, and aim for net-zero emissions as soon as possible, like by 2040.
🇨🇳 Jimi Biotech develops China's first 100% cell-based meat
Jimi Biotech made history by creating the first 100% cell-based meat in China! And get this — it's made entirely from animal cells, without any plant scaffolding.
This is great news for all of us meat lovers out there who are looking for a more sustainable option without sacrificing taste or texture. But you might be wondering, how does it compare to regular chicken in terms of colour, smell, and taste? Well, a sensory evaluation found that there was minimal difference between the two.
It's no wonder that the Chinese government has listed cultivated meat as a key area for future food manufacturing. It looks like we're about to enter an exciting turning point in the world of sustainable and delicious food.
Check out the remainder of the newsletter using the link below where you can find the following sections:
Social feast 📱
🥳 Overcoming pessimism and celebrating the progress of the alternative proteins
⚖️ Managing expectations in cultivated meat: Get to 0.1% market share before 10%
😌 Don't be scared of precision fermentation
Ear food 🎵
💬 How ESG frameworks can help plant-based businesses communicate their impact
🏭 Beyond carbon neutrality: Why food and agriculture corporates need higher goals
Visual delight 🎥
💡 Taking alternative proteins mainstream: Insights and strategies from GFI and BCG
About the Creator
Exploring how biotech, food tech, alternative proteins, and business can help develop a sustainable world 🌏 https://linktr.ee/eshan.s
Reader insights
Be the first to share your insights about this piece.
Add your insights