Behind The Lens 🟪📸🟪
On a Wild Safari in Yala National Park, Sri Lanka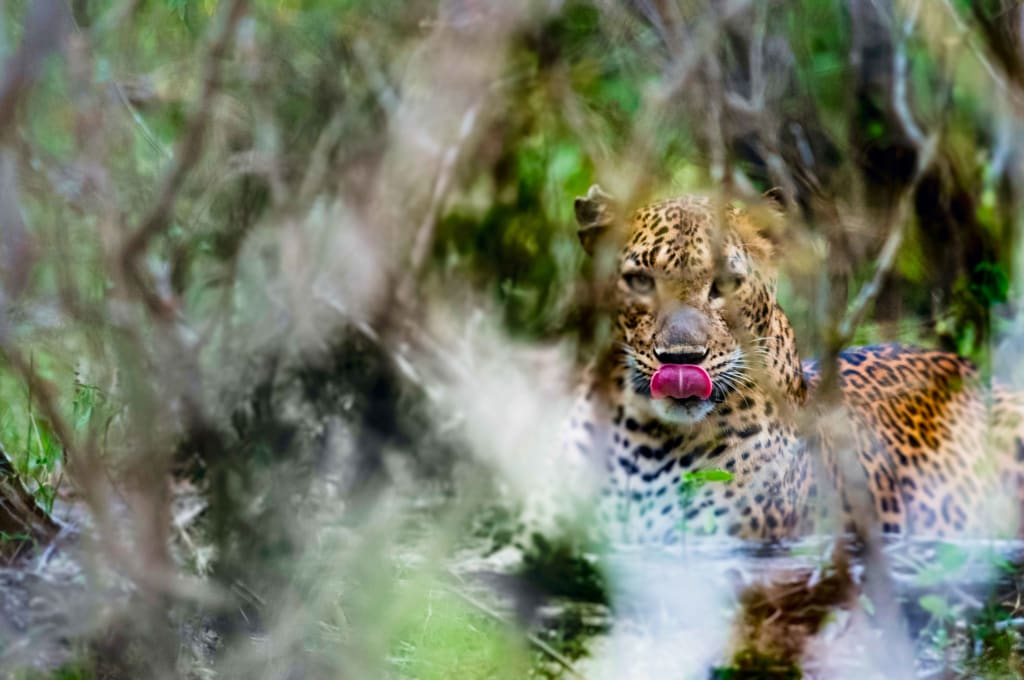 Young Leopard in Yala National Park, Sri Lanka
Location
I was absolutely delighted to escape my quarantine hotel one Wednesday In Sri Lanka, having being invited on Safari to Yala National Park. This was my first time seeing these majestic mammals in the wild and it was a truly magical experience. We had a 2.5 hour car journey to get to the park, where we transferred into a massive open jeep that could comfortably accommodate x6. There was only myself, the guide and the kind Colombian who had invited me as his guest. Absolutely perfect for allowing me to climb around in search of good angles for photographs. Shoes off, crouching, kneeling, hanging out the sides...the roof... you name it I was doing it!
Time
This photo was taken around 18:00. Our guide had been about to call it a day for us as the sun; just as I spotted a movement in the bushes. We braked to a halt and my guide pointed to the Leopard. The energy was electric in our vehicle at this point. All day we had hoped for this sighting. Although Yala has an estimated 14 Leopards in the territory, we were told it is still rare to see them. They have excellent senses and can easily avoid a bunch of humans riding on a 100 decibel vehicle (that's the same level of noise as jet taking off) chasing after them.
Lighting
We were losing light fast at this point in the day and the Leopard was already quite far back into the shade of the trees. I feel extremely lucky to have captured this shot with adequate lighting.
Equipment
This was shot with a Nikon D810 and Nikkor 80-400mm VR FX AF-D f/4.5-5.6 (2000-2013) lens, in hand, with UV filter. It is an older version lens that I bought second hand on eBay and have become great friends with. At 1.2kg is is no light addition to my bag, but I am extremely happy with the image quality and I'm convinced my arms are more toned after a day together!
Inspiration
I photograph what my heart guides me towards. I usually see the photograph in my mind, and then take 4-5 shots to try to capture the perspective I desire. With animals it can be difficult as they tend not to pose, making it important to get the shot as quickly as possible. I captured only three photographs of this beautiful creature in total as it stood up to leave as soon as it saw us.
Editing
I have recently started using Adobe Lightroom upon the recommendation of a friend. I am new to photo editing, and I prefer to keep it to a minimum. Small tweaks to contrast and light alongside small tweaks to clarity are about all that I use so far. I prefer for my photos to be raw with very little post production.
In My Camera Bag
I always carry my Sigma Art Series 35mm and 50mm lenses. These are possibly the most stunning portrait lenses that I have ever shot with. The vibrancy and depth to them allow for editing to be minimal, which I love. I always carry two charged spare batteries - although this camera is incredible for battery life and rarely do I require a change. I took around 350 photographs across 8 hours this day and it is still 4/5 full! Always I carry a couple of spare SD cards, a lens cleaning cloth and a circular polarising filter. There is also a remote shutter living inside my bag, although I've yet to use it. I really prefer photography that is "hands-on". I love to move around a lot to play with angles and perspective, rather than tripod work. So I justify carrying three lenses because I negate a tripod! My bag is also never short of a snack - it's vital to keep your energy up when on a long shoot. And spare contact lenses... just in case!
Feedback
When I am asked for photography advice, I always answer the same way. Tune into your environment and capture what your heart is most drawn to. When you are in love with your subject matter, the photography will come naturally. I describe myself as an intuitive photographer, my fingers just seem to know what settings to use in the moment! I honestly believe that intuition and connection are the two fundamentals of photography. Learning theory is important and I believe it will take my photography to the next level when I do. But, for now, I shoot with my heart ❤️
The Safari Story
As a solo traveller at the mandatory quarantine hotel in Kalutara, I was befriended by a widower with cabin fever who had decided to book a safari to escape our 'prison' for the day. (Not my words - the hotel was stunning and the time alone welcomed!). He was very keen for company, especially having learned that I was a keen amateur photographer. I explained that I would love to accompany him but I simply couldn't afford the $200 price tag. The next day I discovered I have been booked onto the trip with him. He explains to me that this is "pennies to him" and he would prefer not to go alone. How could I argue with this logic?!
Now that I was assured I was doing him a kindness by accepting this extremely generous offer, I was delighted to be going. We set off early in the morning, travelling from our south-western beach resort to Yala National Park on the opposite side of the island. Most of the journey was along the Chinese built expressway that now connected the capital city to the south. As highways go, this one is fairly scenic. Our driver was extremely knowledgable about Sri Lanka's fauna - pointing out to us the various crops and trees as we travelled.
He also spoke a little about Sri Lanka's 33 year civil war and the pressures this put on his family. It is hard to imagine that a place as lush, tropical and beautiful as this being at war for the same amount of time I have been alive. Looking at palm trees blowing in the breeze, the blue oceans in the distance and the surf boards on tuk tuks, it's easy to forget the immense and recent trauma this country has suffered.
We finally arrived at the gates of Yala around midday. These were particularly interesting gates given that they are built around 20ft high and yet only span the width of the road. Either side of these large iron structures is open bare land; so that animals can freely roam. We were told that the animals tend to remain within the park boundaries, however.
The first hour was strange for me. I have never been on a safari and I was unsure what to expect. But this was not at all what I expected!
If you have ever been to Disneyworld or Busch Gardens in Florida, you will be able to easily picture Yala National Park. Everything from the vehicles to the single track hard mud roads, arid desert like scenery and cactus like plants were straight out of the Animal Kingdom Park. I guess we saw at least 10 different vehicles - filled to the brim with distinctly miserable looking tourists in hats with cameras in hand. It dawned on me right there that this was big business in Sri Lanka.
The realisation of how landscaped and touristy Yala was did have me cringe inside. I was part of the problem given that I was there, after all. But how was I to know? I hadn't planned to be there and so hadn't researched the ethics of the trip. I've also no idea if anyone else would see Yala through the same lens had I tried to research.
Last year I was walking through a park in Germany and came upon flocks of beautiful birds in cages. I stopped and stared for the longest time, confused and not realising that this was still a 'thing'. People with cameras came along to smile and point at them, lifting children so they could see better. I wanted to cry in that moment. Adults teaching children that it was a normal thing to have birds locked up for our amusement. I wanted to set them all free there and then. But what could I do? I held back my tears, silently telling the birds I was sorry and ashamed that my fellow humans had imprisoned them like this. Zoo's and places like this really upset me. It's part of why I was so excited for this 'Wild' Safari. Sadly it was not the miles of untouched plains and /or jungle that I had envisioned. It was far more akin to a tourist site.
Yala National Park is split into grid sections and we were navigating Block 1. We were told there was the greatest possibility of seeing the most animals in this section. The jeep drivers were all connected via walkie-talkies and when one guide spotted a leopard or elephant he would alert the other jeeps and everyone would drive at high speed in these oversized, noisy vehicles to catch a glimpse. We would arrive at full speed, skidding to a noisy halt. In my opinion we were far too intrusive and far too close to the animals.
I had a very mixed experience that day. Would I recommend a Safari at Yala National Park (or should I say an outing to what I now refer to as Yala National 'Theme' Park)?
Hand on heart, no.
If I had known prior to the trip what I know now, I would have declined Efra's generous offer and attempted to talk him out of going also. The noise and vibration of the jeep was stressful enough for me, let alone these sensetive mammals. Given that most animals walked away from us on arrival (as seen in this photograph) tells us that we were a nuisance to them.
I appreciate that it's a difficult situation for the locals. The people need the employment and the money that the tourists bring and Yala brings many tourists. But this is happening at the expense of nature. The incentive to gain good tips by getting people as close to the wildlife as possible is the only consideration of the guides, unaware of the detriment to the animals.
I see no easy or obvious solution to this problem. I believe it is possible that Safari's can take place without being so intrusive. Raising prices and reducing numbers allowed to enter would be a fast way to achieve the desired outcome. That is a policy that would make it impossible for a budget traveller to afford, however. Educating guides on maintaining better distance should be a priority for the Sri Lankan Government, but who's job is it to campaign for this? If there is no demand, however, there is no supply. Perhaps the responsibility lies with the paying tourist to instruct their driver?
On a side note, there is enough widlife roaming in Sri Lankan towns and villages to amaze any Westerner. Most guest houses I stayed in had resident monkey's, cute squirils and an array of beautiful birds! The Pinawella Elephant Sanctuary is where I would direct any fellow traveller to over Yala. In my experience budget travellers are looking for more 'genuine' experiences, so with that thought, I think perhaps the Safari should be highly priced for those who can afford and those who know better can spend that $200 on a far more authentic Sri Lankan experience with the money going directly to the people who really need it. You aren't likely to see a leopard, but I am certain there are other parts of the world where you can do this more responsibly.
Now. Time for coffee ❤️
Nature
Philosopher with a passion for justice, equality & true love
Receive stories by writtenwithlove❤️ in

your feed