AMNESTY INTERNATIONAL – STATE OF WORLD'S HUMAN RIGHTS
Amnesty International has just released its annual report on the state of the world's human rights. Find out how it assesses human rights in 156 countries, including Canada.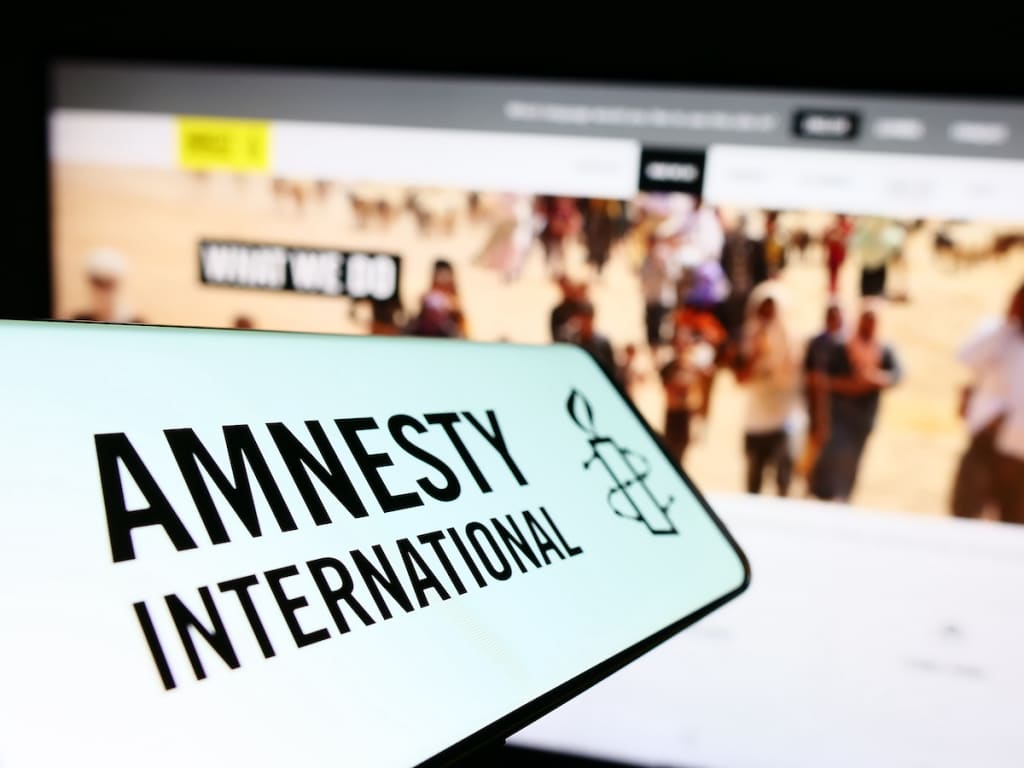 I've been working with Amnesty International for about four years now as part of their Urgent Action program. About once a week, they brief me on cases around the world where countries have violated someone's human rights.
My job is to right to the authorities in those countries and tell them to knock it off. Most of the time it works, and sometimes it doesn't.
My contribution is tiny but worthwhile. I figure that just because I can't do everything, that doesn't mean I shouldn't do everything I can.
REPORT ON THE STATE OF THE WORLD'S HUMAN RIGHTS
I'm just one of over ten million people around the world doing their bit for human rights through Amnesty International. Every year they issue a report on the state of the world's human rights, and the latest one just came out.
It assesses the status of human rights in 156 countries, and also provides an overview of the global human rights landscape. Overall, the scene looks bleak.
The report points out that human rights defenders have been warning about a global decline in human rights for at least the past ten years. Around the world, the trend has been deteriorating in terms of personal freedoms and the rule of law.
RUSSIA'S INVASION OF UKRAINE
The most prominent event of the past year was Russia's invasion of Ukraine. Within a week of Russia's attack, the International Criminal Court launched an investigation into war crimes Russia was committing against Ukraine.
Beyond Ukraine, there are many other threats to peace and freedom across the globe. The ongoing war in Ethiopia has led to hundreds of thousands of deaths, cultural genocide of the Tigrayan people and displacement of over two million people.
In Israel's West Bank, last year was the deadliest the Palestinians have seen for more then ten years. Israeli forces have killed at least 151 people, many of them children.
VIOLENT MILITARY OPPRESSION IN MYANMAR
Myanmar's military forces have been violently oppressing the Karen and Karenni nation, killing hundreds of civilians and displacing over 150,000 people. War and systematic violence also plagued Haiti Mali, Venezuela and Yemen.
Climate change is more than an environmental issue. It also has a devastating impact on human rights. People around the world lost their livelihoods, homes and even their lives because of heatwaves, fires, droughts and floods and the resulting famines.
A major injustice arising out of the climate crisis is that the less developed countries, who haven't contributed to carbon emissions, are the ones hardest hit by extreme weather disasters. Although industrial countries have promised funds to address this, the money has yet to show up.
DOUBLE STANDARD – WEALTHIER VERSUS DEVELOPING COUNTRIES
That's just one example of a broader double standard between wealthier and developing countries. Developed countries hoarded COVID-19 vaccines, which made the existing inequity even worse.
Although the NATO countries and other allies rose up in defiance of Russia's invasion of Ukraine, they've turned a blind eye to similar conflicts. Western countries had nothing to say about human rights abuses in Egypt or Saudi Arabia for instance.
While Ukrainian refugees are welcomed with open arms across Europe, Syrians and Afghans aren't embraced so warmly. The Israeli government's forcing of even more Palestinians from their homes in the occupied territories went unnoticed by Western democracies.
COUNTRIES, INCLUDING CANADA, DON'T PROTECT CITIZENS' RIGHTS
Looking inside national borders, many countries are failing to protect the rights of their own citizens. Since I'm Canadian, I need to focus on this particular issue.
Amnesty International condemns Canada's continual disregard for its obligations to protect the rights of the Indigenous Peoples, their lands and their waterways. Canada signed the United Nations Declaration on the Rights of Indigenous Peoples which requires "free, prior and informed consent" from Indigenous communities on development projects in their traditional territories.
The Canadian government has repeatedly violated this principle, according to Amnesty International. For example, Coastal Gas Link is drilling on Wet'suwet'en territory without consulting First Nations communities.
SAFE DRINKING WATER FOR INDIGENOUS COMMUNITIES IN CANADA
The construction of the Trans Mountain Pipeline violates the rights of British Columbia's Tsleil-Waututh Nation. Safe drinking water is a perennial problem in Indigenous communities, with 33 long-term water advisories still in effect across 29 communities.
Women are the primary victims of Canada's anti-Indigenous racism. One of the most egregious examples has been the forced or coerced sterilization of Indigenous women.
This isn't something that happened in the dim and distant past. A Quebec report found that doctors had sterilized at least 22 Indigenous women between 1980 and 2019 without their consent.
AND ANOTHER THING…
My ancestors settled here in Canada before Confederation. I'm proud of my pioneer heritage and my country is a wonderful place in which to live.
Even so, I also believe that humanity, including Canada, needs a new story grounded in respect for our planet and all its inhabitants. Our new story has to abandon colonialist notions and help us build a more just society, respecting everyone's dignity, no matter who they are or how they got here.
Humanity has a lot more work to do. All nations, including Canada, need to acknowledge the human rights issues that still need to be addressed.
That's what my pioneer ancestors would have wanted.
We always have more to learn if we dare to know.
Learn more:
Amnesty International Report 2022/2023
Annual Report denounces Canada's record on Indigenous People's rights, climate justice
Human Rights Watch Condemns "Litany of Human Rights Crises"
Healthy Environment a Human Right, UN Declares
Truth and Reconciliation Day – "There Is No Try"
About the Creator
I'm a freelance writer and commercial blogger, offering stories for those who find meaning in stories about our Universe, Nature and Humanity. We always have more to learn if we Dare to Know.
Reader insights
Be the first to share your insights about this piece.
Add your insights