A Turtle's Smile
Second Place in Capture the Wild Challenge
Sometimes all you need is a photoshoot with a cute little turtle to cheer you up - as well as teach you a life lesson.
It can be hard leaving family behind for college, especially if you're close with them. On August 16, 2017, I wasn't leaving my family - rather, my little brother was leaving me for the Florida Institute of Technology.
It was the first time he'd be living on his own rather than residing at our suburban home in New Jersey. I was proud of him...but also a little heartbroken. I wouldn't see him for several days, then I'd be leaving for college in New York City myself. The house would feel emptier without his jokes, the hip hop music blasting from his bedroom. I could always count on seeing him if ever I returned home from school. Now, he'd be gone for good - over 1,000 miles away.
It was my last day with him before my parents and I had to drive back to New Jersey. Problem was, the whole morning was filled with orientations only meant for prospective students and parents. I wasn't needed. I'd just be taking up space if I went.
"Maybe you can walk around the campus for a bit?" my mother suggested. "Go explore. Then we can meet by the dining hall around noon when we're out of the meetings."
That morning, I languidly trekked through the library, hallways, and past the campus's swimming pool in an attempt to find something to capture. I'd brought my Canon Rebel T3i with me as a form of entertainment. However, I was barely using it.
School hadn't started yet, so every part of the university felt like a ghost town. There was no activity, no interesting historical monuments...nothing. Absolutely nothing to take photos of. Pure nothingness.
Towards the end of my journey, however, I wandered into a secluded, quiet garden with plenty of small ponds, rocks, and a curtain of green palm trees that overlapped the blue sky above. Bingo! Just what I was looking for.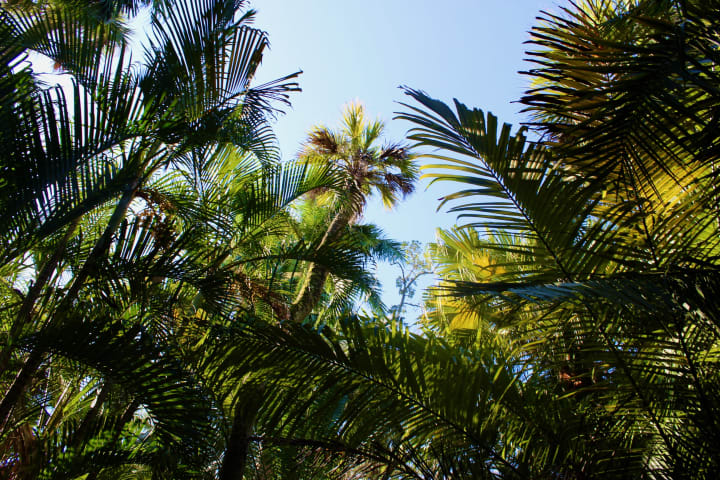 I took pictures of various flowers, berries, and garden bridges. For someone who lives in the coniferous Pine Barrens, all the tropical foliage was a beautiful sight to behold.
Then I saw it: a small pond hosting a family of 4 turtles.
I'm still not sure if they were typical pond turtles or sliders (biology is not my strongest suit), but they were on the medium side: small enough they looked harmless but also large enough to indicate they were well-fed. The quartet stuck together on the opposite side of the pond. I turned on my camera and prepped my finger over the shutter button. It wasn't my intention to disturb them.
However, I didn't anticipate that one of the creatures would disturb me. As if on cue, one of the little turtles raised their head out of the water and looked right at me. "Oh my! A photographer!"
Turtles are known for their slow speeds, but in the water, this turtle swam faster than a fish. It came right over to my side of the pond, just above the rocky edge. At first, it showed off its shell to me as though it were some kind of fashion model. Was this turtle used to being photographed?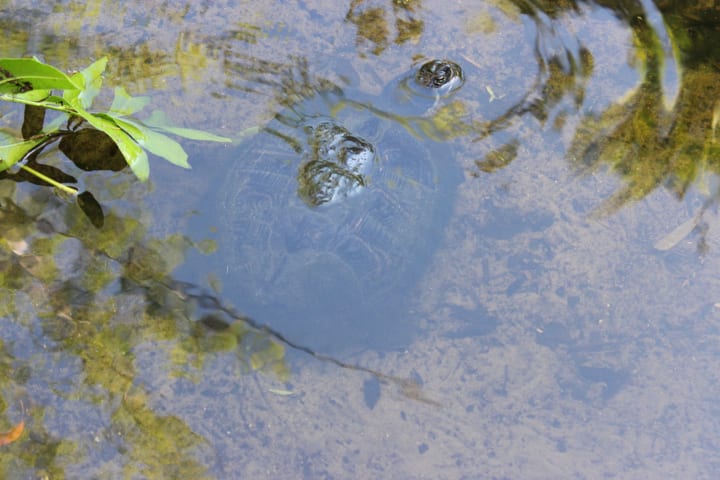 Hmmmm...cute but not quite right. As if it could sense my disappointment, the turtle turned around and struck another pose.
"Okay, how about this?" The turtle tilted its head towards the lense, showing off its very green left eye. What a beautiful color! I snapped the photo, then took a look.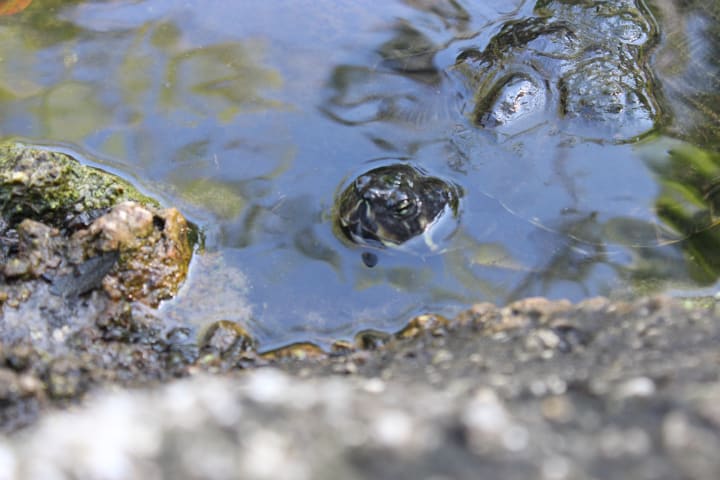 Okay...better, but a little blurry and anticlimactic. We needed a new angle, a new approach. Something wasn't working here.
Fortunately for me, I had a very determined subject. This turtle had no intentions of leaving until I got the perfect shot. Clearly, it was preparing for its future debut on the cover of Turtle Vogue.
"Cheeese!" The turtle stayed put and raised its head out of the water as I adjusted the framing. I clicked the shutter button, and reviewed the photo.
And there it was...the money shot. The best picture I'd taken in my short, amateur career as a wildlife photographer.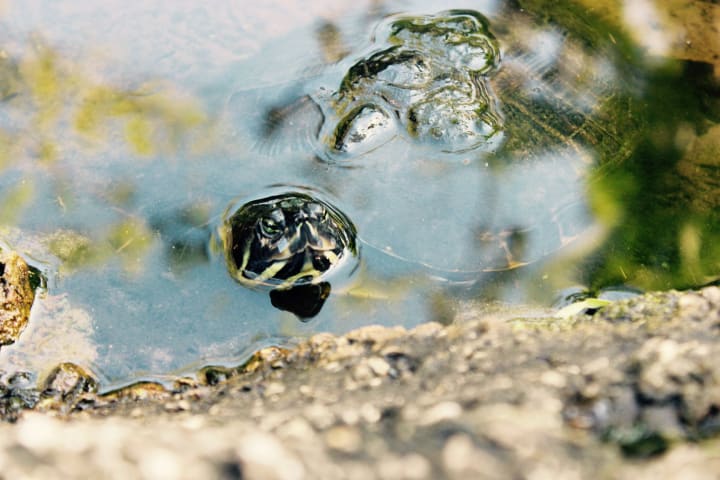 There are so many things I love about this photo. The reflection of the green palm trees you can see on the pond water. The blurry and diagonal rocks on the water's edge that give the photo depth. That little bit of turtle shell peeking out from the pond's surface. (So risqué!) And of course...my little turtle subject tilting its head upwards at just the right angle. It looks like it's giving a tiny smile.
After taking the glorious picture, I turned off my camera and looked down at my new turtle friend.
"...That's it?" the turtle seemed to ask. It didn't budge. Clearly, it was waiting for me to take more pictures. You can't bargain with a photogenic turtle: you need to give it more attention.
So I said, "okay, fine," and took a little video of my turtle pal swimming away as we bid each other adieu. You can tell by the way it stops in the middle of the pond it was hoping I'd snap more photos behind its back.
After leaving the turtle and Florida Tech's garden behind, I headed to the dining hall. My Macbook was on me, so I uploaded the photos to the computer and threw some color correction over the best shot in the turtle photoshoot.
It was mostly just a boost in contrast and making the greens more vibrant. I think it really enhances the technical and artistic quality of the picture. You can see the difference between the raw photo and color corrected photo below.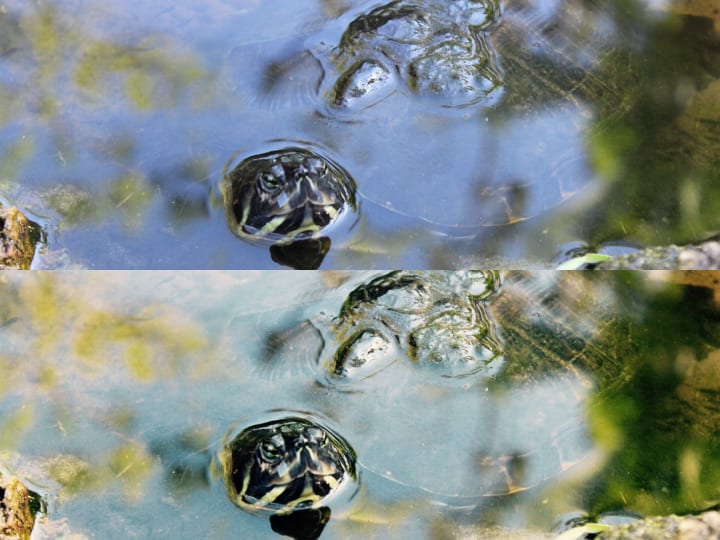 After uploading the picture to Facebook and making it the banner on my profile page (where it would stay for two years), I thought about my interaction with the turtle. It was crazy to know our little photoshoot had been my only form of social interaction that morning. I hadn't even talked to any humans besides my mother.
Additionally, I thought about the bravery it took for the turtle to leave the safety of its family and swim over to my camera lense. Thankfully, it led to a magical collaboration between us both.
And that's when I realized: in leaving my family and me behind, perhaps my brother would find his own magical moments with new friends at college. But like the turtle, he'd eventually swim back to our side of the pond. I would do the same while attending school in New York.
We all had to let each other go, but it didn't mean we had to be heartbroken over it. All of us - me, my brother, and my parents - just had to live in the moment until we could see each other again.
Who knew a tiny turtle could teach me such a valuable lesson.
________________________
Thanks so much for reading! If you enjoyed this story, please consider dropping it a heart and sharing. Tips are greatly appreciated. If you'd like to see more of my photography, wildlife or otherwise, check out my Instagram account: @katyisaladybug.
Until the next story,
-Katy :)