A Hawk's Eye View
Redtailed Hawk on Fence Post Near Lorane, Oregon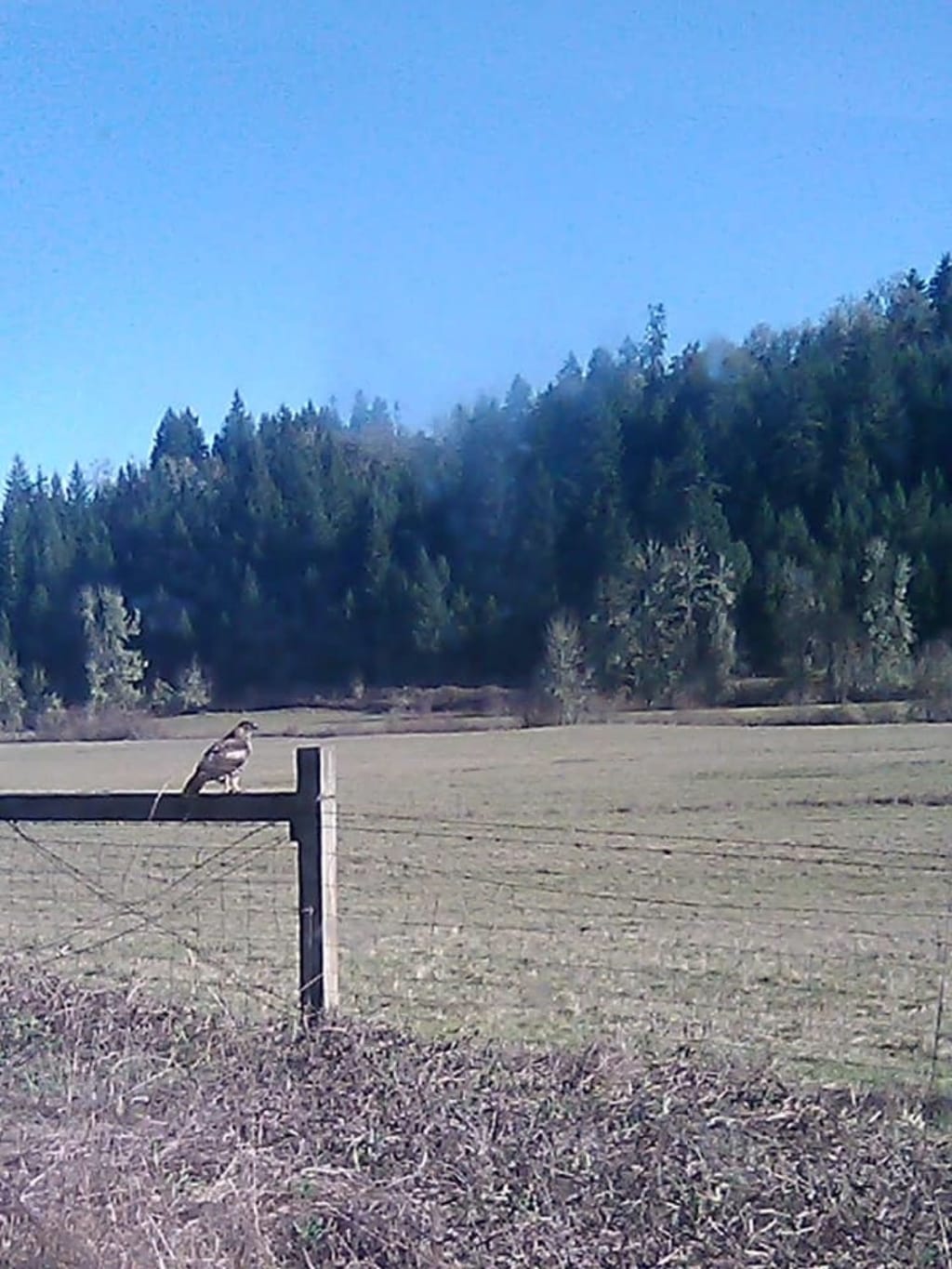 Redtailed Hawk Image © Sai Marie Johnson
I enjoy going for random country drives quite often. In fact, I live in a rural area so when I go to town I tend to enjoy those long drives and the time to think or listen to some music. It's honestly really therapeutic and allows me the space to think. I've found through the years that these voyages, random and scheduled alike, have given me a lot of opportunities to see animal life that I normally wouldn't see. I guess you could attribute that to being in the right place at the right time and choosing to venture just a little off the beaten path.
It's no wonder.
I've always been a rolling stone with a wild sense of adventure. I've driven across the United States several times in my life and imagine I will probably do it several more before I finally kick that bucket. In fact, I would love to do some random driving in Europe and several other places, but for now, I enjoy the beauty of the Pacific Northwest and all the jewels there are to find within its forests, desert, mountains, and beaches. I guess you could say, I really love my home state but even so, I love the sense of freedom that comes from just driving, exploring, and seeing what's out there actively moving around. What's living life?
Both of my parents have epic senses of adventure. I was raised on camping, fishing, hiking, swimming, crabbing, and all the great epic outdoor recreation that Oregon has to offer. I love to kayak, I love canoeing and I enjoy horseback riding. And nothing can beat the lovely flickering orange of a campfire under a silvery moon. Moonbeams in the forest here are magical. I find myself in awe of them and drawn to their strange twilight. Starry nights and roasting marshmallows – all of these things make me relish being alive and I cannot ever imagine not enjoying the wonder of the wildlife surrounding me.
As a result, I've been really blessed when it comes to great photographic opportunities. I've had a giant black bear run out in front of the car while training my teenage daughter to drive. Heck, we even had a cougar pop out on us that very same summer.
Thankfully, I raised a smart daughter with a love for animals and a keen eye for details, or that might have been the end of my tiny sedan. I think that one summer is one that sticks out the most just because of how much incredible wildlife we experienced seeing together. We still laugh about it now that she's fully grown. And, within all of this, I find myself noticing the whole reason why I enjoy all these things is because I feel freest in the wild. This might be due to being part Tsalagi because I love the feeling of my feet in the cool earth or the sand brushing against them. I feel connected to those things and the energy running through the planet that connects us all renews my spirit. I think this is crucial to my mental health and spirituality.
Interestingly enough, I discovered what I believe my natural totem is, however, because the one animal I seem to spot the most is the red-tailed hawk. I have a major love for my actual totem, the Wolf, but have found that birds of prey like this tug at my heartstrings.
I just had to share this image I caught while enjoying one of those random drives.
A red-tailed hawk poised atop a fence post as I was driving. I had to turn around and pull off the side of the road to stop and catch this shot as it was just too special too see this bird of prey outlooking the pasture so peacefully looking like the epitome of epic majesty.
Nature
About the author
A multi-genre author, poet, creative&creator. Resident of Oregon; where the flora, fauna, action & adventure that bred the Pioneer Spirit inspire, "Tantalizing, titillating and temptingly twisted" tales.
Pronouns: she/her
Reader insights
Be the first to share your insights about this piece.
Add your insights