20 Wildlife Photos That Will Reaffirm Your Love for Animals
All the best wildlife photography comes with a story that is as touching as its graphics. Animal lovers rejoice and enjoy these 20 world-renowned wildlife photos.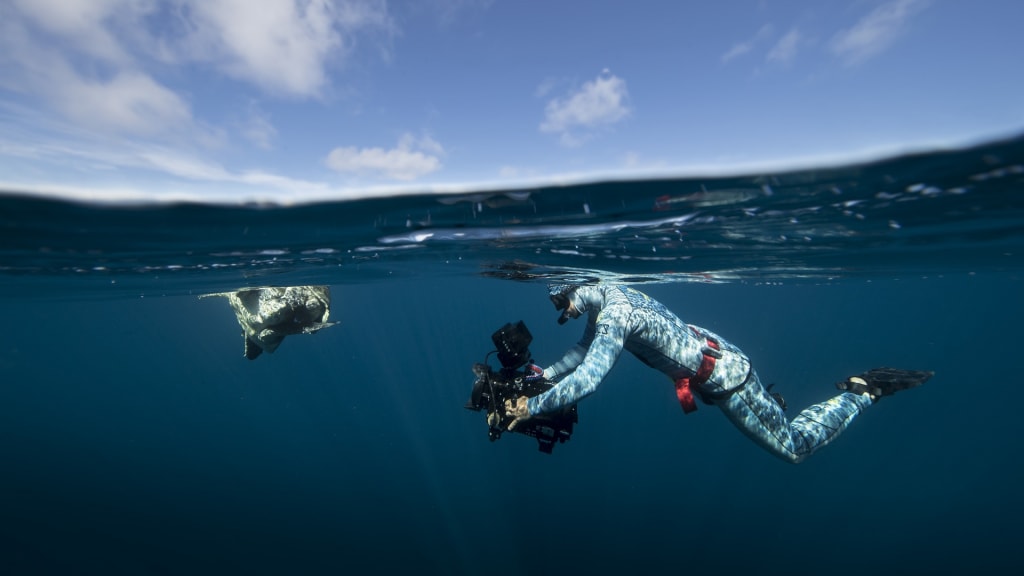 Wildlife photography can reaffirm our love for animals, moving us to tears or simply exclamations on those cute wild animals. All the best wildlife photography comes with a story that is as touching as its graphics, so, in this article, you will see 20 wildlife photos that are among the best wildlife photography there is.
The Best Wildlife Photography:
Naturally, the best wildlife photography is taken by the best wildlife photographers. So, here we're going to highlight works of eight photographers featured on Untamed Photographer, an organization that uses art to create awareness and support the environment by donating back to charitable causes.
Filipe DeAndrade:
1. Respect
2. Unlikely Friends
3. Wild and Free
Melissa Groo:
4. Bobcat Love
5. Full Heart
6. In It Together
Chris Fallows:
7. Grace on Granite
8. Warrior
9. The Kings Gold
Colleen Gara:
10. Ghost Cats
11. Coastal Wolf
Arati Kumar-Rao:
12. The Matriarch
13. Silent Extinction
April Bencze:
14. Isle of the Wolf
15. Among Asters
16. Pacific Feathers
Tony Rath:
17. Chiquibul Macaws at Dawn
18. Black Grouper at Hol Chan
Brain Moghari:
19. Misunderstood Predator
20. Majestic Manta
And now for the whole range:
Filipe DeAndrade:
Filipe DeAndrade is known for his award winning wildlife photography and filmmaking. Filipe has worked for National Geographic, on his own digital series "Untamed with Filipe DeAndrade", as well as making several critically acclaimed wildlife films.
1. Respect
"Respect" has an amazing story behind it. Filming a lioness, who was known as Matsumi, and her cubs for National Geographic, Filipe DeAndrade watched as the cubs were attacked by two male lions while their mother was out. But before the cubs could come to any harm, their mother arrived and scared away the males. This photo was taken when Matsumi was carrying the cubs to a new den. Awed by Matsumi's courage, Filipe named the photo "Respect".
Buy Respect now
2. Unlikely Friends
This adorable photo of an American Alligator and a turtle was taken by Filipe in Florida. The scene was very rare: alligators and turtles are usually predators and prey. Filipe commented on the situation, saying "But these two seem to have found an unusual treaty, one that offers the Turtle a refuge from other hungry Alligators, and offers the alligator nature's Tempur-Pedic pillow."
Buy Unlikely Friends now
3. Wild and Free
Not all wild baby animals live on land. Filipe spent six weeks in the sea, following mother and baby, getting to know them and earning their trust. "Wild and Free" was taken when "Dreamer", the baby, dived for a razorfish, though it turned out to be just a sand dollar. The photo was named "Wild and Free" because Filipe felt that it strongly demonstrated the importance of wild, instead of captive dolphins.
Buy Wild and Free now
Melissa Groo:
Another creator of award winning wildlife photography, Melissa Groo specializes in bird photography. She has created a course called "Bird Photography with Melissa Groo," as well as taking leadership roles in the wildlife photography community, such as being an Associate Fellow with the International League of Conservation Photographers.
4. Bobcat Love
"Bobcat Love" has to be one of the cutest photos of the lot. These two, a mother and a kit, as well as a second kit, were feasting on a deer carcass near Melissa's home in NY. Melissa rushed out to take some photos, but was very careful not to disturb the cute baby animals, especially as trapping bobcats is still very common in NY.
Buy Bobcat Love now
5. Full Heart
Melissa found this Great Grey Owl perched on a fencepost then took photos of it for hours. "Full Heart" was taken when the owl was in flight, going after prey, and the title refers to Melissa's emotions in taking the photo. Melissa thinks the Great Gray Owl is an important wild animal to highlight, because it is threatened by loss of its breeding habitat, "snags", broken top trees that the owls use as nesting sites.
Buy Full Heart now
6. In It Together
These incredibly cute wild baby animals are Guira Cuckoos, a bird of the Pantanal threatened by forest fires. While leading a wildlife photography tour, Melissa spotted these four huddling up together against the cold on the same branch and couldn't help taking a photo of them.
Buy In It Together now
Chris Fallows:
Chris Fallows has worked with the BBC, National Geographic, and the Discovery Channel. He is an expert on Great White Sharks. Through wildlife photography, he seeks to connect his audience with wild animals and inspire them to explore nature.
7. Grace on Granite
The contrast on "Grace on Granite" by Chris Fallows makes it some of the best wildlife photography out there. The photo was captured just in time, after days watching a leopard family, a young female leopard, her mother and her sister. Finally, just as he was about to leave, the young female chased some lizards up onto a granite rock, giving Chris the shot he needed.
Buy Grace on Granite now
8. Warrior
"Warrior" captures one of only two males who held territory in the Letihau region of the Central Kalahari Game Reserve, an area free from human interference. This warrior, one of the most majestic wild animals in Africa, was marking his territory when Chris came across him. He was very careful not to disturb the lion with his shutter, but the animal looked straight at him, creating the striking pose you see here.
Buy Warrior now
9. The Kings Gold
This photo was taken at St Andrew's Bay, Georgia Island, which is teeming with life in the form of Antarctic Fur Seals, Elephant Seals—and the world's largest colony of King Penguins. Awed by the natural beauty and abundance, Chris struggled to decide what to photograph, but chose the penguin colony: "Each individual was important, of course, but this whole colony, looking at the rising sun gave me an undeniable sense of hope."
Buy The Kings Gold now
Colleen Gara:
Colleen Gara specializes in photographing Canadian wildlife. Colleen believes it is very important that wild animals stay wild and so strongly supports ethical wildlife photography and conservation efforts. Her photography has been widely published, including in Audubon and Canadian Geographic.
10. Ghost Cats
Colleen Gara has always wanted to see a Canadian Lynx. These two were spotted exploring in the Canadian Rockies. Colleen originally thought she'd spotted a coyote, but as she got closer, she saw not one but two Canadian lynxes, a mother and her baby. When they neared her, she took this snap, capturing some very cute wild animals.
Buy Ghost Cats now
11. Coastal Wolf
"Coastal Wolf" is best explained in Colleen's own words: "After days of zero sightings, I felt ecstatic when this gorgeous black sea wolf suddenly appeared out of the forest and walked along the shoreline in front of us." The curious, endearing photo of the rare marine wolf, emphasises the importance of wolf conservation.
Buy Coastal Wolf now
Arati Kumar-Rao:
Arati Kumar-Rao is a National Geographic Explorer whose work has appeared in publications like The National Geographic Magazine and The Guardian. She works within South Asia to document climate change and conservation issues. She is currently working on her first book.
12. The Matriarch
The matriarch presents a female elephant, Eloise, who was the matriarch of her herd, and her baby, in dynamic black and white. Here, she was waiting for her herd to cross into the marshlands of Amboseli, as her baby suckled at her breast. Unfortunately, at the age of 53, after being matriarch for 11 years, Eloise passed away during a drought—an event which highlights the terrible consequences of climate change on wild animals.
Buy The Matriarch now
13. Silent Extinction
In "Silent Extinction", a lone Masaai giraffe stands next to an Acacia Tree. To Arati Kumar-Rao, this was symbolic of the giraffe's silent extinction, as the animal, which communicates outside the range of human hearing, is largely ignored in the conservation of wild animals in Africa, despite losing 40% of its population in the last three decades.
Buy Silent Extinction now
April Bencze:
April Bencze uses wildlife photography for conservation purposes, using visual storytelling and focusing on the relationships between people and animals and places. She specialises in coastal ecosystems, especially salmon, and volunteers as a creekwalker.
14. Isle of the Wolf
April Bencze took this photo to show us that the stories we are told about wolves are false. This wolf settled into the sand next to April and howled quietly, allowing her to photograph it. The pose is absolutely adorable, showing us that wolves are cute wild animals and very similar to domesticated dogs.
Buy Isle of the Wolf now
15. Among Asters
"Grizzlies walking lazily through the asters, black bears swimming across the river, ravens teasing one another, kingfishers swooping from cedar boughs" is how April describes the setting of this picture. A river estuary in the territory of the Kitasoo/Xai'xais people, this place changes every time April comes here. At the time of the photo, it was salmon season, which allowed April to spot this grizzly.
Buy Among Asters now
16. Pacific Feathers
April believes that eagles are not only strong, but soft and playful. The eagle here is doing nothing, his feathers blending into the chocolate lilies, reminding April of watching a young eagle grow up and seeing his playful as well as majestic side, a humanising moment common to the best wildlife photography.
Buy Pacific Feathers now
Tony Rath:
Tony Rath is an experienced wildlife photographer, who documents wild animals in Belize both on land and the sea. His work is on display in the Smithsonian Institute and has been featured in publications such as BBC Wildlife and the National Geographic Traveller.
17. Chiquibul Macaws at Dawn
Tony Rath photographed these Chiquibul Macaws in the brilliance of a dawn forest, creating a masterpiece of nature wildlife photography. The colorful Chiquibul Macaws, residents of the ecologically diverse Chiquibul region, are unfortunately threatened by human poaching, though numbers have stabilized through the efforts of Belizean NGOs such as Friends for Conservation and Development Belize.
Buy Chiquibul Macaws at Dawn now
18. Black Grouper at Hol Chan
Taken in the Hol Chan marine reserve, this photo shows one of the biggest black groupers that Tony Rath has ever seen. It also highlights the importance of marine reserves as "Outside of the reserve, grouper are a delicacy and will bolt out of speargun range at the first hint of a diver." The Hol Chan marine reserve is part of the Belize Barrier Reef Reserve System (BBRRS), a UNESCO world heritage site and essential in preserving Belizean marine ecosystems.
Buy Black Grouper at Hol Chan now
Brian Moghari:
Brian Moghari does his wildlife photography under the sea. He is passionate about creating an emotional connection in his images to inspire others to help animals and the planet. He has worked for the History Channel, National Geographic and Disney+, among others.
19. Misunderstood Predators
Despite being afraid of sharks as a boy, Brian Moghari overcame his fear to fulfil his responsibility as a wildlife photographer: "to accurately illustrate wild animals and the ecological issues they face, including sharks." On his first dive with hammerhead sharks, Brian saw 13 of them and had a magical experience: "As they passed by I would lock eyes with them and see this massive eyeball looking directly back at me." He took this photo to show the beauty of these creatures, proving that with wild animals, pictures tell a thousand words.
Buy Misunderstood Predators now
20. Majestic Manta
While filming whale sharks during a Little Tunny spawning, Brian saw hundreds of rays that had turned up for the same spawning. This was a once in a lifetime experience: "Some were flying out of the water making large splashes on the surface, while others were doing repeated backflips underwater."
Buy Majestic Manta now
Where Can I Buy Award Winning Wildlife Photography?
The best wildlife photography, whether it's of bobcats, elephants, or sharks, can remind you why you love animals, why conservation is so important, and can serve as an essential conversation starter in pursuit of a more habitable planet. If you are wondering how you can support award winning wildlife photography and photographers, why not take a look at the stunning offerings of limited-edition prints at Untamed Photographer?
Reader insights
Be the first to share your insights about this piece.
Add your insights