Why the 2018 World Cup Mattered So Much to England
How a Country Divided by Opinions was Entirely United for 25 Days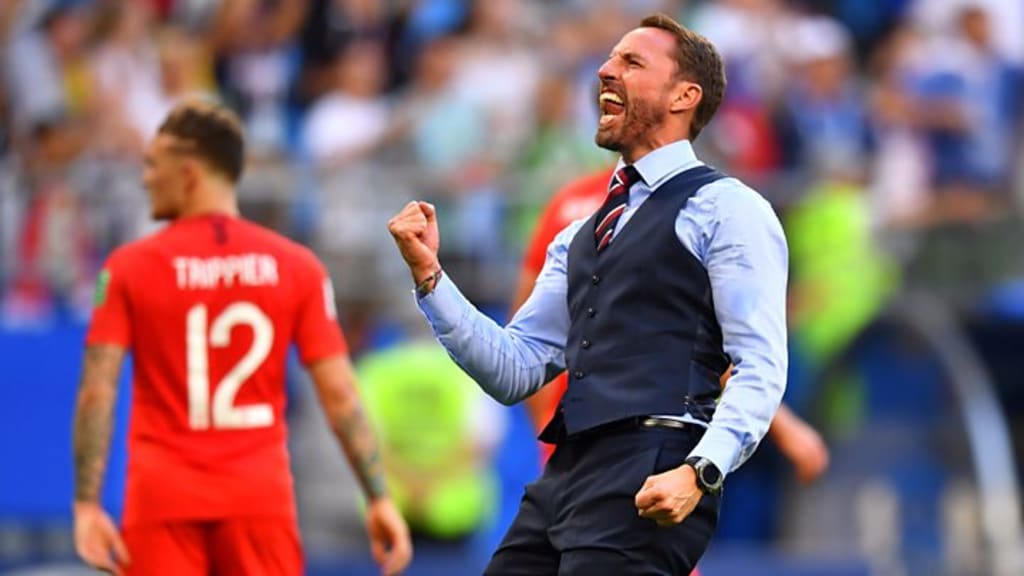 Gareth Southgate celebrating yet another victory for England
At the time of writing it is the 15th July, 2018; the day of the final match of the 2018 world cup, which will take place between France and Croatia. The past 25 days have been filled with tension, tears and a whole lot of extra time, and along with this, the country of England has been united in a way like no other, for the cause of supporting their country.
Having not won since 1966, or even secured a semi-final place since 1990, the general British approach to football is one of low expectations. Of course England are not playing in the final, they finished in 4th place having lost their consolation game against Belgium, however the spirit of England today would suggest we'd already won.
Coming into our initial group stage, the atmosphere in England seemed indifferent, summed up by the word 'meh'. The games were something we'd turn on for the sake of watching it, not expecting much out of such a young team, the likes of which we'd never seen before, tied together by new manager Gareth Southgate. Then something strange happened...
We actually started winning.
Suddenly a team that appeared to have usually stumbled its way through World Cups was taking games by storm, winning their match against Panama 6-1, and flying through to their game with Columbia. Almost overnight, a country shrouded in defeat regained their faith; Three Lions became the most popular song in the country and 'It's Coming Home' fever swept the nation. Harry Kane almost instantly became a national treasure having landed goal after goal and securing his place in history.
England's match against Columbia just days later marked the beginning of the rising pressure of the Cup, with the game going into penalties after half an hour of extra time. Both teams were visibly tired, and England's faith was shaken, having believed we were untouchable, right up until Mina's goal at 93 minutes. Almost every household in the country waited with baited breath as the penalties were taken, before Pickford's agility and skill as a goalkeeper essentially won us the game. Once again, England were on top, and the country could breath again.
It was the following Saturday that England would face Sweden, and in turn, win their game 2-0, thanks to Harry Maguire and Dele Alli. Roars could be heard in every pub across the country at full time, as England reached their first semi-final in 28 years. The country was ecstatic, people wanted Southgate in line for a knighthood, and young Pickford was suddenly the subject of nationwide praise.
Southgate himself said that leading the England team into their first semi-final in almost three decades was 'Beyond what we thought was possible', especially having the youngest squad in Russia. Nevertheless, the support for the country was undeniable, even the most sceptical of fans had come to believe that the team could really do it, England were really in with a chance of taking the cup home. It had been considered the best summer on record, an omnipresent heatwave set the backdrop for England's victory, and it appeared the joy would never end.
On Wednesday 11th July, England came head to head with the Croatian team, who too were looking to make history of their own. Trippier's goal at just under 5 minutes into the game set a high pace for the next hour or so, and once again, the entire country was behind the team, it appeared as though miracles were happening and dreams were coming true, and the team showed no signs of stopping. Up until 20 minutes before full time, England still held onto a steady victory, broken only by a 68-minute goal, sending both teams into extra time to determine who would be present at the World Cup Final.
Both teams showed tiredness, however it was Croatia that ultimately came out on top, securing one extra time goal and affirming their place in the final, leaving England heartbroken. Southgate expressed his sadness, acknowledging 'We were 20 minutes from a World Cup final', however the manager stood in defeat with grace as he and his team realised the dream was over for now.
England was shattered, and even the sun and warm climate appeared to dissipate alongside our world cup dreams, and it seems as though summer really is over. Despite this, it is undeniable that the effect the England Team has had has been profound, and has united us in a way we didn't realise we needed.
A country accustomed to disappointment suddenly had faith in their team, families, friends and strangers came together to witness the young team make history, creating a summer that will last forever. At a time in which political climates are turbulent, and just about everything seems a little bit harder, Southgate's England Team filled the country with hope, that is only sure to continue as the team progress. Ultimately, the England Team has brought together this country in a way like no other, national pride is at an all-time high, and the boys will no doubt return home as heroes.