What is it with Cristiano Ronaldo?
The Man and the Brand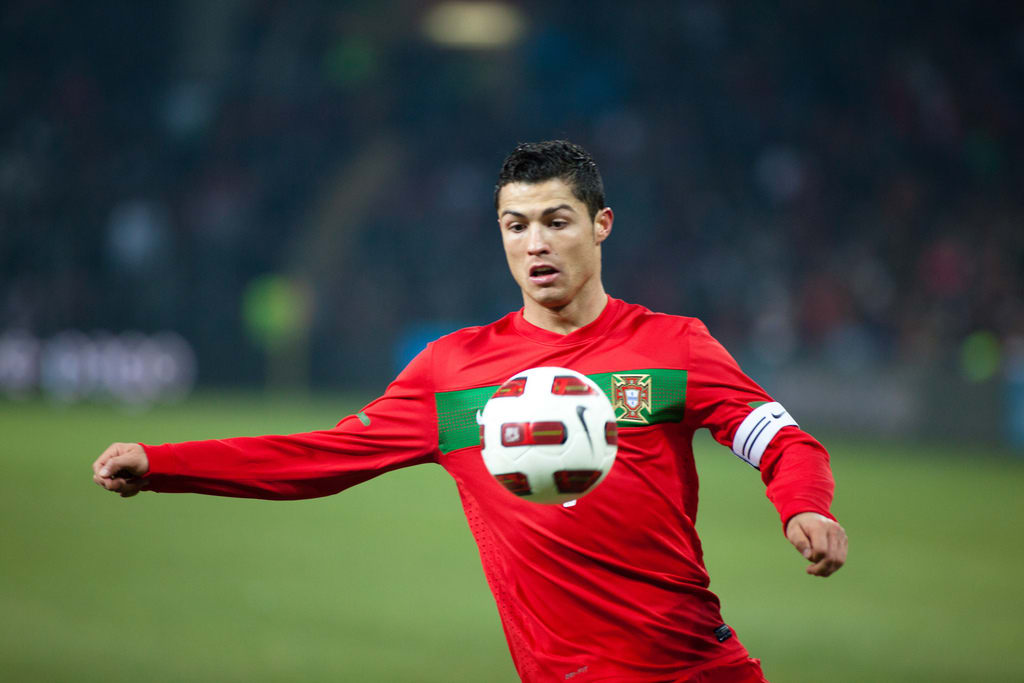 Portugal vs Sweden. Credit: Ludovic_P
He is, by his own admission, the greatest football player on the planet at this moment. Perhaps ever. Just to be clear, that's unsourced, and in fact he might not hold that opinion of himself. But you can certainly imagine that he might.
Cristiano Ronaldo, or simply Ronaldo - most famous footballer to have used that name - is (it has to be said) a great player. One of the best ever, most likely. He's got pace in abundance, he's got power in his right boot, he's got well-honed tricky moves, and he's got enough skill to make the ball do wonderful things on its way to hitting the wall.
He's got an eye for the goal, that's for sure; scored, well I don't know, umpteen goals this year alone, but most important of all, he's got an eye for the camera. Most players, when they warm up before a game, will try to get a feel for the pitch and the stadium, but not Cristiano, he spends his time memorising where all the camera positions are located.
And why, you might ask, does he do that? Simply because the purpose of scoring a goal is the celebration that follows. It's an essential talent, the celebration. It takes practice, it requires the use of a large mirror, it relies on Ronaldo's innate ability to remember where those cameras are because he knows that at that moment they'll all be focused on him.
But let's not get too carried away because there's a purpose in all this. Ronaldo, Cristiano to his friends, is not just a footballer, he's a brand; a very lucrative brand that sells more than just tickets and TV rights. It sells boots, shoes, clothing, even headphones. It was estimated that in the year up to June 2017, he'd created social media value for his sponsors to the tune of $936 million.
So when you see one of those celebrations, those well-honed shapes he practices so much, have in mind what else he's doing. He's paying back his sponsors. He's a mobile advertising board and each time he scores, each time he lines up to take another free kick - a very important moment - and even when he misses and gives you that look, all these moments represent a value exchange.
Of course, some of this is a bit unfair. It's satire. Behind the cameras, off-stage as it were, Cristiano Ronaldo spends a lot of time giving his money and his awards to charitable purposes. Whether it's selling his Ballon d'Or for the Make A Wish charity, paying for hospital treatments for young fans or giving millions to help victims of the Nepal earthquake in 2015, he appears to be as generous off the field as he isn't on it.
Is it all an act? Is he, in real life, a really nice and unassuming guy who's also intelligent enough to know how to sell and sustain the brand he's spent many years creating. Perhaps so and in truth it's not for us to either know or assume. It's enough to know that for all the effort that goes towards creating value for his sponsors, as much if not more, is spent on charity work.
Sure he can be infuriating on the field - specially if you don't support Real Madrid - but off field, away from the cameras, he's just a bloke and you can bet his mother loves him to bits.
Reader insights
Be the first to share your insights about this piece.
Add your insights