Watford Maintain a Perfect Start
Watford against all odds maintain a hundred percent victory march in the Premier League after a stunning game against Tottenham.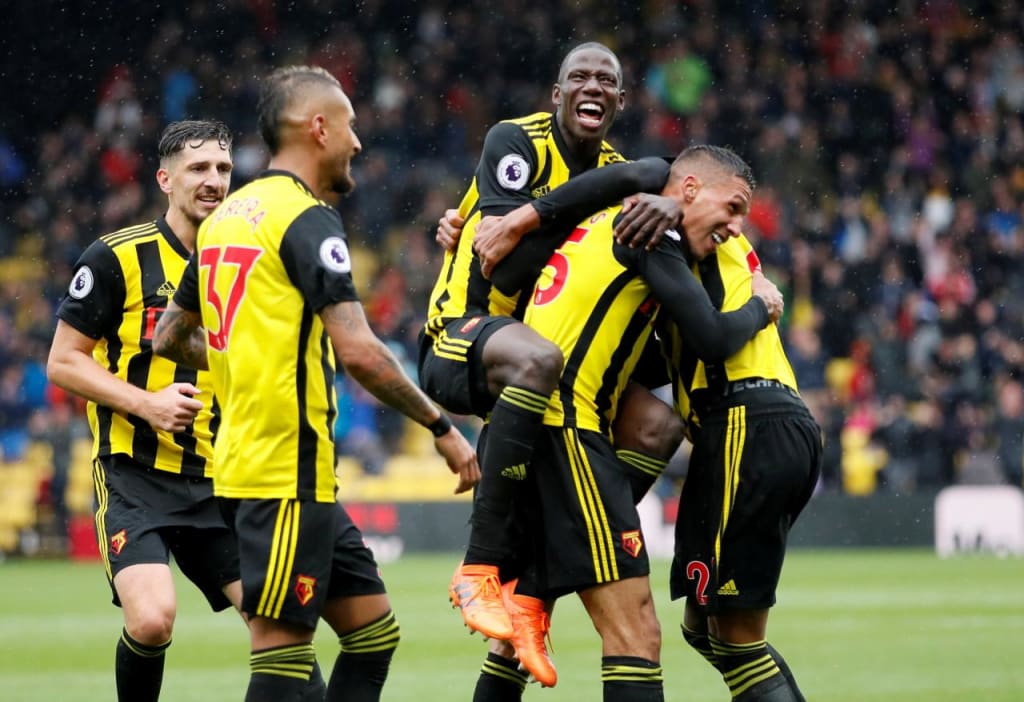 Watford goal celebration. Photo by: https://uk.reuters.com/
How did they perform last season?
Javi Gracia's team finished at an underwhelming 14th position in the 2017/2018 table standings after he took over the reins from Marco Silva. A few moments of brilliance in the last season especially the win over Chelsea was not enough for the team to maintain the winning morale throughout the entire season, and the Hornets' performance plunged miserably. By the end of the season, there were active speculations of Gracia to be the first manager to be sacked during the coming season but Watford will be happy that it did not go to that end. Judging from the outlook of things after the first four match days, critics would now sway differently.
The Summer Transfer
At the start of the transfer window, Watford was in a predicament of having to sell either one of their two-star players, Richarlison or Abdoulaye Doucouré. It ended up with Everton scooping Richarlison for a whopping 40 million to be reunited with Marco Silva. Things looked gloomy for the Hornets, but eventually they made six comfortable signings. It was an important transfer window to prevent themselves from falling into the relegation zone after a poor season finish. Their perfect start may not have materialised without a strong transfer window especially after losing out on Richarlison.
Four Games and Four Wins
Watford has had a stunning start in their initial four games of the 2018/2019 Premier League season, collecting all winnable points with no sign of a wading performance! Pundits were not that impressed when the Hornets bulldozed through Brighton, Burnley, and Crystal Palace, predicting an end to their glorious march with the match against Tottenham. Gracia's team had other plans as they made an incredible comeback to halt Spurs from advancing the table with a 2–1 win. The Hornets are now joint top with Liverpool and Chelsea with a total of 12 points.
What has changed for the Hornets?
The amazing double trouble duo, Troy Deeney and the new signing Andre Gray, has everything to do with the change that has stirred up the Hornets' nest! To add to the formidable front line, Roberto Pereyra who was going through a slump has started baring his teeth with three beautiful goals in four games, two against Brighton and one against Crystal Palace. For the first time in years, Watford has been lucky to have some sort of continuity when it comes to their coaching situation which has not been the case in recent times. Watford has been relentlessly churning new managers every season and it seems like the wait and see approach this particular season has somehow paid off quite well with Gracia still holding the reins, charging them forward.
Can they last with their performance?
As much as it seems like another Leicester in the making, Javi Gracia's Watford may not be able to continue performing with such exuberance throughout the season. One of the main reason being that, unlike the winning season of Leicester, the competitiveness this season is at an edge. Klopp's Liverpool, and Guardiola's Manchester City will be drawing energy from the previous season's momentum with a polished team and not to dismiss Sarri's Chelsea that has assumed a lovely attacking play, will want a go for the title run. These three teams have a sturdier engine than that of Watford and that is an undeniable circumstance that should be viewed from a technical point. Watford's big game against Manchester United right after the international break may shine light to the possibility of them running for the title with the likes of Liverpool, Manchester City and Chelsea.
Regardless, team spirit is on a high as Watford's versatile Jose Holebas, who has set-up 4 goals thus far has come up for a show of confidence by saying "it feels totally different this year, I have to say. Totally different." Holebas who also has one goal to his name pushed on further to insist that the team dynamics and morale has changed so much in comparison to the previous season and that they are expecting a good run. As the mid-season approaches by year end, it would be interesting to see if and how Watford will overcome their shortcomings. Big game shoutout for Watford to win 1–0 against Manchester United in their upcoming game after the international break!