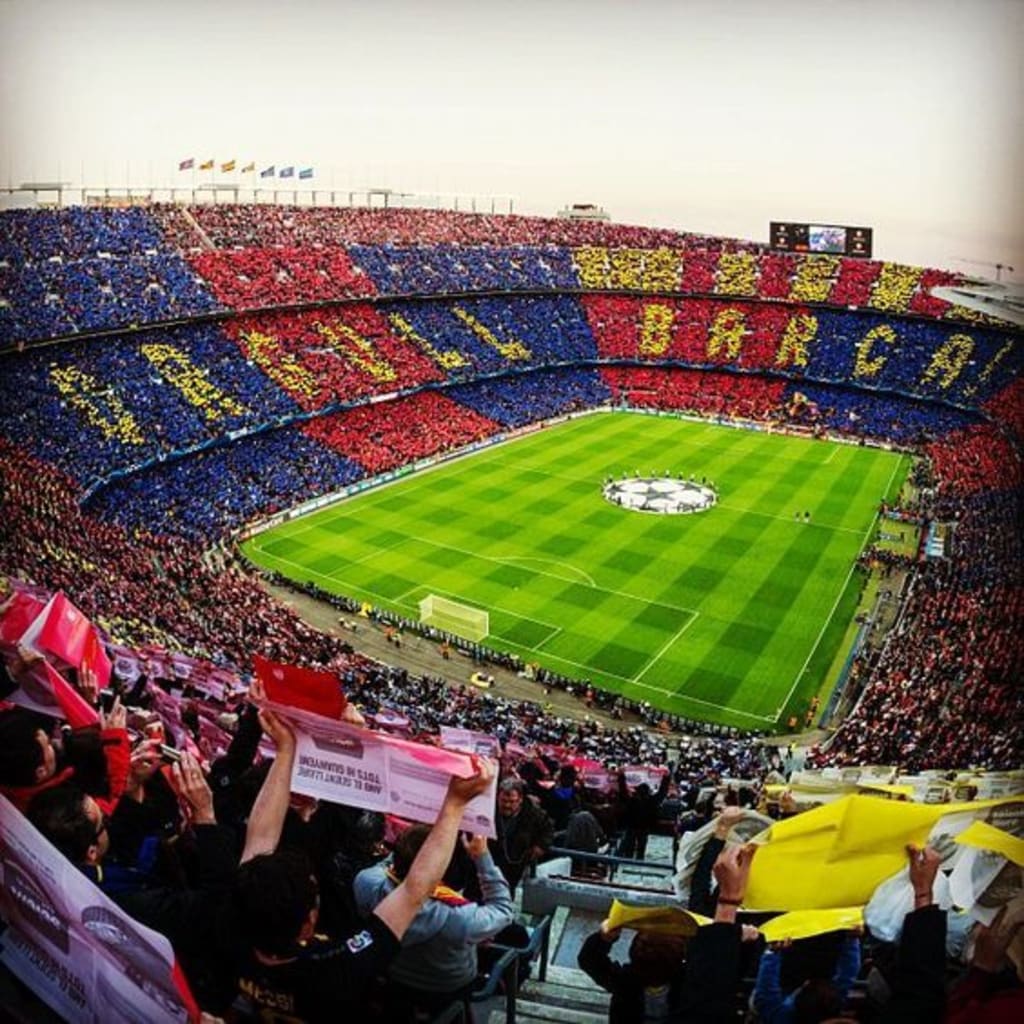 More than a club
Now, many may think well, of course, he likes the team that always wins! Do they though? The last three years Barcelona have not won the Champions League, and even failed to make it to the finals. They've been in the back seat watching their arch-rivals win it consecutively. Holy crap, if that doesn't infuriate you as a Barcelona fan, then I don't know what does. In actuality, if you're a true soccer fan, that should be so upsetting to see. Real Madrid has made history, and it should be respected, but at the same time being a fan of other clubs, it's sickening to see one club win the best trophy three times in a row!
If you've read my previous article, then you know I fell in love with the sport because of Ronaldinho! That's why the door was open to Barcelona as my number one choice, because during the time Ronaldinho was still playing for them. As time passed, Guardiola was being appointed as the new manager, it was rumored that Barcelona were looking to get rid of Ronaldinho. With everything he had done for the club, it came as a surprise, because Ronaldinho was an icon to the sport! So, like any fan of a player, I was willing to move to wherever Ronaldinho went! At that very moment, I felt disrespected that Barcelona was "backstabbing" an icon.
Now, when Ronaldinho left for AC Milan I tried to like them, but there was a huge problem. I found myself still following the scores of Barcelona. Barcelona was still my first choice when picking a team to play with in FIFA, and was still my favorites when it came to picking them when they were going against big clubs. Now it may not seem like a big deal in picking a team in a video game or when it came to bets, but any true fan would know that it's indeed a huge deal! As time passed, I started to breathe Barcelona! It was more of a culture to me now. Ronaldinho had left, but my love had stayed with the club, and it was natural to cheer for them. With that all being said, I found myself a true Barca fan!
Barcelona is now with me forever! Win or lose, I will always support them. No matter where I go, there is another fan right there to understand my compassion for the club. We as fans seem to always be with our clubs, and we should be. There will be years when our clubs will play their worst season, but no matter what we should stick by them. It truly feels beautiful when there is a season that they perform poorly, and then the next year they come back to win it all!
With that all being said, Barcelona is more than just a club! It's a community where fans come together to support their soccer team in the ups and downs, it's legit like being on a roller coaster. The club has been a place where players have displayed magical performances that have made them become legends in the sport. For example players like Cruyff, Rivaldo, Romario, Ronaldinho, Puyol, Xavi, Iniesta, and now we are still witnessing Messi!
When a club of this magnitude is around, it's something we should be grateful for! There aren't many clubs out there that can keep this kind of glory going on forever. The reason I state this is because clubs with such rich history are still struggling today! Teams like AC Milan, Arsenal, Inter Milan, Manchester United, and Liverpool. Liverpool is the only team in that list to seem to be finally making noise once again, but it took them awhile sadly.
Barcelona fans, appreciate this time of glory! As fans, it's an exciting time to be a fan, and let's hope there are many more years of that to come even when the great legend Messi decides to retire or leave.
Visca Barca forever!
football
I'm a passionate fan of the game of soccer! Looking to create a community where we can all come together, and discuss what's going on in the media and share our thoughts about the beautiful game.