Unpopular Opinion: 5 Reasons Why Manchester United Will Beat Liverpool
A team that beat Chelsea 4-0 has what it takes to beat any team in the EPL.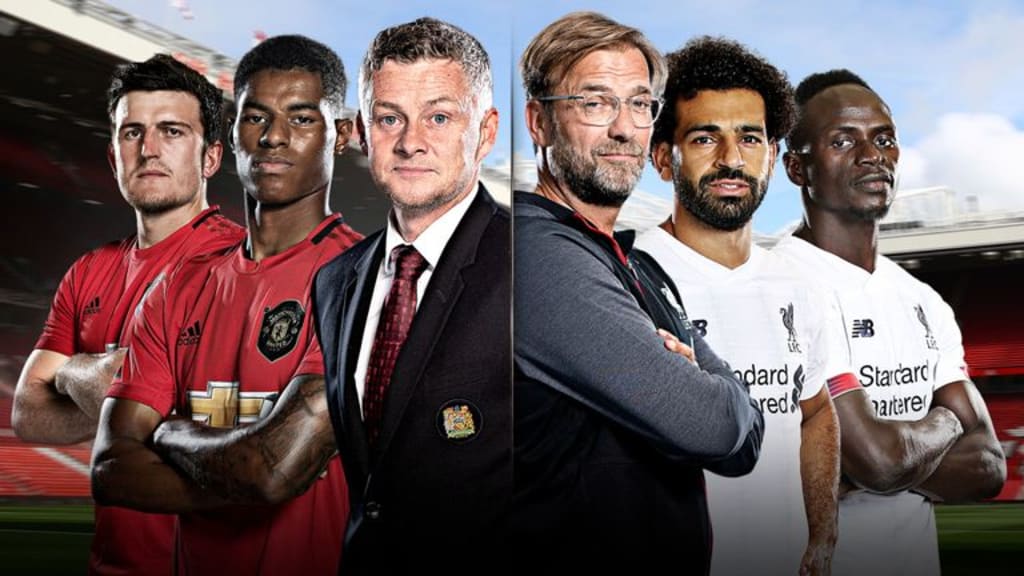 Troubled Manchester United plays their sworn arch-rivals, Liverpool, at Old Trafford on matchday 9. The Solskjaer camp will be looking to bounce back from their shock defeat at Newcastle a fortnight ago. Jurgen Klopp's men, on the other hand, have had a perfect start to this campaign, collecting 24 points out of a possible 24 from their opening eight games. The odds are stuck against Ole and his men.
Most bookmakers and pundits have written off Manchester United's chances of beating Liverpool—a team that sits eight points clear at the summit. But I think they are wrong. The red devils might have had a disastrous start to the 2019/20 Premier League season, but they still have managed to win four of six fixtures at home, losing only once. That isn't the worst statistic in football, is it?
The question now lingers: All things being equal, does the Old Trafford outfit stand any chance against the Merseysiders? Surprisingly, they could have the upper hand in this fixture. This is why:
1. They have a decent record against Liverpool at Old Trafford
Man United hasn't lost to Liverpool in the last six matches at Old Trafford in all competitions. The fierce rivals played out a 0-0 draw last season, a season when Man United seemed to be in a much deeper hole than this season. With the right approach tomorrow, I trust they can improve on that score.
2. Klopp's woeful record
Jurgen Klopp has played against Man United 9 times as a manager, winning only twice. One of the wins came last season when Liverpool registered a 3-1 win at Anfield—the only win he's had against United in the Premier League. The odds are turning against Liverpool now. Aren't they?
Unrelated: Did you know that although Ole's managerial career looks shaky at the moment, he has had a better start in the EPL than Klopp? The Norwegian has won 14 and drawn 7 times in his first 29 games, while his German counterpart won 13 and drawn 8 for the same number of games. Well, Ole isn't doing so badly after all!
3. The Martin Atkinson factor
Martin Atkinson will be the man in the middle this Sunday. He is arguably the Premier League's most experienced and most competent referee at the moment, so I don't see how Liverpool will succeed in fooling him with cheap penalty claims. Besides that, Manchester United has had a fairly good record whenever this man officiates their matches. The devils have only lost four out of 25 games that Atkinson has refereed at OT since 2006, both in EPL and FA.
There is an ugly twist though; the 48-year-old has shown six red cards to sides facing Liverpool in just over a decade. That translates to about one red card in every two matches. He, however, has only red-carded two Manchester United players in the EPL over the last 13 years. I guess the Manchester underdogs have nothing too serious to worry about in this regard.
4. The Old Trafford factor
In the last 10 years, the Merseysiders have won just once at Old Trafford. And, hold onto your hats, the manager then was David Moyes. Every Manchester United fan will agree that Moyes is the most beleaguered manager in the club's history. Also, Liverpool were awarded three controversial penalties in that game.
That's beside the point though. Considering how passionate the Old Trafford crowd can get, you can bet that the atmosphere will be extremely hostile for Jugern's men. It will be extremely difficult for them to play their fast-flowing football or even score. Also, their perfect start to the season might work against them because, as we all can imagine, they will be under immense pressure not to wreak their record… at least not at Old Trafford.
5. Injury boost
Manchester United will be at a disadvantage considering that their star goalkeeper, David De Gea, is out injured. But wait a minute! There is a chance that Liverpool's first-choice goalkeeper, Alisson Becker, will not be fit either. The Brazilian has struggled with a torn his calf since the league opener at Norwich City. The showdown will, therefore, be between Sergio Romero and Adrián San Miguel. To be fair to them both, I think they are more or less in the same class.
On to some refreshing news: Paul Pogba could be returning after kicking his ankle problem. Critics will say what they may about the Frenchman but, on a good day, in all honesty, this boy can do magic in the middle of the pitch. In other news, Aaron Wan-Bissaka, the high-flying fullback, could play on Sunday after recovering from tonsillitis. Anthony Martial has also recovered from his thigh injury and might feature as well. Jesse Lingard, Eric Bailly, and Phil Jones are still out, but with all due respect to them, their absence has little to no impact on the fixture.
As for Liverpool, Mohamed Salah injured his ankle against Leicester City and did not play a minute over the international break. All indications are that he will not be fit for Sunday. Joel Matip is also a doubt. Missing the services of these two is a huge blow to Liverpool and an advantage to Manchester United.
Bottom line:
A team that beat Chelsea 4-0 has what it takes to beat any team in the EPL. Man United players just need to turn up and play for the badge, if not for Ole. The manager, on the other hand, must make sure that he gets the best out of this squad. His options are two: He either comes up with something or he is forced to let go of the wheel.