Transfer Deadline Day - The Guiltiest of Pleasures
The day the Premier League revels in its chaotic madness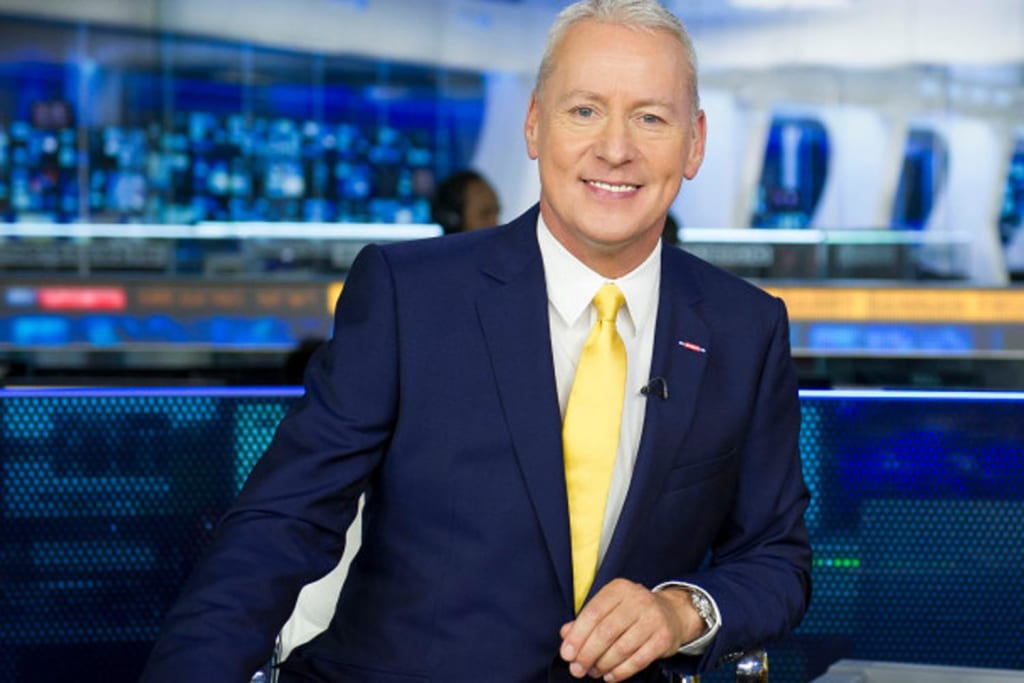 It is Transfer Deadline Day across Europe.
What is Transfer Deadline Day, I hear you ask? It's exactly that - the last day in which football clubs can either bring in (or ship out) players before the transfer window closes.
The window won't open again until the current season closes, so if a team needs re-reinforcements for the second half of the season (or needs to clear some deadwood), today's the day to do it.
To be frank, Transfer Deadline Day really should be much ado about nothing.
The only time a team should need to bring in a new player, mid-season, is if they've been badly hit by injuries.
After all, these are huge, multi-million pound organisations, existing in a league where success or failure has profound economic consequences; considering the huge sums of money at stake, surely they've planned the season ahead with ruthless efficiency before a ball is even kicked? They wouldn't dream of throwing all that meticulous planning out of the window in the middle of the season, and suddenly panic buy a raft of new faces, would they?
No, injuries are surely the only legitimate reason why a team would spend at this stage of affairs.
And, if the player arriving is simply being brought in as cover for an injured player, there's a likelihood that they're - at best - a stopgap. In most instances, a journeyman from a lower league. Nothing to get excited about.
As for outgoings? The only players a team should be getting rid of half-way through the season are ones who aren't getting game-time, but are still clogging up the wage-bill.
That happens - a player who might have been central to a team's plans at the start of the season, may find themselves frozen out of things by January. After all, at a top-level club, there's some fairly sizable egos to be found; they get bruised quite easily.
And, once that happens, sometimes it's best for all concerned to move that player on before they infect the rest of the dressing-room.
Especially if you're still paying them a fortune.
Perfectly understandable.
The only thing that potentially complicates all this in-going / outgoing malarkey is the 'gossip' that permanently swirls around the top-flight clubs.
However, given that most of this is hearsay of the 'my aunt knows someone who's a cleaner at the club, and they overheard someone telling somebody else that they once saw Ronaldo stroking a dog that was the same colour as the one belonging to the owner's wife, so he must be coming here' variety, it's not really taken that seriously.
So, honestly, Transfer Deadline Day should be a damp squib.
Except it's not.
It's really not.
Instead it's a time when the amazing absurdity of the English Premier League is rammed home. It's when 'gossip' becomes worthy of being reported as fact.
And it makes for wonderful television.
Which is exactly how Sky, the primary broadcaster for the Premier League, likes it.
The majority of Sky's sports channels are subscription-based. I'd give you the names but they're always changing them (they re-brand themselves more times than Prince did).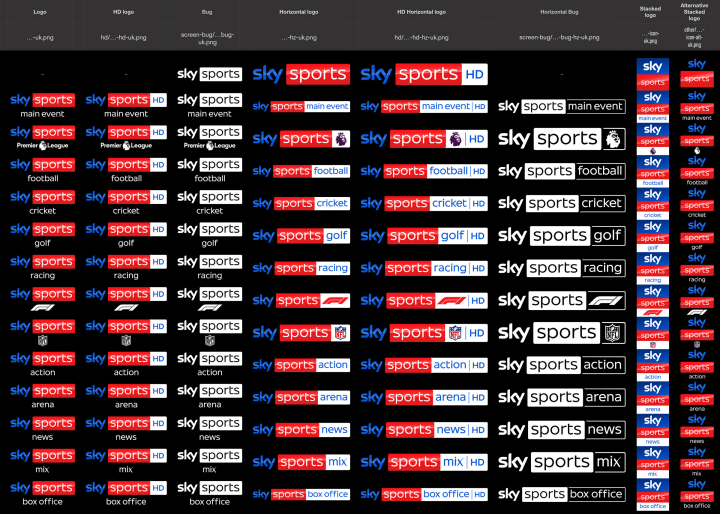 However, one of their channels is free-to-view. It's the mighty Sky Sports News. It's a 24-hour rolling news channel. About sport.
And given the number of sports Sky owns the broadcasting rights to, there's no shortage of stories to cover.
In fairness to Sky, despite football being their primary revenue-stream, they do give a fair amount of coverage to cricket, golf, and rugby. More pleasingly, they shine a pretty bright light on women's sport too - granted, they do hold the rights to show the Women's Premier League on their subscription channels, so it's essentially cross-platform marketing, but it all helps.
However, that all goes out of the window on Transfer Deadline Day. It's football, football, football.
With a bit more football.
With bells on.
Sky aren't exactly the poster-boys for subtlety. But on Transfer Deadline Day any pretence at being a responsible, measured broadcaster is thoroughly discarded. CNN covered the storming of the Capitol with more decorum than Sky cover these 24-hours.
Which is pretty bizarre given that the most notable transfer will probably involve a player you've never heard of joining a team who - at best - will languish in mid-table mediocrity for the rest of the season.
However, that doesn't stop Sky for behaving as if this is the most newsworthy thing to ever happen. In the entire history of mankind.
And key to this is the anchor Sky have chosen to accompany us on this journey; the incomparable Jim White.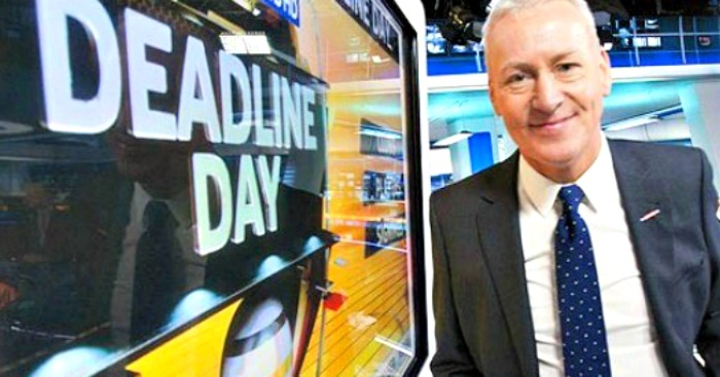 White is a fine journalist. He's charming, witty, and knowledgeable. However, he's also... let's just say he can be quite excitable. And on Transfer Deadline Day he's as excitable as Ritalin-deprived ADHD sufferer. During this period, he could read aloud the instruction manual for my kettle and make it sound like a James Bond movie.
Now, you have to remember that Transfer Deadline Day is basically Jim White TALKING about players leaving one club to join another.
That's it.
It's TALKING.
About transfers.
And it's not always definite transfers; some of these are pure speculation, and will never happen. In some cases, calling them 'gossip' is stretching the description to breaking point.
We might see clips of the players under discussion in action. But it's not live. There's no matches on.
It's TALKING. About transfers. Some of which won't even take place because they're no more than fairy-tales. I can't stress this enough.
Yet...
Despite your best efforts, despite the fact that you know that most of these transfers are never going to occur, despite the players White is enthusing over are unlikely to ever be mentioned again for the rest of the season, there's still part of you that gets caught up in the emotion.
Part of you believes that these non-entities are not only the reincarnation of Diego Maradona, but that these transfers will be the biggest change of allegiance since Judas swapped Team Jesus for Team Pontius Pilate.
But it's not just White. The whole of Sky are in on it too.
There's reporters at every ground. Literally, there will be a Sky journalist at every Premier League ground. Given that most teams also have a state-of-the-art training facility, there'll be reporters there too.
But there's two problems with this, and this is where - briefly - the bubble of excitement is burst.
The first, is that it's January. In England. I don't care how much Sky paid me, the only way I'd spend twelve hours standing outside, in the middle of a British winter, would be if I was promised the ACTUAL resurrection of Diego Maradona.
The reporters are hardy-folk, and are cut from the same cloth as the legendary John Motson who set the benchmark when he once delivered a report in sub-Arctic conditions.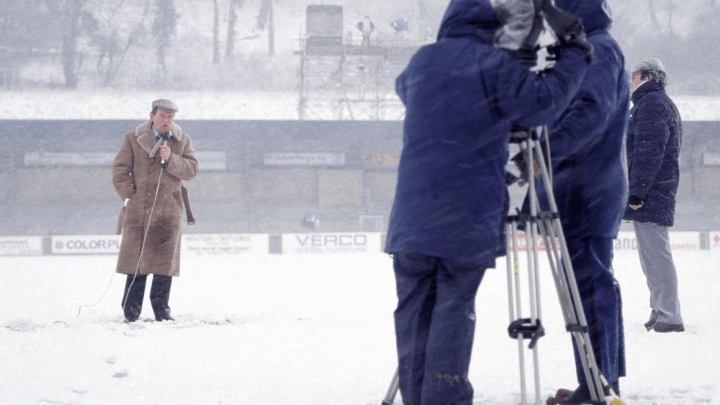 But, on Transfer Deadline Day, the veneer of excitement is worn away when you see the reporter's frozen faces. The only feeling elicited is sympathy; I'm not so much interested in them telling me who Chelsea have signed - I just want them to get in from the cold, and make themselves a cup of tea.
The second is the sheer ridiculous pointlessness of it all. Because, quite frankly, nothing much happens. The poor journalist will spend a day in the wind and rain only to tell me... you know that guy who hasn't played all season because he isn't very good? Yeah, he was going to join a team I can't pronounce in the Belgian 2nd Division, but he's staying now.
It's hardly 'Hold the Front Page!' stuff.
If we're lucky we might get some images of players arriving for training, and then leaving a few hours later. But, given they're not daft enough to stop and give anyone a quote on Deadline Day out of fear of an innocuous comment being taken out of context, and being blown up to imply something that is never, ever going to happen actually might, it's basically a high-end 'Top Gear' for a bit.
"Oh, look - he's got a Range Rover.... I never imagined he drove a Bentley... I didn't know Aston Martin's came in pink..."
It's silly. It's pointless.
Nothing ever happens. Jim White tries to work me up to fever-pitch, only for that to be punctuated by Sky cutting to a frozen journalist standing outside a building.
It's an utter and complete waste of my time.
Then why do I, and so many others, watch it? Why do so, so many football fans take what appears to be a perverse interest in this circus? Why is this completely uneventful day such a guilty pleasure for us?
Because Transfer Deadline Day is football in microcosm.
We know that nothing is probably going to happen. In that respect, it's no different to watching an actual match.
Every time a game kicks off we know that the next 90 minutes are more than likely going to be a thoroughly underwhelming affair. A non-event where, although (in theory) the participants are two evenly-matched teams of highly-skillful athletes, on this particular day they're going to behave as if none of them has ever seen a football before in their lives.
And then proceed to fall over a lot.
We know it's going to disappoint us.
But we hope it doesn't.
We never stop praying that this is going to be the greatest match ever played. Because we've seen great matches before. We can remember those rare games which were illuminated by acts of genius or acts of madness (in Maradona's case, he liked to give fans both - often in the very same match).
They burn brightly inside us, those memories. And, every-time we sit down to watch, we hope today will be another.
Transfer Deadline Day is the same. Yes; the chances are it's going to be another non-event.
But we hope that it won't be.
Because there's always the promise of something utterly bonkers happening. Because it has done before.
Plenty of times.
Some very, very strange things have happened.
Things that prove that the Premiership is not being masterminded by sporting or business genuineness. But by people who really, really, really do seem to have no common-sense whatsoever.
By people whose ambition far, far outstrips their talent.
And sometimes those mad, crazy piece of 'gossip' become reality.
It's surreal stuff, and we watch every January hoping we'll get more of the same.
We hope we'll get another out-of-the-blue, seismic transfer like the one that took Fernando Torres from Liverpool (where he was adored) to Chelsea (where he appeared to forget what he was supposed to do for a living, i.e. play football).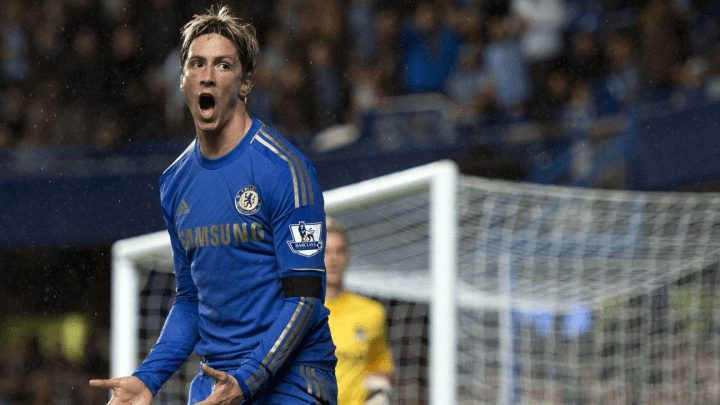 It was an outrageous, bizarre sequence of events from start to finish. Even now, none of that makes any sense. Not the transfer itself, nor the fact, Torres (in his prime, a wonderfully gifted player) seemed unable to remember how to kick a ball when he swapped a red shirt for a blue one, nor that Chelsea's owner, a ruthless and successful businessman, splurged £50 million on panic-buying a player whose best days were visibly behind him.
Or a replay of the night in 2015 when David de Gea was all-set to join Real Madrid only for the deal to break down at the very last minute due to Manchester United's faulty fax machine. Yes - that's correct; a multi-million pound transfer was being conducted via a device that was obsolete back in the 1990's. A fax machine. Come on, that's so daft it's brilliant.
We pray for a repeat of the night Peter Odemwingie, then of West Brom, drove to QPR's ground, Lotus Road, believing he had secured a Deadline Day switch...
... only to be left sitting in his car in the car-park after being refused entry to QPR's stadium because the deal HADN'T actually been finalized. In fact, it was off. All of which unfolded under the full glare of Sky's cameras.
Peter was never the same afterwards.
Nor were we.
However, promise of nights like those are what keeps us glued to this most guilty of pleasures.
Except...
Nothing happened.
A few minutes ago, the January Transfer Window of 2021 snapped shut.
I hung in until the very end, hoping for some last minute magic.
Alas, it wasn't to be.
The headline is that Liverpool have brought a couple of defenders. But, as they're so injury-hit they've had to resort to using their best midfielder as an emergency center-back, it's hardly on par with the whole Torres-farrago. In fact, I'm not sure that "football club buys players it needs" even qualifies as 'news.'
It was, as expected, a non-event.
Once more, it failed to live up the expectations Jim White and Sky created.
But, that won't stop me, or millions of other fans. The next time Transfer Deadline Day rolls up, I'll have Sky Sports News on all day.
Hoping... praying... that today is the day that we'll remember forever...
----------------------------------------------------------------------------------------
If you've liked what you've read, please check out the rest of my work on Vocal.
You can also find me on Elephant Journal and The Mighty.
If you've really liked what you've read, please share with your friends on social media.
If you've really, really liked what you've read, a small tip would be greatly appreciated.
Thank you!