This Wasn't the Tournament England Deserved, But It Was the One that It Needed
Football may not have come home, but great oaks do not grow strong without weathering a few storms.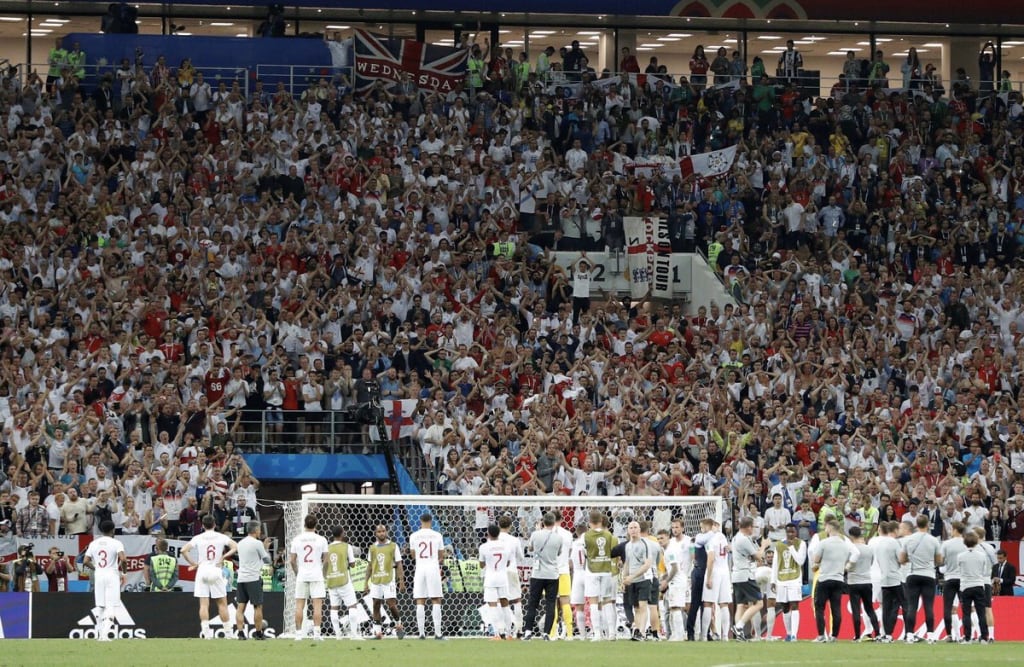 England can come home with their pride and dignity as  a team 
So it's happened again, England have once more not returned with the world cup held aloft. All that money you spent on the shirts and flags gone to waste and we resort to the beer and chocolate to comfort ourselves. The pubs and sports shops have made their profits for the summer and we can now all go back to our normal lives. But this time we can have a few pints with a small smile on our faces.
England have had it rough in the last few tournaments. The last time we reached a quarter final was 2006 and since then it had all been a downward trend from the Last 16 in 2010 to not even getting out if the group stage in 2014. The crescendo moment came in Euro 2016 when England lost to Iceland 2-1 in the last 16. This principal frustration to this defeat was the fact that England had just scraped through the group by not playing well and decided to completely capitulate and go on strike during the whole game. This not only disappointed fans but strongly angered them, and they voted with their feet. As the FA witnessed the St. George's flags being thrown away and fan rants raging on social media, they knew something had to change and fast.
It didn't start well, Big Sam Allerdyce was called in and gained a 100% record by winning a match. He was then found out for getting around the FA's rules on player transfers and got sacked shortly afterwards. England were the joke of world football and were not even considered a team by most football fans. The FA were in crisis and needed a caretaker manager to turn to until they found the right man, and that was Mr Southgate. But Southgate was not a soul who would take this position lying down. He wanted the job full time and to lay down his vision onto the England team fully. The FA had nowhere else to go so they obliged.
There was one thing that Gareth Southgate and the England team both had in common, not only had they previously worked together in the under 21's squad but they had both let the country down in major torments. Southgate with his penalty at Euro 96, and England's recent defeat to Iceland. The immediate goal was simple, they needed to win back the respect and support of the English people before they could win any trophies. In short, they had no expectations on their shoulders.
This objective required a number of changes to the England way of doing things. First of all Mr Southgate knew that any future England side would need to be made up of players who were in form and were hungry for success. This required some bold changes to the squad that no England manager had ever had the balls to do before. This included getting rid of Joe Hart, allowing Wayne Rooney to retire and binning the four four two strategy. All of this reengerised the squad and gave it a new direction of leadership and a new crop of young talent to work with. Both of these factors gave England something they have not had in a long time, a sense of togetherness as a team.
World Cup qualification was simple enough, but having being bitten so many times before the fans didn't show up to support them. Why should they support their national team if they couldn't deliver the goods when it mattered? Needless to say that they got through to qualify for the World Cup in Russia and allowed Gareth to focus on his grand plan. This was achieved by making sure that England would have to face tough teams in their warm up matches. The likes of Germany, Brazil and Italy. The usual suspects if you will. By drawing level with these reputable sides they managed to prove their credentials to themselves, and show that they were just as strong a team.
The torment got underway and nobody expected us to win our first match. In fact we were already though to the last 16 after two games. But we kept going through to the knockout stages and reach our first semi final in 28 years! Whilst Croatia did expose our Midfield's lack of creativity our boys can successfully come home as a young squad with their heads held high. They may not have won the tournament but they successfully smashed many ducks that had hindered the England team for so long. By winning on penalties and scoring 6 goals against a team. England may not have played Italy or Germany this time around, but the fact that we have changed the narravitvie of our own tournament story will give our current squad and future players the confidence to take on these teams to the bitter end of each game. However, despite these achievements Southgate needs to take a break and then sit down with Steve Holland and look at number of things that need to improve.
Firstly he needs to look at England's midfield. This was the one weakness that separated our boys from the final and made us to loose to Croatia. Many people would say that this was due to not taking Wilshire or Shalvey. But there is another factor at play here, and that's that whilst they may be fine players in their own right they also have big egos and don't want to play the style or the formation that Gareth prescribes to his team. Besides, Jack Wilshire went to the previous major torment and what did he bring to the team that time?
But it is not just the players that are to blame here, Southgate's unique quality is that he is a young manager, who does not have the managerial experience you would expect from a manager of a world class team. In some ways this makes him more human but it also means that he doesn't have a plan B to take on the teams that have an international reputation in major tournaments. This reluctance to change tactics left England short at the final hurdle when Croatia changed theirs. In the future the route to a major tournament final will not be as easy as this one, and Mr Southgate will need to prepare for the inevitable knockout game against Argentina, Brazil, Germany or all three with a back up plan if his original plans go astray in the first half.
He also needs to use the upcoming friendlies this autumn to deal with both of the above problems. The freindlies may not seem relevant in the grand scheme of things but to Southgate and his boys they will be the testing ground for new tactics and players, as well as maintaining the newly restored relationship with the England supporters. I like the fact that they are actually being held outside of Wembley and in other parts of the country. This gives the players the experience of traveling to different grounds as well as adapting to different pitches. This could allow Ryan Sessegnon and Jack Grealish to come forward as the remedy to the midfield problem that England suffered this time around. Grealish could well be useful as an incoming Spurs player who could be invaluable to England's future success if he learns to play with Kane and Ali. We also need to continue our friendly run against tough teams. Perhaps Spain and her fellow sisters from the Rio De La Plata could come for a visit, for those who aren't familiar with this term it was the former name for the colonial territory that is now Argentina, Chile and Uruguay, all reputable teams in their own right. It could also strengthen our reserves, who were not quite on the same level as the first team this time around.
Of all the sports that have been invented in England, football has been the one where the national team has had the least success. This has been for many reasons over the decades from the arrogance of the FA to innovate and adapt with football styles across the world, to club dominance over country and footballer's egos getting in the way of their game. However if Gareth Southgate has achieved one thing in his managerial career it is that he has become football's Neil Kinnock. He may never win any trophies but he has changed the England national team into a competitive force which can go beyond it's fan's expectations. There is still much work to do to cement this change within the psychology of the England team, but English football has certainly turned a corner in this World Cup, and considering the young age of the squad it may well turn a few more corners in the tournaments ahead.