"There's no I in team.... But there's an I in quarantine!"
The experiences of an amateur footballer during lock down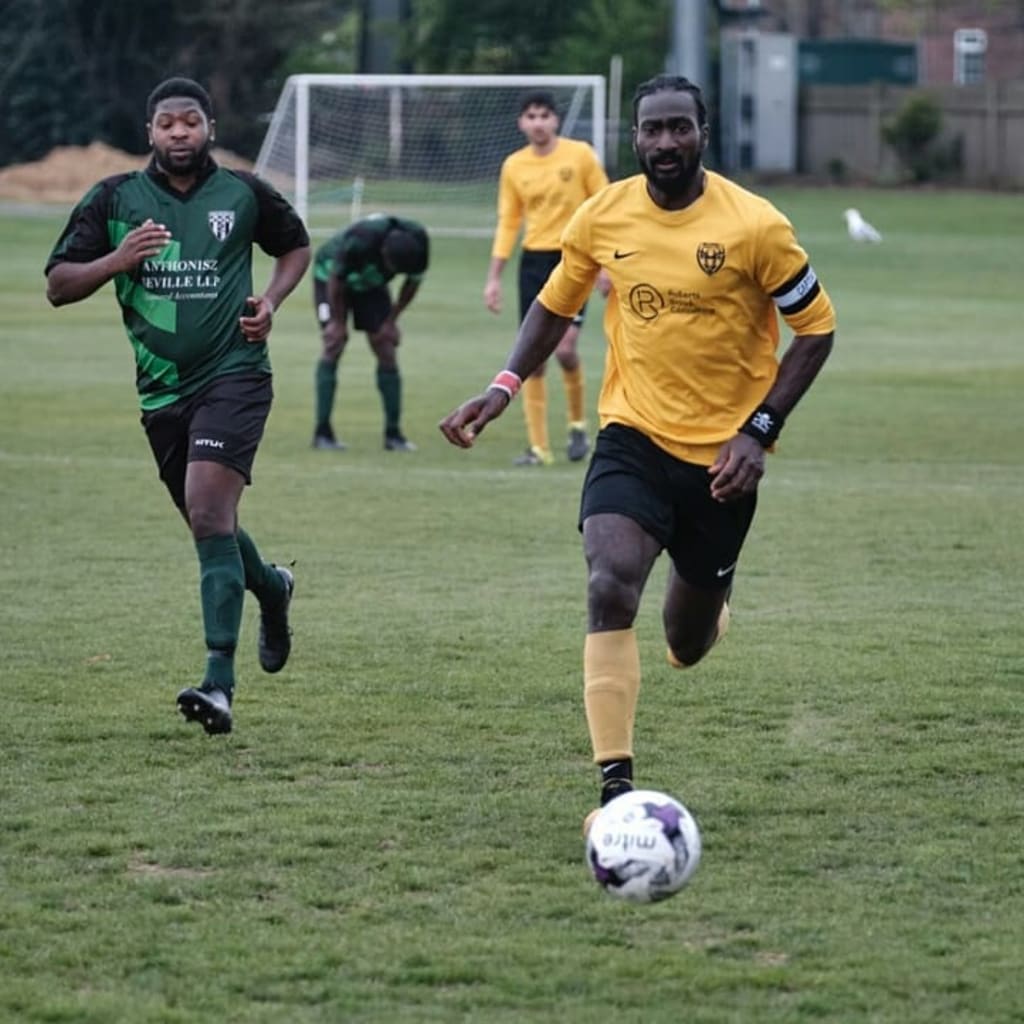 That's me in the yellow, with the captain's armband and the ball. I can assure you the man bent over in the background is ok!
Everyone had something they missed during the enforced lock down earlier this year at the height of the pandemic. Not seeing friends and loved ones was something we could all relate to. For some it was going to the gym, visiting a library or museum, going to a concert or watching the latest blockbuster at the cinema. Don't get me wrong, I missed those things immensely. However, the thing I missed most (apart from my girlfriend!) was football.
Let me quantify that statement. I've played football at various levels since I was 5 years old. I've supported Arsenal for almost as long. This year I turned 35, so for the best part of 30 years, football has been a huge part of my life. The long summers between football seasons when there wasn't a World Cup or European Championship, were only made manageable by the fact I could meet up with my mates a few times a week and have a friendly, but competitive kick-about.
So when, back in March it was announced the whole country was being put into lock down, my head tackled the important questions. How do I keep my family safe? What would this mean for work? How long would this last? But my heart had only one question in mind... when would I be able to play or watch football again?!
Just like professional football, my Sunday League was suspended. Not being able to meet up in large groups meant the kick-about was out also. Unable to meet up with anyone outside of your household meant I couldn't even play the simplest of passing games with one other person. So what to do?
I had a football, I had cones and I had a Bluetooth speaker for some inspirational music. So I had to get creative. I started with basic dribbling drills, in and out of cones, sprints with and without the ball. I gave myself keep up goals, such us walking around a coned area without dropping the ball. Left foot only, right foot only, just headers. I found freestylers on YouTube and tried to copy tricks. I set up coned targets and tried to pass the ball along the ground to stop in between them. This was how I used the one hour of exercise we were allowed to take outside.
It was extremely difficult to constantly challenge myself in this way as there is nothing like playing in a team against opponents and the glorious unpredictability involved in every game. I was coming to the end of my innovative solo challenges. After 2 months of lock down there was some light at the end of the tunnel. You are allowed out for unlimited exercise! And providing you maintain social distancing, you can meet a friend! New realms of possibility!
So I called my friend. We set up high intensity circuits with the football, we invented passing games, we did keep ups together. For both of us it was like giving someone parched with thirst an ice cold glass of water. When the restrictions were relaxed further, and you were allowed to meet up in groups of 6, we were able to play small sided games. I take pleasure in the small things, and this was one of them.
There was also the added benefit of live football being back on our screens. A dismal league season for Arsenal (an 8th placed finish being the lowest since 1995) did end in joy with a 14th FA Cup victory. The Champions League and Europa League final tournaments produced some memorable games. And a short turnaround meant the new season was underway only a few weeks after the previous one had ended.
Fast forward to now, mid October and 7 months after the initial lockdown. My Sunday league season was allowed to start, but we are still waiting for our first win. Arsenal have made an encouraging start with a Community Shield triumph and 3 wins out of 4 in the league. And I am back to having kick-abouts with my mates. There is no guarantee how long this will last as the situation is constantly changing regarding the virus, but until it does I'll keep on enjoying what I love to do most... sticking a ball in the back of a net!