The Tragedy of Steve Bruce
An alternative look at positivity on Tyneside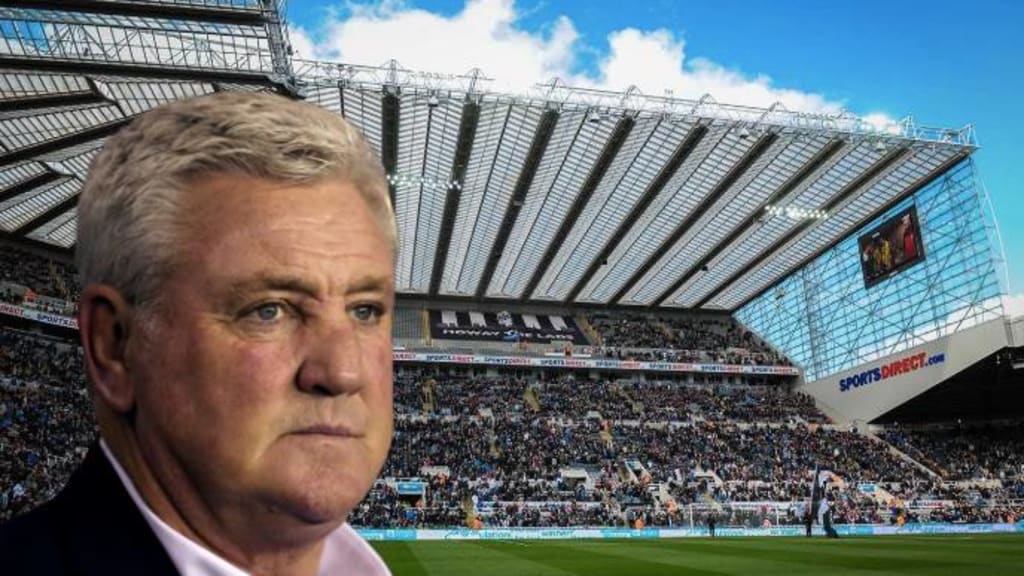 Newcastle United have long suffered unter Mike Ashley's ownership, and as a club with a very large and loyal fanbase, this has been quite tragic to behold. However, despite some drawbacks, the latest being quite recent, it looks like fans can be fairly optimistic about a potential massive Saudi takeover that would be bigger than that of Manchester City and possibly turn them into one of the world's richest and most successful sports clubs. But in my typical fashion, I'm going to go against the grain and look at the takeover itself from an angle that I think is quite tragic. Many people and media outlets have also done this by drawing attention to the nature of the takeover as sportswashing, whereby country's like Saudi Arabia invest in football to draw attention away from human rights abuses. That is a different debate, and not what I'm going to talk about, not just because I think most of the people I've seen taking this approach are not football fans, and there is an element of perspective that they can't quite understand. That's not to say there criticisms aren't valid. They are. But, as I say, it is a different debate.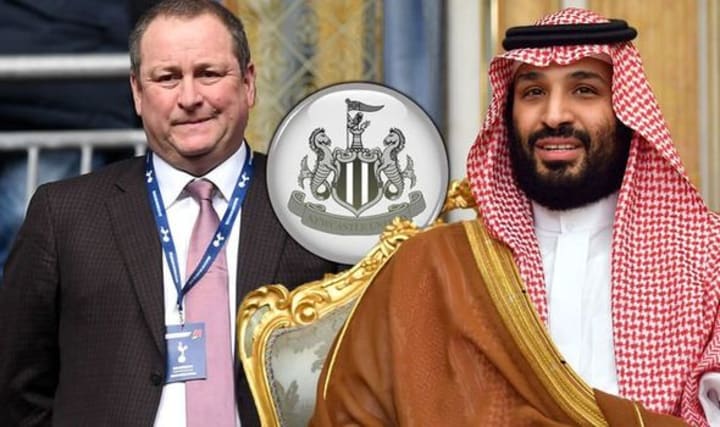 My personal angle revolves around several aspects but can be illustrated through the story of one man, Steve Bruce, who is likely to be the last NUFC manager before the Saudi reign. Bruce's appointment at the beginning of the season was met with disappointment on Tyneside, not only because he wasn't considered a brilliant choice, he was also a former manager of arch-rivals Sunderland. But, most of all, his tenure immediately followed the departure of Rafa Benitez, one of the club's most popular managers in recent years, and indeed one of the world's most decorated. The fact that Rafa's leaving was largely down to him disagreeing with Ashley meant the feeling in the area was extra negative and a difficult environment for anyone to begin working in.
Yet Steve Bruce took all this in his stride. He was not going to pass on the opportunity to manage his boyhood club. He made this clear when he took the job, and also stated that it meant a lot to him because the club also meant so much to his father, who he had lost a year earlier. When you read about Steve Bruce growing up, his passionate support for his team is evident. He would sneak into the stadium when he couldn't afford to pay to watch games. NUFC is in his blood. And when you consider his journey, as a player and as a manager, to end up managing that same club, I for one can forgive his management of Sunderland. It's more common than you think, anyway. But, of course, the mood in the city was bitter at the time, and for good reason to be fair.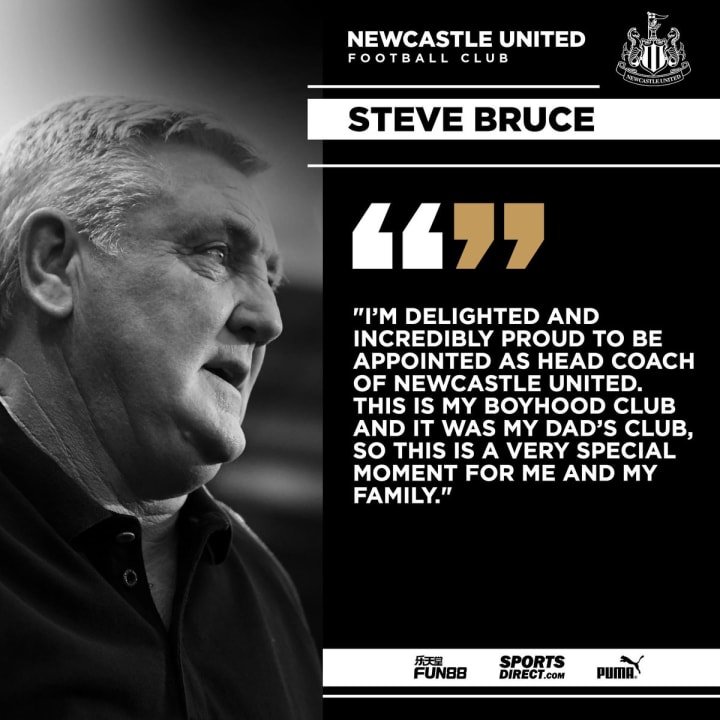 However, Bruce's achievements this season have certainly silenced the naysayers. He just about equalled Benitez's last season until recently. And attending matches this season (up until that ceased to be a reality) has been equally as enjoyable as last for me. Some highlights have been the 2-2 draw with City, the 1-0 defeat of Chelsea and not to mention the best cup run for years. Steve Bruce entered the lockdown on a high. And, indeed, he came out of it on one too, until the last few games. And, sadly, that can fuel the fire of the fickle nature of football fans. And to be fair, personally, I think Steve Bruce has been lucky this season about as often as Benitez was unlucky last season. But it's pointless to discuss football from that perspective, because, as that master of punditry Michael Owen once put, 'whichever team scores more goals usually wins.' Supporters will sing when they're winning. And I know that, tactically, Bruce's decisions haven't always worked for the current set of players. Somebody that is regularly brought up by fans and pundits from this point of view is the record signing Joelinton, who's been incredibly disappointing this season, in particular when compared to Salomon Rondon, who left with Benitez. Joelinton's ability to score in his first match after the lockdown may well have been because he didn't have 52,000 expressions of disappointment in his ear after a miss earlier in the game. But what I want to draw attention to is his goal against Rochdale in the game that put us through the next round of the FA cup. Joelinton had finally scored at St. James' Park and he ran straight over to hug Bruce. Yes, we can talk about why it took him 20 games to score a goal, or why it was in a replay match against a league one side, but the point is this is the kind of man and maager Steve Bruce is. He has a huge connection with his players. They play for him. And moments like that is what football is all about.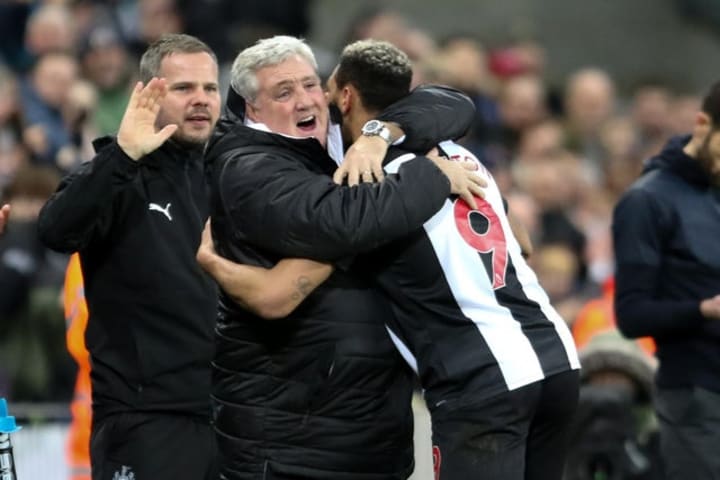 Now, don't get me wrong, I understand the feelings of many Newcastle United fans, and I'm excited about the takeover too. But one thing I have loved about supporting this team is the sheer dedication of its fanbase, depsite all the hardship, and that makes the moments of glory all the more glorious. And maybe that means they deserve to be the biggest club in the league. I just think that the determination of being an underserved underdog who continues to shock and surprise will be something I miss, and Steve Bruce is a representation of that. Again, the fans deserve better, and if the takeover goes through it will be the reward of years of pain, but it's a big takeover, and I fear if the club became as big as it may it would cease to be the same club. Please don't get me wrong, I don't think Newcastle fans will ever change, but I do think it may attract different fans, fans like Man City attracts now, who are there for a different reason. When at the other end of the spectrum, clubs like Bury FC are going under to the devastation of fans that make up whole towns, it's sad to think of football being consumed by money. I just hope this tragic angle doesn't take a Shakespearean turn, and people don't forget what football is all about. And spare a thought for Steve Bruce, who probably deserves better too.