The proud lineage of Johan Cruyff's radical ideology that redefined football
The rich history that contributed to the radical revolution of football.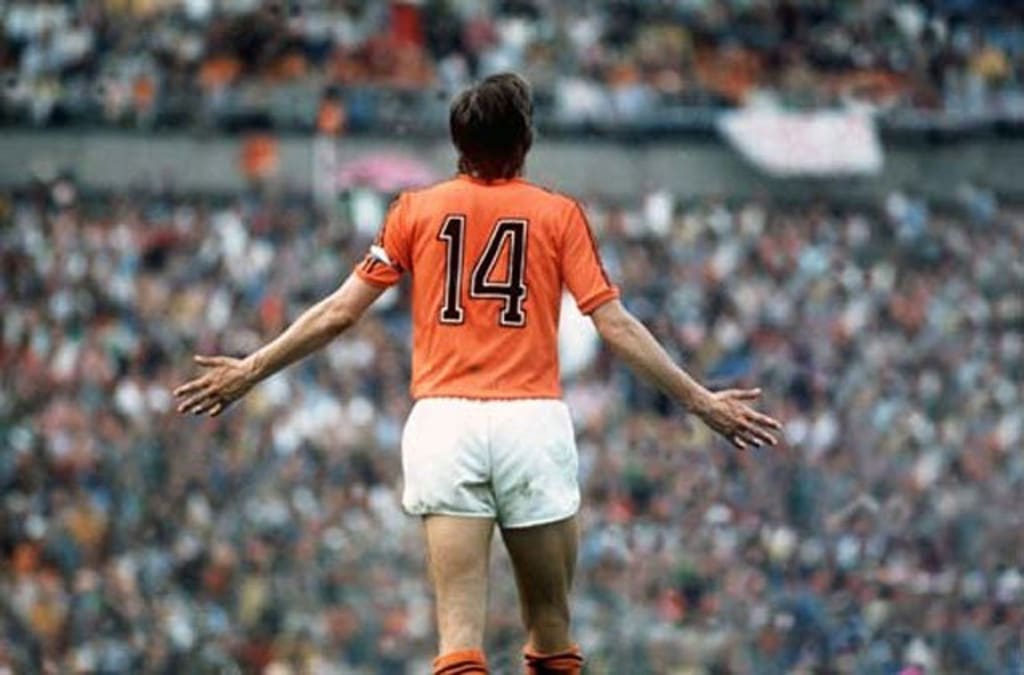 The theories that Cruyff espoused with such stunning effect in Barcelona had their roots in the first international played by Scotland and England in Partick in 1872, a century ago. Undoubtedly, he was a radical, but he was a radical who understood that he was a part of a great lineage.
The match between Scotland and England in 1872 marked the birth of international football. Everyone expected England to win that match because according to different accounts, they were either two or three stone heavier per man, more experienced, and had access to more players. However, these drawbacks were the ones that sparked innovation. From Queen's Park, the only serious club in Scotland from which the entire national side was drawn, senior members discussed ways to combat the issue. At the time, they concluded, the ideal solution was to try to avoid the charging game that was prevalent and instead concentrate on passing which had been a minority pursuit up until then. Scotland's 2-2-6 met England's 1-2-7, with a player withdrawn from the forward line to serve at the back. Ultimately, the ploy paid off and Scotland secured a goalless draw.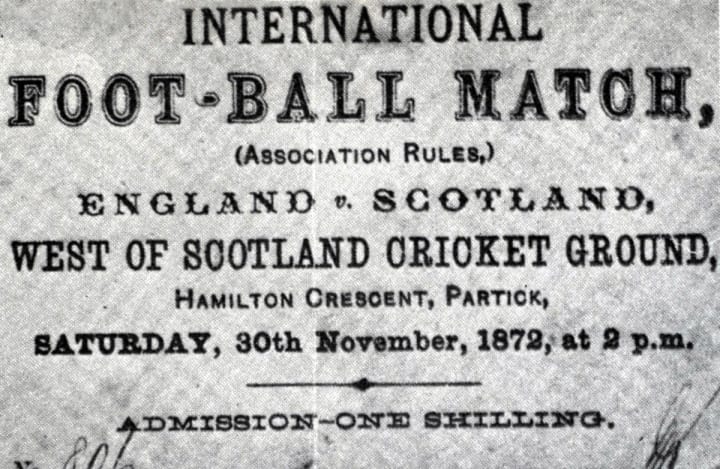 When the English game began to focus on dribbling and charging, Queen's Park began to focus more on passing. Combined with the emergence of professionalism in England (which led to the game being dominated no longer by amateurs but rather by professionals who were interested in winning), Scotland lost only two of their sixteen international games, which contributed to the widespread acceptance of passing ‌by‌ ‌the‌ ‌mid-1880s. It was Queen's Park, however, who remained the pioneers of this footballing strategy and were recognized for their unique approach to ball progression.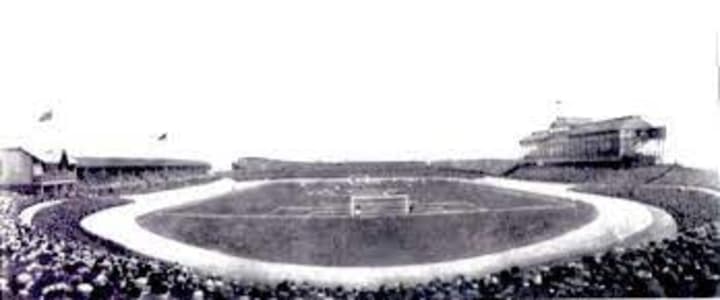 The 1890s saw R.S. McColl emerge as one of Queen's Park's finest center forwards. He scored a hat-trick to lead Scotland to a 4-1 win over England at Celtic Park in 1900, before leaving Glasgow in the following year to join Newcastle United, subsequently earning the nickname 'Toffee Bob'. Following three years at Newcastle, McColl moved to Glasgow with Rangers. In this period, his ideas about the importance of passing really began to take shape. The ideas McColl offered were particularly appealing to a Scottish player by the name of Peter McWilliam. When McWilliam became manager of Tottenham Hotspur, he adopted McColl's principles. Arthur Rowe, Bill Nicholson, and Vic Buckingham, all of whom went on to have successful coaching careers, were his players.
In 1939, Rowe travelled to Hungary and gave a series of lectures and talked with coaches who had emerged from the unique coffee-house culture of Budapest, before becoming Tottenham manager in 1949. With his 'push and run' style of play, he led them to the 2nd division and 1st division championships, also finishing 2nd in the 1st division league in 1952. In 1958, Nicholson took over Tottenham Hotspur as a manager who won the famous 'double' of the First Division championship and the FA Cup in 1961. Spurs also won the FA Cup in 1962 and 1967 when he coached Terry Venables, who was Barcelona's manager from 1984 to 1987. Tactically, Nicholson followed in the footsteps of McWilliam and Rowe. It was Vic Buckingham, however, who would have the most profound impact on the game worldwide. Having been appointed manager of West Brom in 1953, he almost won the double while leading the team to victory against Preston North End in the 1954 FA Cup final and to second place in the league. One of those on that side was Bobby Robson, who became Johan Cruyff's successor at Barcelona.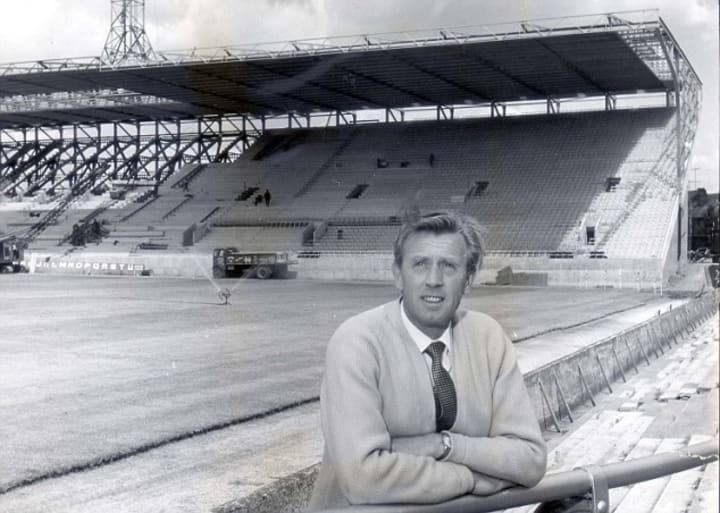 In 1959, Buckingham left England to manage Ajax, won the league, returned to England in 1962 with Sheffield Wednesday, and then returned for a second spell at Ajax in 1964 that battled relegation. But Johan Cruyff made his debut during that time. It was in the Ajax tradition that Cruyff was born. The place where he played was adjacent to De Meer, where Ajax played until 1996, and it was overlooked by the house where Ajax coach Jany van der Veen lived. He spotted him from his window and suggested giving a trial for Ajax.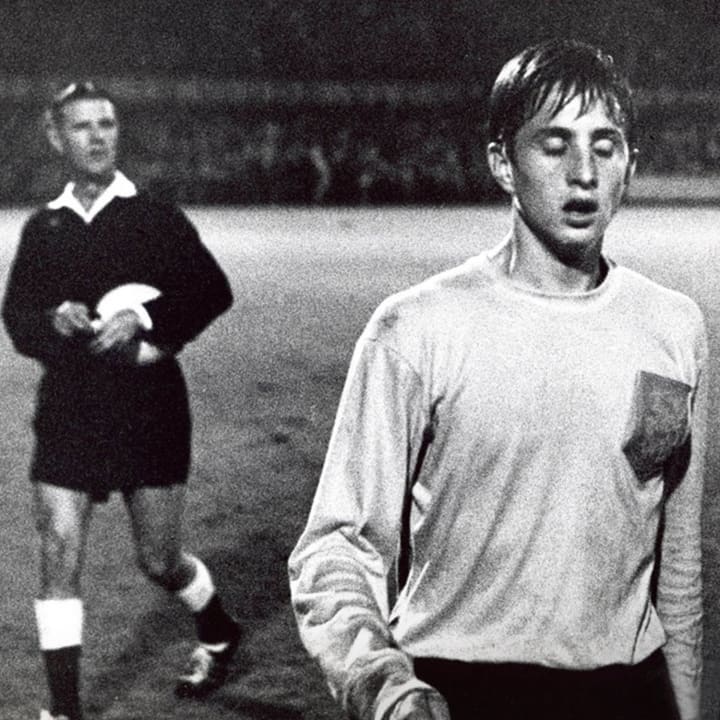 "He played football with older boys, and he bossed them. He was always glued to the ball" Van der Veen recalled.
As a club, Ajax had already imbued its football strategy with pass-and-move principles, as typified by Jack Reynolds, who managed the club in three stints from 1915 to 1947. On top of that legacy, Buckingham laid the foundations for his successor Rinus Michels and the advent of Total Football.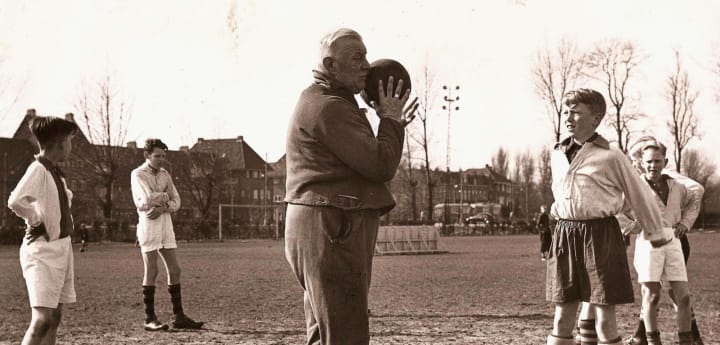 Buckingham was appointed Barcelona manager in 1969, where he infused the passing game invented by Queen's Park a century earlier with the principles he learned from McWilliam. After he became afflicted with back pain in 1971, he decided to return to England and to replace him, Barcelona turned to Rinus Michels who had succeeded him at Ajax. During Michels' tenure as Ajax manager, his team centered around Cruyff had been extremely successful with possession-focused and compact pressing tactics as they went to win four league titles, three trophies, and the European Cup in six seasons.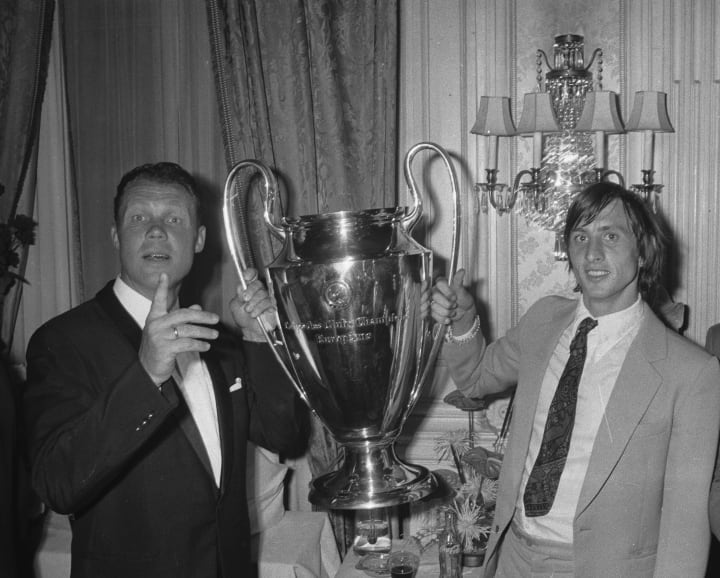 In 1988-89, Cruyff followed Michels to Barcelona, completing the club's connection with Ajax. Yet the tradition wasn't just about Cruyff and Michels. In retrospect, it is applied to almost any team that keeps the ball and uses a lot of inter-evolutionary movement, reflecting the style of play of Uruguayans in 1920s, Austrians in 1930s and Hungarians in 1950s although the Dutch team and Ajax in the seventies had a distinct blend of players initiating a compact press with an aggressive offside trap, all in support of a very straightforward philosophy of winning and retaining possession.
"The Dutch are at their best when they can combine the system with individual creativity. Johan Cruyff is the main representative of that. I think he was the only one who understood the sixties. Cruyff was to the Netherlands in the sixties what the Beatles were to Britain."

- Hubert Smeets, Hard Gras(1997)
This tradition, however, has a decorated history, stretching back through Buckingham to McWilliam, and about a century before that to "Toffee Bob" McColl and Queen's Park. Thus it provides nothing but a proud lineage of Cruyff's radical and revolutionary ideology that redefined the game of football forever.
About the Creator
I wear a story on my skin; of how I have been ripped with challenges and sewn back together with determination and perseverance.
Reader insights
Be the first to share your insights about this piece.
Add your insights