The Age of the Wide Receiver
Jerry Rice 1987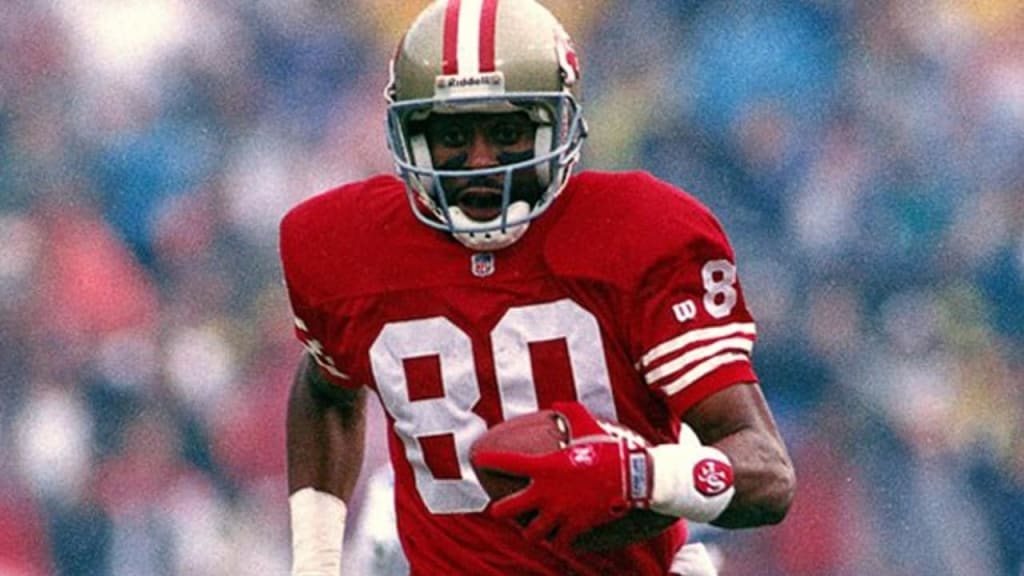 Today's NFL due to offensive friendly rules has become synonymous with record-breaking wide receivers. The talent in today's wide receivers has to make many people wonder every season, did we just watch the greatest receiving season ever? The 2021 regular season just ended, and we may be just witnessed the most electrifying rookie season by the Bengals Ja'Marr Chase who recorded 81 receptions for 1455 yards and 13 touchdowns. This included a stellar performance against the Chiefs in which he caught 11 passes for 266 yards (now an NFL single-game record) and 3 touchdowns.
Just last year the Vikings Justin Jefferson, who was a rookie, broke Randy Moss's rookie record for the most receiving yards in a season with 1400. Yet, as noticed above, Chase just broke that record after one year. Still, Jefferson broke another record this year as he passed Odell Beckham Jr's record for the most receiving yards in a wide receiver's first two years with 3016 yards. While today's receivers are extremely talented, they are not more talented than the receivers of yesterday. The NFL's new wide-open rules make it easier for offensive players to acquire yardage than any other period in NFL history. Before the pass-happy, offensive-minded NFL of today, defenders could affect the game by intimidating their offensive counterparts.
For example, Safety's like Ronnie Lott, Jack Tatum, John Lynch, and Ed Reed made a living taking away the middle of the field by obliterating receivers who came into their area. Likewise, linebackers such as Ray Lewis, Mike Singletary, Jack Lambert, and Dick Butkus did the same when receivers came into their space. Even if the ball was caught, receivers paid a high price and risked being knocked out of the game. Quarterbacks learned not to throw the ball in certain areas of the field to protect their receivers.
There is no question that football is a violent sport, but instead of quarterbacks and wide receivers being instructed to understand the game to protect themselves rules have been changed to take away the physical aspects of football. Thus, receivers have benefited the most as the aggressive nature of the game has been taken away in the name of player safety. Because of these changes, records will continue to be broken at faster rates because players are becoming more skilled by the year.
Out of the top thirty single-season receiving seasons in NFL history fourteen have occurred in the past eleven seasons. That is just under fifty percent, and that number will only increase, especially with the inclusion of a 17th regular-season game. This is in no way an indictment of the receivers who play in the NFL today, but it is an undeniable truth as to why many receiving records are falling so quickly.
For the reasons above, it is Jerry Rice's 1987 season that stands out as the greatest receiving season ever. Rice's statistics are mind-blowing. He recorded 65 receptions, 1078 yards, and 22 touchdowns. Two weeks into 1987, the NFL season was threatened by a strike, but instead of games not being played teams found replacement players (better known as Scabs) as they were affectionately called by fans to play games. After missing one week, scabs played in place of the regular players for the next 3 games who would not return until week 6. Therefore, the regular players only played week 1-2 and week 6 through to week 15, equaling 12 total games. Rice averaged just shy of two receiving touchdowns a game.
In Randy Moss's 2007 season he hauled in 98 receptions for 1498 yards and scored a record-breaking 23 touchdowns that took him all 16 games to collect. The next closest performance to Jerry Rice's is Don Hutson's 1942 season. During a time in which NFL seasons were 11 games, Huston had one of the most impressive seasons ever recording 74 receptions, just over 1200 yards, and 17 touchdowns. During a time in which the primary mode of transportation was a strong running game, this was certainly one of the great receiving seasons of all time.
Nonetheless, what separates Rice's 1987 season is that he is considered the greatest of all time and he performed at a consistently high level for 20 years. Coming into his third season, Rice was coming off a season in which he recorded over 1500 yards and 15 touchdowns, resulting in his first of an NFL record, 10 first team all-pro selections. Rice came into the season expecting defenses to game plan for stopping him. He simply stepped up his game. Rice caught at least three passes in every game. He had no less than 70 yards receiving in every game while recording four 100+ yard receiving games and an additional four games where he gained 86 to 90 yards. Even so, Rice's most impressive statistic is having seven games with at least 2 receiving touchdowns. All 22 touchdowns were relevant as the 13-2 49ers secured the NFC West title and home-field advantage throughout the NFC playoffs in staying ahead of the 12-3 New Orleans Saints.
Unlike Don Hutson in 1942, Jerry Rice did not win the NFL MVP, but he did win NFL offensive player of the year. However, both of their respective teams did not end their season with a championship. The 49ers lost the Vikings 36-24 in the NFC Divisional round, while the Packers lost the NFL's Western Division title to the undefeated Bears. In 1942, there were no playoff games as the winners of the Eastern and Western divisions would play for the NFL championship after the regular season.
football
About the author
Hey everyone!!! I'm looking forward to being inspired. I have always enjoyed the creative aspect of writing but only recently over the past two years have a seriously started engaging in it. I write short stories & poetry.
Reader insights
Be the first to share your insights about this piece.
Add your insights