Take Me Out to the ("__") Game
A list of my favorite Sports-genre movies of all time
Probable but pending, after one viewing . . .
If I can bring myself to watch a sports movie (or any movie for that matter) more than once, then it is probably excellent, in my opinion. In the account that follows, I have selected 21 of my favorite movies, in the Sports genre. (Number '21' was my uniform number when I played senior hockey back in my younger days. ) Anyway, the movies in my present list have been selected on the basis of how good the story is, how good the acting is, how believable the movie is, and how well the movie has been filmed. I love good cinematography and brilliant and novel scenery. If the acting is stellar and the story line is compelling and believable, then the movie itself will likely be one of my favorites.
If, however, the movie has great actors and the story line is good but it is not believable, then I wouldn't choose to view it more than once. For example, an aficionado of sports films might surmise that a movie about hockey, starring the likes of Paul Newman would be right up there with some of the all-time greats, and high on the list. The movie "Slapshot", is just such a movie. Although it has been categorized by many Sports-movie goers as a 'Classic', I would rate it as a tad moronic. The story-line / plot is probable I suppose, but the characterizations are insulting to any upright and bipedal viewer. Even though real live hockey players, like the Hanson Brothers, were used in the filming of the on-ice scenes, the reality of those scenes waned with every shot on goal, every puck drop and every time the gloves were thrown off in preparation for an all-out hockey brawl. There was nothing left to the imagination of the viewer. The movie was a one-way interaction at best, serving only to satisfy the needs of those involved in the making of the movie. An assembly of 'intelligent' viewers was never even considered as a potential audience for this film.
To further illustrate my disdain for certain Sports-genre films, the movie "61", is a true story of Roger Maris's pursuit of Babe Ruth's single-season home run record during the 1961 Major League Baseball season. I love baseball and I loved the escalation of drama that particular season. I can remember it vividly. I searched for newspapers and radio stations and television sportscasts on a daily basis in efforts to find out if Maris had hit another home run. I recall how I felt and the emotion I experienced, as a baseball fan, in the last month of the season. The movie portraying that season, however, was a letdown for me. The acting wasn't great and the way it was pieced together came off as 'hokey'. Roger Maris and Mickey Mantle were real people, but in the movie they were reduced to actors portraying real people. I was never once reminded of the urgency I felt myself, as a 9-year-old kid, during August and September of 1961. Consequently, the movie did not make my list.
Hopefully, these examples will give my readers some clue as to why certain Sports-genre movies (perhaps even someone else's favorite movies in the genre) have not been included in my list. The selection of those listed below will be rationalized individually and briefly as they appear. Also, the movies are listed in no particular order of preference, but are instead presented in alphabetical order by title.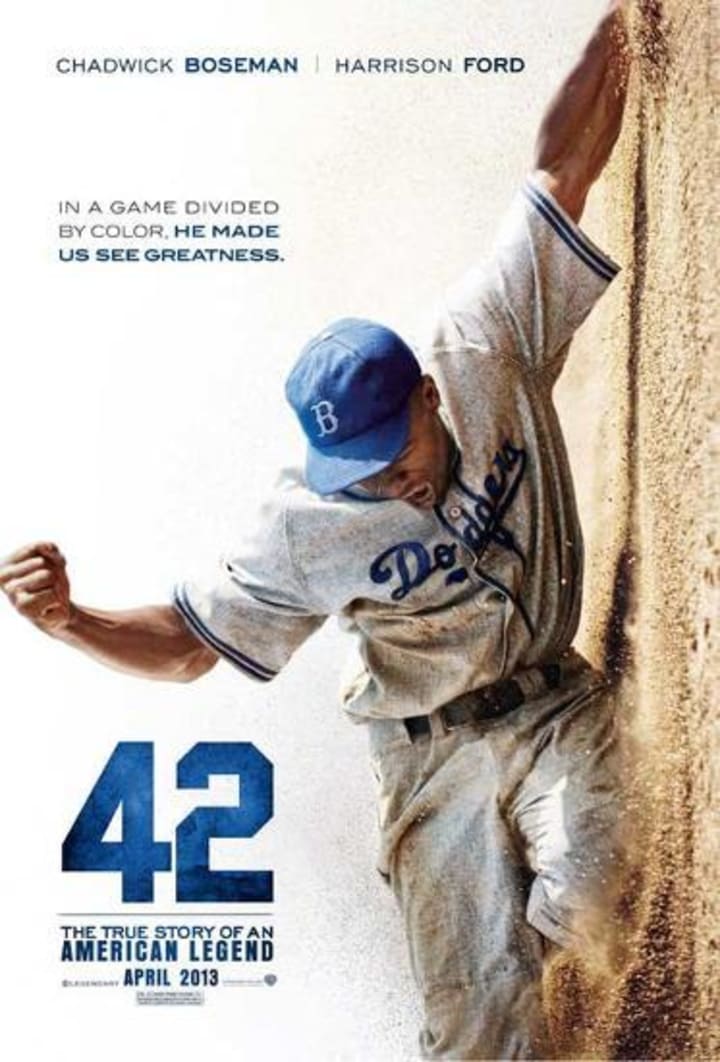 42 (BASEBALL) – chosen because of the true story involved, great acting and the fact that Jackie Robinson was portrayed as the realistic hero that he was. Harrison Ford captured the essence of Dodgers owner, Branch Rickey and Chadwick Boseman was the perfect man for the role of Jackie Robinson himself. It was stunningly tragic that news of Boseman's passing occurred on the same day that Major League Baseball annually sets aside to commemorate the contributions of Jackie Robinson to the game and to the world.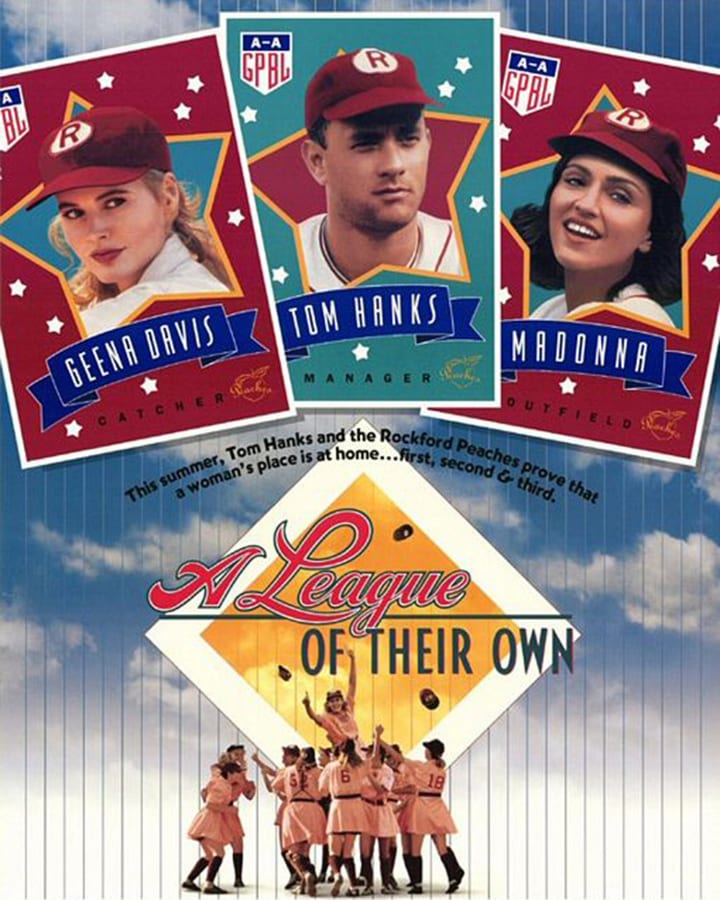 A LEAGUE OF THEIR OWN (BASEBALL) – chosen for great acting and for the true story of women's baseball in America during WWII. The final scene when the real-life former players visited the Hall of Fame to see their part in the game and the contribution they made, with Carole King singing "Now and Forever" in the background, made me cry. If a Sports film makes me cry – it is a winner.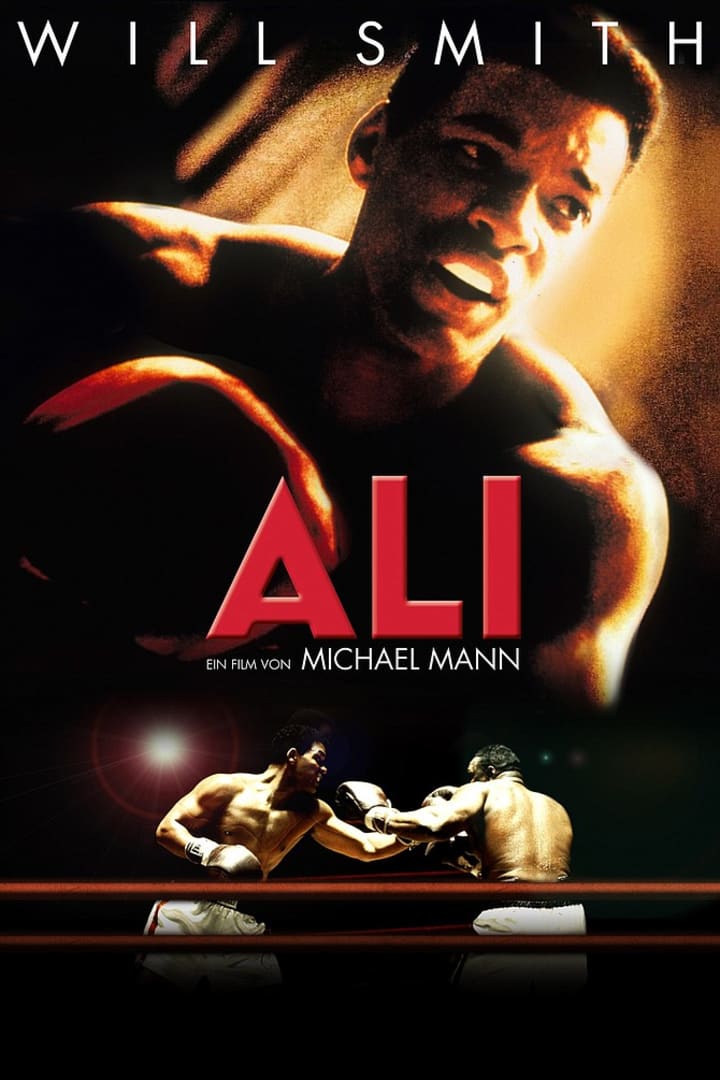 ALI (BOXING) – chosen for Will Smith's great portrayal of Muhammed Ali and because of the reality he brought to the heroic character that Ali was in his lifetime.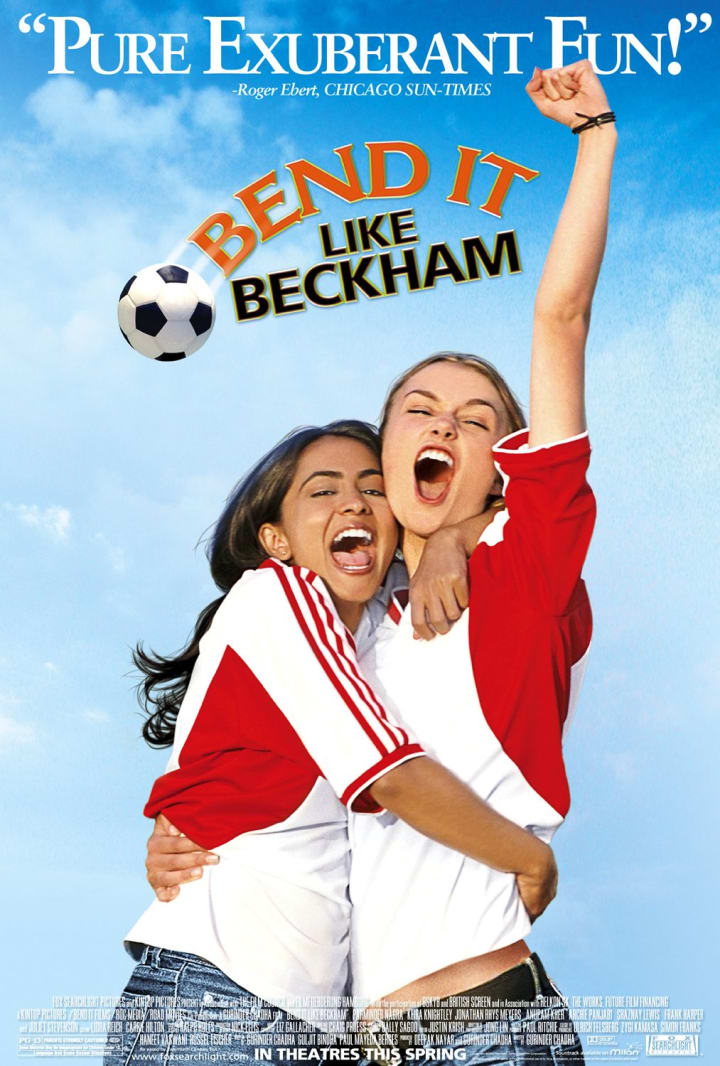 BEND IT LIKE BECKHAM (SOCCER) – the movie showed the connection between the everyday common person and the heroes we love in the outside world. The trials and issues were real. The lives were real. The story was so believable, and it was so much fun to watch.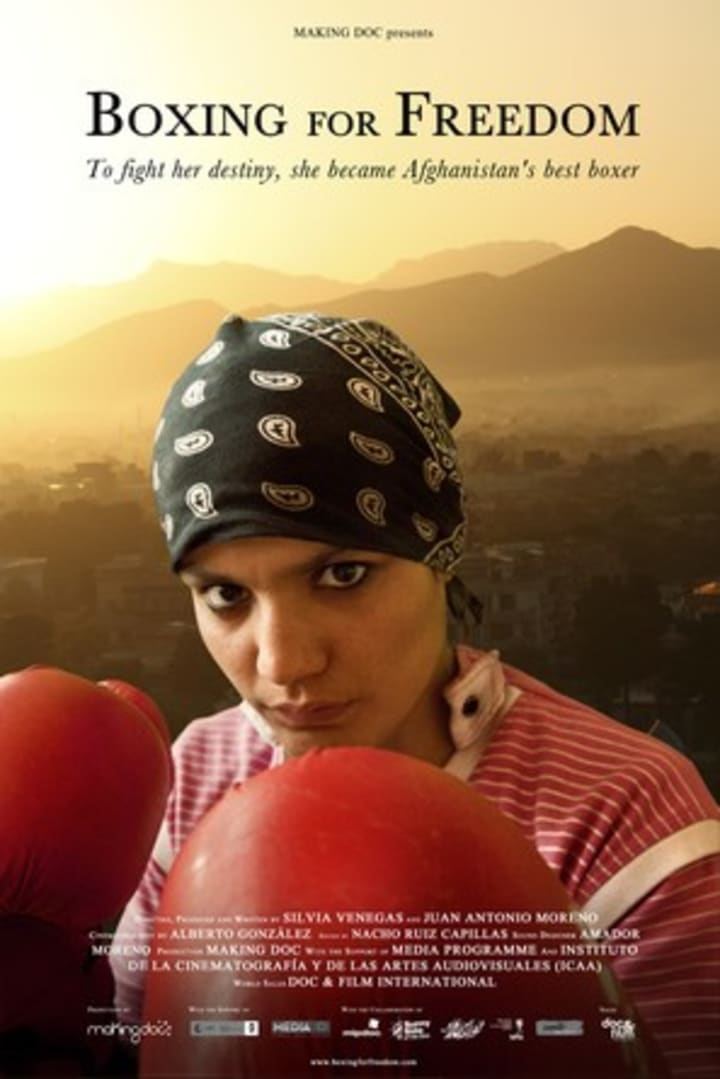 BOXING FOR FREEDOM (BOXING) – for some people in the world, strapped to the atrocities of corrupt governments, poverty, inequality and discrimination, sport is possibly the only realistic 'ticket out'. However, to achieve some semblance of personal freedom, one has to be willing to work harder than can be imagined and, in fact, become a slave to the journey.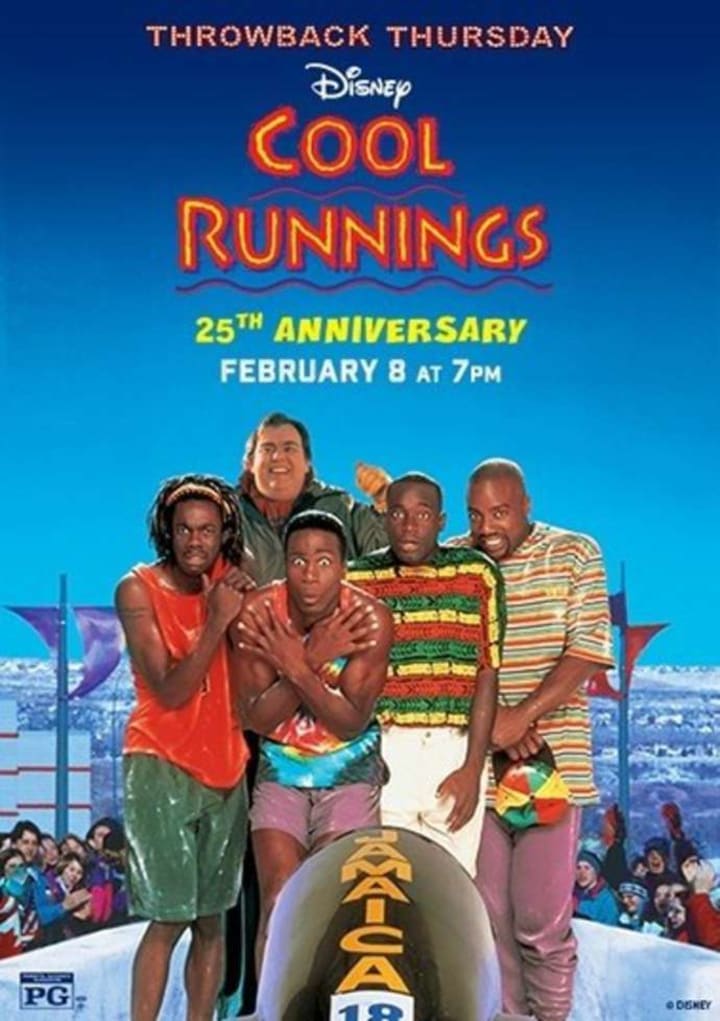 COOL RUNNINGS (BOBSLEDDING) – what is not to love about underdogs becoming heroes? Even though the movie portrayed the Jamaican Bobsleigh team as being a group of sprinters, when in fact, they were military recruits, it didn't take away from the idea that anybody can pursue a dream if they have the courage to do so. The setting was the 1988 Winter Olympics in Calgary – in my home country – so it has a place in my heart for that reason as well. That winter, I watched nearly 24 hours of CBC Olympic coverage every day, for 16 straight days. They were perhaps my most memorable Olympic Games ever. Strangely enough, those were also the Winter Games where a relatively novice Ski Jumper from the UK – 'Eddie the Eagle' Edwards – warmed the hearts of viewers around the world with a similar story of courage shown by sporting underdogs.
DRAFT DAY (FOOTBALL) – I believe that Kevin Costner stars in more Sports-genre movies than 'the average bear'. He is always believable as an athlete or anyone else in the business of sport. In "Draft Day", he does a great job of helping to illustrate the 'cutthroat' side of professional football and how its players are oftentimes considered as simply marketable items. I think the film was realistic and a real eye-opener for fans who want to know more about the game within the game.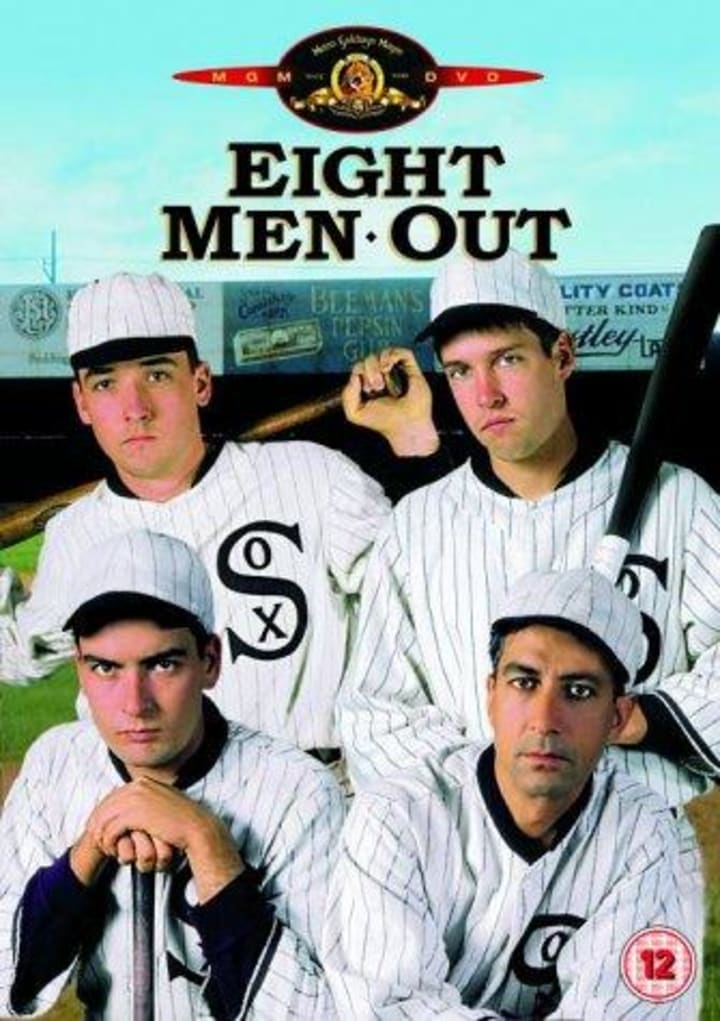 EIGHT MEN OUT (BASEBALL) – chosen for the tragic commentary it portrays regarding our treatment of sports heroes. Players who were, in 1919, the best at what they did and what they did for America. Men who were expected to give up the prime years of their lives to satisfy the desires of a nation looking for heroes, but who were not rewarded in accordance to the brevity of their careers, found a way to make the game pay them what they were worth. Although betting on baseball is as legal and as American as apple pie, there was apparently no room for "cheaters" in a self-righteous organization like Major League Baseball. This is a true story that will make one think twice about complaining over the terms of a professional athlete's salary. Heroes have tremendous social and moral responsibilities attached to their roles - I believe that all should be rewarded appropriately.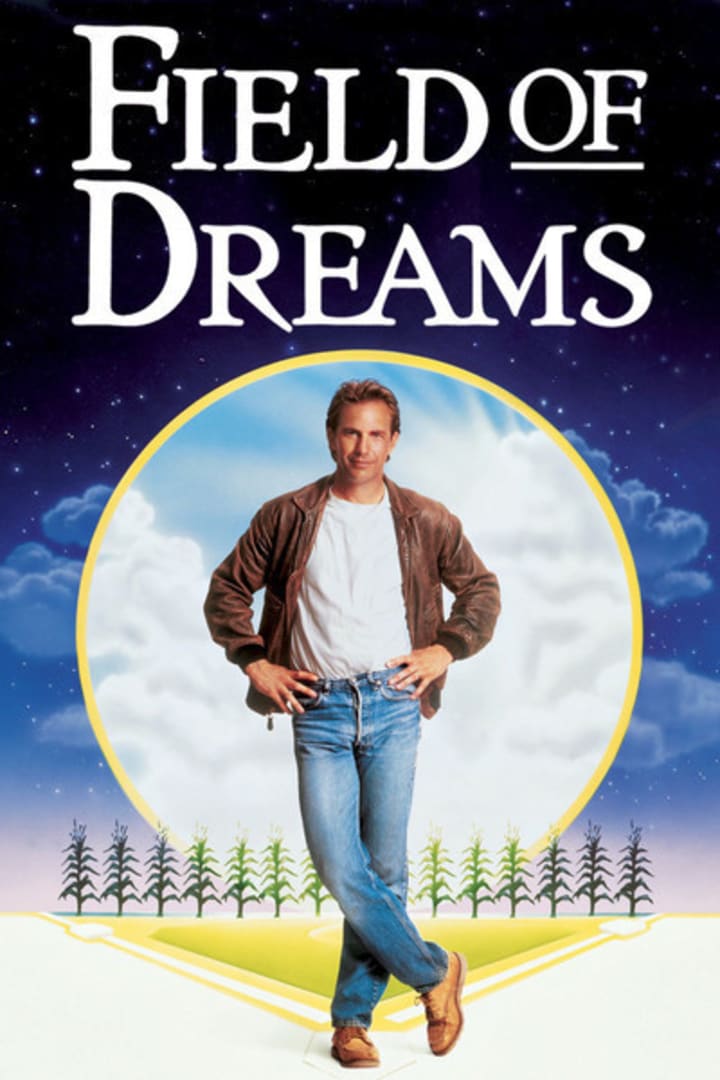 FIELD OF DREAMS (BASEBALL) – chosen for its cinematography. As mentioned previously, Kevin Costner does a great job of acting in Sports films. I like the idea of building a ball diamond in the middle of an Iowa corn-field, to attract the famous baseball heroes from the past. Maybe, the idea is far-fetched, but the baseball is as real as the grass it is played on.
FORD VS FERRARI (AUTO RACING) – I didn't know much about Carroll Shelby until I listened to Bill Cosby's comedy album, "200 MPH", and I didn't follow much more about him until I saw this movie, but I got an image in my head of what the guy must be like. I like Matt Damon as an actor and I think he is very believable at portraying Shelby in the film. Christian Bale also does an amazing job in the role of Race Car Driver, Ken Miles. This is definitely the best and most believable racing film I have seen.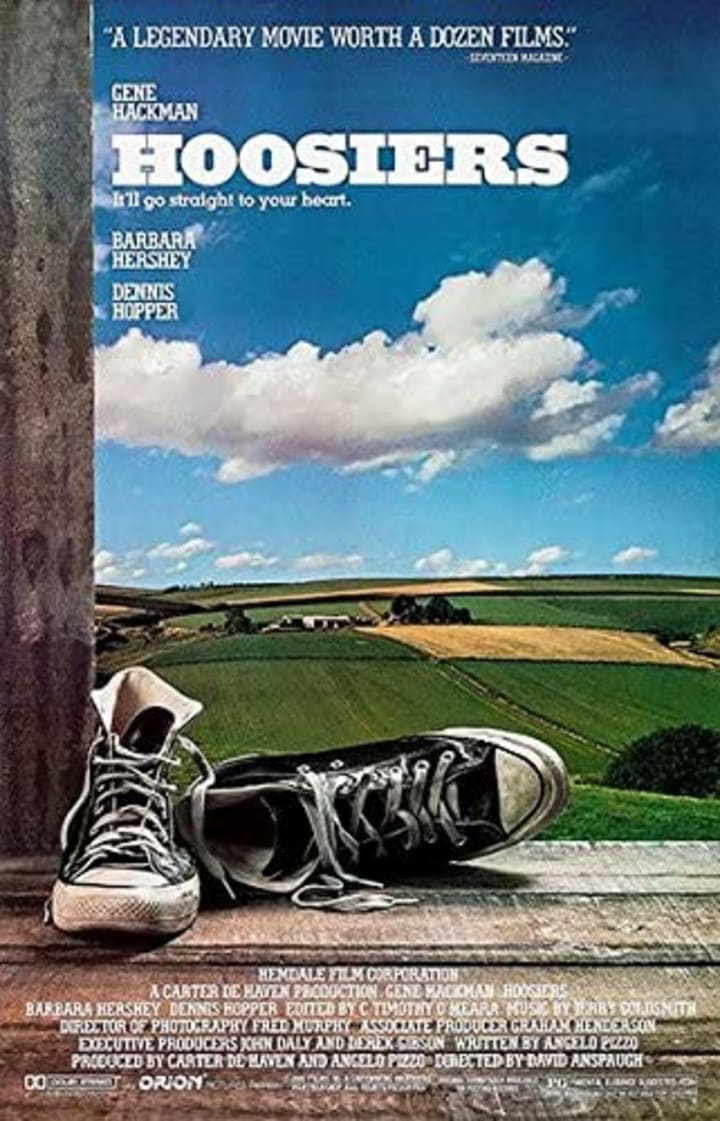 HOOSIERS (BASKETBALL) – Gene Hackman shone in his performance, as Norman Dale, a new coach with a questionable past. Dennis Hopper received an Oscar nomination for his portrayal of a drunken fan and the film was nominated for best film SCORE (no pun intended). All of that, plus Barbara Hershey, in her prime, made it a very enjoyable movie in my opinion. "Hoosiers" was also selected for preservation in the United States National Film Registry by the Library of Congress, as being "culturally, historically, or aesthetically significant." Who am I to question the opinions of the Library of Congress?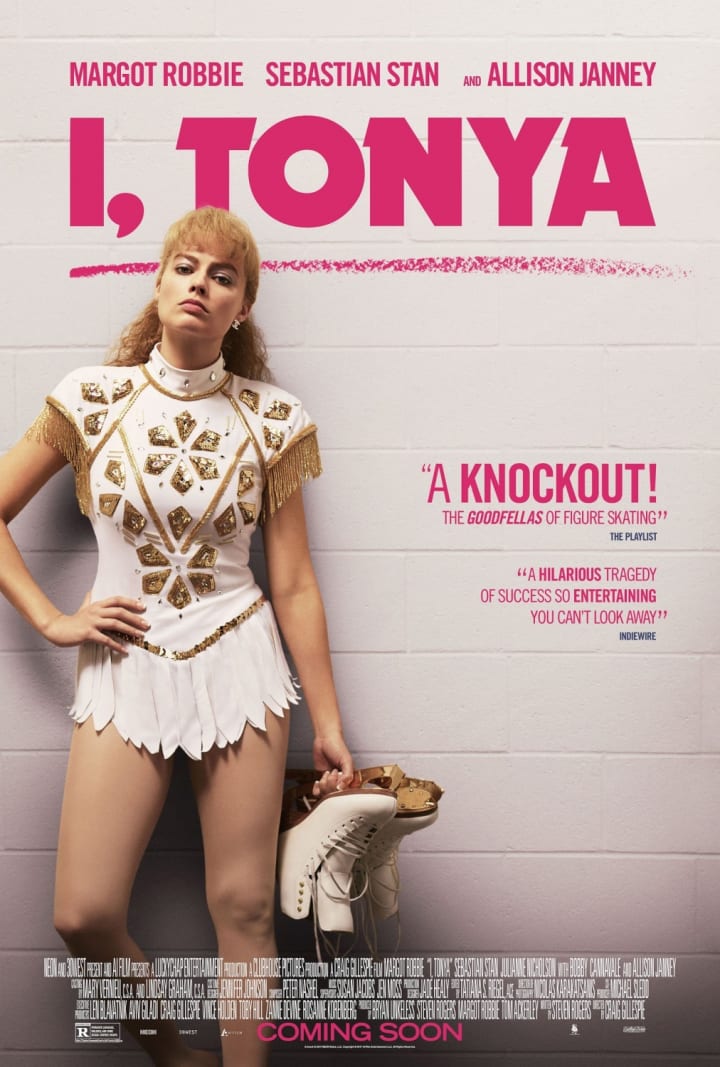 I, TONYA (FIGURE SKATING) – Because I am Canadian, I have lived through Canadian winters, which tend to last for months on end. During those Canadian winters, one plays and watches a bounty of sports like hockey and curling and skiing and sledding and figure skating. The 1988 Winter Olympics were held in Calgary. As alluded to previously in my account of "Cool Runnings", that was the year of the Jamaican bobsleigh team and 'Eddie the Eagle' Edwards. It was also the year that Elizabeth Manley came from behind, to defeat American gold-medal hopeful, Debi Thomas and came within a whisker of surpassing gold-medal favorite Katerina Witt. Manley's silver-medal-chomping performance turned most of Canada onto figure skating for years afterward. It was in those future years, that American skater Tonya Harding burst onto the world scene. Hers subsequently became a household name, at least for the majority of the Canadian population that enjoyed figure skating. Her infamy reached its pinnacle in 1994 when she, and/or someone in her entourage, ordered a 'hit' on fellow American skater Nancy Kerrigan. I may never have followed her story at all, had it not been for the brilliant performance of Elizabeth Manley in 1988 in Calgary. Anyway, I enjoyed the details of this movie because they helped to fill in some of the blanks left in the spotty coverage of Tonya Harding's story during that era.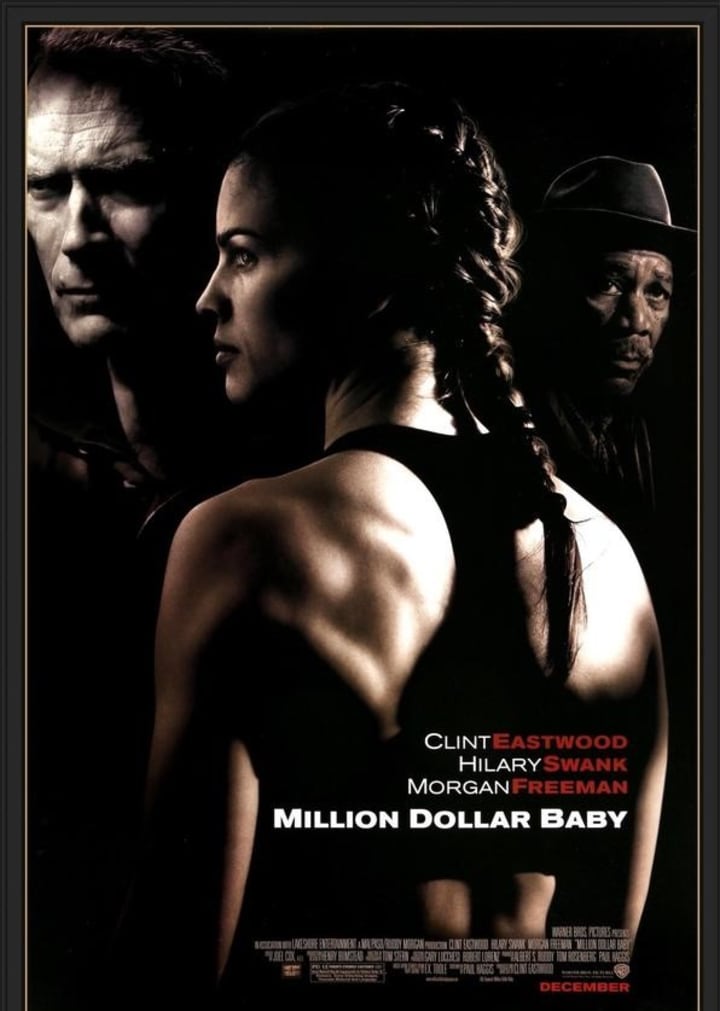 MILLION DOLLAR BABY (BOXING) – Clint Eastwood can be forgiven for any shortcomings he has as an actor, because of his brilliance as a director. I tend to enjoy any film that Eastwood stars in or directs. "Million Dollar Baby" is no exception. Hilary Swank was no slouch in this film either, not to mention Morgan Freeman showing up in her corner. When an athlete's career comes to an end because of an injury, it is a sad moment, but when it is terminated by the death of that athlete, especially during competition, it is truly tragic. Again, movies that make me cry are keepers.
MIRACLE (HOCKEY) – I am a huge sports fan. I am Canadian. I love hockey. The 1980 Olympics in Lake Placid, NY figured to serve up a fifth consecutive Gold Medal for the high-powered Russian hockey team. If they didn't win it, then there was a Canadian team or a Swedish, or Finnish, or Czech team to swoop in and take it. The American team was not like the American teams of today – to say they were not favored to even medal, would be an understatement. The stage was set for a real live underdog, come-out-of-nowhere, Cinderella story. You just can't make this stuff up. All the film had to do was to follow the script of what actually happened at those games and it would be a hit. Kurt Russell simply added to the beauty of it all, with his portrayal of American coach Herb Brooks.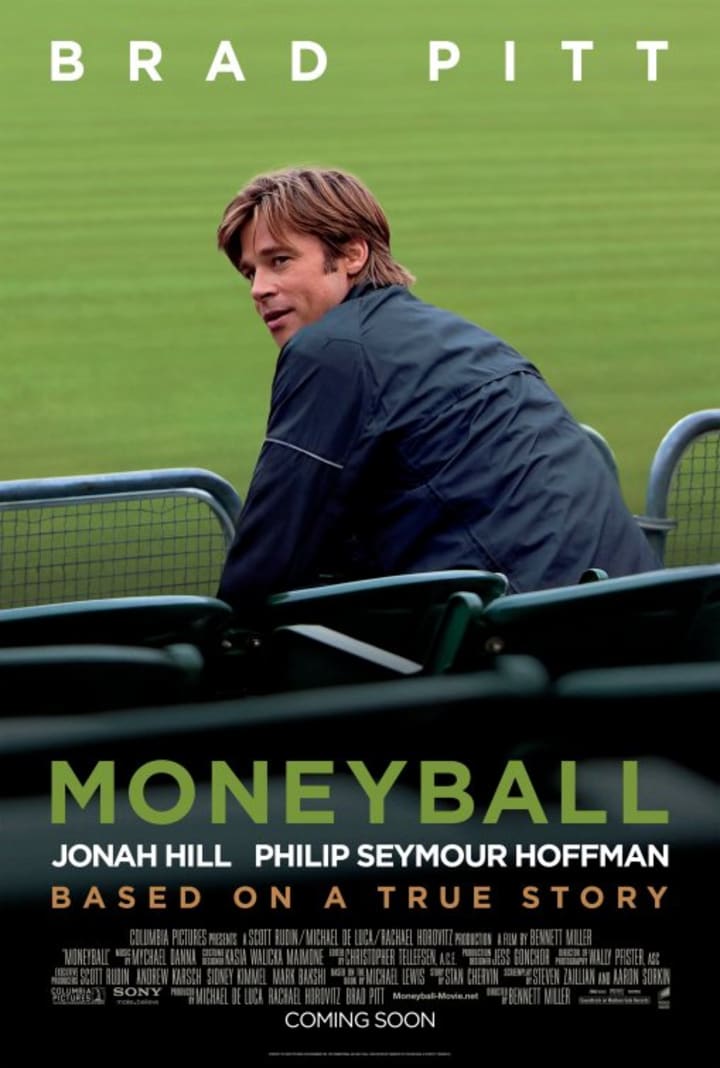 MONEYBALL (BASEBALL) – chosen because I love baseball and I want to be Brad Pitt. If I looked like Brad Pitt, I could definitely be a more effective classroom teacher. Anyway, that's another story. The summer of 2002 was the summer of the Oakland Athletics, in major league baseball. That summer General Manager, Billy Beane, assembled a team of 'nobodies' that put together a record string of 20 consecutive wins and became one of the best teams in baseball at the time. That storyline alone had the makings of a great film. Nothing more needed to be added.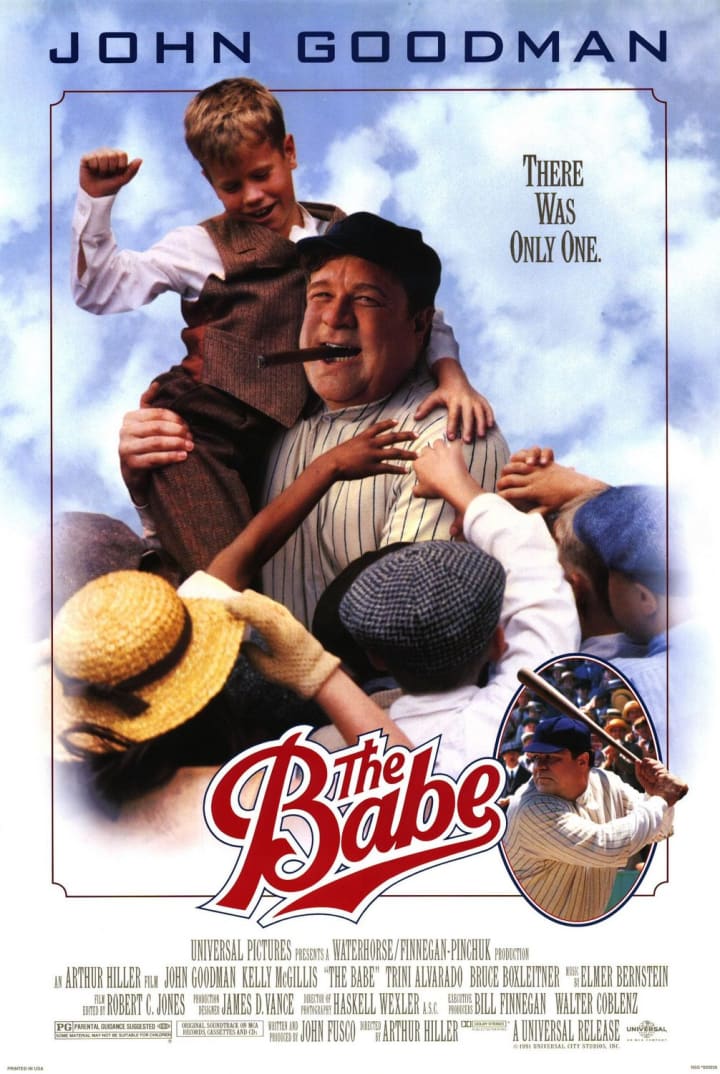 THE BABE (BASEBALL) – any story about Babe Ruth is going to be entertaining. John Goodman adds his personality to the role of 'The Babe' and brings the character to life for all of us who are too young to remember the man in real time. Because it was totally believable, accurate and well-acted, I loved the film. The fact that it was about arguably the most famous baseball character of all time, only made it more enjoyable.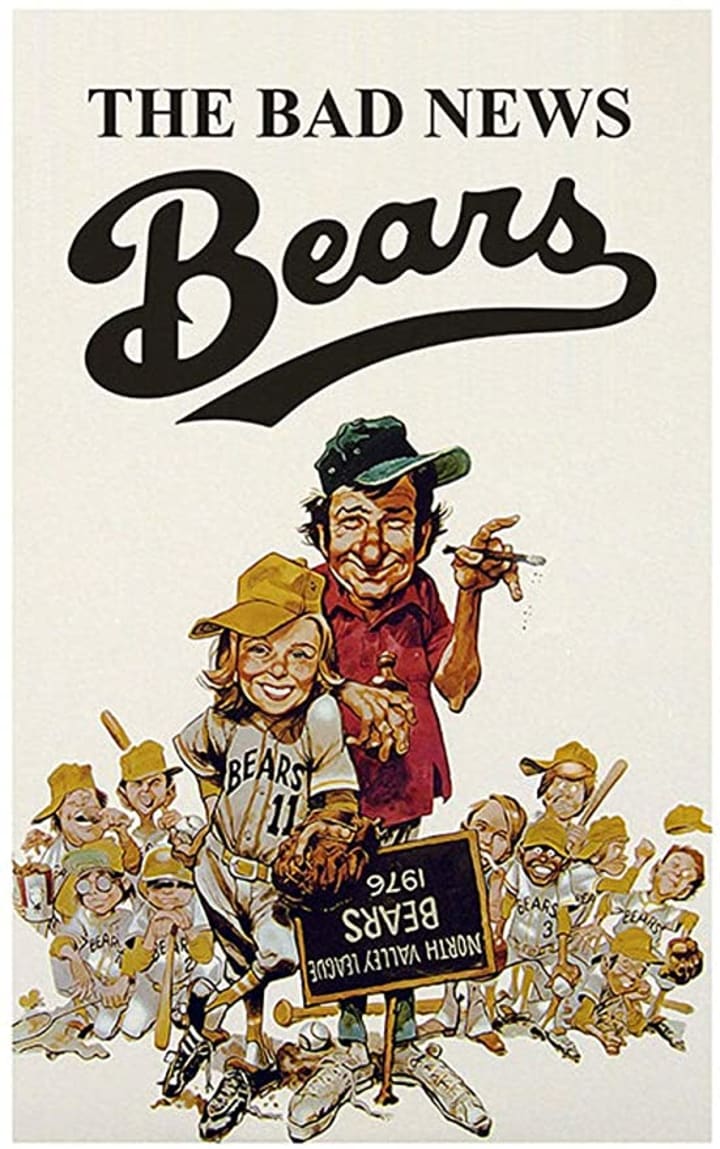 THE BAD NEWS BEARS (BASEBALL) – When I think of some of the baseball coaches I had as a kid, I sometimes imagine that the best summary of the lot would be a character like Walter Matthau. His partnership with Tatum O'Neal enhanced the beauty of the story. Anyone who has ever been involved with minor sports of any kind, as a player or a coach can totally identify with the characters that sat on the bench and took to the field in this movie.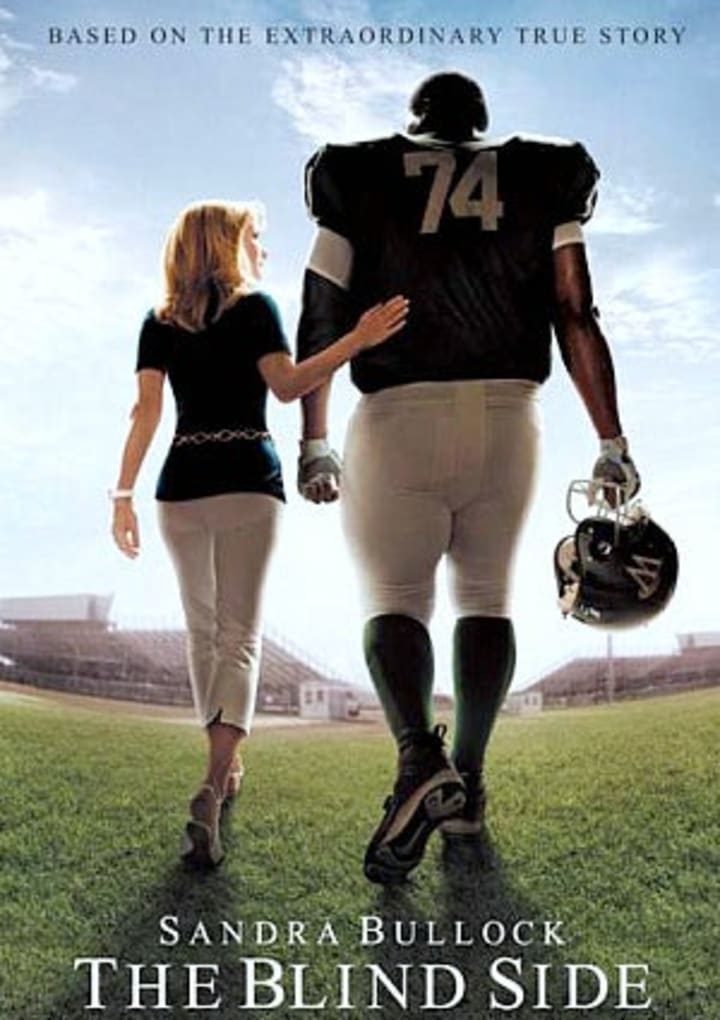 THE BLIND SIDE (FOOTBALL) – Football, underdog gets a shot, hero, Sandra Bullock – need I say more?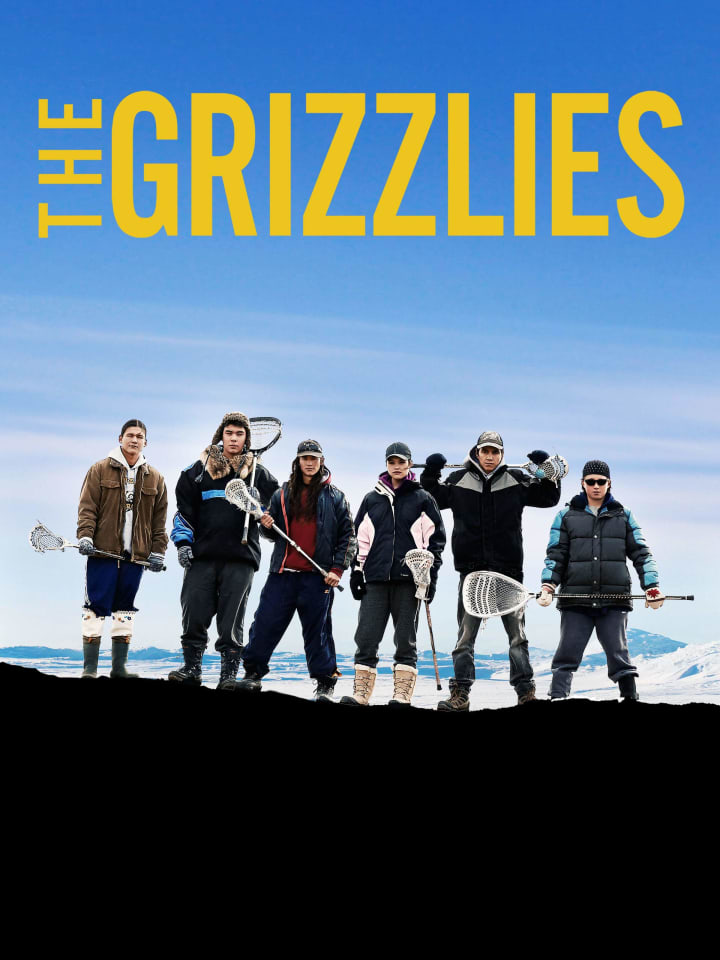 THE GRIZZLIES (LACROSSE) – chosen because of how, in this world, nothing good ever happens unless someone doesn't first have a dream. Nothing good ever happens if someone doesn't first have the strength to start and the perseverance to continue on the path toward that dream. Before I ever saw this film, I attempted to start a high-school boys softball team in Wuhan, China. I was able to keep it going for two school years, however, we had no teams to play against and my boys never really got to experience the game the way they should have. When I saw this movie, I immediately felt the emotions that the community lacrosse coach went through in getting his team together and eventually taking them to play in a competitive tournament. It is no easy task and the movie portrayed the struggle brilliantly.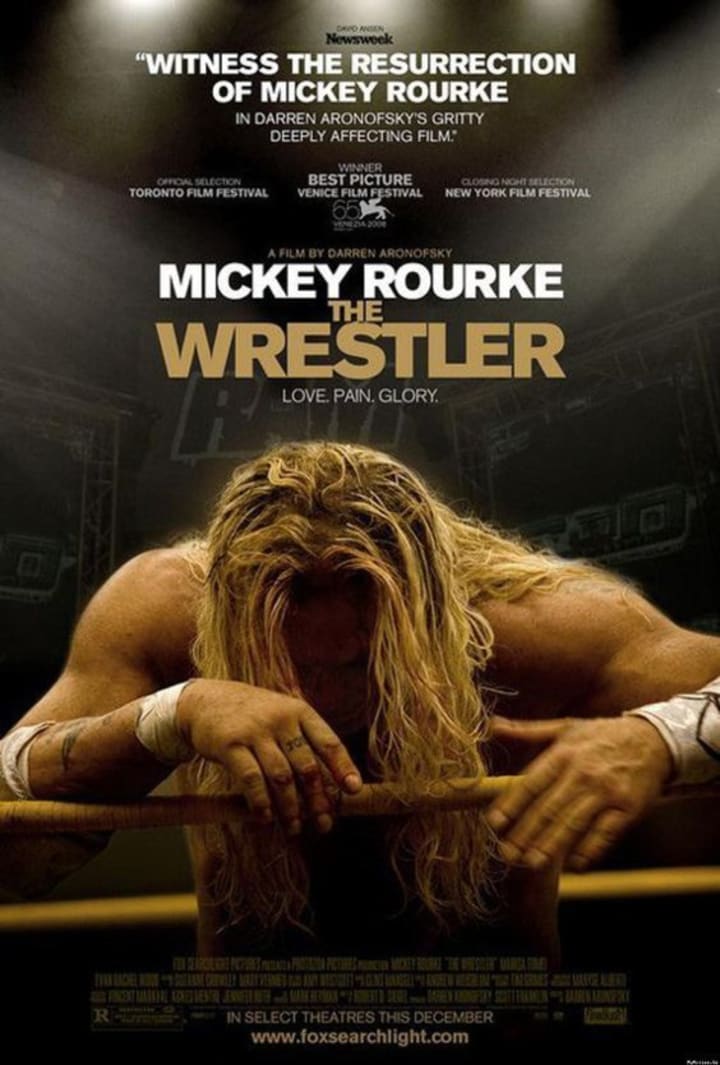 THE WRESTLER (WRESTLING) – Some may argue that Professional Wrestling is not a sport. Well, argue that with Dwayne Johnson or Dave Bautista or John Cena. The degree of athleticism involved in maintaining oneself as a professional wrestler is no less than that required to be a world-class ballet dancer or gymnast or rock climber – all considered to be athletes in legitimate sporting events. Mickey Rourke plays the role of such an athlete, who tragically has come to the end of his career. To add to the tragedy, as if more was necessary, he also has to deal with the fact that his career robbed from him, as well as his health, his years not spent with his daughter. I consider this film to be, not only realistic but one of the great Sports-genre movie (and human) tragedies of all time.
WE ARE MARSHALL (FOOTBALL) – I am a product of Canada and more specifically, the province of Saskatchewan. This province is small enough that it is not an exaggeration to say that everyone here, knows everyone else. On April 6, 2018, sixteen members of a Saskatchewan hockey team, the Humboldt Broncos, were killed in a bus crash while travelling to an out-of-town playoff game. Although, I saw the film, "We Are Marshall", long before 2018, I remember thinking at that earlier time, how devastating that sort of tragedy would likely be to a family or school or community – to lose so many of your heroes all at once. It would take a long time for those wounds to eventually scar over and any forward progress to occur without amazing determination and courage. This movie is all about that sort of determination and courage.
And, there you have it. My list of Sports genre movies that I would gladly watch again and again. You'll notice that a good number of them are about underdogs who become heroes or eventually champions of some sort. I am a sucker for happy endings I reckon!
movie review
About the author
Baby, son, brother, child, student, collector, farmer, photographer, player, uncle, coach, husband, student, writer, teacher, father, science guy, fan, coach, grandfather, comedian, traveler, chef, story-teller, driver, regular guy!!
Reader insights
Be the first to share your insights about this piece.
Add your insights