STEVEN GERRARD (1998–2015)
Today I'm recapping Mr. Liverpool himself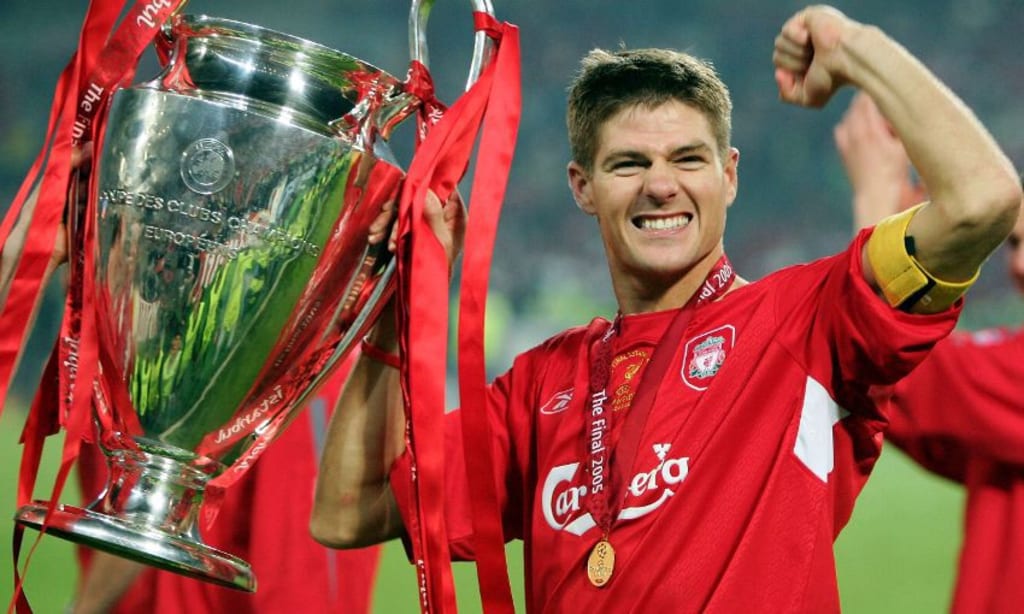 Team Honours
2004/2005 UEFA Champions League
2x FA Cup
3x League Cup
2000/2001 UEFA Cup
2001 UEFA Super Cup
2006/2007 UEFA Champions League Runners-Up
Individual Honours
2005/2006 PFA Player of the Year
8x PFA Team of the Year (#1 in PL history)
2008/2009 FWA Player of the Year
3x UEFA Team of the Year
3x FIFA FifPro World XI
Voted UEFA All-Time Champions League XI (Alongside Xavi and Iniesta – ahead of Kaka and Zidane on the bench)
2005 UEFA Club Footballer of the Year
Ballon D'OR 3rd Place 2005 (1. Ronaldinho 2. Lampard)
Awarded an MBE for his services to football, on the back of Liverpool Miracle of Istanbul.
Footballing CV
🏴󠁧󠁢󠁥󠁮󠁧󠁿 Liverpool (1998–2015) 710 Appearances / 186 Goals (Only player in Liverpool's storied history to finish in the top five in both appearances and goals.)
🇺🇸 LA Galaxy (2015–2016)
International:
🏴󠁧󠁢󠁥󠁮󠁧󠁿 England (2000–2014) 114 Caps, 21 Goals
Today I'm recapping Mr. Liverpool himself, Steven Gerrard, captain fantastic a Premier League and Liverpool icon.
Born May 30th, 1980 in the Northwest of England in a large village called Whiston, just 8 miles from Liverpool was one of England's most complete midfielders of the last thirty years.
Scouted by Liverpool at age 9 — Steven Gerrard signed his first professional contract with the club aged 17 and made his first-team debut in 1998.
By the early 2000s, Gerrard had established himself among the Premier League's best, winning PFA young player of the year in 2001.
Gerrard was made Liverpool captain in 2003 at just 23 years old.
He went on to play 710 games for Liverpool in a career spanning 17 years. He scored 120 Premier League goals and is currently the 18th top scorer of all time, the second top-scoring Premier League midfielder in history after Frank Lampard who scored 177 premier league goals and 11th all-time on the Premier League appearance list with 504.
He was the 2006 PFA player of the season and the 2009 FWA player of the season. His 8 PFA team of the season selection is the most in Premier League history, showing Gerrard's consistency as a world-class midfielder.
While it will always be lamented that one of Liverpool's greatest players in history didn't win a league title, Gerrard still retired with plenty of silverware. Winning the most iconic Champions League in history – 'The miracle of Istanbul'. Gerrard also won 2 FA Cups, 3 League cups a UEFA Cup, and a UEFA super cup.
Gerrard played his swansong years in the MLS, joining LA Galaxy, who he played for, for a year and a half, before retiring from football in 2016.
Playstyle
On the pitch he was a force of nature, a one of one – technical, tactical, tough – a leader, tenacious and passionate, if Liverpool needed a last-ditch tackle, a 30-yard screamer, a clutch penalty, a game-winning header – Gerrard more often than not provided it.
Gerrard's best position was debated hotly throughout his playing career – particularly for England. He played in various positions in different games for club and country, including attacking midfielder, wide-midfielder, deep-lying playmaker, box-to-box midfielder, and even a full back. Gerrard said on the Jamie Carragher Greatest Games podcast that he believed his best position was the 8 but wished he had learned to play the number 10 position.
If your side was playing Liverpool in the Premier League, you loved to hate on him, (I know as a Newcastle fan every time we played Liverpool with Gerrard in the side it felt like he would score the winning goal) – game plans were built specifically to stop Gerrard. He scared opposing managers.
Iconic Moments
The story of Gerrard's career will be eternally linked to the Miracle of Istanbul, the 2005 UEFA Champions League Final, he was voted UEFA Man of the Match.
The Liverpool captain scored Liverpool's first goal of the comeback with a header, his reaction after making the score 3–1 was that of a true leader.
He rallied his troops and made them all believe the impossible was possible.
There were many more iconic moments for Stevie G – starting with the UEFA Cup Final, on the 16th May 2001, Liverpool was back in a European Final for the first time since 1985 and up against the surprise package of that year's competition – the Spanish side Alaves.
Gerrard scored Liverpool's second goal in a game which they eventually won 5–4 after extra time, in a season where the club won a treble of trophies, Gerrard came of age as a young prodigy.
Then there was the often underrated performance in the 2004/2005 Champions League; Liverpool 3–1 Olympiakos:
Liverpool came from behind to beat Olympiakos, they needed 3 goals to qualify and got all three. The third was a stunning long-range strike from outside the box from 25 yards – the archetypical Gerrard strike and typically clutch, it was classic Gerrard putting Liverpool in his back and creating something out of nothing, with a moment of magic.
In 2006 Gerrard wrote his name into FA Cup Final folklore. His performance against West Ham was legendary and lead to it becoming known as 'The Gerrard Final'.
The Hammers took an early two-goal lead before Djibril Cisse pulled one back and Gerrard lashed home an equalizer. West Ham retook the lead before Gerrard scored one of the most famous goals in recent FA Cup history as his long-range last-minute strike forced extra-time. Gerrard would score again in the penalty shoot-out and go on to lift the trophy at Cardiff's Millennium Stadium.
A year after the miracle of Istanbul and Liverpool winning the greatest European final of modern times they won the greatest FA Cup final of the modern era.
Nobody is perfect though and Gerrard's legacy will be unfortunately be remembered for a few regrettable reasons;
On Tuesday 5 July 2005, Gerrard handed in a transfer request, the England midfielder had reportedly agreed to a £30 million-plus move to Stamford Bridge, together with personal terms that would have doubled his £60,000-a week wages. Thankfully he decided to stay at Liverpool and the rest is history.
Who can forget Gerrard's most infamous moment on April 27th, 2014. 'The Slip' against Chelsea in Liverpool's third to last game of the season. Liverpool was on a 16-game unbeaten run and had won 11 in a row including a 3–2 win over title rivals Manchester City. The win against City seemed to confirm the title was Liverpool's, they followed that game up with a 3–2 win over Norwich City, then came Mourinho and Chelsea, with the game tied 0–0, Gerrard failed to control a routine pass from Mamadou Sako allowing the ball to roll into the path of Chelsea striker Demba Ba who raced through on goal and scored.