Songs, Followers and Manchester Money – The Return of Cristiano Ronaldo
Thirty-six years of age and he's not done yet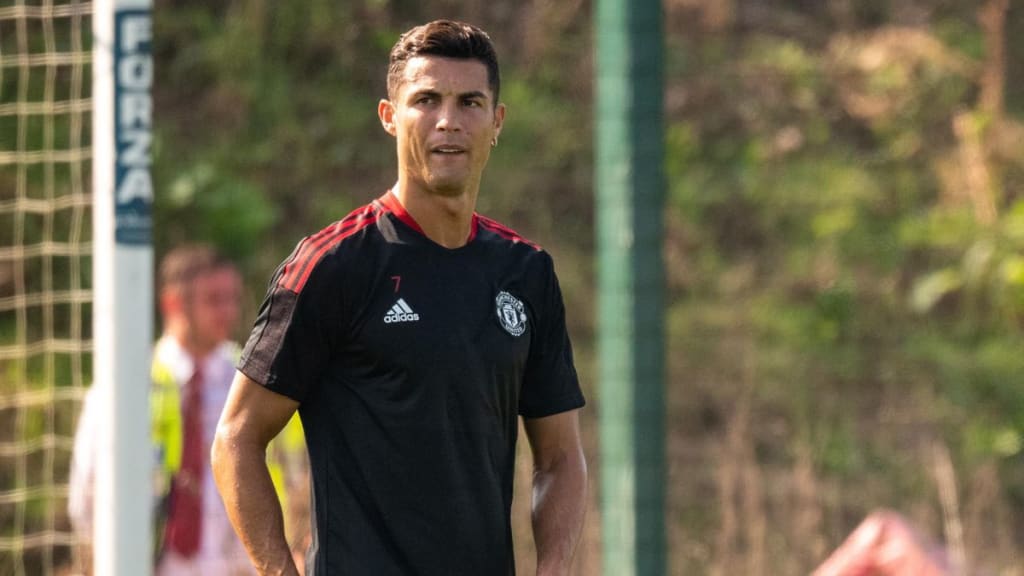 He's BACK in the Premier League
"Viva Ronaldo, Viva Ronaldo … Running down the wing, hear United sing … Viva Ronaldo". That was the song that made its way to the Molineux Stadium and could be heard before, during and after Manchester United's 1-0 away victory to Wolverhampton Wanderers. Not since the end of the 2008/09 season could Manchester United fans rejoice at the fact that Cristiano Ronaldo would be wearing a shirt with their beloved badge on it. While the outpouring of joy from the public was something to behold among fans of the red devils and those that admire him; what was profound to see was the reaction on social media, the stock market and the club shops.
On the 28th of August 2021, Cristiano Ronaldo flaunted an impressive Instagram audience of approximately 334 million followers, easily more than all the followers of the twenty Premier League sides put together. His Juventus farewell video on the social networking service amassed over 57 million views to date, eclipsing the 47.4 million followers that Manchester United have on the gram. The club itself gained around 2 million followers since his signing was announced and of course added "Shop our Ronaldo 7 shirts" to their bio. CR7's Instagram post that read '7 is the magic number' received almost 11 million likes in half a day. And during all of this excitement, Cristiano himself added another 7 million followers to his account. More than the sum of the following that West Ham United (1.7m), Southampton (1m), Watford (1m), Leeds United (847k), Newcastle United (705k), Brighton and Hove Albion (433k), Burnley (417k), Norwich City (397k) and Brentford (176k) share. Accumulating around 500,000 followers a day, since he rejoined the red side of Manchester.
If you're not impressed by Manchester United's business yet, there are more flabbergasting numbers to come. While not only Instagram was buzzing about their most followed personality making a move back to the Premier League, Manchester United's twitter account erupted too. "Welcome home, Cristiano" read the tweet that sparked a worldwide explosion of excitement, even among neutrals. His return was re-tweeted over 860,000 times and received 2 million likes. Over 10,000 articles have been published since his Manchester return was announced and it is unimaginable to think how many times they have all been read. In a transfer period that just kept spewing out headline after headline, especially after Lionel Messi's move to Paris Saint-Germain, Cristiano's return sparked the greatest response.
If there was ever music to the ears of everyone associated with Manchester United, it is the financial markets reaction to the news. When Juventus chairman, Andrea Agnelli, was asked whether it was wrong to sign Cristiano Ronaldo, he responded: "Wrong to take Ronaldo? Never. I would do it again tomorrow." While CR7's signing failed to take Juventus to new heights on the pitch, it was off the pitch where Juventus went from major Italian brand to global brand. While the on-field performances were not necessarily the Portuguese Internationals fault, the increased popularity and financial rise of the Italian giants could be correlated with his arrival in Turin. And now he would bolster the market value of the club that was responsible for his first steps to stardom. Just by how much you ask? According to the Mirror, Manchester United's stock value went up by £212 million, just hours after the transfer was announced. No wonder Agnelli would have done it all again.
The other massive transfer of the transfer window was undoubtedly Lionel Messi's move to Paris Saint-Germain. His move from FC Barcelona to the French capital instantaneously sent fans to club stores. "Messi 30" shirt sales on PSG's website amounted to 150,000 sales in seven minutes. Astronomical, record breaking numbers until Cristiano announced his Premier League homecoming. It was unsurprising how many CR7 fans decided to purchase the new Manchester United shirt sponsored by Adidas. After all, the number seven shirt has been an iconic number throughout Manchester United's history. So important that the club handed Cristiano Ronaldo the number seven, even though Edinson Cavani wore the number at the beginning of the season. Cavani would graciously chose to wear the number 21 and allow Ronaldo to continue to be known as CR7.
When Cristiano Ronaldo inherited the number from David Beckham in 2003, everyone knew that he had some massive boots to fill. However, on his return one could say that he is the club's greatest number seven in their history. Even when considering those that wore the number before him, namely Eric Cantona, George Best, Denis Law and Gordon Strachan. Cristiano's number 7 would be printed a record number of times, surpassing Lionel Messi's Paris Saint-Germain sales. A record £32.6 million were made from Ronaldo 7 shirt sales in just 12 hours. A world record, outperforming the jersey sales of Tom Brady's move to the Tampa Bay Buccaneers and LeBron James to the LA Lakers.
With all the hype and Ronaldo's probable start against Newcastle United on Saturday the 11th of September, the eyes will be firmly planted on Manchester United's performances on the pitch. Ole Gunnar Solskjaer has failed to lift any silverware since becoming the interim manager at Old Trafford in December 2018. With the signings of Jadon Sancho, Raphaël Varane and the one and only Cristiano Ronaldo, the only thing that will do is silverware. CR7 knows all about winning silverware and so does his former Real Madrid teammate Varane. With an abundance of talent on display at United, the question is will they outclass the likes of Manchester City, Chelsea and Liverpool? All of whom have tasted league or European success in the past three seasons. An exciting new Premier League season is upon us, with Ronaldo already making his mark at Old Trafford this season without touching a football.