Setting the Foundation
How 1996 & 1999 Women's Soccer Changed the World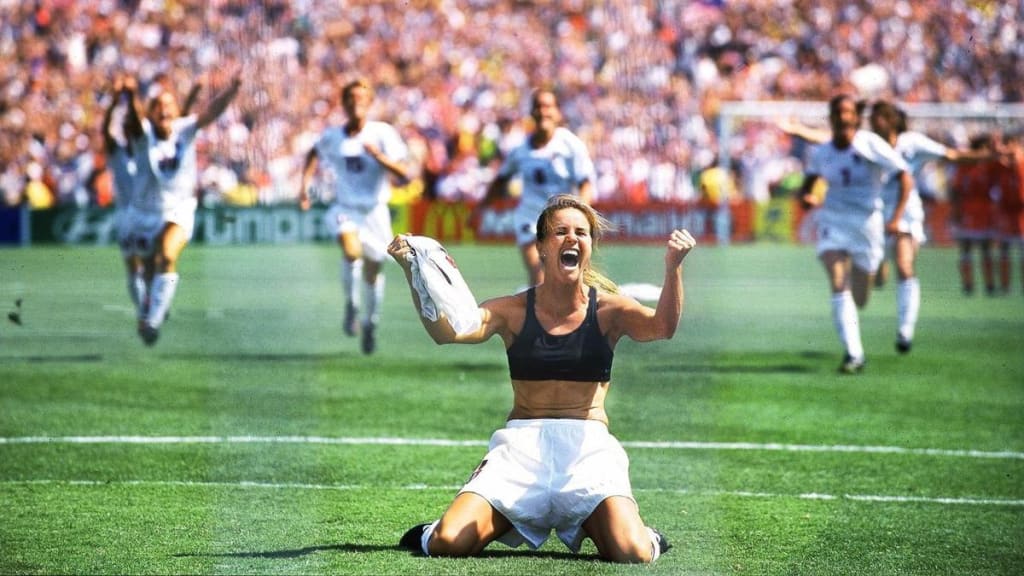 The celebration heard around the world
I consider myself born into the most progressive generation for women in soccer. Being able to watch women like Mia Hamm, Brandi Chastain, and Shannon Mac Millan take over the field with their determination and raw skill was nothing short of astounding. To a five-year-old girl, whose entire life was centered around soccer since the day she took her first steps, these women were absolute super heroes. They paved the way for girls all over the world to believe they were enough, that they could play next to the men and make something for themselves.
Prior to the 1996 Atlanta Olympics, and 1999 FIFA Women's World Cup, countries chose not to invest much in their competitive women's sports programs. Professional leagues weren't supported enough, or even known about, for the women's team to gain any publicity and support to properly practice. Within the months leading up to the 1996 Olympics, and no major lead-up tournaments to help scope-out their future competition, the women's team buckled down and trained non-stop in any way they could. Being the first year women were officially allowed in the Olympics, it was not unknown to the team that this was their chance to prove women's soccer belonged in the spotlight just as much as their male counter parts.
With an average of 9,000 spectators present at regular season matches, each of the 8 teams didn't know what to expect in terms of their supporting crowds. So when July 21st arrived, and the U.S. won their opening match against Denmark, 25,000 fan filled the stadium in support. It was monumental; all eyes turned towards the women's team as they began to infiltrate the male-dominated, sports media world. As the regular group matches continued, crowds grew to a staggering 55,000 by the final qualifying game against China; momentum was growing at an unprecedented rate.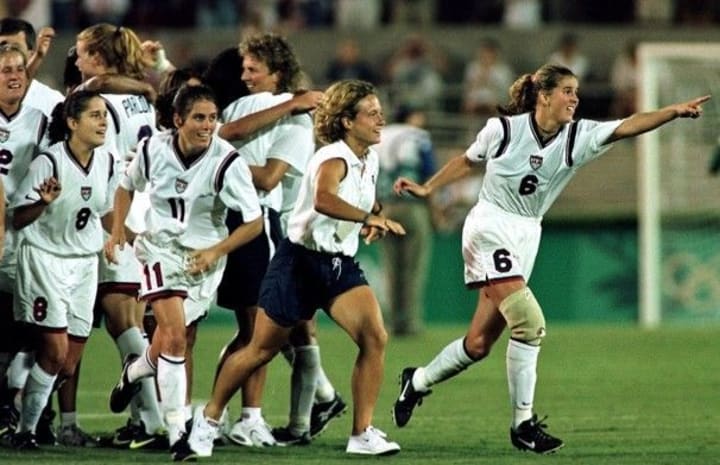 I watched in awe, and absolute utter anxiety, as the U.S. battled for their triumph over Norway, the reigning World Cup Champions. I can clearly recall watching Shannon Mac Millan pocketing the goal in over-time to bring the U.S. out of their 1-0 deficit; it was the moment my 'sports superstition' began. I HAD to wear my special soccer-socks, and soccer shorts, or the U.S. wasn't going to win their next match. I carried this superstitious habit with me for the next 18 years of my soccer career; anyone who has ever played competitive sports knows exactly what I'm referring to.
Watching these women overcome every boundary placed on them during this tournament is something I will carry with me until my final days. I saw the cheering crowd of over 60,000 people for this semi-final game and was struck with such a profound sense of pride and pure confidence. I chalk it up to the similar feeling of watching Kamala Harris be sworn in as our first Madam Vice President: a certainty that women are born to make history and nothing will come in our way of accomplishing it.
Then came the final match against China, where over 76,000 cheering fans assembled, making it the largest crowd to attend a women's sporting event of that time. While this game raged on, I was home watching with my entire soccer team. None of us could believe what was happening; soccer was no longer just a men's game, we had a stake on the field and it was nothing short of empowering.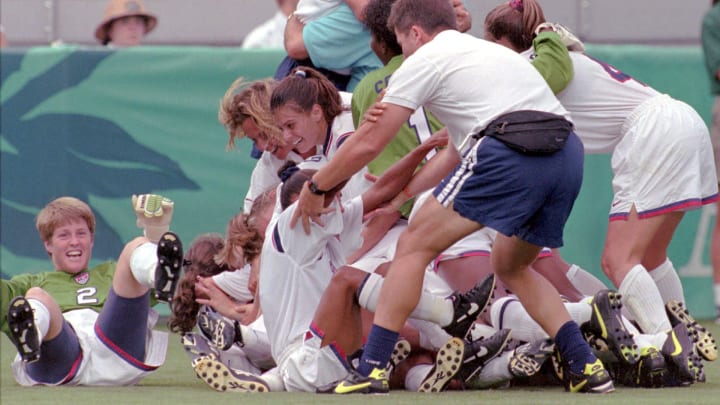 Mia Hamm became my idol during the 90 minutes of this game. No goals were scored directly from her, but, she was the dominating force on the field that allowed Mac Millan and Tiffeny Milbrett to pocket both goals the team made during this match. Something clicked within me watching Hamm take care of her teammates, it was a quality I wished to bring on the field myself one day.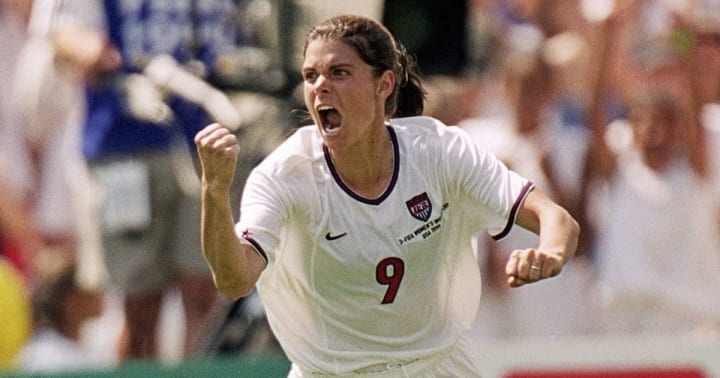 As young as I was, I remember sobbing as the final whistle blew and the U.S. became the first women's soccer team to claim an Olympic Gold Medal. For any female in a competitive sport, winning a gold medal at the Olympics is something we all dream about at least once. However, myself and countless other girls in the same generation, are lucky enough to have watched first hand as this dream become a reality. The 1996 Olympic team opened doorways that many women always believed would be permanently sealed and forgotten about. With history made, and the 1999 FIFA World Cup on the horizon, the task of filling massive stadiums for their matches became less impudent. 1995 World Cup opener saw about 4,300 fans cheering the U.S. and Norway on in their opening game. Fast forward four years to the 1999 World Cup opener, the U.S. team almost missed their opening warm-ups because 79,000 fans were entering the stadium to cheer them on. Four years and 75,000 fans later, the U.S. women's team had amassed an empire.
To this day, the most iconic photo in women's soccer is Brandi Chastain, jersey off and clenched beside her, shouting with pure joy to the stadium after winning the 1999 Women's World Cup. I remember watching this live, shouting along with Brandi as she slid on her knees across the field; I find myself tearing up with pride even now 22 years later. It was so much more then just Brandi scoring the final penalty kick and celebrating, this photo represents the raw strength, and pure happiness, these women were going through at this moment. It's the epitome of the phrase "a picture is worth a thousand words."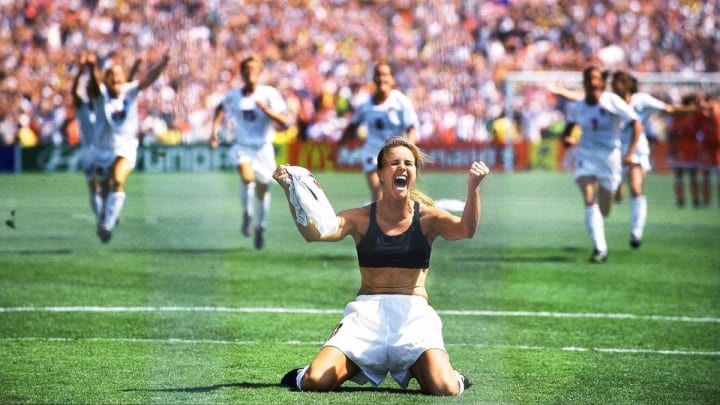 To sum it all up, my favorite quote about this time was stated by none other then Shannon Mac Millan. She spoke about both tournaments in many interviews but my favorite has to be:
" ...but it also helped other countries realize that it's OK for your females to be athletes and be leaders with confidence and be strong and powerful and grow the game. Not just us, but a lot of teams and countries have what they have today because of the 1996 Olympics and the (1999) World Cup. Teams from China, Germany, Norway, Japan, all these federations are now investing in women's programs. There's a lot more parity in the game. There's a viable pro league in the U.S. as well as other countries. There are so many opportunities for these young girls."
22 years later, and these two tournaments will forever go down in history. 1996 and 1999 showed that women in generations to come will have power in competitive sports and garner the respect needed to make something for themselves.