Scouting: Eduardo Camavinga
Who is the 17 year old prodigy tearing up Ligue 1?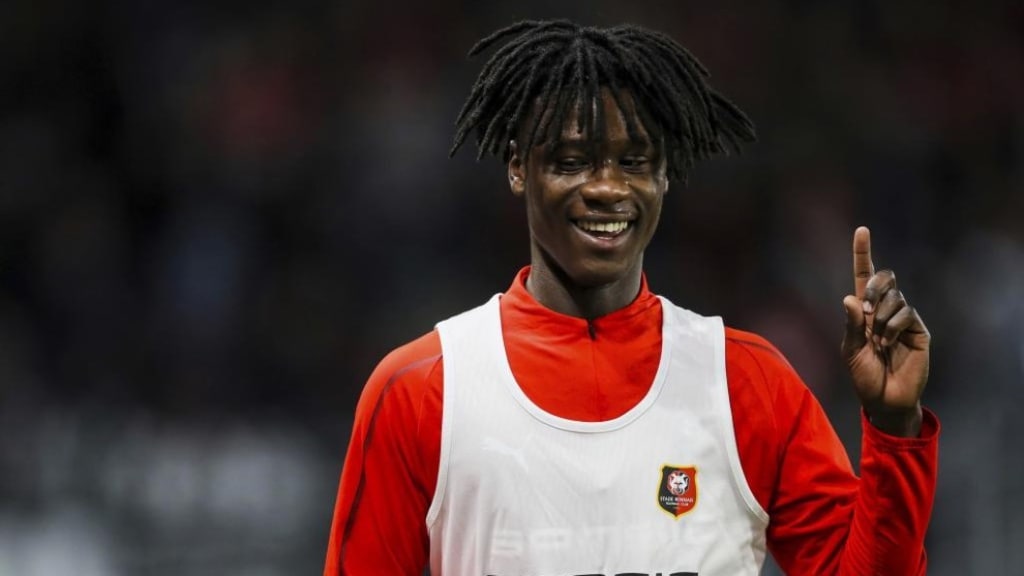 Picture credit: Marca.com
At 17 years of age, Camavinga has nearly a season and a half of professional football under his belt, a substantially larger amount than players in that age bracket. He currently plies his trade with Rennes in Ligue 1 and has been dominating their midfield since his debut in the 2018/19 season. Having put in displays beyond his years against the likes of PSG, Marseille and Lyon, I'm now going to analyse the teenager and which club may be best suited for the youngster in order for him to really progress to the next level.
Playing very much in a deep midfield position, Camavinga may be young and still slightly raw, but his numbers are very, very promising. Mopping up in front of the Rennes back four, he had propelled Rennes to 3rd in the table before the coronavirus outbreak put a halt on all sporting activity, the prospect of Champions League football very much a possibility for next season. Having played just over 2,000 league minutes, his numbers are very reliable and definitely not to be frowned upon. 4.2 tackles and 1.4 interceptions per 90 minutes are extremely elite numbers for somebody still so early in their career. For example, in Leicester's title winning campaign, N'golo Kante was putting up 4.7 tackles and 4.2 interceptions per 90 however, this season he has been putting up only 2.1 tackles and 2.1 interceptions per game. Granted his role has changed since his arrival at Chelsea, but Kante is synonymous with being all over the pitch and clearing up in front of the back four. This makes Camavinga's statistics this season really shine.
Partner those tackle and interception numbers with an 87.7% pass accuracy from an average 39 passes per league game doesn't make him the metronome of Rennes midfield, but a destroyer who will win possession back for your side and pass to a player more capable of driving the team up the pitch. An average 2.5 long balls per 90 is also not something to be sniffed at. In 151 minutes of Europa League action, his pass accuracy rises to 90.6%, but only from an average 16 passes per 90.
Whilst not quite a household name yet, Camavinga does have the potential to rise to the very top of the game. Currently linked with Real Madrid, Barcelona and Manchester United, he has a market value of around £33.5m, according to Transfermarkt. That's a large sum of cash for someone yet to hit their 18th birthday, but a sum that could be deemed a bargain if his numbers stayed consistent regardless of a change of scenery.
With Wilfried Ndidi linked with a host of clubs this summer, Leicester could do a whole lot worse than signing Camavinga. Camavinga operates very much in the same mould as Ndidi, with the current Leicester man putting up 4 tackles and 2.7 interceptions a match. Camavinga could well be a smart signing for the midlands club if they were to lose the nigerian this summer. There wouldn't be too much pressure to achieve on Camavinga's shoulders, but the right kind of ambition to challenge for European competition.
Alternatively, if Arsenal were to sell swiss hitman Granit Xhaka this summer, perhaps bringing in the young frenchman to partner one of Torreira or Guendouzi would definitely not be a bad purchase. He would be allowed to bed in to the side as Guendouzi has done the past few seasons, with the aim to secure Champions League football for the London-based outfit. With Arteta now overseeing the side and giving youth prospects such as Bukayo Saka, Martinelli and Eddie Nketiah all chances in the side and with William Saliba's loan coming to and end this season too, Arsenal could have a team of young world-beaters at their disposal.
If Manchester United were to cough up the £33m this summer, Camavinga would be joining a stacked midfield, with countryman Paul Pogba and new-purchase Bruno Fernandes, United could well have one the best midfields in the league. However, Scott McTominay would definitely give Camavinga competition for the final midfield place in Solskjaer's midfield. The Scotsman is loved by the United faithful, having come through the academy ranks and being given his chance by Jose Mourinho before really defining himself under the current regime, even scoring a belter in a 2-0 defeat of city rivals Manchester City. The competition could be the making or breaking of Camavinga.
Real Madrid wouldn't necessarily be the place I'd recommend for Camavinga to progress in his career at this stage. With Modric and Kroos ageing out of the side, that leaves Casemiro in the midfield, and at only 28, Casemiro still has much to offer to the Madrid side. Camavinga would be operating in the same position as the Brazilian, and would very much make the Madrid side very defensive, which I don't think the supporters would take great kindly to.
As for Barcelona, with a midfield containing Frenkie De Jong, Arthur, Busquets, Vidal and Rakitic, Camavinga could potentially be lower in the pecking order than he would like, however, with three of those listed above over the age of 30, and with Barcelona coming out and saying only Frenkie De Jong, Messi and Ter Stegen are considered 'untouchable', perhaps Camavinga would make a smart signing for a rejuvinated Barcelona midfield. They, alonside Real Madrid, can ultimately guarantee Camavinga Champions League football, whilst Leicester, Arsenal and United could be battling for mere Europa League competition.
There is of course every chance that he also could stay at Rennes for another year, to compete in the Champions League. Whilst they might not be expected to go far, Camavinga could make all the difference the french side need to progress.
Keep your eyes peeled, this is a gem of a player and he definitely has what it takes to make it to the top of the game.
football
I'm a massive football fan interested in statistics! I hope you all find the new scouting content to be interesting, and I'll be posting as often as I can. Hope you all enjoy the content!
Receive stories by Potential Punts in

your feed