Rangers Football Club Kick Off Digital Transformation
Club Adds More Features To Give Fans A Better Match Day Experience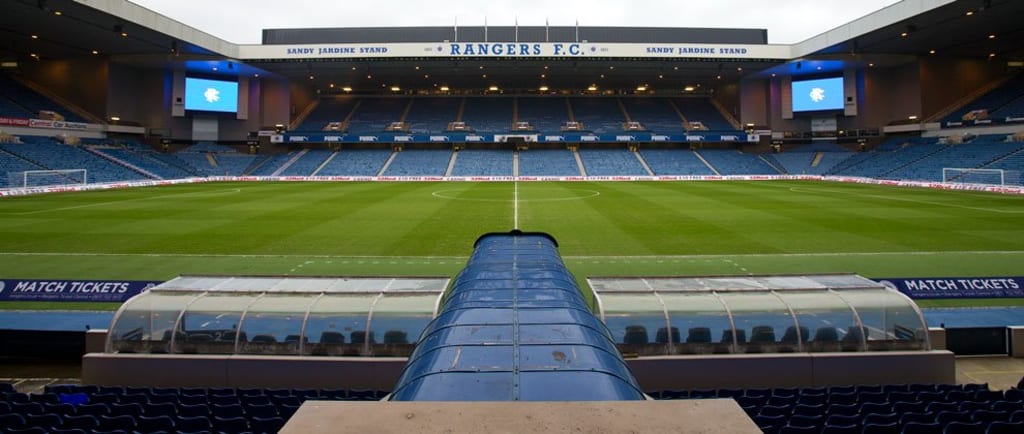 It has been announced that Rangers Football Club have unveiled its club brand evolution and digital transformation strategy, through an enhanced suite of unified digital products including the launch of a new industry leading club website and app.
Following a lengthy consultation period with Rangers' domestic and international supporters, partners and staff, the club is launching as part of this new initiative:
• A new interactive website and app
• A refreshed READY crest
• A new brand identity, to include the 'Rangers blue' and a club typography
The club kicked-off an enthrawling new era with the official launch of our brand identity and refreshed READY crest, which were projected across iconic Glasgow locations on Tuesday night.
Ibrox and Kelvingrove Park, where the Rangers Founding Fathers had their dream to start a football team, were just a few of the key landmarks to be lit up in the vibrant Rangers blue, showcasing alongside it, the new READY crest.
The new brand identity retains the core assets and heritage of Rangers, whilst modernising and evolving its visual style for a digital era and in support of the club's international fan engagement ambitions. 
The Rangers emblem, featuring the lion rampant, a classic leather football and the club's slogan "READY" surrounded by the team name Rangers Football Club has had a simple and effective refresh. The RANGERS letters have been centred, the lines of the ball and the lion have been refined and the font changed to the club's official typeface. Originally introduced in 1959, the READY crest is one of two official club crests. The iconic scroll crest, found on the club's team kit will remain unchanged, while the READY crest will continue to be used across all club branding and communications.
Stewart Robertson, Rangers' Managing Director, said: "As a leading European club, and in anticipation of our 150th anniversary year, it is important we adapt and continue to evolve. As we futureproof our business, a club brand evolution and digital strategy was a fundamental part of our long-term strategic plan and our commitment to be best in class both on and off the park."
The refreshed READY crest and creative identity have been designed with digital touchpoints at its core, and can be found on the club's new website, rangers.co.uk which went live this morning. The site, designed by industry-leading sports digital agency and Rangers' new long term partner Stadion aims to increase fan engagement, international growth and commercial performance through an enhanced suite of unified digital products. A 360-degree digital integration, which will also include the RangersTV platform and app, is a core pillar of this strategy.
James Bisgrove, Rangers' Director of Commercial and Marketing Rangers FC added: "With our fans and partners in mind, our goal is to implement an industry-leading and dynamic digital transformation strategy which is fully aimed at supporting the club's continued growth.
"This evolution of our brand identity, new website and app, are underpinned by our rich heritage and aspirational mindset, all of which will provide us a springboard to grow global audiences and, ultimately, drive greater commercial revenues."
Designed with accessibility, usability and simplicity in mind, the new website will offer fans first-class multiplatform content, a live match hub, multi-team and competition season management and an enhanced Rangers TV experience.  Its bold and contemporary visual style is the embodiment of the club's new brand identity and includes the use of a bespoke typeface shaped from the heritage of the legendary Ibrox.
Lee Cook, Stadion's CEO said 'We're proud to count ourselves as Rangers digital partner, especially during such a huge transformation for the club. We have loved being a part of this moment in history with them. Together we have built an excellent digital foundation for the club, working closely with the club and their fans to future proof their digital estate, allowing fans to watch and interact more online, whilst giving the club a greater opportunity for increased digital revenue.'
MyGers members will be the first to experience the new brand identity, exclusively receiving a downloadable branding book, an invitation to take part in a fan mosaic of the new crest and unique experiences for the younger fans.
The new features will give fans a better match day experience and enable them to follow what goes on on the pitch in many more ways.