Premier League 21/22 Predictions
EPL 21/22 is about to start but where will each team finish? Here are my predictions.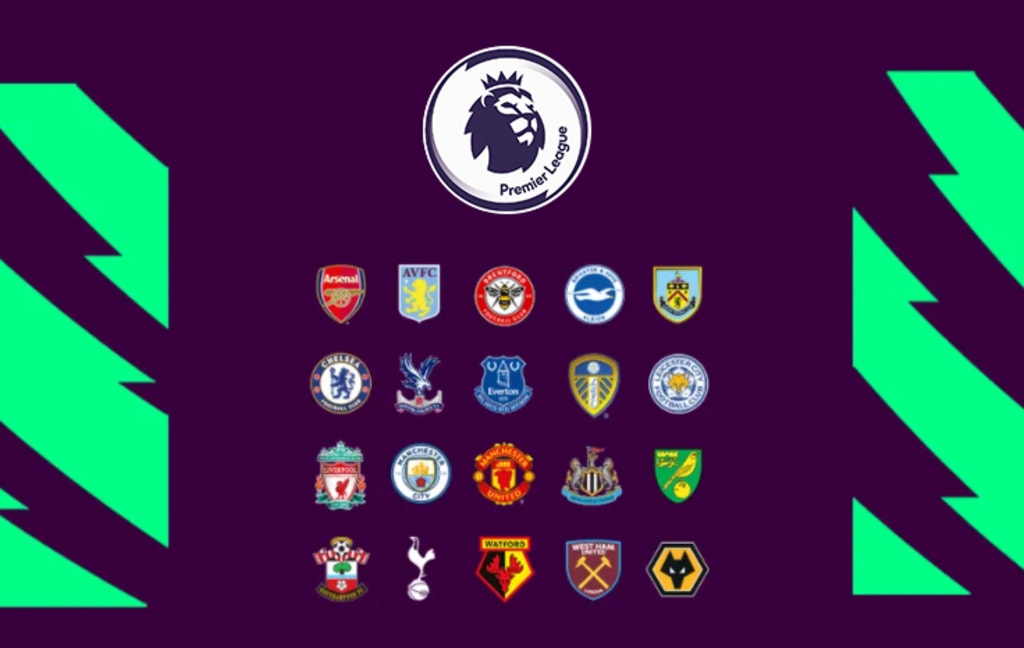 With the English Premier League about to start and new signings being made by teams, everyone is guessing where teams will find themselves come the end of the season. Well here is are my predictions.
Champions - Manchester United
With the additions of Jadon Sancho and Raphael Varane, I think Manchester United will be a terrific team. I believe that Sancho will help with the creativity going forward as they can play him on the wing or at attacking midfield, whilst Varane will help sure up that defence making for great partner to Maguire, which was one of the most needed if not the most needed thing. Rashford will be out for the first 2-3 months however, I don't think this will effect them in a big way as Greenwood can really shine, but when Rashford is back, that is one of United's best and most influential players back.
2nd - Manchester City
Although Manchester City had a terrific league campaign last season, I do not think it will end the same way this time out. They added Jack Grealish to their squad who in my opinion will not add much and end up struggling for game time, whilst losing Sergio Aguero who was injured for a fair portion of last season but did score a few goals when he played. I truly believe that they lack an effective striker as Gabriel Jesus does sometimes struggle to find the net and with De Bruyne getting injured regularly, I think they will struggle to find a good rhythm. In saying this, they do have an incredible squad and through the likes of Mahrez and Sterling, they will find goals but I do not believe it will be enough to win the league.
3rd - Chelsea
Coming off of a Champions League winning season, Chelsea have just secured the Supercup and are looking strong. In addition, they have just resigned Romelu Lukaku who had a terrific 20/21 season and will help find goals where Werner struggled. They have a very well rounded team just like Manchester City, and I think Lukaku will shine with their playstyle whilst also helping Werner in both scoring and continuing the creative play that he brought last season and ultimately does not get enough credit for.
4th - Liverpool
Liverpool is an interesting one in my opinion, they are either hot or cold. They have Van Dijk and Joe Gomez back from injury to help the defence get back to its best as well as the new signing of Ibrahima Konate. This gives them some options, the smartest in my opinion would be playing all 3 centre backs together with Alexander-Arnold and Robertson as wing back to give them more of the atytacking benefit that they give, but will they do this? The other posing question is, can Mane and Salah work better together this season? I believe this is the serious question because in my opinion it will determine their season. With all this said, I think Liverpool will struggle a little in the midfield, I think seeing Wijnaldum leave was a mistake as he held a big influence in their midfield and Thiago simply has not been good enough for them. With a stronger Premier League this season, I think they will take 4th.
5th - Tottenham Hotspur
Tottenham getting Nuno Santo as their new manager will surprise their supporters, he is a great manager who I think will tactically help Tottenham thrive, especially defensively. They also bring in Cristian Romero who has proven himself to be a terrific defender in the last campaign and especially in the Copa America, to cover for the loss of Alderweireld. Bryan Gil also comes in, a talented young winger with a lot of potential. The big talking point though being that they have managed to hold on to Harry Kane. The duo of Kane and Son is something for teams to be scared of, and Dele Alli is starting to show his class again. Although they brought in Romero and kept Kane, I do not think it has been enough work in the transfer window to give the the edge in the top four battle
6th - Leicester
I think Leicester have made great moves in the transfer window picking up Boubakary Soumare who had a great campaign with Lille in their title run last season, Ryan Bertrand as another left back, and Patson Daka who I think is a quality striker. These moves really help them all round as they will now have a great strike force with Vardy, Daka, and Iheanacho who ended last season superbly, it also gives them another class midfielder to join Tielemans, Ndidi and Maddison, AND gives them a much needed left back. I truly think Leicester have a talented squad and will battle for a top four spot but I just don't see them making it in.
7th - Arsenal
Arsenal have done a bit of work in the transfer market, bringing in Nuno Tavares, Albert Sambi Lokonga, Mika Biereth, and Ben White. Ben White was definately the main defender for Brighton last season who in my opinion were solid but really struggled to find the net, but I cannot see the addition of White and Tavares fixing their defensive struggles in the big games. I also believe that they needed another striker, winger and/or attacking midfielder, as they have seriously struggled in finding the back of the net.
8th - Everton
Everton have a good team and have brought in Demarai Gray who I think has a lot of potential, Andros Townsend who always has a goal in him, and Asmir Begovic as a backup goalkeeper, whilst unloading a bunch of players that didn't see game time and Joshua King who struggled to find rhythm for them. They also see Moise Kean come back from his loan where he had a good run at PSG, in hopes that he can emulate that form for them this season.
9th - Aston Villa
Losing Jack Grealish was a big loss but Aston Villa have gotten a great amount of money from that deal, and have bagged themselves some seriously good signings to build off of. Ashley Young comes back to the club to play either left back or left mid, Leon Bailey will be a great addition and replacement for Grealish in my opinion, Danny Ings who is a class striker, Emiliano Buendia who is coming of a great season with Norwich, and Axel Tuanzebe returns on loan. They have made some seriously good moves and look terrific on paper, if they can produce what they are capable of, I see them coming in at 8th.
10th - Wolverhampton Wanderers
Wolverhampton really struggled last season with Raul Jimenez injured but I think this season will be different. With Raul Jimenez back, Francisco Trincao on loan, and Pedro Neto as their front 3, and Ruben Neves still in their midfield, I think they will have a much better season. The one area they have downgraded on though is the goalkeeper position, Jose Sa is a great goalkeeper but Rui Patricio was world class. I do however, believe that Wolves will finish in the top 10
11th - West Ham
West Ham have a solid squad but I feel they lack a proper striker. They also lost Balbuena who I thought was one of their top performers for the season, and I also think they could've used an extra defender. Their midfield however, is very solid. Declan Rice and Tomas Soucek make a great defensive midfield pairing and i think they will be the main source of their success this season again, but I do not see them emulating what they did last campaign.
12th - Leeds United
Leeds had a terrific outing last campaign, and I think this season will go quite similar. They have added Junior Firpo to their squad who I think will definately shine in that left back position, Kalvin Phillips who had a great season and saw himself in the England Euros squad starting 11, but I think the big standout this season will be Raphinha. I think he is a terrific player who showed glimpses last season but will really help carry Leeds forward this time. I also have a feeling that Rodrigo will have a breakout season after struggling last campaign.
13th - Watford
I think many people will be surprised by Watford this season, they have made some great signings and the squad looks good. Bringing in Danny Rose at left back and Joshua King in attack where very good moves. I do think though that the standout signings will be Juraj Kucka and Imran Louza in midfield. I think they are great additions to the squad. I do think that their previous player of the season, Ismaila Sarr, will be their standout once again as he just has so much pace and attacking prowess.
14th - Norwich
Just like Watford, I think Norwich will surprise a lot of people but will finish up behind Watford. They lost a star player in Emiliano Buendia who headed off to Aston Villa, but have definately made som good moves in the market to cover for it. Signing Billy Gilmour on loan was a terrific move alonside signing Milot Rashica and Josh Sargent. They have a few attacking options now with Teemu Pukki, Jordan Hugill, Christos Tzolis. Joshua Sargent, and Adam Idah, with Milot Rashica who can play on the wing or attacking midfield. In defence they have Max Aarons and Sam Byram as fullbacks who have proven themselves to be solid, and now to help the centre of defence they have newly signed Ben Gibson, who I think will really help out. The issue I think they will have is their midfield, Billy Gilmour was a great addition but I feel he will need more help.
15th - Crystal Palace
Getting rid of Andros Townsend is a big loss for Palace, I think he offered a lot to the team, including some goals, but they did make some good moves in the market. Bringing in Nathaniel Clyne and Guehi were definitely good moves but I think the best move they made was getting Joachim Andersen from Lyon, I think these 3 offer a lot of help to their defence and overall squad. Wilfred Zaha will do what he usually does, and Benteke who finished off last season in better form will carry that over to this campaign. Eberechi Eze however, is the guy for them in my opinion. I am confident that he will have a standout season for Palace, and help them get a 15th place finish.
16th - Newcastle United
I think Newcastle will struggle this season as I don't think they have done enough in the transfer window to improve their squad. Allan Saint-Maximin and Miguel Almiron are terrific players, and with guys like Ryan Fraser, Callum Wilson, and Matt Richie, they have some decent players but I feel they lack a solid defence.
17th - Brentford
I think Brentford will really struggle at the top flight but they have something that will definately help, a good striker. I think Ivan Toney will be their main source of goals again, and with the addition of Kristoffer Ajer, I think their defence will be just good enough. I think like some teams, they will struggle in the midfield however, I do think they have what it takes to survive the drop.
18th - Southampton
Southampton have some good players in Che Adams, Mohamed Elyounoussi, Stuart Armstrong, and most notably James Ward-Prowse, but I don't think they have what it takes to survive this season. Their best signing is Theo Walcott who is another good forward for the squad but I don't think they made the right moves in the window. Walcott will add something going forward that they didn't have but Adam Armstrong I do not see adding much to the team, and it's the same as their other signings. I think they will have a hard time trying to score goals and with players like Ryan Bertrand and Mario Lemina leaving, I feel like they lost more than what they have brought in.
19th - Brighton & Hove Albion
Brighton is a team I cannot see doing well at all. Tehir defence was quite solid last season but they have let go of their main centre back in Ben White, and they had a real tough time scoring goals last season which I see being the case again this time out. Their midfield is solid with players like Bissouma, Lallana and Trossard, but I think they won't be able to find the goals and even defend goals well enough to secure their survival in the Premier League.
20th - Burnley
I have a serious feeling that Burnley will come in at last place. They haven't made any significant signings to alter their squad. They managed to scrape by last season but I do not see the same thing happening this time. They haven't made any key changes to their squad and I feel that this Premier League is stronger than that of last season.