National players visit the U15 women's soccer team in Hoh Mun School, which was founded 35 years ago
Grassland "Rose" shines in the youth tournament.
From September 9 to September 24, the national finals of the first China Youth Football League (U15 group for girls' junior high school age group) were held in Suzhou Taihu Football Sports Center, with 22 teams competing in 81 matches.
Among the 22 teams in the finals, there was a team from the Inner Mongolia Autonomous Region that attracted a lot of attention. This is a team made up entirely of Mongolian girls, and the school's girls soccer team is now 35 years old. The former captain of the women's national team, Pu Wei, visited the Hohhot Mongolian girls' soccer team during the China Youth Football League's National Football Team Charity Tour.
The Hohhot Mongolian girls' soccer team is well known in school soccer, with the majority of players coming from various herding areas in the Inner Mongolia Autonomous Region. What's even more amazing is that compared to other schools in China that started school soccer only in the last few years, the Hohhot Mongolian School girls' soccer team was already established in 1987, and it has been running for 35 years. As more and more girls are getting into soccer, it is believed that the Mon School girls' soccer team will continue to have a longer team history and a promising future.
The China Youth Football League Tournament Office launched the National Footballers Charity Walk in the first China Youth Football League, aiming to call more national team players to come into the youth soccer league, come to these children playing soccer, interact with the young players through a series of activities on and off the field such as training sessions, sharing sessions, etc., so that these children can understand soccer more, keep their love for the original heart, and take practical actions to We will help to strengthen the foundation of Chinese soccer youth training. After learning about this charity activity, every international player who had been selected for the men's and women's national teams responded positively and expressed their willingness to participate in the charity walk. This time, Pu Wei, the former captain of the women's national team, has arranged three days to visit the young players of the national finals of the women's U15 group in Suzhou.
After arriving at Suzhou Taihu Lake, Pu Wei took a close look at each of the teams participating in the finals. When she learned that the Hoh Mun School team is a team with a long history and made up of Mongolian girls, Pu Wei decided to go see these Mongolian girls. One of the Chinese women's soccer players who participated in the Tokyo Olympics last year was a Mongolian player named Uri Gumura. For these girls from pastoral areas, Pu Wei said, "They will be more able to bear hardships than other children, physical conditions may also be more outstanding, I believe there will be some good seedlings among them."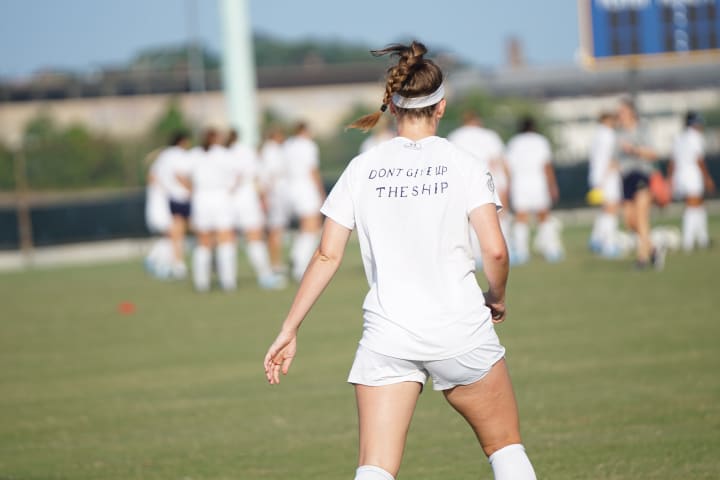 On the morning of September 20, when Pu Wei came to the training ground of the Hoh Mun school team, the young girls did not dare to believe that the former captain of the women's national football team came to visit them. In this group of 15-year-old women's soccer team, everyone has the dream of playing for the country in their hearts. The young players speak the names of the current women's soccer players as if they were their most familiar teammates. Among them, some like Wang Fang, some like Wang Shanshan, some like Wu Haiyan, some like Zhu Yu, and some like Zhang Linyan ......
Of course, for the big sister who came to visit them this time some people know now Pu Wei's name. A young player said when he saw Pu Wei: "Pu guide, I saw your game when I was small, when you played as a center back." Pu Wei was a little surprised and touched, she smiled and told her little sister that when she first joined the national team, she started as a right winger and later switched to playing center back.
"Director Pu, do you know Wang Fang?" You can see that Wang frost is an iconic figure in the minds of many young players. "Of course, I was also a teammate with Wang Sheng. But that was when Wang frost entered the national team, and I'm almost retired. I hope you guys will also work hard and maybe in a few years, one of you will become a national teammate with Wang Sheng." Pu Wei encouraged these little girls who love soccer.
Since she came to visit these little girls, Pu Wei of course had to personally coach these little sisters. However, after the training started, Pu Wei did not immediately go down to the field to direct or explain the techniques and tactics, but very carefully observed the young players' moves first, especialpayingpay attention to their running, receiving, passing, and shooting on the field. And in the shortest possible time, he wrote down the positions of many players on the field. Then Pu Wei just called the young players to the side of the field and told them very patiently what technical moves they should pay attention to in the training, how to learn to run without the ball, especially to learn to observe on the field.
"It's the right time for you to work hard on your skills and also start learning some techniques and tactics, so every training session is very important for you. You have to remember that listening to the coach's instruction is never only through your ears, but more importantly, through your brain. You have to combine the coach's explanation to every scenario in the game, and learn how to use the techniques and tactics wisely in the game." In the face of these children who love soccer, Pu Wei told everyone that to improve their soccer skills, they must go through constant training to consolidate every detail required, and only by developing habits can they benefit in future matches.
With words, of course, we must also teach by example. In the second half of the training session, Pu Wei was also in the middle of the field instructing the girls' soccer team, constantly shouting and reminding the players of the areas they should pay attention to, and when they saw the technical moves they accomplished, Pu Wei would applaud and cheer. Perhaps because of Pu Wei's arrival, some of the young players have some nervousness, Pu Wei smiled and joked: "We as female football players, can not be too shy, on the field to have the courage to show their best side, only then the fans will cheer for you, you will be more motivated to play the best state."
On the same day, representatives from Mengniu Group, the senior partner of the China Youth Football League, also came to the training ground and presented the team with student milk, Bellamy milk powder and high-calcium cheese sticks, and added dairy products for the young players to supplement their nutrition during lunch. After the training, Pu Wei came to the team restaurant and had lunch with everyone. Several cheerful young girls gathered around Pu Wei and chatted excitedly with this big sister of the international football team. They were curious about what Pu Wei looked like when she was playing soccer, and Pu Wei was concerned about how they got into soccer. So, a special "tea party" began at the table.
"Coach Pu, when you first started playing soccer, was it hard? Were you tired? Did you cry when you were homesick?" This is a question that the young players are very concerned about. "Of course, and the training conditions were not as good as yours when we were kids. When I chose to play soccer, my mom and dad and everyone in my family didn't agree, but I just loved it. So, although it was very tiring and hard when I was training, I gritted my teeth and persevered when I thought it was my choice. However, when I feel that I can't hold on, I will also cry."
Gao Enhe, the captain of the Mongolian school girls' soccer team who participated in this CYC, is from the Alashan pastoral area. Perhaps because she is the captain and wants to be an example to her teammates, when many of them are homesick or training too hard and can't help but cry, Xiao has never shed a tear in front of everyone. But this time in front of Pu Wei's big sister, the captain finally said his little secret: "In fact, I will also quietly hide under the covers and cry. When I first arrived, I missed my mom and sister, and my classmates didn't know. When I saw everyone crying together, y wanted to cry, but I pretended to be strong and did not cry in front of everyone. But then I slowly got better, especially every time my mom and dad came to visit me, I would be especially happy. Now I already like playing soccer, and when my sister reaches the third grade, I must let my sister learn to play soccer too."
A young player called Uyingga told Pu Wei another little secret, in the third grade, the teacher of the dance group also selected her, but she just loves to play soccer, although the family is opposed, and finally insisted on choosing to play soccer. And the process of really playing soccer is far harder than one might think, and one has wanted to give up. "Dad learned and I said, this is your own choice, you must insist, can not give up. Now I finally persevered and once told my dad on the phone that my dream was to enter the national team and also to score goals for the national team like Wang Feng. My dad even laughed at me for daydreaming, and I was so angry that I directly 'blacked out' my dad and ignored him for a long time. But now that I think about it, it's really hard to get into the national team, and now my goal is to play in the women's league first in the future."
Pu Wei listened attentively to the "little secrets" the children shared with him, and shared many of his own stories with them from childhood to adulthood. When she heard Uynga say her dream is to join the national team, Pu Wei told her little sister that she must dare to have such a dream because it will turn into a stronger motivation to push us to take action.
When it was time to say goodbye, the young women's soccer team gathered around Pu Wei to take pictures with their idol and ask him to sign autographs. So, jerseys, shin guards and back, packs all had Pu Wei's signature. Pu Wei also gave them a red national team T-shirt with his signature and a national team scarf. "If you love soccer, you must try to keep going! I will come back to see you next year when you reach the finals of the China Youth League. I'm looking forward to seeing you when you have the chance to enter the national team, and I'll be there to cheer you on for your country." Pu Wei made such a promise to the 15-year-old girls' soccer team.