MY FOOTBALL: my first team
Part 3
In the summer of 2015 I signed up for my first Sunday League football team.
This was probably by far the most exciting thing ever! I still vividly remember turning up to the training ground and signing the papers with my Dad. The ground looked absolutely fabulous and the seeing the big goals made me so excited!
Soon after this came along preseason. I remember we had to do preseason at another ground in order to let the grass grow on the official ground. The preseason ground has absolutely no grass and was just hard, dry mud that we had to run on and our boots wouldn't even sink into the ground that's how dry it was. I still remember my first preseason training, we did passing to each other at different distances, dribbling in and out of cones, a small sided game and obviously running (duh, it's preseason!).
Very quickly our first game came around and I had never been so happy and excited in my life. Our first game was away against our rivals but I didn't really know about the history or that they even really were that big of a rival to us. I soon found out after kick off though when players were going for everything but the ball, calling us names and had the ref on their side. The game was extremely intense and we went 1-0 down which was not a good start. However, soon after the ball was bobbling around just inside the 18 yard box and I took a chance and kicked it. The ball went through so many players and I could not believe no one had kicked it away yet and then the ball rolled into the back of the net and all the girls from my team ran and jumped up onto me screaming with joy and my coach and the parents were so happy too. I scored another goal in the second half where I got the ball in the midfield and sprinted the whole way by myself and ran straight towards goal and I had girls from the other team chasing after me to defend their goal but I has scored another goal placing the ball into the bottom corner. But then in what was the final kick of the day a girl from the other team dived into the box and was awarded and penalty. The score was 2-2 at this point and a draw with this tough side would have been a great result but the ref obviously awarded the penalty to them and they scored making it now 3-2 as the final result.
I will never forget my first game and the fight back we had created since that unfair call for the rest of the season. We were all fired up as a team, no one wanted to let anyone down and we pushed hard every training and game day to get better results together. I didn't really know it at the time but that was probably the toughest league I had ever played in that year and now I am playing seniors at a young age. Every team in that u12s division wanted what we wanted too which was to win the league. There was 2 other really tough teams which we were all rivals with each other and always had the toughest matches against each other.
That year we also broke the record for the team who scored the most goals in a match in the league. We won 15-0 one game and that was the day I scored my first hattrick! That was a great game but little did we know at the time that it was this game that would give us great advantage in our goal difference all the way to the last game of the season.
The second time we had to play our rivals who we lost 3-2 at the start of the year was at our home ground much later in the season. We were coming down to the last 5 games which were going to be season defining for everyone in the league. This game was so big that we had to get a senior men's referee to ref our game! Before kick off he was so confused and asking why the football federation had sent him to an u12s girls football game instead of the games he usually takes care of. I will never forget how important this game was and how much it meant to the whole club so I tried my absolute best that day to not let anyone down. Something else I will never forget is the away kit this team was wearing as they usually wear dark blue and we wore royal blue. Their kit was an ugly green and the main sponsor was printed on the front in a big white square (we still laugh about it to this day!). When the game started it was intense from the beginning everyone knew in the back of their minds that who ever won today would have upper hand of winning the league and would probably end up winning it. The game kicked off and there was screaming and yelling from all areas on the pitch from both teams. We started off strong and passing the ball around in order to try score a goal. There were many tackles from both sides that were tough as this game meant so much to both the teams. It was still 0-0 and I remember a girl from the other team getting the ball and sprinting towards the goals to score. Our defence was nowhere to be seen and everyone thought that she was going to score to go 0-1 up but then suddenly one of our centre backs appeared out of nowhere and won the ball before she could try to score a goal, this was a terrifying moment for my team. After this incident, my team fired up and we knew we had to step it up and not mess around anymore. Everyone was trying their absolute guts out to try and score and then suddenly we were 1-0 up! This was so exciting and we all ran and jumped onto each other because we were so excited. However, there was still time to go in the match and this was not a safe scoreline yet for us to be celebrating. We had to continue to fight hard for a second goal in order to have a bigger advantage over our rivals and soon enough, the second goal came in the second half to make us go 2-0 up! Everyone was jumping with joy I remember looking into the crowd and seeing people among people among people jumping up and down with excitement and happiness as we now had the upper hand of winning the league. Then the full time whistle blew and we all screamed and jumped on eachother with happiness as our rivals dropped to the floor with disappointment as they had just lost. The coach and team manager of the rival team marched into the referees room as soon as the game ended with the team sheets and books demanding that the football federation further look into our players and their ages. They were trying to think of every excuse for us to be penalised but we played with the same team against them in round 1 too and our players average age was much lower than theirs (they just couldn't take the loss from us haha!). This was a great day in that season as we proved the whole league wrong and played some of our best football in such a tough match to this day!
A few more games past and we found ourselves having to win on the final match of the day due to a draw we experienced the week before. On the final match day we were playing away to arguably one of the strongest teams in the league and toughest competitors to face on their home ground. The only thing that was on our minds that day was to get the 3 points or else our rivals would win the league and be champions. In the dressing room before the game we were all very nervous and hardly anyone spoke a word because of the amount of pressure we had on us that day. Our coach then came in and announced the starting eleven and told us the game plan demonstrating on the whiteboard what to do. Before walking out onto the pitch we all huddled up together and told each other that today we had to push and try our absolute best. When stepping onto the pitch it looked so massive to us all as we looked from left to right and saw the width of the pitch. We proceeded to warm up and pass the ball around to each other before huddling up for a pep talk. In our final motivation speech before kick off we reflected back on the amazing yet tough season we had and said we have to play our toughest and strongest today in order to pay off for all we have done in the games leading up to today. We had to play for our families, friends, the club, our coach and most importantly we had to play for each other and as a team in order to secure a win today for the league title. We then went onto play and the home team was really giving it to us running everywhere for the ball and tackling us, they really wanted this, it would be a great achievement for them to beat the top team and mess up their season on the last day of the season which is what they were doing so far! We tried and tried our absolute best but they were just getting to the ball before us and making the plays in order to damage us. A lot of time passed and we were approaching half time quickly with a goalless half and only limited time to score so we could become champions. At half time it was 0-0 and everyone was sitting eating oranges and speechless as we all knew what was going on was not good for us.
As the second half approached we became stronger but the home team was also not giving up. They kept pressing up and making it harder and harder for us. As more time passed the game was still goalless with both teams having chances to score and then I remember receiving the ball in the midfield and seeing open space so I headed towards goal. I remember trying my hardest to sprint towards the goal but in the moment it felt like it was all in slow motion trying to make the distance on such a large pitch. I was off towards goal but two defenders were chomping at my ankles becoming closer and closer to me so I had to keep sprinting and as I finally got to the 18 yard box I had lost the defenders. However, the keeper started to run out towards me closing down the angles and space I had to shoot I began to worry as I needed to score this chance. My Dad was behind the goals screaming to shoot the ball but I could hardly hear him as I was blocking out all the yelling and sound around me in this critical moment. The keeper came out closer and closer and I had to act fast, so I passed the ball into the bottom corner with my right foot and from my angle it looked like I had missed but then my Dad started jumping up and down with excitement yelling. The ball had just snuck in and we were 1-0 up!! I remember all my teammates running towards me and jumping on top of me and I was at the bottom of this so to call 'human pyramid' however, it was the greatest feeling to know we had the upper hand in the game now.
As the game went on it felt as if the time had stopped that's how long it was going for. The home team were still giving us a run for our money as they tackled us and took some shots and all I remember is my Dad telling us to take the ball to the corner and just stay there for as long as possible till the final whistle blew.
Then the moment we had been waiting for all year had come along, the sound of that final whistle brought everyone a feeling of relief and absolute joy and happiness. When we heard that whistle blow we all dropped to the floor and everyone was hugging each other and crying! (Seriously, this was like we had just won the world cup!)
After the game we had a massive water fight with our drink bottles and sang all the way home that we were the champions. Something that I'll never forget about this day was that a random number messaged a parent asking "Did you guys win today?" and we knew it was our rivals as they played a team who they were always going to beat but had to win over 8-0 from memory but they never used to demolish teams like we did which is why we had such a high goal difference compared to everyone else in the league. After finding out it was our rivals the response they got was "yeah, 0-1" I could just imagine their faces when reading that message!
This season and game in particular will always be very special to me and I will never ever forget the pressure we had to get through but the victory was that much sweeter at the end of it all!!
2015 Champions forever.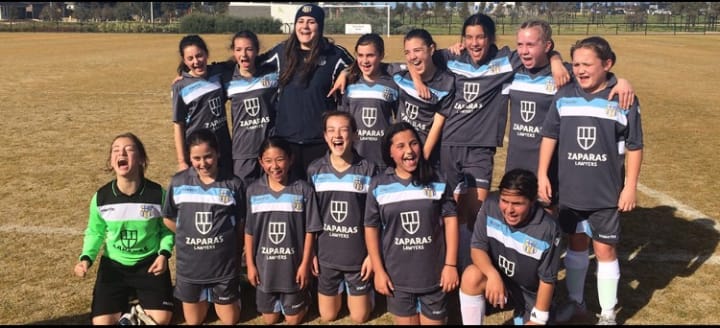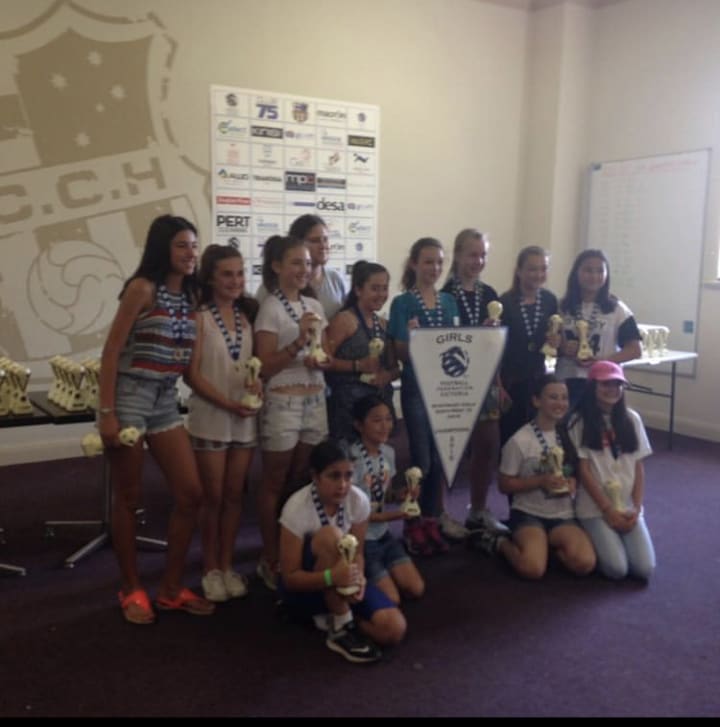 football
Hi, I'm Charlie!
I love football and I'm a massive fan of Liverpool FC (YNWA)
I hope to empower others and spread positivity to the world through my writing of journeys I have been on that have taught me lots and have made me who I am today.
Receive stories by Charlie Doukas in

your feed