Most Emotional Moments in Soccer History
Soccer comes with a lot of intense and tragic moments during games. But these are the most emotional moments in soccer to have your heart swell.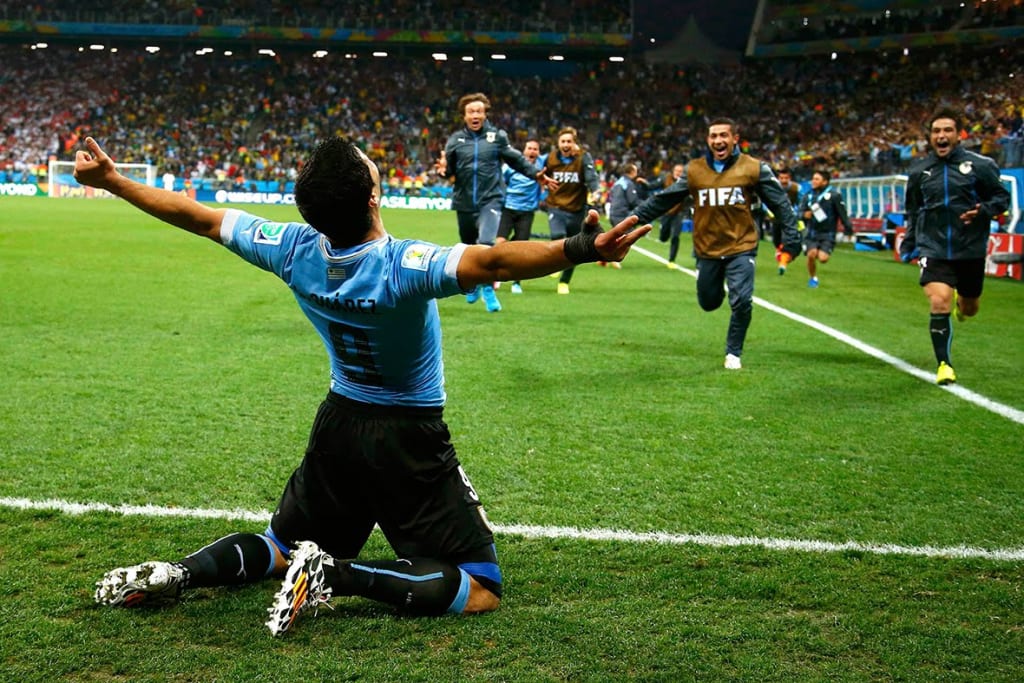 Soccer comes with a lot of mixed emotions other than the fierce attitude the players and fans have on. From the heartbreak after a tragic loss to the intense joy after defeating an ongoing rival, soccer can easily mess with our feelings. It's like having a crush on someone; you love everything about them, go nuts when they say hi to you, and want to hide from the world in anger and sorrow when you see them talking to someone else. That's how I see soccer...
We're so passionate about the sport, that it can easily reck us. However, there are certainly emotional times where our hearts weren't able to handle a moment. Holding back the tears and realizing how much we loved soccer, there are moments in the midst of a game that completely had us in awe. However, there were only certain times in professional soccer that featured a touching point in time. Here are a few of the most emotional moments in soccer history that might bring a tear to your eye.
Legendary French soccer player and central defender Eric Abidal went under surgery in March of 2011. He removed a tumor from his liver and was told to take it easy for a while. However, just a little over a month after the surgery, Abidal got right back in the game and impressed all who watched.
The amazing defender somehow made an amazing recovery just after a month from surgery and played an entire 90 minutes in the Champions League final playing against Manchester United. Even after they won, they gave Abidal the captain's armband and gave him the opportunity to lift the trophy showing how much he was loved by his adoring teammates.
From the most emotional moments in soccer, Scottish soccer player Matt Busby was a long-seeing boss of the Red Devils and managed to rebuild them in the most positive manner. When he carried the European Cup in 1968, he mentioned his thoughts on those seven players who lost their lives from the horrible Munich Air Disaster.
Those who witnessed the moment couldn't bear to hold back tears. Even united defender David Sadler recalled, "The boss looked very old, which he had never seemed. There was a sense that this was the end of something momentous and it was almost immediate."
Remember the collapse English soccer player Fabrice Muamba went through during the FA Cup match in 2012? And do you remember how astonishing it was to see him back up and alive today? Easily one of the most emotional moments in soccer history, Muamba getting back in the game was truly a remarkable sight to witness.
While the midfielder suffered a really bad cardiac arrest during the game, his heart entirely stopped for about 78 minutes! However, he revived and got through it with the help of the staff from White Hart Lane. There was also a cardiac consultant who stood by the stands and kept an eye on Muamba. After that terrifying incident, it was mentioned that Muamba will fully recover and everyone who's a fan couldn't be any more relieved.
Eduardo da Silva, Brazilian-Croatian soccer player who's also nicknamed Dudu, is a widely popular player who's currently playing for Legia Warsaw. However, his most terrible experience was back in February 2008 when he severely broke his leg. People even stated that Eduardo would never be able to play again. But the skillful player certainly showed them that a leg break wouldn't stop him.
A year after the incident, Eduardo waited until the FA Cup against Cardiff City to make his grand appearance. When the crowd saw sight of them, they went crazy. And the craziest part about his long-awaited return? He scored in just 20 minutes into the game… that goal brought immense emotion to the fans as well as Eduardo himself—marking this among the emotional moments in soccer history.
From the emotional moments in soccer, Bulgarian soccer midfielder Stiliyan Petrov was actually diagnosed with acute leukemia in March 2012. The soccer player unfortunately had to leave from the Midlands club in order to fight his condition. And this certainly brought tears to many of the fans.
While Petrov returned to Villa Park to watch his team face Chelsea, the fans gave an standing ovation to Petrov in the midst of the 19th minute, which is his shirt number. Ever since that moment, fans have taken on the tradition and showed that health is much more important than any soccer game.
Legendary Spanish soccer player Daniel Jarque passed away from a cardiac arrest in 2009 after a preseason training session. So, when Andrés Iniesta shot an amazing winning goal for Spain facing the Netherlands during the 2010 World Cup final, he listed up his shirt exposing a message stating "Dani Jarque: siempre con nosotros" translating to "Dani Jarque: always with us."
His celebration was truly remarkable and was seen as one of the emotional moments in soccer history. Iniesta's tribute to his fellow soccer player couldn't be any more perfect and definitely brought respect to those who witnessed the game.
Among the most emotional moments in soccer ever, this one really played with the fans' hearts. While winning the 2001 Champions League trophy, Bayern Munich defeated the ghosts of 1999. And the German side's players were naturally thrilled after the penalty shootout. However, German goalkeeper for Bayern Oliver Kahn went out of his way to do something else than celebrate with his team.
Kahn quickly moved to console the distressed Santiago Canizares after being defeated. While Kahn was seen as a tough and straightforward player, his moment of sympathy really exposed his true colors to the crowd.
Athletic and Sociedad United
In soccer history, it was known that Real Sociedad and Athletic Bilbao are sworn rivals. Just the sight of the two together caused so much fire. Even though the two Basque clubs have fought and argued over the years through bragging rights, the rivalry was set aside in 1976.
When Spain was still under a fascist cloud during the time period, it was basically illegal to speak of Catalan or Basque… or even raise any of their flags! Yet, when the players from both clubs met up during the 1976/77 seasons, there was immense cheering and even tears of delight from the fans in the crowd.
Soccer club Carlisle United had to score in order to stay in the Football League. While time was running out on the last day of the season, one player made a remarkable move that's still talked about to this day.
As the Blues were tied 1-1 against Plymouth, goalkeeper Jimmy Glass made possibly the most dramatic goal the world has ever seen. The goal was so astonishing that fans immediately ran to the field and crowded Glass with tears of joy and lifted him on their shoulders. The hero can recall that that was the greatest moment in his entire life. And it's also among the most emotional moments in soccer history.
Di Stefano's Shirt to Eusebio
Finally, from the most emotional moments in soccer, Benfica defeated Real Madrid 5-3 in 1962 during the European Cup final—which was seen as the game for the ages. While Madrid was in the lead 3-2, the iconic Portuguese soccer player Eusebio made an amazing move and completely turned the entire game around.
During the final whistle, Argentina soccer player Alfredo Di Stefano actually gave his shirt to his rival, which signified a passing of the torch. With this, Eusebio has always cherished the Argentine's shirt and mentions that it's his most prized possession.
football
About the author
Will always catch him wearing a tux on the daily. Goes by Bond, hates his name Greg. You'll find him in high-end New York City bars making conversation with strangers.
Reader insights
Be the first to share your insights about this piece.
Add your insights