Mass Clean Up Under Way After Euro 2020 Final
Clean Up Under Way Of Streets Around Wembley Stadium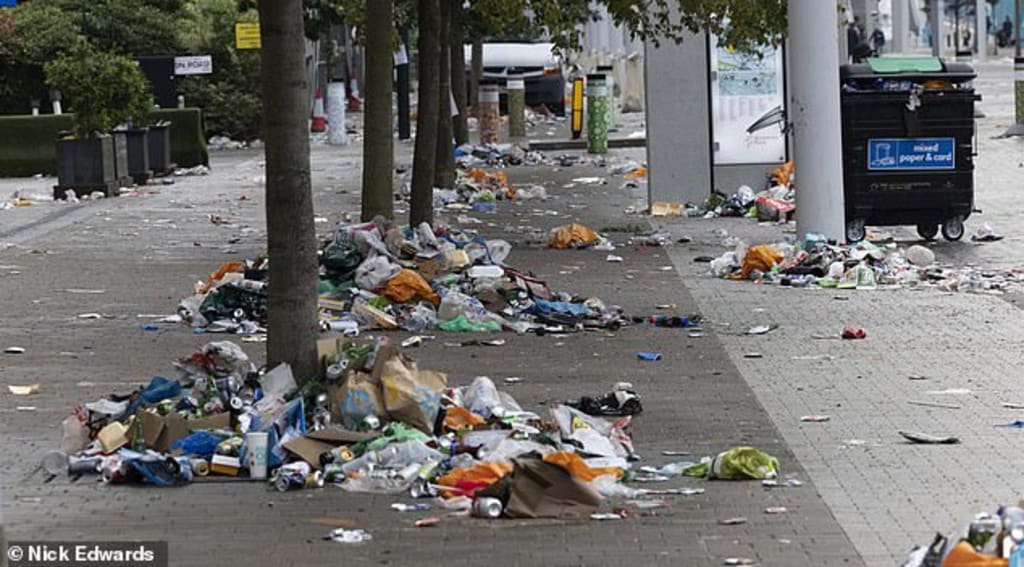 "You're not an England fan and we don't want you."
Those are the words from England captain Harry Kane after members of the England football team were subjected to racist abuse on social media following the team's defeat at the hands of Italy in the Euro 2020 final. Both sides played out 1-1 draw in normal time with Luke Shaw scoring for England in the early stages of the game. This was however cancelled out when Italy equalised in the second half with a goal from Bonucci, so the match had to go to extra time and eventually penalties.
England missed three of their five penalties, Marcus Rashford hitting a post and Gianluigi Donnarumma denying Jadon Sancho before - so cruelly for such a fine young player - Arsenal teenager Bukayo Saka also saw the giant Italy goalkeeper save his spot-kick.
Harry Kane and Harry Maguire scored for England but, while Pickford kept hopes alive with saves from Andrea Belotti and Jorginho, Domenico Berardi, Bonucci and Federico Bernardeschi scored for Italy.
Following the match, the three players who missed penalties for England were subjected to a barrage of racial abuse on social media. This has provoked a strong outcry from the rest of the footballing community and beyond as there is no place for racism or any other kind of abuse in today's society, whether it be regarding sport or elsewhere.
"They deserve support and backing, not the vile racist abuse they've had since last night," Kane said.
"Three lads who were brilliant all summer had the courage to step up and take a pen when the stakes were high," the Tottenham striker added on Twitter.
"If you abuse anyone on social media you're not an England fan and we don't want you."
Defender Tyrone Mings also took to Twitter to talk of his pride in the team reaching the final but added: "Waking up today and seeing my brothers being racially abused for being brave enough to put themselves in a position to help this country, is something that sickens, but doesn't surprise me."
He went on to criticise Home Secretary Priti Patel who last month described players taking the knee against racism as "gesture politics".
Earlier, manager Gareth Southgate said the racist abuse issued after the defeat was "unforgivable".
Prime Minister Boris Johnson and the Football Association also condemned it.
The Metropolitan Police is investigating the abuse and said "it will not be tolerated", while the UK Football Policing Unit (UKFPU) has also launched an investigation.
Chief Constable Mark Roberts, the National Police Chiefs' Council Football Policing Lead, said police were working with Facebook, Instagram and Twitter "and enquiries are already being progressed".
"It's just not what we stand for," said Southgate.
"We have been a beacon of light in bringing people together, in people being able to relate to the national team, and the national team stands for everybody and so that togetherness has to continue.
"We have shown the power our country has when it does come together and has that energy and positivity together.
"It's my decision who takes the penalties, it's not a case of players not volunteering or more experienced players backing out."
The Duke and Duchess of Cambridge also added:
"I am sickened by the racist abuse aimed at England players after last night's match. It is totally unacceptable that players have to endure this abhorrent behaviour. It must stop now and all those involved should be held accountable."
Booing and racially abusing the fine young men that play for our country and have given us so much pleasure and joy over the last month is not being an @england fan. That goes for the pathetic fighting at the ground too. It's a minority but it's a loud one and it's embarrassing.
There will now be a huge search for the culprits of this abuse who are more than likely to be banned for life from all football related activities as well as other more severe punishments.
Authorities will also begin the clean up process of the streets around Wembley stadium as there will have been many football fans in the area which has lead to large amounts of litter being dumped all around. This includes beer bottles, flags and other rubbish. The cost of the clear up is estimated to run in to the millions and will be a huge waste of public money which could otherwise be used on more important things such as improving healthcare facilities, travel routes or the education system.
On the night of the match alone, England will have used and disposed of
-150,000 plastic pint glasses
- 200,000 kebab and takeaway trays
-100,000 pizza boxes
-150,000 English flags
-1,000,000 glass bottles
Many of these items will be able to be recycled, however the environment is not likely to be top of mind for many of the people who attended the match so is more likely to have been dumped everywhere and anywhere that people can find to dump them.
The local community will begin the clear up of this rubbish but it will be using money that could be used on more important things and be using the time of people who could be providing more important services.