Liverpool 2-0 Sheffield United: Pass, pass, pass and move, it's the Liverpool groove.
Liverpool took another three steps toward title number 19, leaving 39 to go. They certainly deserved the win, as Andrew Beasley explains.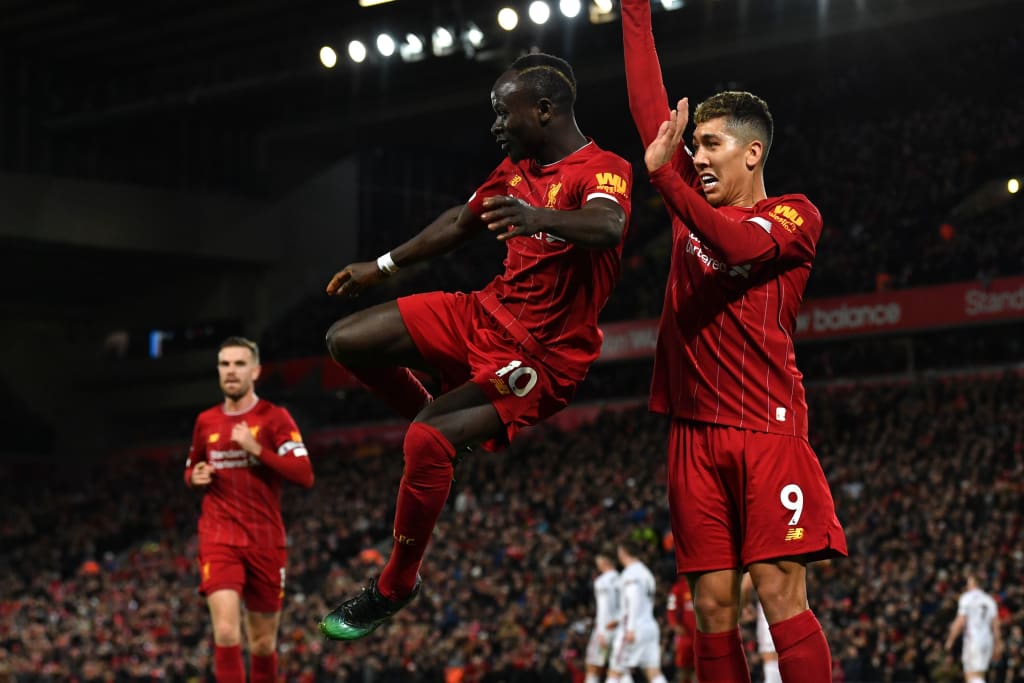 Sadio Mané celebrates after scoring Liverpool's second goal against Sheffield United
Liverpool whittled down their magic number to 39 with a 2-0 win over Sheffield United at Anfield on Thursday night. Thirty-nine more points and they'll be champions of England for the 19th time. These 39 steps lead up a cliff, rather than down it.
As Bill Shankly once said, "football is a simple game, complicated by idiots". Want to win a match with minimum fuss? Take your chances. Simple.
This game was almost the complete inverse of the reverse fixture at Bramall Lane, which Liverpool won 1-0 thanks to a Gini Wijnaldum goal (and a Dean Henderson error). The Reds' goal that day had a touch of fortune about it, but Liverpool still deserved to win that match and by a greater margin on the balance of play, as they squandered three clear-cut chances along the way.
The Reds' last three matches have all been won, but all featured Liverpool missing a golden opportunity in the first four minutes every time. Roberto Firmino blazed over against Flamengo in the first minute of the Club World Cup final, Sadio Mané shinned the ball wide at Leicester, before Mohamed Salah also fired over in the home match with Wolves.
The Egyptian was also presented with the first clear-cut chance of this match, but this time he put it away with minimum fuss. The assist came from Andy Robertson, just as it had when Salah scored at the same end of Anfield against Manchester City in November.
For the third season running the Scot has assisted two Salah goals, and there's plenty of time left in 2019/20 for a third. By full time Robertson had created five chances for the first time in his Premier League career, and amassed his fourth highest expected assists figure (0.90).
With the Reds a goal up, they were content to play the game at their pace, which was mostly sedate. You've probably seen by now that Liverpool were setting records for passes attempted and completed, and to put it into context, by the 27th minute they'd already been successful with more passes than the visitors would be all evening.
https://twitter.com/BassTunedToRed/status/1213088721114976257
But they didn't pen the Blades in as much as they have with other teams this season. They had more possession against Newcastle, completed more final third passes against Arsenal, more passes in the box against Bournemouth and had more touches in the penalty area at Leicester, to use four separate examples.
It didn't seem to matter though. Liverpool passed United to death, and Chris Wilder's team didn't seem too bothered as long as they weren't being thrashed at the end of a testing festive fixture period for all concerned.
The result was largely settled once Mané scored the second goal in the 64th minute. The former Saint was the Premier League's top player for home goal involvement in 2019, with 18 scored and three assisted on the fields of Anfield Road last year, and now he's off the mark for 2020.
This match saw Mané amass his second highest expected goal total for the Reds, in the opinion of Understat, though missing a chance valued at 0.69 only to knock in a rebound worth 0.85 clearly affected that. It shouldn't really count like that, should it?
There was still time for each side to miss a clear-cut chance after Mané's goal – Firmino for Liverpool, Oliver McBurnie for the visitors – but everybody present at Anfield and watching on TV knew the match was over once Liverpool had a two goal lead.
And Jürgen Klopp's side have rarely deserved to win a game more than this one in recent years. It was their 51st league match unbeaten in a row at Anfield, and on FiveThirtyEight's expected goal model it ranked as third for the largest xG difference.
Top of the pile was the 2-1 win over Leicester in October, but exclude that match's penalty from the expected goal scores and only the 4-0 victory over Brighton on the final day of 2017/18 can top this match for justice of result.
We have reached the point where Liverpool can play reasonably well and in second gear yet still dominate a very good team. It's why they will almost certainly be Premier League champions this season.