Legendary Black Panther reveals his love for Celtic Football Club
Robert King spent 31-years in jail for his role with the activist group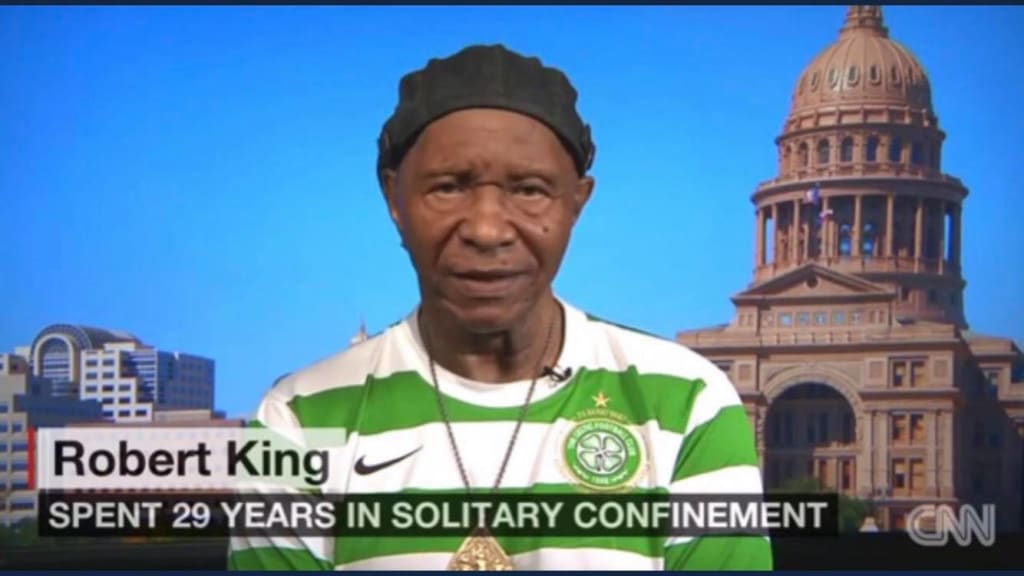 Robert King: Black Panthers leader spent 31-years in jail.
A legendary figure within the African-American community and its ongoing civil rights battle has revealed his love for a Glaswegian football club with Irish roots.
Former Black Panthers leader Robert King donned the instantly recognisable green and white hoops of the Scottish Premiership champions Celtic in his first TV interview after his release from prison where he spent 31-years- 29 of those in solitary confinement.
But how did an African-American who grew up in a ghetto town in the deeply racist deep-south in the 50s and 60s before spending over 30 years in one of the country's most infamous prisons, end up supporting a team from hundreds of miles away playing a sport that would be almost alien to him?
The now 78-year-old, jailed as part of the so-called 'Angola-Three' in 1971, recently revealed why he follows Celtic and sees himself as an 'honorary supporter'.
King's story is as horrifying as it is inspirational.
Born and raised by a single-mother in a dirt poor area he was runnng with gangs at the age of 12 - before becoming a local activist and community leader at 16.
Along with other Black Panther members he was involved in establishing breakfast and education clubs for impoverished children that was to spread into African American communities throughout the country.
Initially arrested initially on a flimsy armed robbery charge- he spent nearly a year in jail before being found not-guilty - but before being released was accused of assault in the jail and kept behind bars for another trial.
As he awaited the second trial he was framed by police for a murder in the jail and moved to the notorious Louisiana Prison, known as the Angola, where he was accused of being involved in the murder of prison guard Brent Miller.
Miller, a notoriously brutal and racist officer, was stabbed in the heart during a prison riot.
During the trial King was not only refused a lawyer but denied the chance to represent himself and when he tried to speak up he was tied to his chair and gagged and told he could only answer by nodding or shaking his head.
His two 'Angola Three' colleagues Albert Fox and Herbert Wallace, who were arrested for links to the activist group while fighting against racial injustice in the American Deep South - but while behind bars they were also accused of separate murders (including the guard's death) that took place in the jail and thrown in solitary confinement at Louisiana Prison.
Wallace and Fox spent 40 years each in solitary confinement (the longest ever for any American prisoner) and King for 29 years.
They were isolated, not allowed to speak to a lawyer, family, friends or other in-mates for literal decades, beaten, humiliated, fed scraps and routinely encouraged to commit suicide.
But the three men found strength in each-other and kept going until they eventually were allowed an appeal and had their charges dropped - with all 3 finally becoming free men in 2013
In his first ever live TV interview on CNN after his release the 70-year-old wore the Celtic FC- and now he has finally revealed why.
Speaking in September 2020 he said: "Everyone knows of Glasgow Celtic and the story of the club. They represent oppressed people like me and my brothers in the African-American community, they represent the the poor Irish immigrants in the UK and the people in the poorest areas of Glasgow- the people with nothing and who face adversity you know?
"It doesn't matter if it's a boat full of refugees on the Atlantic, a bunch of black guys being roughed by police in the states, Palestinians being mistreated in the middle east - you can bet the Celtic fans would have their back.
"I was first made aware of them when a guy I was locked up with had a lucky green and white sweat band with the crest on it, when I asked his about it he explained their story and I was hooked.
"It is a constant source of inspiration that a mainstream sports club, so famous worldwide, was put there by the people for the people and still sticks to its founding principles and represents the people who have no other representation.
"The Celtic fans are known to stand up for what's right and take no shit from the establishment! Even people who have never watched a soccer game in their life respect that club and what they stand for.
"I've never been to the UK but if I ever get the chance it (Celtic Park) would be the first place I would visit.
"They are the people's club, the anti-establishment soccer club of the revolution and I am, for real, and honorary member of the family."
King also has another link to the 1967 European Champions through legendary RnB star and civil-rights activist Gil Scott-Heron.
Heron's 1980 song, Angola, Louisiana, about the conditions in the infamous jail, was sang in tribute to King and the Angola 3.
His father, Gil Heron, known as the Black Arrow and the Caribbean's first football star, earned cult-hero status in Glasgow after playing a season for Celtic in the early 50s.
Heron snr was not only Celtic's first ever black player but he was the first black player to play professionally in Scotland and one of the first in the UK.