It Almost Came Home, But Should We Be Worried About What it Was Coming Home To?
Violent Behaviour During the Fifa World Cup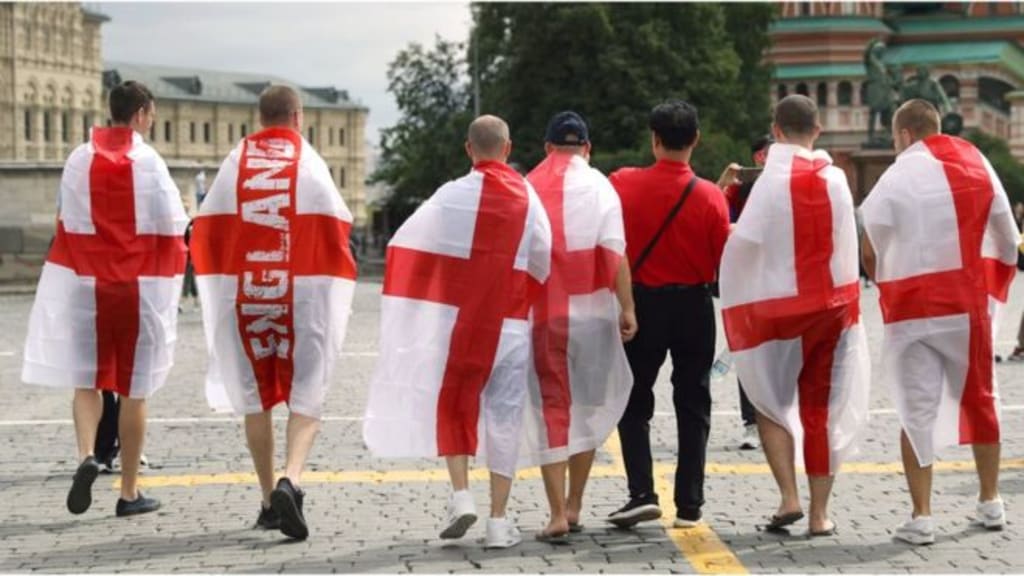 The World Cup might be the most revealing political moment of 2018 so far. Whether you consider those engaging with the World Cup and celebrating in the streets just fans or football hooligans, the fact is the violent behaviour perpetrated by the masses in the past week speaks volumes about the current political climate at home.
For many people, and likely many of you reading, the World Cup brought a sense of national pride and comradery to the country. Strangers who had previously had nothing in common found solidarity at the prospect of it 'coming home.' As the government crumbled, and Brexit negotiations were increasingly shambolic it seemed more important than ever to politicians that within the country the people felt united. For Theresa May and her high cabinet turnover, it's exactly what was needed to draw attention away from just how much friction we are facing politically as a nation. Even Jeremy Corbyn, a man who is quite possibly setting up for another general election, chose to capitalise on England's World Cup success with his proposed bank holiday if it really did 'come home.' But the destructive behaviour of some fans suggests that this event left the UK a little more factious than it is unified.
One explanation of the nation's decision to turn to violence as a form of celebration is that it is a facet of the toxic masculinity that pervades our society. Disturbing figures about domestic violence came into the fore as the World Cup commenced when several charities shared the information that reported incidents rose by a huge 38 percent the days that England loses a match, and even when they win or draw a 26 percent rise can be seen. Already the number of reports of domestic violence in the UK is an upsetting figure. In 2016/17 alone 1.9 million adults aged between 16 and 59 were victims of domestic abuse, with 1.2 million of those victims identifying as women. That's a huge six percent of the population without taking into account the number of people who feel too uncomfortable to come forward about their experience. The association of violence and football has long been acknowledged but seemingly this doesn't stop us celebrating the arrival of the World Cup every four years despite the damaging effect it is likely to have on our wider society. These figures paint a clear picture that win or lose, men are often struggling to express their emotions in a healthy way, no doubt thanks to the pressures put on them from society to remain unemotional at all times.
While it would be easy to blame such behaviour on toxic masculinity alone, one of the most prolific images cropping up on newsfeeds after Sunday's match was that of a young girl stood atop an ambulance bonnet. It is certainly not just men who follow football. In 2016 a survey found that one-third of all those who follow football in the UK were women. However, it's likely this isn't fully representative of the number of people who follow the World Cup as it is an out of the ordinary event. What this violence is truly exposing is that we have some deep-rooted unrest in the country and nobody has a clue how to handle it.
Statistics show that there has been a 169 percent increase in the number of people sleeping rough every night in England since 2010. Between 2011 and 2014 nearly a third (32.5 percent) of the UK population experienced poverty at least once. It is also well documented that people of a lower socio-economic background are more likely to develop mental health problems in their life. While unemployment rates have seen a steady decline since 2011, 6 percent of those in work are on zero-hours contracts which not only don't guarantee any work but also give no holiday or sick pay. Often people on these contracts can find it difficult to obtain housing. Due to the irregularity and unreliability of their work landlords are not willing to take them on as tenants, and deposits for a property and mortgages are completely out of the question. Ultimately, people are poor, unhappy, and concerned.
It's no surprise then, that given an emotionally charged situation people turned to 'anti-social' ways of expressing themselves. With no security and no prospects, the population was left pinning their hopes on 11 men on a pitch with a ball so that they could experience some sense of euphoria.
Are they really to be blamed?
world cup
Katie Pevreall is a freelance journalist. Previously Senior Editor at LIVEKINDLY she is currently pursuing an MA at Winchester University.
Receive stories by Katie Pevreall in

your feed