Is Ronaldo's Homecoming Worthwhile?
Will CR7 Win The First Trophy For The Red Devils After 5 Years?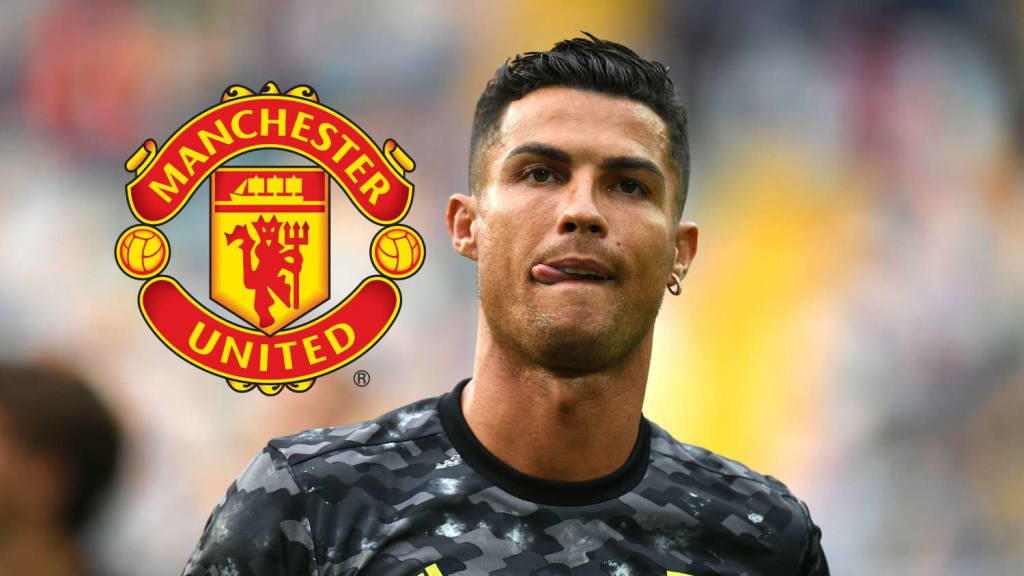 Goal
Man Utd made a £19m deal to bring Cr7 back to Old Trafford from Juventus. Cristiano has returned to his home after 12 years where he scored 450 goals in 438 games for Real Madrid before joining Juventus and scoring 101 goals in 134 games for the Serie A side over three years and made a thrilling impact on the supporters.
Ronaldo said: "Manchester United is a club that has always had a special place in my heart, and I have been overwhelmed by all the messages I have received since the announcement on Friday. I cannot wait to play at Old Trafford in front of a full stadium and see all the fans again. I'm looking forward to joining up with the team after the international games, and I hope we have a very successful season ahead."
United manager Ole Gunnar Solskjaer added: "You run out of words to describe Cristiano. He is not only a marvelous player but also a great human being. To have the desire and the ability to play at the top level for such a long period requires a very special person. I have no doubt that he will continue to impress us all and his experience will be so vital for the younger players in the squad. Ronaldo's return demonstrates the unique appeal of this club and I am absolutely delighted he is coming home to where it all started."
Source: Manchester Evening News
The Portuguese star scored 118 goals in 292 games for the club between 2003 and 2009, winning three Premier League titles and the Champions League. But the time has changed now, it's been more than a decade since his departure and the team that used to be 12 years ago is no more the same. Though Ronaldo is going to be 37 in the upcoming February, he still remains an exceptional goalscorer.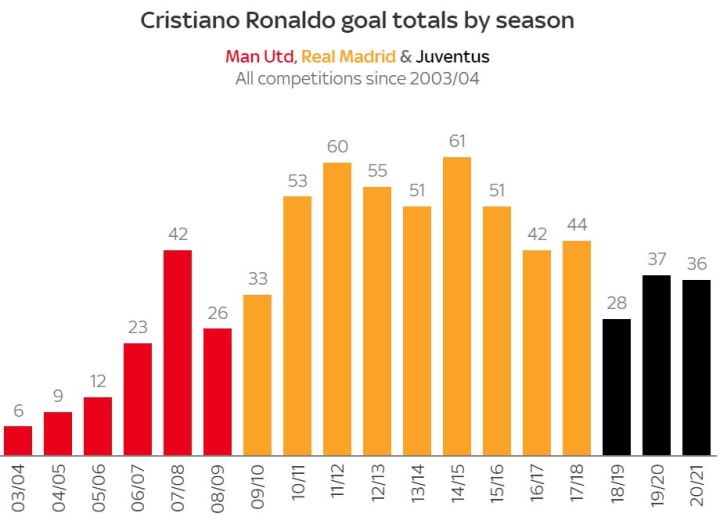 By the stats, we can clearly see Ronaldo's yield is no longer the same as in Real Madrid he used to surpass 50- goals every season. However, when he leaves for the Italian Giant Club Juventus the goal decreased to the average of 34 per season, though he scored 101 goals in 134 games for the Italian Giant.
But the question arises: Will CR7 Win The First Trophy For The Red Devils After 5 Years?
So let's come to the point, there is no doubt Ronaldo's homecoming has boosted the Red Devil's to win their first title after his return. Manchester United fans are happier and have got another level of expectations from one of the best players in the world.
While Ronaldo's return has supported the group's assault, with fans remembering his underlying stretch from 2003 to 2009 where he helped the club win a large group of prizes incorporating the Champions League in 2008, there are still worries over the club's absence of alternatives in defensive midfield.
Talking about the competition in Premier League, it's very tough to be at the top right now as the Champions Of Europe - Chelsea and the finalist's Manchester City are in the race with them. Premier League has become the toughest league in Europe. Winning a trophy in this league has put a challenge now to Cr7 and we all know he loves challenges.
Talking about Ronaldo's second debut for Manchester United, it is expected he will make his second United debut on September 11 against Newcastle United, the only team he scored a hat-trick against during his previous six-year spell in England.
So here's my question to all the Cr7 lovers, will Cr7 lift the trophy of Premier League this season?
My votes are always up for him but it doesn't matter whether he wins it or not his fans are always there for him and wanted to see him scoring more goals for the club.