Inter should not quit on Samir Handanović being their no. 1
Reasons why Inter should stick with the Slovenian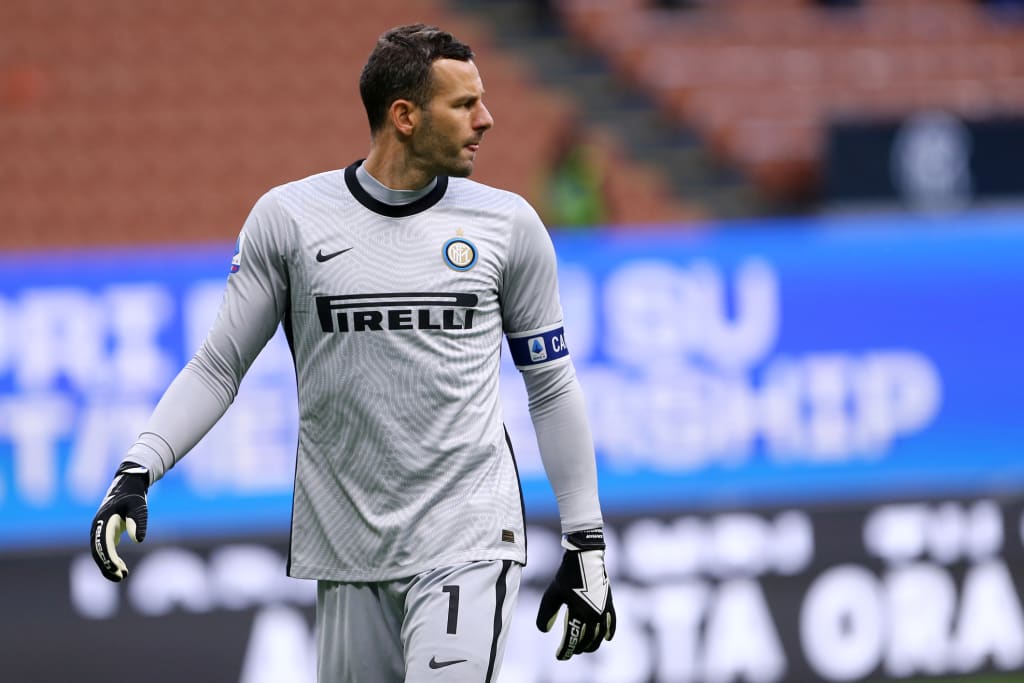 Photo © Marco Canoniero | Dreamstime.com
As a Slovenian, I have watched a ton of football matches that included Samir Handanović. He was and still is one of the best goalkeepers in the world. But he is old (37). And that scares Inter. It shouldn't.
Nowadays, football is only a business. Sadly. Like practically anything else. Clubs eagerly seek young talents that are bought cheaply and sold with a profit. I get that. But we should point out that there are two sides to a coin here. One is »off the pitch«, let's say the business sector, and one is »on the pitch« sector.
In the first one club is, in order not to bankrupt, bind to make profits. However, on the second one, the »on the pitch« sector, only trophies (should) count. At least on the top football level, if not everywhere in that beautiful sport. Therefore, a rule of being a player that can only be useful if they can be sold with a profit should not be a case. At least for some players. Lucky them.
Well, former Slovenian no. 1 is or should be, in my opinion, such a case. Inter is reported to be heavily interested in landing André Onana, 25-year old Cameroonian goalkeeper at the beginning of next season when Samir Handanović's contract with the club expires.
The biggest arguments for landing the current Ajax Amsterdam's shot-stopper are his youth, being a player that regularly plays for his country, and his talent. Despite all that, I still think that Inter should not consider replacing Samir Handanović with André Onana next season.
Why? Because:
• He has been winning points and matches for Inter as long as I can remember. He has been a club's key figure and is captain now for some time.
• By being a captain also means that he should be treated gentler when it comes to negotiations. After all, he is the one that held the team together on the pitch when times were hard and dark.
• There were times when it was obvious that his skills, ambitions, and performances highly outperformed club ones. The club was, let's say, nowhere near worth his heroics on the pitch. Despite that, he stayed and remained loyal. Even at the cost of maybe doing a step back in his career.
• He is determined to stand between the posts until he turns 40. So, he has still 3 good years left. That's some matches, isn't it? And his cousin Jasmin Handanović proved that it can be done. Even on a top-level. Just ask James Milner who couldn't put a penalty past him in a Champions League match.
• Inter's captain has practically no problems with injuries, which are actually the main concern here for the club. People that I have talked to and are very close to him said that this is no mystery since he is living a professional life beyond imagining.
• His salary is high, yes. But at the moment, it is still not as high as it should be if you compare it with some of the other keepers that are also playing top-level football but are nowhere near his performance level. Moreover, the club knows that Handanović would settle for less, just to keep his status. André Onana will be more expensive, for sure.
• Despite his age, he is still improving, which is quite an achievement. Helping himself with vast experience aside, he saves shots that were seasons ago goals. The recent one against Napoli can represent a perfect example.
All in all, Inter has a ton of reasons to keep Samir Handanović their number 1. If he is lucky, the board will take all or some of them in consideration. We'll see if the age factor prevails.