Integration Through Sport: The Story of Dalkurd FF
Imagine for a moment that Las Vegas was to get an NBA team. But they're not like most franchises. They're named 'Los Tigres de Las Vegas'. They have three Mexicans and a Puerto Rican on the roster. The team represents the Hispanic population of The United States. As far-fetched as this may sound, the near equivalent has happened in Sweden, with football.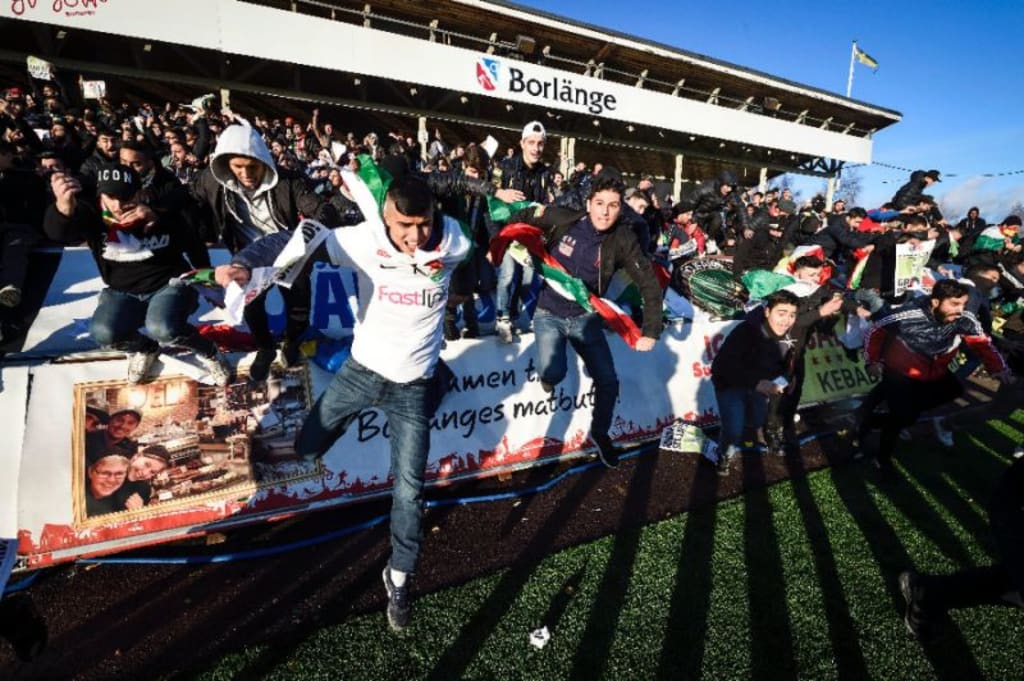 Dalkurd FF has evolved into far more than a football club...
Seemingly brought to life by Donald Trump's controversial proposal of a border wall with Mexico, the debate on immigration policy has turned into one of the most divisive and exhausted topics in all political discourse. But even if it seems that the majority of headlines come from Texas or California, the discussion is not reserved for North America.
Since the year 2000 Sweden has taken in roughly 1.8 million immigrants, refugees and asylum seekers. It's now estimated that 19% of the Nordic country's 10.2 million residents were born abroad, and for this reason Sweden has repeatedly found itself on the front line of the argument, cited by both sides as an example of how a welcoming policy on immigration can both triumph and falter. But what has happened in the town of Borlänge is nothing but triumph, and is likely one of the most remarkable examples of cultural transcendence you will find anywhere in the world.
For the last 20 or so years, as a result of unrest in the Middle East (Iraq and Syria in particular) thousands of children are left to seek asylum alone without parents or a legal guardian. In 2015 alone, 35,000 unaccompanied minors applied for asylum in Sweden . In 2004, with kids wandering the streets and hanging out in the city center, the Kurdish population of Borlänge decided to establish a football club. Their aim was humble; give the aimless youths a team of their town a place to play football and at the same time, open a door to interaction and competition with other Swedish clubs.
Dalkurd FF was born.
The name is comprised of two homages. "Dal" and "Kurd" which pay tribute to 'Dalarna', the Swedish province in which Borlänge resides, and 'Kurdistan', a geo-cultural region throughout what is now Turkey, Iran, Iraq and Syria. The club badge also features representation from both Dalarna and Kurdistan. In the center is a gold sun in between red and green stripes, which is just a rounded version of the Kurdish flag if not for one small detail. Flanking the sun on either side is a small gold horse. This is the Dalahäst.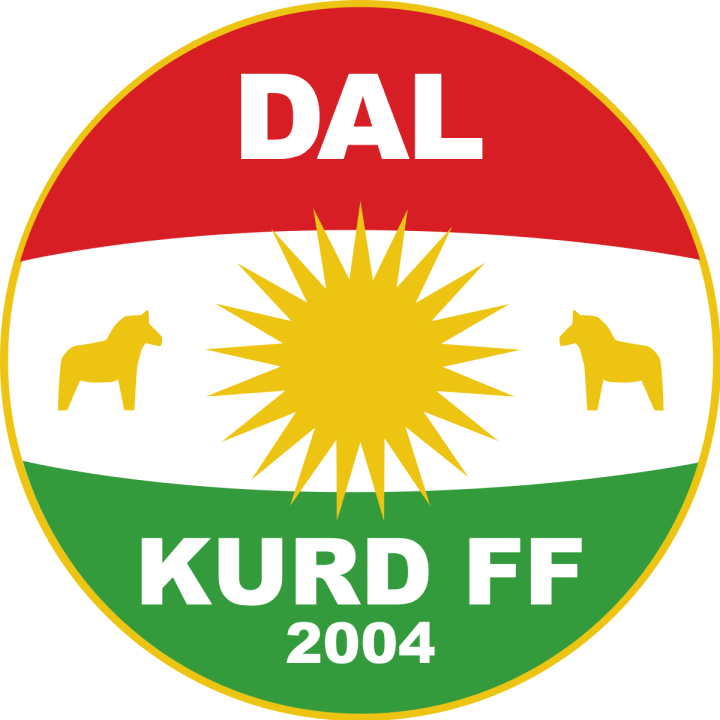 Traditionally painted red, the small wooden horse is perhaps the most recognizable symbol of Sweden and fittingly, originated in Dalarna province. In 1939 they were sold at the World's Fair in New York and became a recognizable national symbol. It's unlikely that anybody could have imagined that the Dalahäst and the Kurdish flag would someday feature in tandem to form the crest of an immigrant football club.
To help get the club's feet moving, IK Brage, the biggest team in the city, offered them access to their equipment and facilities for training and games. Dalkurd built a foundation of young players from the area, all Kurdish. It was a modest beginning, but what they would go on and accomplish in the coming years would be beyond imagination.
By Swedish football law, when a new team is established, they must begin play in the lowest level of the league system, the eighth tier. Like almost all football leagues in the world, Sweden has a system of promotion and relegation, meaning that if a team were to win the league, they would move up to the next tier for the following season. In five seasons, Dalkurd won five leagues, rising to the third tier and in the process, building support from Stockholm to the Middle East where the Kurdish people began to hear of the team in Sweden who wore the yellow, green and red of the Kurdish flag. Dalkurd had become far more than a local team for the kids, they were now contenders for promotion to Superettan, the second highest league and the first level that's considered professional. It took them six seasons, but in 2015 they did it, Dalkurd had become a professional club.
By now, journalists and analysts knew that Dalkurd FF was for real, their foray into the professional ranks of the game was no fluke…but they weren't done. In 2017, in just their second season in Superettan, they finished 2nd and were promoted to Allsvenskan, the highest league in Swedish football. A mere twelve years after being founded they had ascended to being one of the top sixteen teams in Sweden. Their stay wasn't long in the top flight as they were relegated in 2018 but their following had become global. It's said that in Kurdish regions throughout the Middle East kids playing in the streets now wear Barcelona, Real Madrid…and Dalkurd FF jerseys.
Swedish football writer and analyst David Selini puts special emphasis on just what a unique and special club Dalkurd are.
"It's such a unique situation," he says. "Kurdistan isn't a country so it has no national team but in a way, Dalkurd has become like a national team for Kurdish people." It's a phenomenon that hasn't been replicated elsewhere, he continues.
"There's not much we can compare it to. There are teams with religious ties like Tottenham and Ajax who have historic connections to the Jewish community, and there's clubs like Athletic Bilbao in Spain who only have players from Basque Country—but a team founded by an ethnic minority of immigrants is not really something I've ever seen before, and certainly not in the top flight of a European league." Dalkurd FF have no parallel elsewhere in the world, but there's more reason to respect them, David says.
"To be promoted so quickly through the league system is a bit amazing. They had a plan and the organization of the club was very good, they created a good economy and were able to attract quality players as they got higher and higher. They're like any club now, they just want to win."
On their astonishing journey from the eighth division to Allsvenskan, the club evolved and took on a more broad symbolic meaning. They had become the club of the immigrant. The foreigner. The determined and the travelled. The underdog.
Mbaye Touré, a 21-year-old defender and immigrant from Senegal grew up in the team's youth academy before leaving the club in 2018.
"I was eleven when I came to Sweden. It was freezing cold—I didn't know that cold like that even existed. The only thing I recognized was the football. IK Brage signed me first but most of my friends signed for Dalkurd. I switched to them a few years later. It was a welcoming club to all foreigners, not only Kurdish people. Just look at the roster."
Touré is right. By the end of their inaugural Allsvenskan season in 2018 they had fielded players from the following countries: Sweden, Turkey, Finland, The Netherlands, Morocco, Iraq, Kosovo, The Gambia, The Democratic Republic of the Congo, Sierra Leone, The United States, Palestine, Bosnia, Cape Verde and Japan.
Another player with unique credibility on the matter reinforces Touré's claim. Dillan Ismail, a central defender for Dalkurd says, "It is a Kurdish team in the roots but Dalkurd has been a multi-cultural team for many years. We have Swedes, Kurds, Arabs, Iranians, Africans, French, and Americans in our team." Ismail was born in Sweden but is the son of immigrants: a Kurdish father and a Bosnian mother. They came to Sweden dreaming of opportunity for their kids, and Dillan took full advantage, both on the football pitch and in the classroom. The 27-year-old is a highly athletic, balanced and precise defender with a good range of passing and anticipation, but he's got something no other player in the league has. A medical degree.
Ismail delayed signing a professional contract until he had graduated from Umeå University and became a doctor, all while captaining third division side, Umeå FC. A professional football player who is also a doctor is something you might see but once in a lifetime. Ismail is the true embodiment of the determination and spirit of a club like Dalkurd.
It started as a social project to give Kurdish children a welcoming place to play soccer on cold Swedish nights, underneath the northern lights. It grew into a team of players from all over the world, walking into the lights of a stadium packed with 30,000 chanting fans.
It's become easier and easier be fooled into believing that our differences are insurmountable and that common ground is impossible to find. But in Borlänge, Sweden we've been reminded just how simple it really is; all it took was an idea and a ball.