How to Coach a Heisman Trophy Winner
Matt Lienart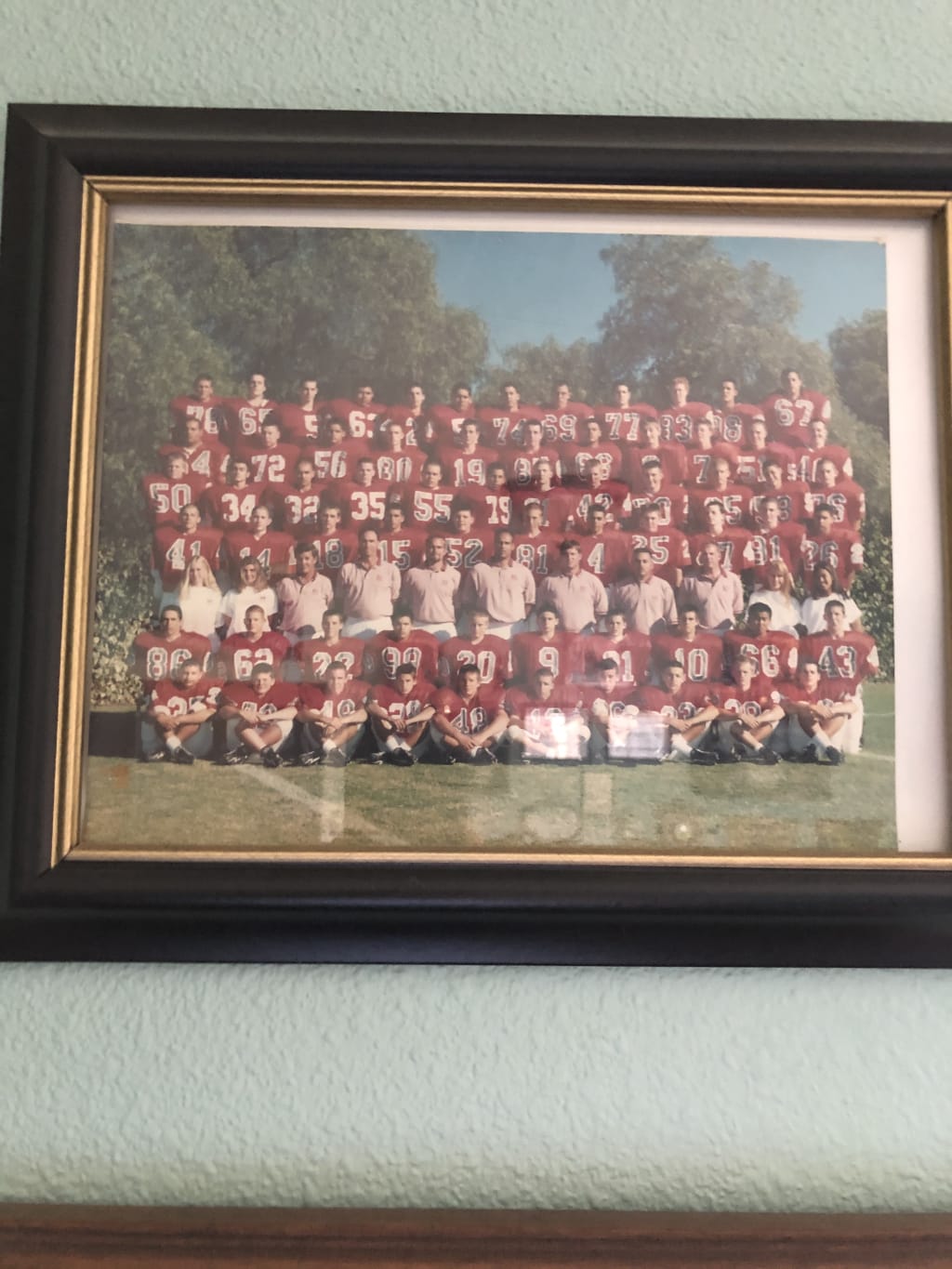 The Monarchs in the late nineties
As a football coach of forty plus years, and a man that has coached a Heisman Winner, the best way to get him to full potential is let him be himself. There are certain things you simply can and cannot change, when you have a thoroughbred you let them run and All American athletes are much the same.
In today's sports climate most of the great players have private coaching of top notch caliber, they play in elite seven in seven leagues and go to testing camps and I've been apart of all those things, some I agree with, others not so much. Now I was blessed to have been coaching at Mater Dei high school in Santa Ana, California and they attract the best, in fact in 2020 they were voted the number one sports high school in the country, bar none.
Now once again a quick deep dive reveals everything from National Championships in football, basketball, girls and boys, water polo , softball, it's not just one sport that inherits that kind of ranking, but kids flock there. They are a very tough academic school as well, although in truth, that part has slipped a bit as an overall emphasis on sports has taken over. Sports brings in monies academia cannot, it's simple, private schools need funding. As far as I know Mater Dei is the only school that has produced two Heisman winners, John Huarte at Notre Dame and most recently Matt Lienart from USC.
They've also produced a number of other big time Quarterbacks like Matt Barkley, and most recently Gatorade National Players of the Year JT Daniels at Georgia and Bryce Young at Alabama, but it goes back even farther, to Heisman second runner up Colt Brennan at Hawaii and the troubled, but super talented Todd Marinovich played there as well. If USC was once considered Tailback U, Mater Dei is certainly QB high.
Yet they have produced great players for years as well as Congressmen, film writers, comedians, actors, authors, Olympians and singers, but I digress. Yet these are the type schools that attract and produce the creme de la creme of great players. So step number one to coaching a Heisman Winner is to get a job at one of these type institutions.
Number two, as discussed earlier, is let them do what they do best, what they were born to do, lead their team. We as coaches can have a tendency to over coach, over complicate and get over involved, with players of this caliber it's easier and a must to let them explore the depths of their talent and take those discoveries out unto the field.
Once they know the offense they are tasked at running, they can see things, feel things we as coaches cannot. The speed of each and every game differs, they have a feel for that which we can't, by standing on the sidelines. They will know where the mismatches lie, who they can get the ball to for ultimate success.
Once again great quarterbacks and running backs are forgotten everyday unless they have the men in the trenches to protect them and pave their way to the end zone, so big, tough and quick offensive linemen at times dictate a Heisman as much as a crack team of coaches. The term bigger, stronger and faster is out there for a reason, that is football as of 2021, not that with new innovations that isn't something that could change, the game is always in flux. It seems the NFL us the tail and the colleges are the dog, the colleges, out of necessity have been way more innovative and as they send these run, pass quarterbacks up the ladder those team's adjust to change.
Before I forget, I do find it absurd and ironic that we as coaches spend every minute of every practice preaching this game as a team sport, everyone does their job or we all lose, then hand out individual hardware, and I get it, being singled out is pretty cool, but without the rest of the guys nobody wins squat and when was the last time an interior lineman won the Heisman? When Anthony Munoz played at USC there is no doubt in my mind that he was by far the best player in the country, but he got a total of zero Heisman votes that year, hell I got that many and wasn't even playing.
Then of course there's been many undeserving recipients as well, guys that were the 'best' player in the best team, but most weren't the best player on their team at all, guys like Jason White at Oklahoma who's best player was a freshman running back named Adrian Peterson. Quarterbacks and head coaches share both the glory and the blame, fair or not, that's the way fans react.
Step number three is to get these kids in tune with the rest of the team, like any business endeavor, team work is a key. Whether that be the starting quarterback and a back up wide receiver, one play, an instantaneous injury, puts those two together and dependent upon each other. I can't stress that enough, we teach quarterbacks to go through their progressions, but human behavior dictates a favorite receiver and that's hard to over rule. A quarterback and his favorite receiver become as close as a married couple, dependent on each other, and motivated to rise through the ranks.
Depending on the offense a team runs will dictate what kind of quarterback a coach wants, but offenses need to fit their trigger man, and if your guy isn't on campus, you as a head coach or offensive coordinator need to change gears, and quickly. It's easier to change an offense than try to make a quarterback something he's not. Matt Lienart was a great athlete, a very skilled six foot five basketball player, an imposing force as a left handed pitcher, but he couldn't run a ——— offense any more than I could, at age sixty four.
Matt was smart, still is I imagine, but as a football player he could read a defense like no other, but running for first downs and touchdowns, and the Bush Push doesn't count here, Matt was a pocket passer extraordinaire. He had a flair for finding the right guy at just the right time, think of Dwayne Jarrett during that same Notre Dame game, he knew the second the ball was snapped on where he was going, all through his pre reads of the Irish defense. Jarrett got one on one coverage and Matt delivered a perfect strike. That's what wins Heisman, the magnitude of the game, the high stakes and the perfect delivery. The Irish DB played Jarrett perfectly, precisely and Matt's pass could only be caught in one minute' spot, he put it there.
I was a small cog in Matt's development and if we saw each other on the street he'd still recognize me, for he's that kind of kid, but I was honored to be that minor cog. He lends his name to a very popular flag football league now, ran by his brother, and I was recruited to help, but my move north to Idaho kept me from that.
football
I've been around the block a time or two but due to a bad left hip I never get far, I just keep walking in circles. I'm an old rusty merry-go-round that will leave you cut and in stitches.
Receive stories by Gregory Dolan Dies in

your feed