Grass Roots Football: The Ups and Downs
The highs and lows of grass roots coaching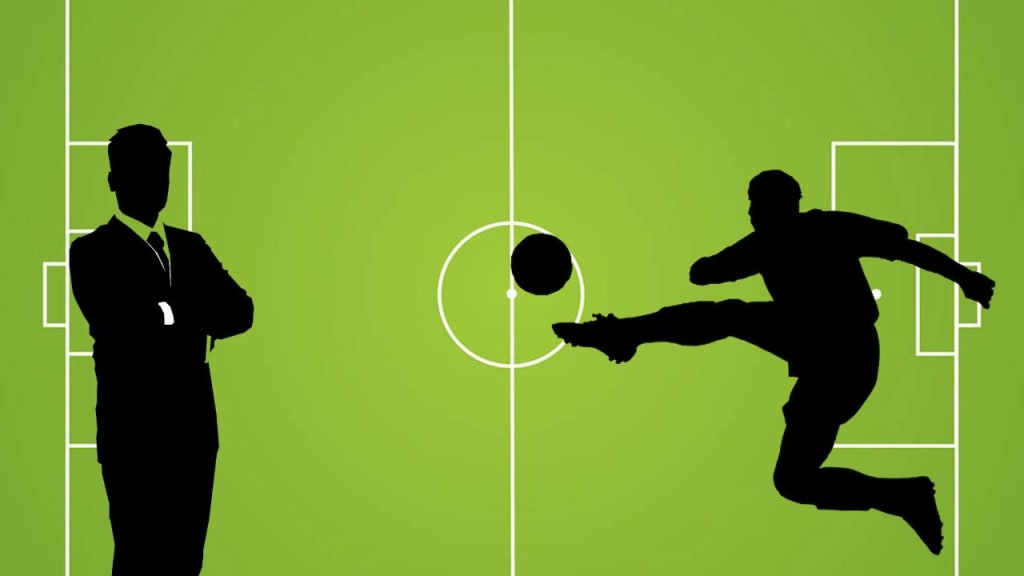 Saturdays are the most stressful day of the week for me. Coordinating all of our club teams, hoping everything goes well without any headaches, hoping the teams behave themselves and don't bring the club into disrepute, and commuting all over the place to put out the little fires that burn up. All to sit down at the end of the day and start worrying about next week all over again. Do I love it? Of course! Why else would I do it? Would I give it up? Maybe... the temptation of peace, straightforward weeks... a day off! So why do I do it?
I started coaching football, or soccer for our America friends, when I was just 14 years old. I was helping out my brother who had started running youth football at the club that my father had played for back in the 80s. The club has always been part of my life, whether I was a child watching the games or going to social events outside London. However, for the past eight years of my life, it appears to have taken over it.
At the age of 17, I officially became a coach at the club, providing me with the first insight into running grass roots football. I was a young and eager coach, writing player reports after every session and constantly assessing player development.... on eight- to 10-year-olds! I was enthusiastic and genuinely enjoyed every second I was on the training pitch. After two years, we entered a competitive league at the Under-14 category. I still remember heading to my first game; I was told by my dad (and chairman) that my most important job this season was just to keep morale up high because starting a team at this age group meant it was almost impossible to win games. We won 5-2 with our striker scoring a hat trick. So it started the start of something special...
Overall, the season went very well. We finished second that season, securing promotion to the top division. I was awarded the club's manager of the year award—over our U18 coach who had just won the double for the first time in the youth club's history, winning the London Cup and the League title whilst confirming a runners up place in the League Cup. I had given 27 different youngsters competitive football that year. I had one player who was training with professional academies and new players desperate to join the club—so much so that in my next season we had to create a B-team for the first time in the club's history.
However, for all the ups, we had a number of downs. Only five games into the season, the same striker that scored a hat trick on the first game of the season (and had nine goals in four games at this point) lost his head and threatened to attack a referee. Just moments before, a professional academy scout came to ask me about him and seemed interested in offering him a trial. I didn't see the scout again. This moment of madness led to a six-month suspension that was upheld by the London FA, as well as a hefty fine that was put on the club. He did not play again that season due to some further personal issues outside the pitch. Funny enough, he did return to the club later when he was older and more mature, and only last season he captained the U21 side whilst also making his first team appearance.
However, by far the worst thing to happen came at the end of the season in what was the hardest part of my coaching career. Remembering it now still brings a tear to my eye. I was told by one of my players that he had been diagnosed with leukemia. He was only 14. Nathan told me that he would be starting treatment and was hoping to be back playing next season. Just one week before he passed away, I tried calling him. He texted me back saying that he would be back soon. Unfortunately, that was not meant to be. To this day, I remember the phone call I made to his best friend the day he died, his friend that played for the team. I had never felt so hopeless as a coach as I did that day.
The next day, we had a training session. I waited outside the sports centre and one by one the players arrived. Silent. Heads down. But it was then when I truly realised what was meant by "being part of a team." At this point, there were only four players waiting and our central midfielder turned up. All he did was approach me with his arms apart and embraced me, not as a coach—as a friend. As everyone else arrived, it was hugs, tears, and support. The perfect team.
To this day, I believe that it was the best team I have ever coached. When it came down to it, they were all friends both on and off the pitch. They worked together as a unit and supported each other to the very end. Their attitude was second to none. I still remember one game at 2-1 up with a minute to go, we were all defending a corner. I called out our prematch chant: "Who are we?" As one, despite readying themselves for the corner, they all chanted the reply together. We cleared that corner and went on a counterattack, allowing us to are out the game.
Since then, I have taken on a number of roles within youth football. I became an officer in the youth league where I've done almost every role. I started as a registration secretary where I processed the players for over 100 teams, ensuring they were eligible to play. I then became a match sheet secretary, checking that those playing were in fact eligible. I will now be entering my third season as a fixture secretary, putting together weekly fixtures for over 500 teams. I also qualified as a referee and have been out refereeing some games for the league due to the low number of referees in the league. At times, people ask why I do this. It's all voluntary, so what do I get out of this? Well... I do not really know! I suppose pleasure? Going out on a Saturday morning and seeing hundreds of games taking place, knowing that you were the one that helped organise it does fill me with pride. Walking through the park and everyone waving at you, thanking you... it's nice! Until you get that one idiot who complains about everything. You see the problem with people is they expect the world when they don't even deserve a puddle. In their eyes, they only have one or maybe two teams to worry about. We have hundreds. But people can't see that and expect their problems to be the centre of attention. The amount of times people are on hand to offer opinions only to see their ideas shattered by practicality would surprise you. I've learned to just go with it. Where you can help, do it! That's why we are in this—to create a fun environment. I just wish some people would realise this before opening their mouths.
On top of working with the league, around six years ago my brother stepped down from being the club secretary, a decision which pushed me into yet another chapter of understanding the ins and outs of youth football. At this time, I had just finished my degree in history and started a full-time job. I thought there was no job too big that I could not handle and my aim was to help grow the club. When I took over the secretary role, we had a team of eight or nine volunteers and four competitive sides. The group of volunteers were made up predominantly of people who had children involved in the club, people who had been part of the club for years, or young adults who had come through the youth teams and were looking to give back to the club. However, as years went by, we saw that volunteers were becoming harder to find. Parents stopped helping when children stopped playing. Former players we helped qualify as coaches had their heads turned by "bigger clubs," who preyed on smaller clubs and threw money out almost as quickly as they overcharged the parents of their athletes, and we struggled to bring in new people needed to help the club grow. We needed a way of bringing in new help whilst maintaining the values we established as an affordable community club.
This is where we looked into funding streams available. There are so many football teams out there, what would make us stand out? What could we do to help ensure the future of the club whilst helping the community? This is where speaking to my U16 players brought an epiphany. Nearing the end of the season, after one of the matches, I asked my players what their plans were for further education. Around half the team said they had no plans to go on to do their A Levels and wanted to look for skilled, paid work. I asked them what experience they had and, as expected, none had any. This was a problem. As a club, we don't just focus on helping them on the pitch, but look to help them develop off the field as well. This led to our Big Lottery Fund project, which allowed us to use £10,000 to help develop over 20 young adults, aged 16 to 23, qualify in different areas around marketing, coaching, and event management, with many of them eventually moving into full-time employment. I ran this project for a year and it was a great success, and one I am proud of. However, it didn't have the internal effect I had hoped for with none of those we helped staying at the club. In the end, it led to my taking on various roles in the club to ensure it carried on, many of which I still do today.
On the pitch, it was better. We've increased the number of teams we have, brought in more trophies, and built a solid reputation. Over the years, I've had my fair share of great players. Some that went on to play semi-professional football, some who took out scholarships at American universities, and one that made it to professional level, just this season playing in the Millwall U23 side. However, nothing ever quite matched the feeling of that first season. After years of building new teams and pushing the club forward, I was ready to stop. At the beginning of last season, I was ready to pack it in and focus on other things. What those other things were, I did not yet know. I was thinking how to tell those who were relying on me that I had enough. However, in the space of one week, three former players reminded me of why I did what I did. The first was a player who became a referee. My original captain struggled with physical growth and wanted to stay in football. He wasn't confident in coaching, and so I advised him and helped him become a referee. Some years later, he was promoted in the referee system and was officiating on semi-professional games. I sent him a jokey message asking when he was going to be in the premier league so that when he makes a mistake, I can go to the press and sell them stories. He replied that he would let them know that the only reason he became a referee was because of me making any mistakes he makes, my fault. A couple of days later, a former player, and now very good friend, went to USA for his scholarship. He sent me a message thanking me for helping him throughout his playing career and saying he wouldn't have been able to do it had it not been for me. Only a day after that, another former player made it into a Vanarama National first team and made his debut. Thinking that he would have forgotten me, I sent him just a short congratulatory message. He replied, thanking me for the support saying that it was my belief and the fact I didn't give up on him that gave him the confidence to carry on. It was then I decided I wanted to carry on, I wanted to continue helping young people in whatever way I could.
It is extremely difficult running a football club. It's endless work from registering players, coordinating teams, sorting coaches, and managing the financial strains of a voluntary community club, whilst also working in the league and trying to balance some sort of imaginary social life. On top of that, having to ensure that the marketing, website, club administration, club event management, and football matches and sessions are all kept on top of leaves little time for anything other than paid work and sleep. But for all the hard work, you can see the positive effect it has on lives, and that's what makes this worthwhile and something I know I would miss if I were to leave.