Football's Social Media Blackout
A Weekend of No News
This weekend, football clubs, players, athletes and sporting bodies in the United Kingdom will carry out a four-day boycott of social media in an attempt to tackle abuse and discrimination on their platforms.
The blackout is being sold as a "show of solidarity against online abuse", and hopes to force companies such as Facebook and Instagram to take a stronger stance against racist and sexist abuse by their users.
The campaign has almost universal support, and those who have signed up include the England and Wales Cricket Board, the Rugby Players' Association, British Cycling, British Horseracing, Great Britain Hockey, the Lawn Tennis Association, and the broadcasters Sky Sports, BT Sport and Talksport.
However, as the nation's most-followed sport, the spotlight will be on football. For this is where the majority of abuse is concentrated.
The headlines involve big players and big clubs: Last month, Manchester United banned six fans for sending racist abuse to Tottenham forward Son Heung-min while Chelsea had to ban a fan for 10 years for posting anti-Semitic messages online. However, dig below these and the statistics remain terrifying.
In the face of apathy from the social media platforms, clubs have had to resort to carrying their own investigations. Just before the blackout was announced, Manchester United, whose players have endured more vitriol than most, revealed that there has been a staggering 350% increase in abuse directed towards their players, with over 3,300 posts abusive posts reported from September 2019 to February 2021.
Although many of these were homophobic, an incredible 86% of those posts were racist.
It appears as if the message behind Black Lives Matter is still not landing, and the legitimacy of the boycott cannot be questioned: Something still needs to be done. The real question is whether the boycott will actually force through the changes needed.
A Collective Anger
Despite a reputation for lacking both intelligence and eloquence, British footballers have shown themselves to possess both when it comes to the issue of racism.
Although many have had the courage to speak out, the loudest voices belong to Watford captain Troy Deeney, Manchester City's Raheem Sterling, Crystal Palace's Andros Townsend, and Manchester United's Marcus Rashford, who have placed themselves in the vanguard, and shown a moral leadership yet to be displayed by the country's political leaders.
And when you listen to what abuse the players have received, you can clearly see why they've taken matters into their own hands.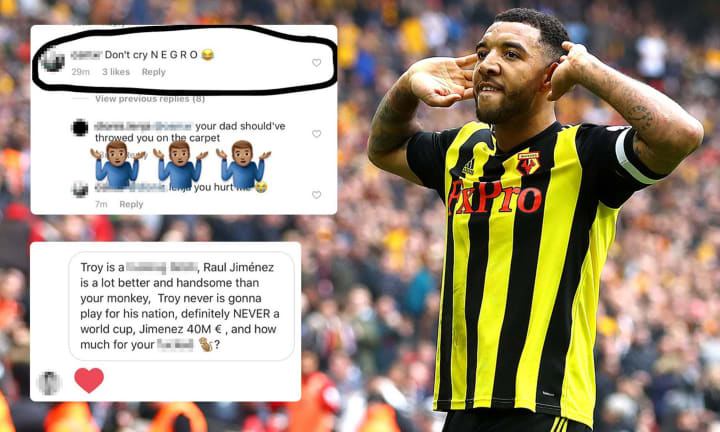 But, it's not just in the casual racism directed at them; Deeney has not only talked about the comments he receives abuse on a daily basis, but every week also brings messages targeted at his partner and children. Critics of modern-day football like to highlight the inflated salaries its players earn, and the luxury of being able to play professional sport for a living, as if both are some sort of twisted justification for needing to absorb the bile that comes their way. But a player's pampered existence is no justification for a child receiving racist messages online.
In fact, someone's salary is no excuse for abuse full-stop.
However, Manchester United's own report shows that the problem is only growing worse.
Despite the global impact of BLM, racism in football is actually growing. In addition to United's findings, anti-discrimination charity, Kick It Out, reported 446 incidences of abuse reported during 2019-20 – a 42% increase on the previous season. And this is despite the majority of those matches being played behind closed doors because of the pandemic. Even Covid has not stopped the rise of racism; if anything, it's made the problem worse.
Surely, given this, social media platforms, and the UK government, would be hives of proactivity, actively trying to find ways of curbing this behaviour. Bizarrely, the opposite is true.
An investigation by the Professional Footballers' Association, the players' union, found 56 abusive posts on Twitter in November 2020. Despite reporting them to the platform, 31 of them remain visible. The PFA are underplaying this when they describe Twitter's inaction as "absolutely unacceptable." When pushed for a response, Twitter, and their brethren have uniformly replied with bland, impersonal press releases that not only show a devastating lack of action but also that they seem to be barely aware that a problem exists.
Thus, it has fallen to Boris Johnson's government to take a firmer stance.
Except they haven't.
Regulatory Inertia
There has been impressive-sounding talk of "groundbreaking" new legislation to make social media platforms legally responsible for the online safety of their users and to also make them accountable to a regulator - which in the UK would be Ofcom. Under the new laws, racist messages would need to be removed "without delay"; failure to comply could result in an eye-watering fine of up to 10% of the offending platform's global turnover.
However, such laws are problematic - social media companies have so far hidden behind existing legislation regarding freedom of speech, and privacy, as well as claiming that the sheer volume of traffic on their sites makes it almost impossible for them to hand over to the police information that could be used to prosecute offenders. In the face of this, the UK government have fallen into inertia, unsure of how to proceed, but also hampered by the fact that, as many of these platforms are US-based, they would also need the support of Joe Biden's White House to push forward.
There are encouraging signs that such support might be forthcoming in the future, but - as yet - despite the bold rhetoric, those same platforms remain as unregulated now as they have always been.
On the one hand, this understandable - no government has yet taken on the social media giants and won. However, recently, Boris Johnson had no issue in actively criticizing the aborted European Super League; it seems that, when it comes to the nation's favourite pastime, the Prime Minister is willing to stick his head above the parapet when it's safe, but less inclined when victory is less assured.
This hasn't been lost on those involved in the sport. Former QPR defender Anton Ferdinand has said;
"Has the energy from the government been the same as what it was when the European Super League was being spoken about? No, it hasn't, and that's the disappointing thing. The government haven't done that when it comes to discrimination on social media platforms, the energy isn't the same and that is one of the reasons why the social media companies aren't really taking heed of what is being said by the footballing bodies."
Faced with such apathy, this weekend's social media blackout appears inevitable.
A Show of Solidarity
Crystal Palace winger Andros Townsend believes the boycott will "send a warning to these companies that if you don't start regulating your platforms, it's going to be an indefinite blackout."
As commendable as those sentiments are, this is unlikely. Prior to the start of the blackout, the Premier League Manager's Association issued a more balanced statement: "We know that a boycott alone will not eradicate this, which is why we will continue to take proactive steps to call for change."
As to what those changes will be, no one yet knows. The mooted legislation would make a huge difference but is unlikely to see the light of day given the difficulties involved. For now, it appears that any change must come from us - both the users of these platforms and the fans of the game.
It's been a strange year in football, but I'm going to give the final word to one player for whom the past 12 months have been the finest of his career. Leeds United midfielder Kalvin Phillips has not only played a huge part in his club's successful first season back in the Premier League but he's also forced his way into the England starting XI. Earlier this week, Phillips said;
"Disappointed that we even have to be doing this. Social media should be a safe space for everyone. I really hope main platforms make it a priority to eradicate online abuse from their system. It's already a problem in society, let's do more to stop it online as well."
That's all we can do: Until the social media behemoths and the UK government are forced into action, it's on us, as fans of the beautiful game, to do more.
That's why I - along with millions of others - will not be using social media this weekend. Maybe - just maybe - we can make social media listen and help us root out a cancer that is slowly destroying our sport.
It's time to both take a stand and take the knee once again.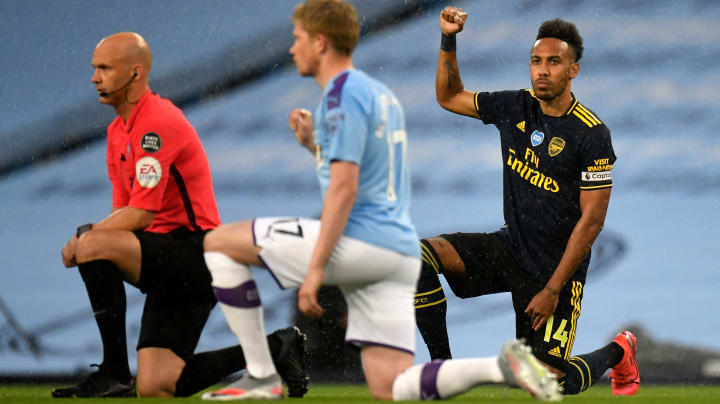 ---------------------------------------------------------------------------------------
If you've liked what you've read, please check out the rest of my work on Vocal, including my story about what the Premier League is doing to affect climate change:
If you've really, really liked what you've read, a small tip would be greatly appreciated.
Thank you!
About the Creator
Hi!
Film, theatre, mental health, sport, politics, music, travel, and the occasional short story... it's a varied mix!
Tips greatly appreciated!!
Thank you!!
Reader insights
Be the first to share your insights about this piece.
Add your insights