FC Cincinnati: The Winged Lions
Part 4 of 27 takes us to the Ohio River Valley to visit one of MLS's newest franchises.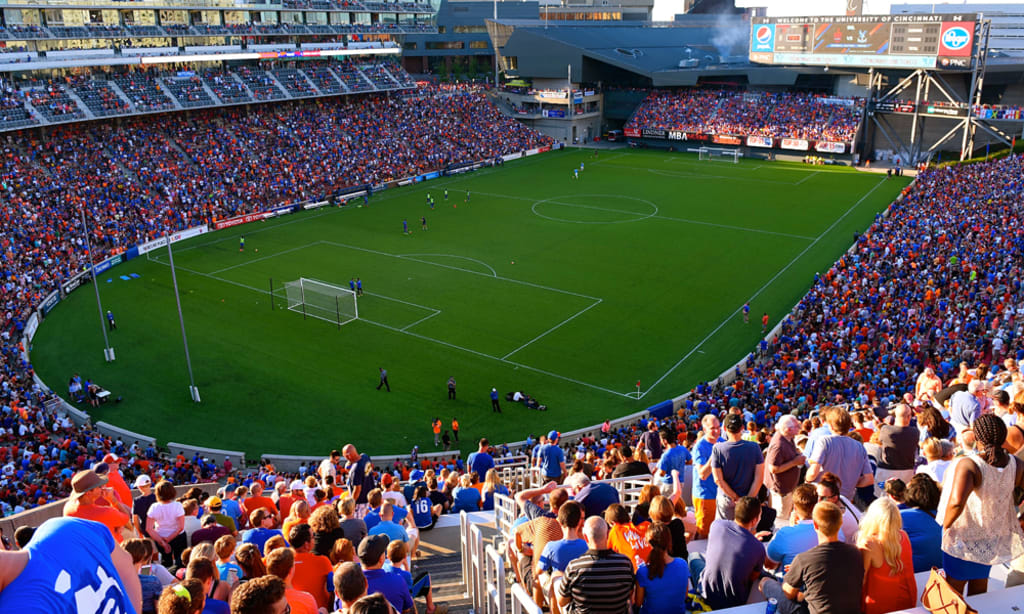 (www.cincinnatisoccertalk.com)
Can Lions soar? Well this one just might(but not likely)! Here is a brief recap of this clubs cursory but bright history. Why I think this club has a bright future going forward given the current talent at their disposal and my prediction for how their season will fair.
The Club
Full Name: Football Club Cincinnati Nickname: Orange and Blue Founded: May 29, 2018 Location: Cincinnati, OH, USA Stadium: TQL Stadium Capacity: 26,000
Silverware
U.S. Open Cup: NA. MLS Cup: NA Eastern Conference: NA Supporters Shield: NA
History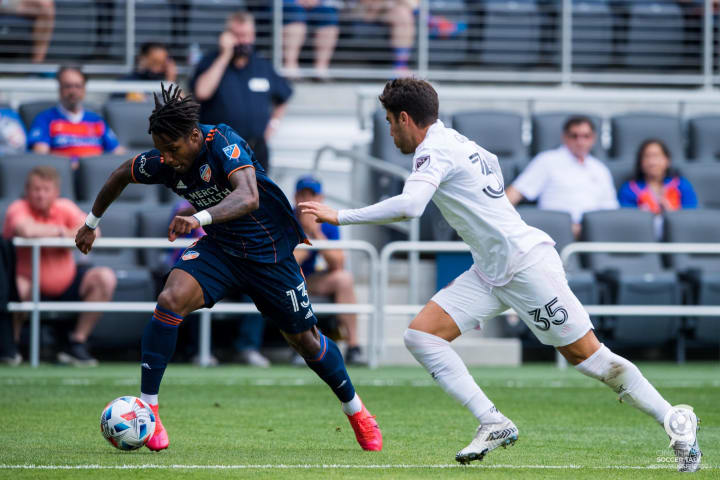 The Winged Lions are relatively new to the MLS landscape. Only founded three years ago they have performed well over below expectations in their brief history. The team initially started life as a USL team and it wasn't until 2016 when they started their flirtation with becoming an MLS franchise. In January of 2017 FC Cincinnati formally submitted their request to join MLS but would have to wait till May of 2018 to be accepted into the league.
Fernando Adi became the first signing a month later. He was coming off a productive season with the Portland Timber's. However, injury and personal issues hampered his impact with the team. As a result he was waived ahead of the 2020 season due to his lack of production and availability. The team finished the 2019 season with a record of 6-6-22. The 2020 season didn't fair much better where the team finished with a record of 4-4-15.
Since then not much has changed. Overall FC Cincinnati is still a work in progress to this day. But the future looks brighter in 2021.
Players to Watch
Jürgen Locadia. Kenneth Vermeer. Rónald Matarrita. Kamohelo Mokotjo. Luciano Acosta. Remember these names as the season progresses. Of those aforementioned Jürgen Locadia is the one player most under the microscope this year. Before coming to the Ohio River Valley Locadia was a highly rated talent at PSV of the Dutch Eredivisie. It was because of his up side that Brighton Hove Albion snapped him up on a four year contract. However, his time in England never amounted to much and he feel short of expectations.
The same could be said of his first season in Cincinnati where he scored one single goal in 17 appearances. I'm sure the fans and the front office will be expecting performances more along the lines of what he did at PSV in the 17-18' season (9 goals in 15 appearances).
Another forward/midfielder on the list of players to watch is Luciano Acosta. His name should be familiar to a lot of people who have followed the league. After all he was the one that scored the famous header at the end of Wayne Rooney's epic cross into the box for DC United a few years ago. However, after thag season ended both Acosta and Rooney left DC United. Acosta traveled south of the border to join Atlas of Liga MX and Rooney back to England to play for Derby County.
If Acosta is to make any impact this year The Orange and Blue will need him to replicate his performances of the 2018 season where he contributed 10 goals and 15 assists. If he can even remotely come close to those numbers then Cincy should be in good shape come the playoff push.
Outside of Locadia and Acosta the midfield play will be crucial to the teams overall success. It's is this area of the field where the game are won or lost. Which is why in the off season FC Cincinnati went out and acquired Kamohelo Mokotjo. Already only a few games into the year Mokotjo ranks highly in passes completed and received. Completing 92% of his passes over the course of 90 minutes. The key for him going forward will be his effectiveness to combine with the forward. In addition, Kamohelo need to show more consistency in defensive interception abilities which is why he was brought in as a CDM.
Rónald Matarrita can fill in at the CDM role but his best role is at RB whether has spent the Lions share of his playing time in MLS. He's quality is unquestionable. Especially when clubs like Club Brugge KV have come knocking, requesting to secure him for the long term (back in 2016 with NYFC). Once again head coach Stamm will be looking to the Matarrita to shore up the leaky back line and turn out the form he puts in for his Costa Rican national team.
Last but not least we come to the well traveled and highly touted goalkeeper Kenneth Vermeer. He is a man who once manned the post for teams like Ajax and Feyenoord where he racked up 100+ appearances each for both clubs. later on Vermeer continued his career at famous Belgian League team Club Brugge KV before coming over to MLS side LAFC in 2020. It should also be noted that Vermeer is a former starting goalkeeper for the Dutch National Team. where he still holds the longest streak for the most consecutive matches without conceding a goal (5 games).
Vermeer will be competing against former Polish International, Przemysław Tytoń, who himself has had a very distinguished career. Tytoń has played for clubs which include PSV Eindhoven, Elche CF, VfB Stuttgart, and Deportivo de La Coruña before landing in America.
So, it will be interesting to see how the goalkeeper battle plays out. Ether way it goes FCC will win.Honorable mention goes to Joe Gyau who had his career derailed several times by horrific ACL injuries. Hopefully, this year he can finally show the world he still has the talent that made Borussia Dortmund so keen on signing him.
Season Prediction
With all that out of the way let's turn our attention to the season and some potential pit falls. The biggest one is the lack of depth and quality in those behind the starting midfield pair. Should ether Mokotjo or Haris Medunjanin go down with an injury the drop off in talent is down right colossal. Caleb Stanko has little to no pace and his lack of passing skills will be a liability. Then there's the often injured Allan Cruz. And while he is a better overall passer and defender than Stanko his susceptibility to injury is a concern.
The other major concern is the accuracy of the wingers and wide players to put balls into the box. This is something that definitely needs to be addressed considering how hard it's seemed to be for Locadia and Kubo to score from open play. I think FC Cincinnati would benefit greatly from acquiring wingers who are know for their crossing accuracy. This would add the added areal threat to the attack which might make the team as a whole more lethal in the final third.
In the end, FCC will end up well outside the playoffs spots. However, I see this year as the year they crack double digits in wins. My prediction for their final season totals : 10-12-12. A sound showing from the Orange and Blue and an overall improvement but not enough to make waves come October.
About the Creator
Avid traveler. Father. Weekend hiker. I enjoy almost every sport but football is #1. My other passion is to write historical fiction. So be on the lookout for my book. Thanks for reading!
Reader insights
Be the first to share your insights about this piece.
Add your insights