FC Bayern duo and other football stars helping fight COVID-19
The football community showing its worth in these difficult times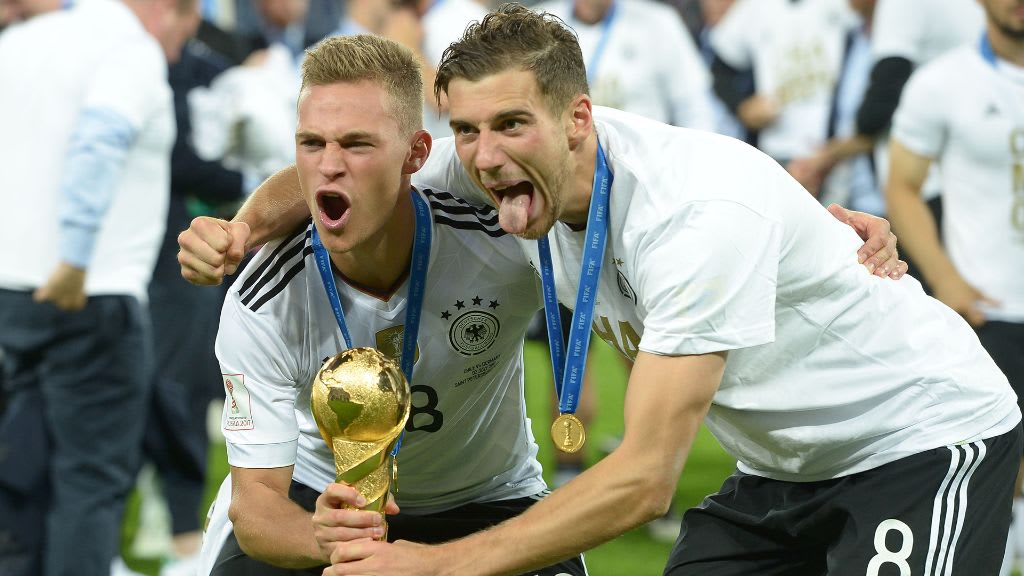 Joshua Kimmich (left) and Leon Goretzka (right)
In difficult times, with the threat of job cuts and company closures hanging over everyone's head, it is always great to read about some good news. While we're all constantly wondering as to when this entire crisis is going to end, some key public figures are doing their bit to help.
Joshua Kimmich and Leon Goretzka have been leading their side Bayern Munich to victory on the pitch and now they're doing so off the pitch. As Leon Goretzka announced on his Instagram account, the two 25-year-olds, have decided to start an initiative called - 'WE KICK CORONA'.
They are donating €1 million to aid in the fight against the virus and have even setup a website (https://www.wekickcorona.com) in which you can help in dealing with the crisis.
This is what Leon Goretzka wrote on his Instagram account:
"We can beat anyone on the field of play. However the Corona virus can only be defeated together. That is why Joshua Kimmich (Instagram: @jok_32) and I founded the initiative "WE KICK CORONA" and will be donating €1 million for social and charitable organisations. They currently are in need of every cent. Join us on wekickcorona.com.
Thank you for your help and support."
In his video Goretzka also thanked all of the social organisations, hospital workers and everyone involved in the fight against this virus.
Joshua Kimmich also shared a video on his Instagram account, in which he too issued a message of support and spoke about how we can help in the crisis.
This is what he shared:
"We have to help each other. Through deeds, gestures, through responsibility and reason. We are a community. With #WEKICKCORONA, Leon Goretzka (Instagram: @leon_goretzka) and I would like to help those that are truly being affected in these difficult times. That is why we have decided to start this donation initiative and together have made €1 million available. Everyone who helps and can help is worth gold. We all have to contribute so that our community can get over this crisis in the best manner. Huge thanks to all the helpers, nurses and medical personnel and to all of the people that are aiding in the supply of medical equipment. You guys are unbelievable. THANK YOU."
In Italy, which is a country that has been severely affected by the epidemic, former Bayern Munich and now Fiorentina forward Franck Ribery has donated €50,000 to help hospitals. The Bayern Munich legend, who has only scored two goals for Fiorentina in eleven starts because of an ankle injury, posted an image of him with a shirt reading - "Courage Italy, Strength my Florence".
The current situation in Italy is dire, to say the least. Latest figures as of the 19th of March 2020, show that 40,000 people have been infected and the death toll has risen to more than 3400, overtaking China as the worst affected country in the world, regarding COVID-19.
Among players that are helping to fight the virus is AC Milan's Zlatan Ibrahimovic, who recently started a fundraising effort in which he urged to give to a country that he loves.
What, the one and only Zlatan, wrote on Instagram (@iamzlatanibrahimovic):
"Italy has given me so much and, in this dramatic moment, I want to give back even more to this country that I love. I decided, together with the people who are working with me, to create a fundraiser for Humanitas hospitals and to use my communication power to spread the message wider. It's a serious issue and we need a concrete help that's not just a video.
I count on the generosity of my colleagues, of all professional athletes and of those who want to make a small or large donation according to their possibilities, to kick this virus away.
Together we can really help hospitals and doctors and nurses who selflessly work every day to save our lives. Because today we are the ones cheering for them!
Let's together kick the CoronaVirus away and win this match!
And remember: if the virus don't go to Zlatan, Zlatan goes to the virus!"
The continued goodwill coming from footballers is increasing, even entire teams have taken it upon themselves to help fight the economic cause that the virus has had on their community. Borussia Monchengladbach players have offered to not get paid, so that the club's staff continue to receive their salaries, during the Coronavirus epidemic.
Hopefully some of these good gestures will aid in solving the current lock-down that the world is experiencing and that we will soon be reaching a level of normality. As the one and only Zlatan and many footballers have mentioned - to all the people working at supermarkets, at tills and to the food suppliers, medical practitioners, the medical staff and helpers, as well as to the virologists that are working to find a solution, "we are cheering you on".
Stay safe and healthy.