El Clasico: The Ultimate Showdown...
Join me through the annals of history in this epic trip down memory lane, as I review 15 years of 'El Clasico' history between Real Madrid and Barcelona...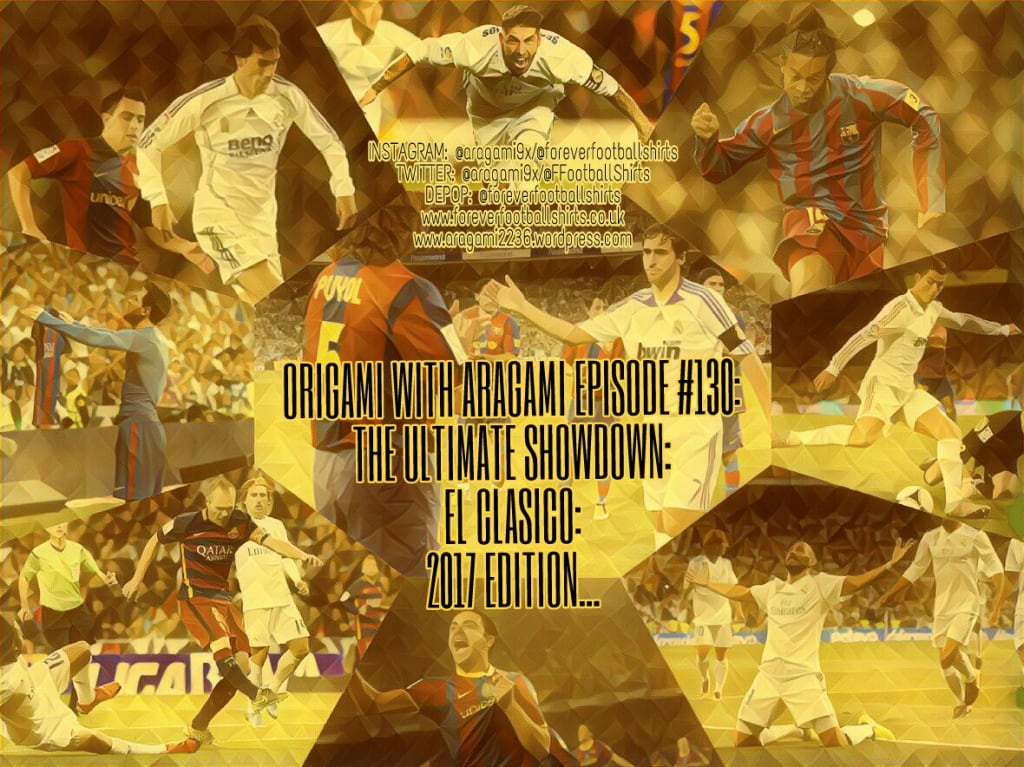 Growing up, my first memories of Spanish football and La Liga were in the 1996-97 season at the tender age of six years old, with my brother, watching the original Ronaldo wearing the 'Blaugrana' of Barcelona as he tore through defences at will.
1996-2003: Championship Manager inspired young Madrista…
Looking back through the annals of history, it was actually Real Madrid, who went on to lift the Spanish title that season, under the stewardship of Fabio Capello (who would incidentally lead them to the title again, ten years later). My first memories of '"Los Blancos" would come the following season, as they stunned Juventus to become the 1997-98 UEFA Champions League winners. It was quite a sight for me, given that Juventus were the side I always feared my beloved Manchester United playing against in those days, and especially after they had been upset by Borussia Dortmund in the 1996-97 final. I would next see Barcelona in action against Manchester United the following season, as United were given the group of hell in the 1998-99 Champions League group stage, as they were pit with: Barcelona, Bayern Munich, and Brondby. United and Barcelona (who were under Louis van Gaal's helm), battled to two 3-3 draws, as United progressed at the expense of the Spanish side, en route to famously winning the competition against Bayern Munich, at the Camp Nou, no less.
My relationship with Real Madrid really began the season after, as United were pit against Vicente del Bosque's Real Madrid side in the quarter final of the 1999-00 Champions League. I was in India for the first leg, which ended 0-0 at the Santiago Bernabeu, and returned to the UK in time for the April 19th clash at Old Trafford, incidentally the day of my sister's fourth birthday. To my horror, the away side, in their glorious black and amber kit, were 3-0 ahead at Old Trafford! Although United were able to claw two goals back, it wasn't enough, as "Los Blancos" went on to lift the trophy for the second time in three seasons. That summer would bring the rivalry between the two clubs (Real Madrid and Barcelona) to a new level of intensity, as Real Madrid evoked Luis Figo's minimum fee release clause of £37 million—the world record transfer fee at the time—to bring the Portuguese maestro from Barcelona to Real Madrid as the new Real Madrid president, Fiorentino Perez, began the 'Galacticos' era.
It was that year, I recall, when I was in year six, that I began to get into Championship Manager. The 2000/01 edition of the fabled series remains only second to the 2001/02 edition, as far as my favourites are concerned; nonetheless it was in CM 00/01 where I began to manage Real Madrid, and with it began my first managerial dynasty. I don't know if it was the transfer kitty, or the fact that the world's best players were interested in them, or that Raul was amongst the team's roster; I was enamoured to manage 'Los Blancos' way more than I had ever been inclined to manage Barcelona. That relationship began my association with Real Madrid, particularly as they fought their way through to the Champions League semi-final, while claiming the La Liga title that season. For my birthday that year (2001 where I turned 11), I recall the 2000-01 Real Madrid 'Teka' jersey as the only present I wanted. Sadly, there wasn't one in my size at the store, so I was told! That summer, the 'Galactico' recruitment drive went into the next phase, as Zinedine Zidane was procured from Juventus, shattering the world transfer record fee, as £51 million was paid for his services.
The 2001-02 season saw the Barca/Real rivalry expand into the Champions League, and much to my delight, Real Madrid were able to defeat Barcelona 2-0 at the Camp Nou before finishing the job with a 1-1 draw at the Santiago Bernabeu stadium, en route to the final in Glasgow that year. Real Madrid's triumph, softened the blow of Manchester United bowing out to Bayer Leverkusen in the other semi-final, and of course, Zinedine Zidane would score "that goal" to gift Real Madrid their third Champions League crown within the last five seasons. My allegiance to Real Madrid also bled over to the international stage, as I rooted for Spain at the World Cup that summer; sadly, for me, South Korea would vanquish "La Roja" after Joaquin missed his penalty in their quarter final clash.
The 2002-03 season was my last season as a Real Madrid "fan." Securing the services of the legendary Ronaldo from Inter Milan, Real Madrid now boasted a squad that featured: Roberto Carlos, Luis Figo, Zinedine Zidane, Raul, and now Ronaldo; it was like the living manifestation of Championship Manager! Barcelona, meanwhile, had gone about adding Championship Manager Legends Javier Saviola and Juan Roman Riquelme to their ranks, in addition to the former Valencia star Gaizka Mendietta, as they sought to return to their former glory. While Rivaldo had sadly bid farewell to the club after his five seasons of majestic service, no one could have foreseen the mire that Barcelona were to find themselves in that season, in what was meant to be Louis van Gaal's majestic return. While Real Madrid were battling for both La Liga and Champions League supremacy, Barcelona were fighting just to secure a UEFA Cup place for the 2003/04 season. It would be this season, which I have my first memory an "El Clasico," as Real and Barcelona battled to a 1-1 at the Santiago Bernabeu on April 19th 2003 (what is it about that date?). This season was also significant for the first clash, which took place at the Camp Nou as Luis Figo was on the receiving end of a torrent of abuse for the home fans, so much so that the contest was stopped by the referee for a duration of 20 minutes in a bid to restore order. The image of the former Barcelona man being assaulted with a torrent of foreign objects, including the severed head of a pig, would be the everlasting image of this contest, rather than the 0-0 score line which the match ended by.
Real Madrid saw off Real Sociedad's spirited title challenge on the final day of the season as they recaptured La Liga. The European front was of particular interest in the Champions League at the quarter final stage, with David Beckham's head clearly turned by the cat calling Real Madrid, he had badly fallen out of favour with Sir Alex Ferguson at Manchester United ahead of the crunch tie. April 8th saw a dominating Real Madrid side handily beat Manchester United 3-1 at the Santiago Bernabeu, with Raul netting a brace, just as he did in April 2000. However, after Ruud van Nistelrooy's away goal, the faintest of hope was still there—that United could pull off an upset at Old Trafford. How wrong we would be, as "Il Fenomeno," Ronaldo, descended upon Manchester and notched a hat-trick at "the Theatre of Dreams" as Real Madrid won 6-5 on aggregate after an exhilarating second leg.
The summer of 2003 saw Joan Laporte running to become the president of Barcelona, and his campaign was centered on delivering either David Beckham or Ronaldinho to Barcelona. The former chose to head to Real Madrid as the fourth consecutive "Galactico" while the latter was snapped up by Barcelona, right under the noses of Manchester United. Beckham was joined at Real Madrid by his former assistant manager, Carlos Queiroz, as the Portuguese was installed as Real Madrid's new manager, despite four trophy-laden years with Vicente del Bosque in charge. It was at this point where I began to fall out of love with Real Madrid, as Claude Makelele and Fernando Morientes were also cast asunder. Moreover, with the UK tabloids suggesting at every whim that Beckham was akin to the second coming, and everyone in school's second favourite team becoming Real Madrid, and a jersey that I just never liked, I had cut my ties with Real Madrid ahead of the 2003-04 season.
2003-06: The Ronaldinho years, and changing allegiances…


Barcelona hadn't won La Liga since the 1998-99 season, and after the horror of a sixth place finish, the club knew it was now or never, as they sought to return to the precipice of world football. Building the side around Ronaldinho, new manager, Frank Rijkaard, had a job on his hands; embedding the youthful talents of Xavi, Carles Puyol, Javier Saviola, Thiago Motta, Luis Garcia, and Ricardo Quaresma with the ailing old guard, and it wasn't an easy transition during the Autumn/Winter of 2003. After ten games, Real Madrid were seven points ahead of Barcelona, as Valencia emerged as the dominant force in La Liga that season. When the two sides met on December 6th on match-day 15, Real Madrid claimed a 2-1 win at the Camp Nou; their first league win at the Camp Nou for 20 years. Roberto Carlos and Ronaldo netted for Real Madrid, as Patrick Kluivert pulled a late consolation strike; the stand thing in my mind, however, was how much of a ragged time young Ricardo Quaresma had against Roberto Carlos. That win sent Real Madrid to the top of the table, while Barca slipped to an embarrassing 11th place—a full 13 points behind Carlos Queiroz' side. That chasm widened to 18 points on January fourth 2004, however, something clicked at that moment, and a certain transfer had a lot to do with it…
Out of favour at Juventus, Edgar Davids was signed by Frank Rijkaard in the January transfer window in what must surely go down as one of the best signings of all time, as far as impact was concerned. Upon the Dutchman's arrival, Barcelona embarked on a 17 match unbeaten run in the league, a spell which included 14 wins. The crown jewel of that run was no doubt the 2-1 triumph at the Santiago Bernabeu on April 25th, 2004. Despite Santi Solari giving Real the lead, Barcelona fought back through Patrick Kluivert, before Ronaldinho's beautifully floated ball was met by Xavi, who stabbed the ball in mid-air, past the oncoming Iker Casillas, to gift Barcelona a wonderful 2-1 victory. The fact that pass, and goal, never gets mentioned nowadays is a testament to just how many moments of brilliance Ronaldinho provided during his stay at the club. When the season was all said and done, Barcelona finished two points ahead of Real Madrid in secoond place, in what was a sign of things to come…
Beginning the season in turmoil, Real Madrid were always one step behind Barcelona during the 2004-05 season, and when the two sides met at the Camp Nou on November 20th 2004, the league leaders made sure Real Madrid were made to pay for their win at the Camp Nou last season, as Samuel Eto'o (a comedy of errors on the part of the Real Madrid defence), Giovanni van Bronckhorst (a wonderfully worked team goal), and Ronaldinho (a penalty) scored in a swashbuckling victory. The win carved a seven point gap at the top of the table, which Barcelona never surrendered, en route to ending their five year spell without lifting La Liga. Real Madrid would claim a small measure of revenge on April 10th, when they saw off Barcelona 4-2 at home. Real attacked from the off-set, and were rewarded with a Zinedine Zidane goal after just seven minutes, before Ronaldo added a second 12 minutes later. Samuel Eto'o pulled one back eight minutes after going two down; however, the sustained period of Barcelona's pressure amounted to nothing, as Raul gave Real Madrid a 3-1 lead just before half time. Michael Owen's finely taken goal 20 minutes into the second half sealed the win, however, there was a late Ronaldinho free-kick that left Iker Casillas rooted to the spot, as Barcelona claimed a consolation second goal in what was a thoroughly absorbing game.
The height of Barcelona's dominance over Real Madrid, however, would come during their first meeting of the 2005-06 season. After a wobbly start to season, Barcelona were in fine form by their match-day 12 assignment with Real Madrid at the Santiago Bernabeu. Although only a point separated the two sides, Barcelona had won their last four games in a row in the league, while Real Madrid had bounced back from two straight defeats, with two wins in a row of their own. Samuel Eto'o really should have converted Ronaldinho's incredible look-away pass early. Instead, he would convert the chance created for him by the surprise starter, a young man named Lionel Messi, after just 15 minutes. Ronaldinho's magical pass earlier on in the contest was a sign of things to come, as the second half became the Ronaldinho show. Picking the ball up from the halfway line, he accelerated at Sergio Ramos, like a possessed demon, leaving the future Real Madrid captain on his back-side, as he ghosted inside of Ivan Helguera and let rip a curling strike that Iker Casillas could only watch fly past him. Sixteen minutes later, Ramos would again be defied, and although he prevented Ronaldinho getting goal-side of him, the Brazilian was still able to guide his strike past the Spain number one, as Barcelona romped to a 3-0 win. Ronaldinho would be substituted later on, to a rapturous applause, even from the Real Madrid fans, echoing memories of Ronaldo's ovation he received at Old Trafford just two and a half years earlier. Like the season before, Barcelona would never relinquish top spot, and when the two sides collided at the Camp Nou on April first, 2006, the tie felt rather inconsequential, as Barcelona held an 11 point lead over Real Madrid. That contest would end 1-1 in a fairly uneventful match, a Ronaldinho penalty gave the home side the lead before Ronaldo scored what was described by the commentator as a "demonic finish" 15 minutes later in what was, to me, the most memorable thing of the bout. Barcelona would, of course, retain their La Liga title by a whopping 12 points, and win the UEFA Champions League in Paris, ironically in the same venue Real Madrid won their eighth European title in the Stade de France, as Arsenal were beaten 2-1.
2006-08: A changing of the guard in Spain, as Barca struggled in transition…
All cycles, both good and bad, invariably have to reach their saturation point, and if the future is not safeguarded against, then the results can be disastrous. While Barcelona's spell between the 2006-07 and 2007-08 seasons would hardly be considered disastrous, it was still a far cry away from the success we had come to expect from them over the last two seasons. Real Madrid did away with the "Galactico" policy as Luis Figo was sold to Inter Milan back in 2005. Zinedine Zidane retired at the end of the 2005-06 season and both David Beckham and Ronaldo were coming to the end of their contracts. Instead, they took full advantage of the "Calciopoli" scandal, appointing Fabio Capello as head coach and acquiring the soon-to-be crowned Ballon D'or winner, Fabio Cannavaro and Emerson from Juventus, while further bolstering their squad with the additions of Ruud van Nistelrooy and Mahamadou Diarra from Lyon. Barcelona welcomed back Javier Saviola after a successful stint at Sevilla, while drafting in Lillian Thuram and Gianluca Zambrotta from Juventus, and Eidur Gudjohnsen from Chelsea, none of whom really settled into the squad for one reason or another.
Coming unusually early in the season, the first Clasico was scheduled for match-day seven, where an in-form and unbeaten Barcelona came to the Santiago Bernabeu, looking to repeat their excellent 3-0 win from last season. Had Barcelona secured the victory, they would have moved eight points clear of Real and left their rivals in the rear view mirror. With the humiliation of that Ronaldinho-inspired beating fresh in mind, Fabio Capello would mastermind a 2-0 win over their Catalan rivals, just as he did ten years previously, as Real Madrid won their first game against Barcelona since the 2004-05 season. Mr. Real Madrid, Raul, would open the scoring after just two minutes with a bullet header, before Ruud van Nistelrooy capped off a devastating counterattack shortly after half time to seal the victory to move within two points of the reigning champions. The Camp Nou would bring the sides together again on March 10th, 2007, as Barcelona tussled with Sevilla at the top, Real Madrid lay five points behind both sides, with 12 games to play of the season. What would transpire was, in my opinion, the most intense and thrilling 'El Classico' match of the decade, where a boy would become a man. The future was now, as Lionel Messi put in a performance for the ages.
It took just five minutes for Ruud van Nistelrooy to open the scoring, netting an uncharacteristic goal from outside of the area. He beautifully curled his effort, leaving Victor Valdes with no chance. Barcelona would quickly regroup, as Lionel Messi effortlessly slotted home past Iker Casillas just six minutes after going behind. Just two minutes later, Oleguer would bring Guti down in the box, and van Nistelrooy helped himself to a second goal from the penalty spot, as Barcelona found themselves behind once again. Back on the front foot, Ronaldinho would turn back the clock and jink his way into the box before forcing Casillas into action with a save; the rebound of his block landed at the feet of Leo Messi, who, despite having a crowded goal to navigate, spectacularly volleyed under the roof of Iker Casillas' net to make it 2-2 in the space of 30 minutes! A roller-coaster first half ended 2-2, however, the drama would not end there. In one of his final stands for the club, David Beckham would provide the free-kick for Sergio Ramos to head home from in the 73rd minute, as Real Madrid went 3-2 up with 17 minutes left to play. Just when it seemed Real Madrid would survive the Barcelona onslaught, Messi collected the ball from Ronaldinho, totally eliminating three players. Upon leaving Ivan Helguera for dead, he fired a left-footed pile driver past the helpless Casillas to complete a 90th minute hat-trick to salvage a 3-3 draw. Wow, what a contest! The match would serve a microcosm as to what would unfold at the season's end. With Real Madrid winning nine of their next 11 games, they caught up with Barcelona by virtue of a superior head to head record; had in fact leap-frogged Frank Rijkaard's side in first place, meaning that as long as they matched Barcelona's result on the final day of the season, they would win their first La Liga title since the 2002-03 season. While Barcelona had already relegated Gimnastic to beat, Real Madrid had Real Mallorca to contend with, and as news of Varela's goal at the Santiago Bernabeu filtered through the Camp Nou, Carles Puyol gave Barcelona the lead in their clash, meaning it would be Barcelona now on course to win a third straight title. By the end of the first halves, Real Madrid were still 1-0 down while Barcelona were now 3-0 up. With an hour on the clock gone, Real Madrid were still searching for the equaliser while Barcelona now had a 4-0 advantage. Jose Antonio Reyes, the Arsenal loanee, was summoned from the bench by Fabio Capello, and the former Sevilla man came up trumps with an equaliser two minutes after his arrival. With ten minutes left to play in Madrid, Mahamadou Diarra would gift Real Madrid the lead, before Reyes added a third three minutes later;,all but confirming Real Madrid as the 2006/07 La Liga champions!
Ahead of the 2007/08 campaign, Barcelona went all in; as they finally secured the signing of Thierry Henry from Arsenal after a 12 month long, protracted transfer saga, while Gabriel Milito, Yaya Toure, Eric Abidal, were also brought in, as the squad was strengthened in all areas. Real Madrid, meanwhile, parted ways with Fabio Capello, as they brought in the former Barcelona, and Real Madrid man, Bernd Schuster, to take his place. A whole host of names came and went in the summer of 2007, as the likes of Roberto Carlos, David Beckham, Ivan Helguera, Emerson, Jonathan Woodgate, and Cicinho all left the club while the Dutch-heavy recruitment policy saw Roysten Drenthe, Wesley Sneijder, and Arjen Robben all descend upon the Santiago Bernabeu, while Gabriel Heinze was signed from Manchester United and Javier Saviola was also recruited after Barcelona decided not to renew his contract with the club. Real Madrid were scintillating this season, securing first place from match-day two; they remained top for the entire duration of the season, defending their title by eight points, while Barcelona could only muster a third place finish, falling short of "Los Blancos" by a whopping 18 points! Interestingly, ahead of the first "Classico" on December 23rd, the difference between the two sides was only four points. Real Madrid would ultimately prevail at the Camp Nou for the first time since their November 2003 meeting, as Julio Baptista's super goal was all that was needed to separate the two sides and Real Madrid claimed a fantastic 1-0 win at the home of their rivals. By the time the sides reunited at the Santiago Bernabeu on May 7th, Barcelona were fighting to salvage second place while Real Madrid had already sewn up La Liga. No one could have forecast the 4-1 beating that Real Madrid were to inflict on their rivals, already having to suffer the indignation of performing a guard of honour for their most heated rivals. The champions ran roughshod against a painfully splintered Barcelona side. Amidst a rainy midweek evening in Madrid, Raul netted his last ever "El Clasico" goal after just 13 minutes, with a wonderfully improvised curling effort, before Arjen Robben headed in Julio Baptista's free-kick eight minutes later, to effectively end the Barcelona challenge for the evening. Young Argentine striker, Gonzalo Higuain, entered the fray on the hour mark, and netted Real Madrid's third goal within two minutes of his arrival, before Robinho won a penalty from Carles Puyol's handball to rub further salt into the Barcelona wounds. The rout would be completed by the third member of Real Madrid's fabled 3 R's: Ruud van Nistelrooy, as the deadly Dutch striker netted in his third Classico from the penalty spot. Thierry Henry would salvage a modicum of pride for the visitors with his late goal, but the damage had been done, as Real Madrid won 4-1 and Barcelona were left to make some huge changes going into the 2008/09 season…
201213: Vilanova carries in on Guardiola's image during Mourinho's last stand…
Ahead of the 2010/11 season, changes were again afoot in the Real Madrid managerial hot-seat as Jose Mourinho was installed as the Real Madrid head coach. With him came esteemed arrivals, Ricardo Carvalho, Angel di Maria, Mesut Ozil, and Sami Khedira. Barcelona, meanwhile, pulled the plug on the Zlatan Ibrahimovic experiment, as he returned to Italy, while Spain's World Cup winning hero, David Villa ,was signed along with Argentina captain Javier Mascherano, as Spain's two best sides once again vied for domestic supremacy. Again meeting on November 29th, Mourinho's Madrid were unbeaten after 12 games, leading the reigning champions by a point with the Camp Nou tussle on the horizon. With the bitter taste of defeat to Jose Mourinho's Inter Milan in the previous season's Champions League semi-final fresh in their mouths, Barcelona administered their most iconic performance ever in a Camp Nou "Clasico." They would prevail as 5-0 winners in a display of frightening efficiency and majestic football. Lionel Messi set the tone early when his audacious curling lob hit Iker Casillas' post after just five minutes, before Xavi gave the hosts the lead just five minutes later. Seven minutes after going a goal ahead, Pedro would tap home David Villa's low-drilled cross to make it 2-0. Fortunately for Real Madrid, they were able to keep the arrears at two as they headed into half-time. It would just take ten minutes upon returning to the field for the second half for Barcelona to resume scoring, as David Villa added a three minute brace to make it 4-0 before Jeffren added a late fifth to utterly humiliate Jose Mourinho and his troops on an unforgettable night in Barcelona, which also saw 13 yellow cards and one red issued; a theme that would repeat itself over the next two years of encounters. The outcome of the tie would, of course, see Barcelona usurp Real Madrid in first place; a position they would not relinquish for the remainder of the campaign.
Fate would ensure that the two sides would remain inseparable in April as La Liga scheduling already dictated the two teams would meet on April 16th in the league, before the Copa del Rey brought back together again on April 20th, and in addition to that, the two teams would contest the first leg of their Champions League semi-final tie on April 27th. With Barcelona already eight points clear of "Los Blancos," the La Liga tie at the Santiago Bernabeu was more of more importance to Jose Mourinho's side, especially after five straight defeats to their rivals. A Lionel Messi penalty was close to earning Barca an unprecedented sixth straight victory over Real Madrid, however, Cristiano Ronaldo would net his first "Clasico" goal from the penalty spot himself late on to salvage a point. Jose Mourinho's side would then exact a measure of revenge against Guardiola and his troops four days later, as Ronaldo's header in extra-time was enough for Real Madrid to earn their first win against Barcelona since May 2008, and in turn win the Copa del Rey, at the expense of the 2008-09 Cup winners. After Alvaro Arbeloa's sending off in the La Liga outing fourdays earlier, Angel di Maria would also be sent off in this fixture, ensuring that a man had been sent off for Real Madrid in each of the three fixtures between the sides thus far.
Seemingly in the ascendency, Real Madrid welcomed Barcelona to the Santiago Bernabeu for the first leg of the semi-final of the UEFA Champions League, and after expertly marshalling Lionel Messi in the defensive midfield position, Pepe would get himself sent off after an hour, and joining him would be Barcelona goalkeeper Pinto and Mr.Mourinho himself as the game descended into a fracas. Free from being relentlessly man-marked, Leo Messi broke the deadlock with 15 minutes to play before adding a breath-taking second, dribbling straight through the heart of the Real Madrid defence before bungling home past Iker Casillas to give the "Blaugrana" a surely irrepressible lead of two away goals. With the damage already done, a 1-1 draw played out in the second leg on May 3rd, with Pedro and Marcelo netting in a fairly innocuous game, and at the season's climax, Barcelona captured their third straight La Liga title, seeing off Real Madrid by four points while also becoming European champions again, crushing Manchester United 3-1 at Wembley Stadium.
Ahead of the 2011-12 season, the two teams would be paired off early, as the two-legged Supercopa de España unfolded in mid-August and Barcelona struck first blood, winning 5-4 aggregate with the two sides drawing 2-2 in Madrid and Barcelona winning 3-2 at the Camp Nou. The second leg would see three red cards issues and have Jose Mourinho suffer the indignation of poking Barcelona assistant manager, Tito Vilanova, in the eye on the touchline as the tensions continued at boiling point from the previous campaign. While Barcelona were dogged by an inconsistent start to the season, Real Madrid were the pillar of consistency. So much so that that, by their December 10th meeting at the Santiago Bernabeu on match-day 16, "Los Blancos" were six points ahead of Pep Guardiola's side. The Barcelona plight was worsened just 25 seconds into the contest, as Karim Benzema netted the fastest goal in El Clasico history to put Real Madrid into dream-land. Those dreams would become nightmares, however, as Barca came back to secure a 3-1 win, following goals from Xavi and the two key summer signings, Alexis Sanchez and Cesc Fabregas, as Barca closed the gap on Real Madrid to three points.
The Copa del Rey would again serve as the platform for another two-legged affair between the clubs, and Barcelona would avenge their Copa del Rey final defeat in 2011, with a 4-3 aggregate win after a 2-1 win in Madrid, and then a 2-2 draw in Barcelona. Once again, Sergio Ramos would find himself sent off, as an ill-tempered affair at the Camp Nou yielded a mammoth 11 yellow cards. With the news that Pep Guardiola would be taking a sabbatical at the end of the campaign, his side's season invariably collapsed. However it was a three game spell in April that crushed his final season in charge of the club. After a 1-0 defeat to Chelsea in the first leg of their UEFA Champions League semi-final, they met Real Madrid at the Camp Nou on April 21st. With four games of the season to go, Real Madrid led the way in La Liga by four points, making victory a sure must for the Catalan side, if they had any hope of retaining their title. A splintered Barcelona side could only watch on as Sami Khedira put the visitors ahead after 17 minutes, and although Alexis Sanchez netted a 70th minute equaliser, it would be Ronaldo and Real Madrid who had the last laugh, as his goal, just three minutes later, restored his side's one goal advantage. They went on to secure a 2-1 win at the Camp Nou—their first win here since the December 2007 clash, which they won by the one goal to nil. In the end, Real Madrid finally ended Barca's three year hegemony of La Liga, racking up a record 100 points and 121 goals in the process, while Barcelona had to settle for the Copa del Rey after bowing out to Chelsea in the semi-final of the Champions League.
2012-13: Vilanova carries in on Guardiola's image during Mourinho's last stand…
Tito Vilanova stepped into the Barcelona hot-seat following Pep Guardiola's departure, and his first assignment would be the Supercopa de Espana curtain raiser against a very familiar foe…A thrilling first leg saw Barcelona prevail as 3-2 winners at the Camp Nou with, astonishingly, only four yellow cards issued. The second leg would end 2-1 in favour of the 2011-12 La Liga winners, as they secured the trophy by virtue of away goals in a clash that also saw Adriano receive his marching orders as Jose Mourinho's men claimed the first silverware of the season. Unlike the previous campaign, it was now Real Madrid who were experiencing an indifferent start to the season, sitting eight points, five positions below Barcelona; ahead of their October seven meeting at the Camp Nou. In a showcase bout between the two best players in the world: Lionel Messi and Cristiano Ronaldo, the two talismanic forwards didn't disappoint, netting a brace each in a wonderfully played contest devoid of any red cards, refreshingly. The draw may have ended Barcelona's winning start to the season, but didn't stop them winning their next 12 league games, as they set La Liga on fire, winning a mammoth 18 out of their first 19 league games.
It was sadly in January 2013 that Tito Vilanova began experiencing issues with his health, and as a consequence, he was forced to miss a key sector of Barcelona's season between early to mid 2013. This period would include a Copa del Rey semi-final with Real Madrid, a two-legged tie that Real Madrid would comprehensively win 4-2 on aggregate, claiming an excellent 3-1 win at the Camp Nou en route to the final. March 2nd would match the two teams again in what was, thankfully, their last meeting of the season. After a total of 17 games in three seasons, the fixture had become somewhat played out at this point, and with 14 points separating the two sides, never before had a league match between the two sides had such little significance. In the end, Real Madrid would prevail 2-1, in what was Jose Mourinho's last "El Clasico" with Karim Benzema and Sergio Ramos, netting either side of a Lionel Messi strike. When the season was all said and done, Barcelona won the title by 15 points, matching Real Madrid's 100 point tally from the previous campaign, as both Barcelona and Real Madrid welcomed new regimes and superstars ahead of the 2013-14 season...
2013-14: League supremacy reigned for Martino's Barca', while Ancelotti was the king of the cups for Real…
With German sides crushing both Real and Barcelona in the Champions League, both sides reacted by securing huge transfers in the summer of 2013, as Barcelona signed the Brazilian superstar, Neymar, who had just won the FIFA Confederations Cup with Brazil in the summer, while Real Madrid broke the world transfer record for the fourth time, as they purchased Gareth Bale from Tottenham Hotspur for a record £85 million. Moreover, Tito Vilanova stepped down as Barcelona head coach in light of his health issues, while Jose Mourinho had been sacked by the Real Madrid hierarchy after a reported near civil war broke out at the club during the 2012-13 season. Their successors would be Argentine, Gerardo 'Tata' Martino, and the Italian, Carlo Ancelotti. With the last vestiges of the Mourinho/Guardiola cabinets removed, the first game of the season between the two sides on October 26th was played in much more of sporting spirit, devoid of the nastiness of those 2011-12 clashes. Neymar would net his first Barcelona goal in a 2-1 win, which also saw Alexis Sanchez score a beautiful lobbed effort, rendering Jese's late consolation effort for Real Madrid a non-entity. The fallout of the contest saw Barcelona establish a six point lead over Carlo Ancelotti's side, as they spent 23 of the first 24 match-day's in pole position.
Real would have a brief flirtation with first place, occupying the spot for four match days. Unsurprisingly, it would be Barcelona who would end their stay on March 23rd, in what was a scintillating game. Andres Iniesta gave Barcelona a seventh minute lead before Karim Benzema bagged a quick fire brace to give Real a 2-1 lead. However, Lionel Messi would once again find the back of the net at the Santiago Bernabeu, as he equalised just before half-time to make it 2-2. Cristiano Ronaldo would fire home a 55th minute penalty, before Messi would net two spot-kicks of his own to wrap up a sensational 4-3 win in the capital, to bring Barcelona within a point of both Real and Atletico Madrid, with nine games of the season to play. Although Barca would complete the league double over Real Madrid, Carlo Ancelotti would have the last laugh, firstly defeating Barcelona 2-1 in the Copa del Rey final, with an amazing solo effort from Gareth Bale winning the tie in the 85th minute before securing their tenth UEFA Champions League trophy in Lisbon, as they saw off Atletico Madrid 4-1. Incidentally, neither side would win La Liga for the first time since the 2003-04 season, as Atletico Madrid stunned Spain with an unprecedented title win, drawing 1-1 at the Camp Nou on the final day of the season to be crowned as champions.
2014-15: Luis Enrique restores Barca to their perch, as Carlo Ancelotti loses his magic touch…
It was a summer of change for Barcelona. Firstly, their former captain, and B team coach (not Pep Guardiola), Luis Enrique, took the reins at the club, and a whole host of changes took place in the playing personnel as Victor Valdes, Carles Puyol, Cesc Fabregas, and Alexis Sanchez all left the club, while the likes of Claudio Bravo, Marc-Andre ter Stegen, Jeremy Mathieu, Thomas Vermaelen, Ivan Rakitic, and of course Luis Suarez, all came in. Barcelona sought to reestablish themselves as the best team in both Spain and Europe. Real Madrid would wave goodbye to both Xabi Alonso and Angel di Maria, as Toni Kroos and James Rodriguez arrived to take their places. Ahead of their match-day nine meeting on October 25th 2014, Barcelona were four points clear of Carlo Ancelotti's side, and were set to give Luis Suarez his club debut after his FIFA-imposed four month ban had officially expired. In a seeming role reversal of the December 2011 clash, Neymar would gift Barcelona the earliest of leads. However, a Ronaldo penalty, followed by goals from Pepe and Karim Benzema, ensured a wonderful comeback was completed, gifting the reigning European champions a 3-1 win at home. The result moved Real Madrid within a point of Barca, as they went on to win 22 matches on the spin in all competitions, a run which included the capture of the coveted FIFA World Club World Cup in December 2014.
Occupying first place for 16 rounds in a row, Real Madrid looked unstoppable for the first half of the campaign. However, nothing could stop the force of nature that was Barcelona in 2015. After losing 1-0 to Real Sociedad on January 4th, they would win 16 of their remaining 19 La Liga games, including a 2-1 win over Real Madrid on March 22nd. Jeremy Mathieu gave Barcelona the lead after 20 minutes, only to be pegged back by a Ronaldo goal 12 minutes later. It would be the Uruguayan hit-man Luis Suarez, however, who would be difference maker, netting a 55th minute winner as Barcelona romped to La Liga glory, winning the championship by four points. Luis Enrique would match Pep Guardiola's superb maiden-season treble by winning the Copa del Rey and Champions League, also, defeating Juventus 3-1 in Germany, as Barcelona won their fifth European crown.
2015-16: Benitez blues, and ZZ tops, as both sides split equal wins (and losses)…
The 2015-16 season saw minimal movement in the transfer market for both clubs, however, change would be at the helm for Real Madrid, as Rafa Benitez returned to La Liga after an 11 year absence, this time in charge of "Los Blancos." After going unbeaten in their first ten league outings, the vultures began to hone in on Senor Benitez after his first defeat; the 3-2 defeat to Sevilla on November 8th, and with the home clash with Barcelona next, a huge result was needed in order to buy him some breathing space. With Barcelona already three points clear of Real Madrid, it would be a battle that Benitez simply couldn't win, and after Barcelona ran riot at the Bernabeu, winning 4-0, courtesy of goals from Neymar, Andres Iniesta, and a Luis Suarez brace, the end would be nigh for the former Valencia manager, while Barca celebrated going six points clear of Real.
From October 18th 2015 to March 20th 2016, Barcelona won 18 out of 22 La Liga games, and ahead of the April 2nd "El Clasico" showdown, a victory for Luis Enrique's side would have put them 12 points clear of Zinedine Zidane's side, and surely out of sight as far as the title race was concerned. After a goalless first half, Gerard Pique broke the deadlock in the 56th minute. However, the away side's resolve would not be broken, as they became the better side in the second half. Karim Benzema and Cristiano Ronaldo would fire back for "Los Blancos," gifting them a famous 2-1 win at the Camp Nou, their first since the 2012 win that effectively won them the title. After Barcelona lost a further two games in a row, the La Liga title race opened up again, and although Barca would be crowned champions, Real Madrid did close the gap to just a point when the season was said and done. Moreover, Barcelona also successfully defended the Copa del Rey, while Real Madrid reprised their 2014 Champions League triumph, once again defeating Atletico Madrid in the final to become 11 time Champions League winners.
2016-17: Bernabeu blushes aside; Real Madrid rise to prominence in 7 trophy sweep…
Going into the 2016-17 season, Barcelona (despite their quarter final exit from the Champions League) and Real Madrid were firmly entrenched as the world's two finest outfits, and poor Sevilla would feel the brunt of both club's forces, as Barcelona beat them 5-0 over two legs to claim the Supercopa de Espana, while Real Madrid outlasted them to win the UEFA Super Cup by a 3-2 score-line after extra time. Yet, by the time the first "Clasico" dawned upon us on December 3rd, Real Madrid had remained unbeaten in La Liga since February 27th, and had not lost once in all competitions, sitting six points clear of Barcelona at the top of La Liga. Barcelona, meanwhile, were enduring their worst start to a La Liga season after 13 games since the 2007/08 season. After a cagey first half, the deadlock would be broken in the 53rd minute, as Luis Suarez headed home Neymar's free-kick to give Barca the advantage. With game reaching the catacombs, Real deployed their "all-out attack" formation, pinning Barcelona into their own half as they pursued an equaliser, and, as the saying goes: "Fortune favours the brave," and as was the theme of "Los Blancos'" season. They would strike late on, and whom else would it be? Sergio Ramos, of course; the Real Madrid captain would head home Toni Kroos' late free-kick to seal a valuable point and keep in-tact their unbeaten start to the season.
The rematch would take place at the Santiago Bernabeu on April 23rd, and Real Madrid would still have their six point lead over Barcelona. In addition, however, they also had a game in hand to boot, making this nothing short of a must-win game for Barcelona as far as retaining their La Liga title was concerned. Having been the scene of their 4-0 humiliation last season, Zinedine Zidane's side would have loved nothing more than to end the Barca' title charge in front of their adoring support. Luis Enrique's side took the game to the hosts in opening exchanges. However, it was Casemiro who got the hosts underway just before the half hour mark, as he bungled home from close range. Despite being left bloodied by a succession of run-ins with the Real Madrid players, Lionel Messi was in no mood to play games, with much of the talk before the game highlighting that he had not scored in this fixture since his hat-trick in March 2014. Messi would equalise less than fiveminutes later, as he ghosted past Sergio Ramos following a neat interchange with Ivan Rakitc before coolly slotting past Keylor Navas to make it 1-1. The second half would see Luis Enrique's side take the lead as Ivan Rakitic lashed home a stunning effort from just outside of the Real Madrid box to make it 2-1 with just over 15 minutes to spare. Real Madrid had thought that the late goal trump card would be to chagrin of the visitors once again, with substitute James Rodriguez knocking home Marcelo's cross in the 85th minute to make 2-2. There would be a further sting in the tale. However, with Real Madrid pressing for a winner, Barca would stage one more counter offensive, with Sergi Roberto bringing the ball from his own half into the Real Madrid half, he found Andre Gomes, who would in turn pick out Jordi Alba, who would assist the oncoming Lionel Messi to guide home the most dramatic of 92nd minute winning goals! The Argentine would celebrate by holding his shirt aloft in front of a stunned Santiago Bernabeu audience, a moment that instantly became iconic amongst the annals of the fixture. More importantly, however, it gifted Barcelona three points, as they sought to fight Real Madrid to the finish. Ultimately, it would prove futile, as Real Madrid were crowned as 2016-17 La Liga champions and then, just two weeks later, would successfully retain their UEFA Champions League crown, defeating Juventus 4-1 in the Cardiff finale.
As Barcelona won the Copa del Rey for a third straight season, the die was cast for the first "Clasico" Supercopa de Espana since 2012, and there would be change abreast at the Camp Nou, with Ernesto Valverde replacing Luis Enrique in the hot seat and Neymar surprisingly defecting to Paris Saint Germain in a world record transfer of €222 million. The signing of Paulinho, combined with a failure to find an adequate replacement for Neymar, dominated the headlines leading into the first leg of the Supercopa as far as the Catalan side were concerned, while Real Madrid only solidified their standing as the best team in the world, having successfully defended the UEFA Super Cup with a 2-1 win over Manchester United on August 8th.
Taking to the Camp Nou in their change teal away strip, Real Madrid would draw first blood in the August 13th first leg, with Gerard Pique inadvertently putting Marcelo's cross past his own goalkeeper to gift the visitors the lead. Keylor Navas would be adjudged to have brought Luis Suarez down in the box in the 77th minute, and the resulting penalty would be slotted home by Lionel Messi to level matters. Substitute Cristiano Ronaldo would soon turn the game on its head just three minutes later, as a devastating counter attack would see the Portuguese curl home a fantastic right-footed, curling effort past Marc-Andre Ter Stegen to restore Real Madrid's advantage. Ronaldo would celebrate with a trademark flex; a statement which saw him receive a booking for the removal of his shirt. It mattered not to "CR7," however, as he held his shirt aloft to a section of Real Madrid fans in the stadium, mirroring Lionel Messi's celebration just four months earlier. With Barca shellshocked, "Los Blancos" would smell blood,. However, Ronaldo, after believing that had been bungled over by Samuel Umtiti, got himself sent off for dissent, an act that would have even greater implications for his club in the aftermath. Nevertheless, Marco Asensio would silence any reasonable doubt of a comeback when he lashed home a stupendous effort that left Ter Stegen with no chance, even at his near post.
It was all for Barcelona to do in the second leg in the capital three days later. Marco Asensio, however, had other ideas, as he needed less than four minutes to net an even better strike than his goal at the Camp Nou, picking up the ball outside of the Barcelona box and, left with all the time and space in the world, the young Spaniard uncorked an unstoppable left football pile-driver that left Marc-Andre Ter Stegen rooted to the spot. Karim Benzema would then royally end any discussion of a comeback as he helped himself to a brilliant goal just before half-time to put Real Madrid 2-0 ahead. Despite Lionel Messi huffing and puffing, he was powerless to stop the Real Madrid juggernaut, as the club secured back-to-back wins over their most fierce rivals for the first time since 2014. More importantly, with the 5-1 aggregate destruction, Real Madrid claimed the Supercopa de España for the first time since 2012, and the margin of the defeat forced Gerard Pique to conclude that, for the first time in his Barcelona career, he felt that Real Madrid were superior to his side…
December 2017: The presence of the present day…
Since August, the two sides' fortunes could not have differed any farther, as Barcelona now lead the way in La Liga and hold an 11 point lead over the defending La Liga champions. Moreover, since those two defeats in the Supercopa de Espana, Barcelona have remained unbeaten in their 24 games played since then, making them all but shoe-ins to win this season's championship, should they prevail at the Bernabeu on Saturday. This season will feel somewhat akin to Groundhog Day for the likes of Sergio Ramos, Luka Modric, Karim Benzema, and Cristiano Ronaldo, as their title defence is on the brink of being reduced to a canter before the year is up; just as it was when they last defended the title back in the 2012/13 season. A 14 point deficit would see them all but surrender the title to the side they fought so hard to wrestle it from last season, and worryingly, they could also be as much as eight points behind second placed Atletico Madrid by the end of match-day 17. Zinedine Zidane's side will be buoyed, however, by their current four match winning streak that saw them defeat Borussia Dortmund 3-2, Sevilla 5-0, and then with wins over Al Jazira, and Gremio, successfully defend their FIFA Club World Cup crown. A win here for Real Madrid could be the turning in a La Liga season that has Barcelona looking relatively unchallenged, and with a game in hand to boot, Real Madrid could conceivably have the deficit reduced to just five points.
I believe that, with the humbling defeats that Barcelona suffered at the hands of the reigning Spanish, European, and World champions this past August, Ernesto Valverde will deploy his side cautiously, and while the allure of revenge will be tempting, Barcelona will be very happy to return to Catalonia with a point in the bag, just as they were in their 1-1 draws away to both Atletico Madrid, and Valencia. Real Madrid will be feeling confident that they can upset the applecart, especially with Gareth Bale to once again call upon. Scoring has hampered "Los Blancos" this season, with the club scoring ten less than they had at the same stage last season, a statistic that is made even more conspicuous by the fact that five of their 30 goals came in their last outing in the league against Sevilla. Zinedine Zidane's side do have 11 scored in their last four games, so that would suggest that their mojo in front of goal in back. Barcelona, however, have some 42 goals to their name, and have leaked just seven goals, making their defence the joint most resolute with Atletico Madrid; a phenomenal statistic, which should be credited to the work that Ernesto Valverde has done since taking over this season. In closing, it is my opinion that the game on Saturday will end in a 1-1 draw, with Real Madrid striking first before Barcelona equalise late on in what be, essentially, a 360 role reversal of the December 2016 clash at the Camp Nou—a result that keeps 11 points worth of distance between the two sides, with the book closing on La Liga for 2017.
Reader insights
Be the first to share your insights about this piece.
Add your insights