Caleb Martin: The Unlikely Hero Who Led the Miami Heat to Victory in Game 7 of the Eastern Conference Finals
From Undrafted to Game-Changing Performance: Caleb Martin's Journey to the Spotlight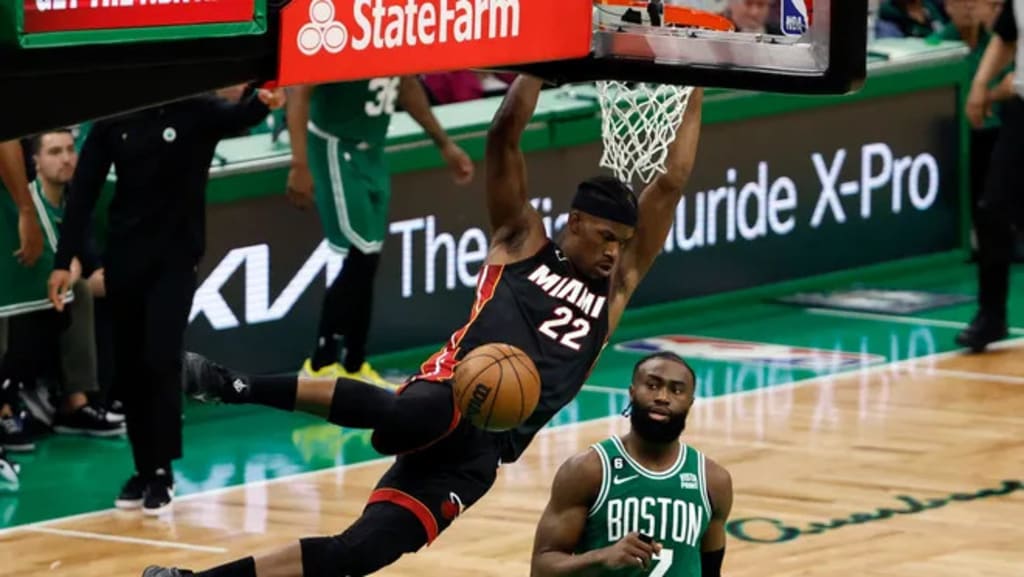 Caleb Martin's
Introduction:
Caleb Martin's basketball journey has been nothing short of remarkable. From going undrafted in 2019 to becoming a key player for the Miami Heat, Martin's determination and skill have propelled him to the forefront of the NBA. This article delves into his college career, the challenges he faced as an undrafted player, and his rise to success with the Miami Heat.
In the crucial Game 7 of the Eastern Conference finals between the Miami Heat and the Boston Celtics, an unexpected hero emerged in the form of Caleb Martin, a relatively unknown guard. Prior to this game, many NBA fans may not have been familiar with Martin, but his remarkable performance on that fateful day changed everything. Getting his first start of the series, Martin played an astonishing 45 minutes, scoring 26 points on 11-of-16 shooting, and securing 10 rebounds. With his invaluable contributions, the Heat avoided a potential collapse and defeated the Celtics 103-84, punching their ticket to the NBA Finals where they are set to face the Denver Nuggets.
College Career:
Hailing from Mocksville, North Carolina, Caleb Martin began his college basketball journey at North Carolina State in 2014. After spending two seasons there, he made the decision to transfer to Nevada. However, due to NCAA transfer rules, Martin had to sit out the 2016-17 season. It was during his first season with the Wolf Pack that he truly shined, averaging an impressive 18.9 points and 5.4 rebounds per game, ultimately earning him the title of Mountain West Conference Player of the Year. Demonstrating continuous improvement, Martin raised his scoring average to 19.2 points per game in his senior season.
Undrafted Path:
Despite his achievements in college, Caleb Martin faced disappointment on draft day in 2019 as he went undrafted. However, his twin brother Cody, who had played alongside him in college, was selected by the Charlotte Hornets in the second round. Caleb signed with the Hornets as an undrafted free agent but was ultimately released before the 2021 season.
Finding Success with the Heat:
In September 2021, Martin signed a two-way contract with the Miami Heat, allowing him to play for both the Sioux Falls Skyforce and the Heat. He proved to be a valuable contributor off the bench, playing in 60 games and averaging 9.2 points per game. Martin's consistent performances caught the attention of the Heat organization, leading to a three-year, $20 million deal. Throughout the past season, he achieved career highs in points, rebounds, assists, and minutes played, starting in 49 games.
The J. Cole Connection:
Following his release from the Hornets, Caleb Martin found himself working out at a gym owned by Grammy Award-winning rap artist and fellow North Carolina native, J. Cole. Impressed by Martin's skills, J. Cole reached out to Caron Butler, a former NBA player and current assistant coach for the Miami Heat, to endorse Martin's talent. Butler, acknowledging J. Cole's recommendation, invited Martin to participate in an open scrimmage. Martin's performance during that session showcased his abilities, leading the Heat coaching staff to recognize his potential in contributing to their contending team.
Conclusion:
Caleb Martin's journey from going undrafted to becoming an unexpected hero in Game 7 of the Eastern Conference finals is a testament to his perseverance and determination. His standout performance not only secured the Miami Heat's victory but also propelled him into the spotlight. With the support of influential figures like J. Cole and the Heat coaching staff, Martin has become a key player on the team. As the Heat prepare to face the Denver Nuggets in the NBA Finals, Martin's impact will undoubtedly be crucial, further solidifying his place as a rising star in the league.
About the Creator
With a passion for staying up-to-date with the latest events and a commitment to delivering accurate and engaging content, I ensuring our readers receive timely and reliable news coverage.
Reader insights
Be the first to share your insights about this piece.
Add your insights